This website uses cookies to ensure you get the best experience while browsing it. By clicking 'Got It' you're accepting these terms.
Is Our Money Being Used to Pimp for Monsanto?
Nov. 04, 2011 10:27AM EST
GMO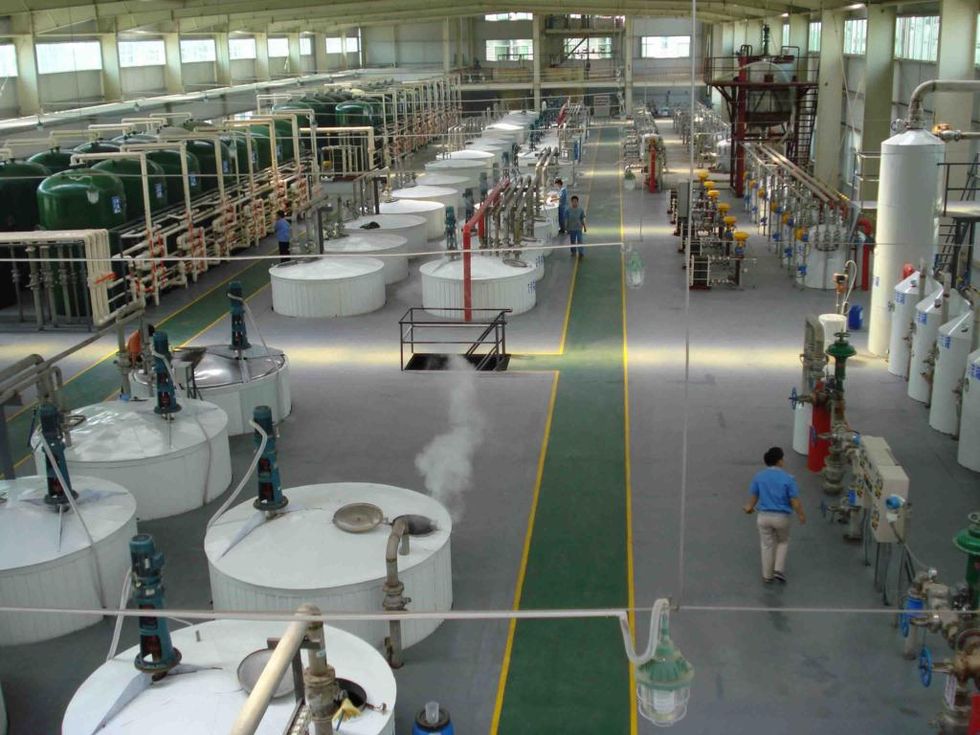 So why is the Assistant Secretary of State for Economic, Energy and Business Affairs (EEB), Jose Fernandez, making speeches that sound like Monsanto talking points? His background prior to working at the State Department was as a lawyer specializing in international finance and mergers and acquisitions, particularly in Latin America. Now he heads up the Bureau of EEB, which works "to promote economic security and prosperity at home and abroad." And part of such prosperity, according to EEB, includes promoting GMOs around the world.
Within EEB lies the Office of Agriculture, Biotechnology and Textile Trade Affairs (ABT), which has worked to promote biotechnology for nearly a decade. The word biotechnology was added to the office's name in 2003. ABT seeks to address "barriers and opening markets for American farm products, contributing to the development of effective food aid policies, promoting rural development and increasing agricultural productivity through biotechnology."
Among other things, ABT is responsible for doling out half a million dollars per year in Biotechnology Outreach Funds. This amounts to pennies compared to the overall federal budget, but it goes a long way, as grants are often around $20,000 apiece, especially considering the cumulative impact of their use in promoting biotechnology around the world each year since 2003. Biotech Outreach Fund requests for 2010 included:
A request from the U.S. embassy in Ecuador for $22,900 to fly five Ecuadorian journalists to the U.S. "to participate in a one-week biotech tour" to influence public opinion of biotechnology.
A request from the U.S. embassies in Brazil and Mozambique for $64,590 to hold a trilateral three-day seminar on biotechnology in Maputo, Mozambique.
A request from the U.S. embassy in Ethiopia for $5,500 to bring biotechnology experts from South Africa, Egypt, Kenya and possibly the U.S. to a workshop on biotechnology held by the Ethiopian government.
The requests above were revealed in secret cables leaked by WikiLeaks. While the cables did not divulge which requests were accepted, they do tell the story of State Department employees whose jobs consist of promoting biotechnology around the world. Between 2005 and 2006, then senior adviser for agricultural biotechnology Madelyn E. Spirnak traveled to Guatemala, Egypt, Slovenia, Taiwan, Turkey, South Africa, Ghana, Slovakia, the Czech Republic and Poland to promote biotechnology.
In South Africa, Spirnak spent a week meeting with "government officials, researchers, private sector representatives and officials from the New Economic Partnership for Africa's Development (NEPAD) to discuss agricultural biotechnology and biosafety issues." The private sector representatives referred to include Monsanto and Cargill. According to a leaked State Department memo, Spirnak learned that the government of South Africa was planning to hire several new people to work on GMOs. The memo reads—"Note: we informed both Pioneer [DuPont] and Monsanto the following day about the two new positions and they immediately saw the benefits from encouraging qualified applicants to apply."
The State Department promotion of biotechnology comes from the top. Both Secretary of State Hillary Clinton and former Secretary of State Condoleeza Rice before her sent out annual memos to all U.S. embassies outlining State Department policy on biotechnology. In December 2009, Clinton wrote, "Our biotech outreach objectives for 2010 are to increase access to, and markets for, biotech as a means to help address the underlying causes of the food crisis, and to promote agricultural technology's role in mitigating climate change and increasing biofuel production."
ABT's work dovetails with that of another State Department agency, the U.S. Agency for International Development (USAID). USAID's work on biotechnology has focused on two main goals—developing GMOs for introduction in the Global South and pushing nations in Asia and Africa to write biosafety laws. Biosafety laws, a common theme in leaked State Department memos discussing biotechnology, basically mean laws that keep Monsanto's intellectual property rights on genetically engineered crops safe.
USAID's work funding the development of GMOs began in 1990, when it funded the Agricultural Biotechnology Support Project (now known as ABSP I), a project based at Michigan State University's Institute for International Agriculture that ran until 2003 but was continued in a successor project (predictably called ABSP II) that continues today.
Like its predecessor, ABSP II is funded by USAID. However, unlike ABSP I, it is led by Cornell University. ABSP II, which is ongoing, includes among its partners a number of U.S. universities, research organizations in partner countries, NGOs, foundations and several corporations—including Monsanto. ABSP II projects include the development and commercialization of GM crops like a disease-resistant potato in India, Bangladesh and Indonesia; Roundup-Ready Bt cotton in Uganda (similar to the GM cotton already grown in the U.S.); and perhaps the most controversial, Bt eggplant, intended for India, Bangladesh and the Philippines.
Using Monsanto's technology, Bt eggplant includes a gene from the bacteria Bacillus thuringiensis in its DNA. Like the bacteria, the eggplant will produce a toxin that kills insects that prey on it. Bt is a commonly used organic insecticide. When the bacteria is applied by organic farmers, it lasts for a short time in the environment, killing the insects but ultimately having little impact on the agroecosystem, and giving the insects no real opportunity to evolve resistance to the toxin. When the gene is engineered into a crop, the crop produces the Bt toxin in every cell during the entire duration of its life. As of 2011, there are now reports of insects evolving resistance to Bt in genetically engineered crops in the U.S.
MAHYCO (Maharashta Hybrid Seed Company), which is 26 percent owned by Monsanto, applied to grow Bt eggplant commercially in India, but the application was denied after massive public outcry. India is the center of origin for eggplant, the country where the crop was first domesticated, and home to incredible biodiversity in eggplant. Adoption of Bt eggplant threatened both the loss of biodiversity as farmers traded their traditional seeds for new GM ones, as well as the genetic contamination of traditional seeds and perhaps even wild eggplant relatives.
Now, Bt eggplant is facing opposition in the Philippines, where anti-GMO activists have destroyed Bt eggplant in protest. The Filipino NGO SEARICE (Southeast Asia Regional Initiatives for Community Empowerment), which works on the conservation of traditional varieties and on expanding farmers' rights, also opposes the introduction of Bt eggplant. (And, back in India, the government of India has now gone on the offensive, filing a biopiracy suit against Monsanto over the Bt eggplant.)
Given the two decades of State Department support for GMOs—and its bullying behavior toward countries that don't wish to grow them or eat them—the question isn't why a senior State Department official is making a major speech extolling biotechnology, but rather, why the State Department isn't listening to experts, including U.S. citizens, who provide evidence countering the usefulness and safety of biotechnology and supporting alternative methods of agricultural development. For a government department that frequently calls for science-based policy, ignoring the totality of evidence on biotechnology is not very science-based.
For more information, click here.
EcoWatch Daily Newsletter
Pexels
By Dan Nosowitz
It's no secret that the past few years have been disastrous for the American farming industry.
Pexels
Medium-chain triglyceride (MCT) oil and coconut oil are fats that have risen in popularity alongside the ketogenic, or keto, diet.
Pexels
By Bijal Trivedi
The Centers for Disease Control and Prevention (CDC) released a report on Nov. 13 that describes a list of microorganisms that have become resistant to antibiotics and pose a serious threat to public health. Each year these so-called superbugs cause more than 2.8 million infections in the U.S. and kill more than 35,000 people.
Rool Paap / Flickr / CC BY 2.0
By Joe Vukovich
Under the guise of responding to consumer complaints that today's energy- and water-efficient dishwashers take too long, the Department of Energy has proposed creating a new class of dishwashers that wouldn't be subject to any water or energy efficiency standards at all. The move would not only undermine three decades of progress for consumers and the environment, it is based on serious distortions of fact regarding today's dishwashers.
By Emily Moran
If you have oak trees in your neighborhood, perhaps you've noticed that some years the ground is carpeted with their acorns, and some years there are hardly any. Biologists call this pattern, in which all the oak trees for miles around make either lots of acorns or almost none, "masting."
By Catherine Davidson
Tashi Yudon peeks out from behind a net curtain at the rooftops below and lets out a sigh, her breath frosting on the windowpane in front of her.

Some 700 kilometers away in the capital city Delhi, temperatures have yet to dip below 25 degrees Celsius, but in Spiti there is already an atmosphere of impatient expectation as winter settles over the valley.
The Dog Aging Project at the University of Washington is looking to recruit 10,000 dogs to study for the next 10 years to see if they can improve the life expectancy of man's best friend and their quality of life, as CNN reported.