This website uses cookies to ensure you get the best experience while browsing it. By clicking 'Got It' you're accepting these terms.
Is Kombucha Tea Really Good for You?
Jan. 30, 2015 09:24AM EST
Food
Just a few years ago, not many people had ever heard of kombucha, and you'd have looked long and hard to find this beverage on any drink menu. Now it seems like it's everywhere, and if you haven't heard about it, you will. It's being served in the trendiest cafes and restaurants, and cutting-edge and adventurous individuals everywhere are starting to imbibe—and make their own at home.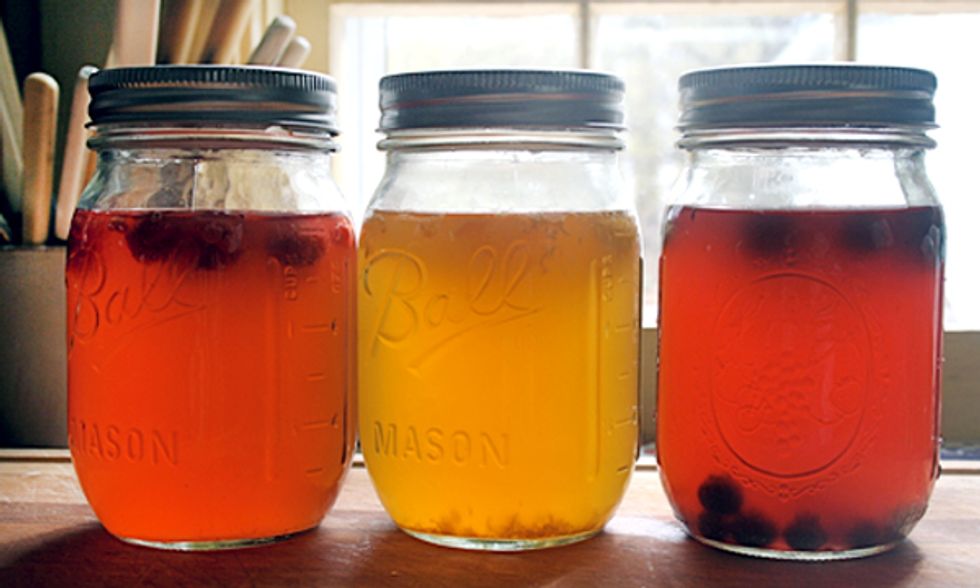 So what is it, and what's all the fuss about?
Kombucha isn't some new concoction, dreamed up by an ambitious young entrepreneur eager to crack the celebrity chef circuit. It's a bubbly, fermented tea that's been popular in many Asian cultures—Chinese, Japanese, Korean—as well as in Russia and Germany, for a long time. It's unclear how ancient it is—it's possible it originated as recently as the 19th century. But it's only recently, with the rising popularity of fermented foods among U.S. foodies and extravagant claims about their health benefits, that kombucha has found its way into American coffee shops, tea houses and bistros.
Sometimes inaccurately called mushroom tea or fungus tea, it's based on a fermenting agent commonly referred to as SCOBY: "symbiotic culture of bacteria and yeast." A slab of this admittedly kind of yucky-looking culture is placed in a glass of sweetened black tea to create kombucha. The finished drink is fizzy, acidic and slightly alcoholic. Is it delicious? You be the judge. One writer referred to its "strange, sour aftertaste." But that might be your thing.
The American Cancer Society (ACS) points out that kombucha tea, like many fermented foods, "has been promoted as a cure-all for a wide range of conditions including baldness, insomnia, intestinal disorders, arthritis, chronic fatigue syndrome, multiple sclerosis, AIDS and cancer. Supporters say that Kombucha tea can boost the immune system and reverse the aging process. Kombucha tea is said to contain antioxidants, compounds that block the action of free radicals (activated oxygen molecules that can damage cells). For people who have cancer, proponents claim the tea can improve the body's defenses (especially in the early stages of cancer) by detoxifying the body and enhancing the immune system. After the body has been detoxified, the tea is said to help repair and balance the body and fight off disease."
You'll find such claims everywhere. And?
"No human studies have been published in the available scientific literature that support any of the health claims made for kombucha tea," says the ACS. "There have, however, been reports of serious complications and death linked to the tea." The American Cancer Society actually suggests that rather than being a cure for cancer, people with cancer not drink it because their immune systems are often compromised. It's also not advised for women who are pregnant or nursing.
Don't be too alarmed—just be cautious. Those cases usually involve contamination with molds and undesirable fungi. Adverse effects can be avoided by being careful if you're brewing your own kombucha at home—countless home brewing kits are now on the market—and not drinking an excessive amount. Or you can buy bottled kombucha in health food stores.
And since kombucha is a probiotic, like yogurt or kefir, it appears there may be something to the claim that it, like other fermented foods, can be useful in aiding digestion and possibly even help fight minor infections, colds and flu.
YOU MIGHT ALSO LIKE
Boost Your Immune System With Fermented Vegetables
10 Healthy Reasons to Eat Yogurt
EcoWatch Daily Newsletter
Deserted view of NH24 near Akshardham Temple on day nine of the 21-day nationwide lockdown to curb the spread of coronavirus on April 2, 2020 in New Delhi, India. Raj K Raj / Hindustan Times via Getty Images
A Unicef social mobilizer uses a speaker as she carries out public health awareness to prevent the spread and detect the symptoms of the COVID-19 coronavirus by UNICEF at Mangateen IDP camp in Juba, South Sudan on April 2. ALEX MCBRIDE / AFP / Getty Images
By Eddie Ndopu
South Africa is ground zero for the coronavirus pandemic in Africa.
Its townships are typical of high-density neighbourhoods across the continent where self-isolation will be extremely challenging.
The failure to eradicate extreme poverty is a threat beyond the countries in question.
The outside of the Food and Drug Administration headquarters in White Oak, Md. on Nov. 9, 2015. Al Drago / CQ Roll Call
The U.S. Food and Drug Administration has approved the use of two malarial drugs to treat and prevent COVID-19, the respiratory infection caused by the SARS-CoV-2 coronavirus, despite only anecdotal evidence that either is proven effective in treating or slowing the progression of the disease in seriously ill patients.

Some
speculate
that the dissemination of the Antarctic beeches or Nothofagus moorei (seen above in Australia) dates to the time when
Antarctica
, Australia and
South America
were connected. Auscape / Universal Images Group / Getty Images
A team of scientists drilled into the ground near the South Pole to discover forest and fossils from the Cretaceous nearly 90 million years ago, which is the time when dinosaurs roamed the Earth, as the BBC reported.
The recovery of elephant seals is one of the "signs of hope" that scientists say show the oceans can recover swiftly if we let them. NOAA /
CC BY 2.0