Is Juicing Really Healthy for You?
Apr. 05, 2016 10:50AM EST
Food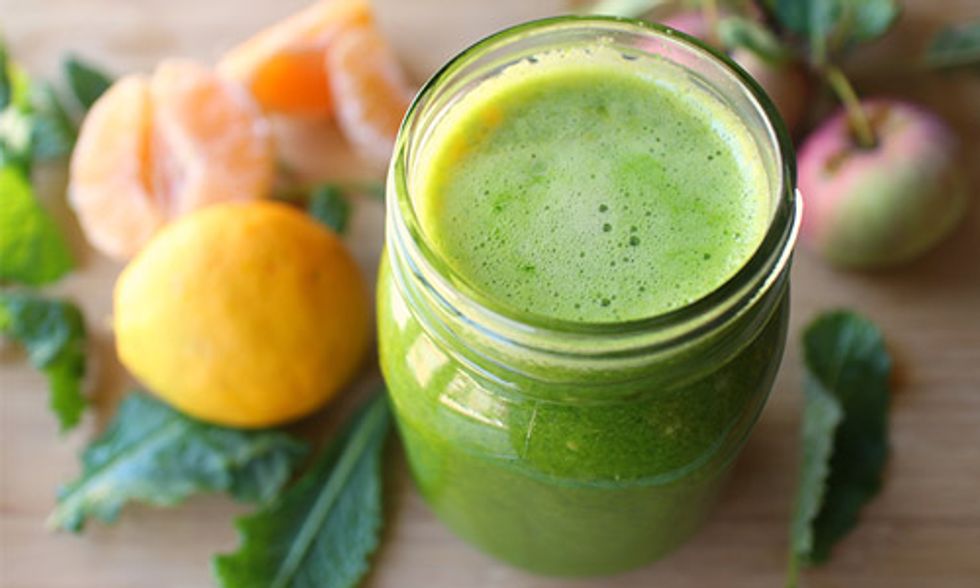 Fruits and vegetables are good for your body. Some of them even help fight chronic diseases, such as heart disease and cancer (1).
Interestingly, a method called "juicing" has become increasingly popular in recent years. This involves extracting the nutritious juices from fresh fruits and vegetables.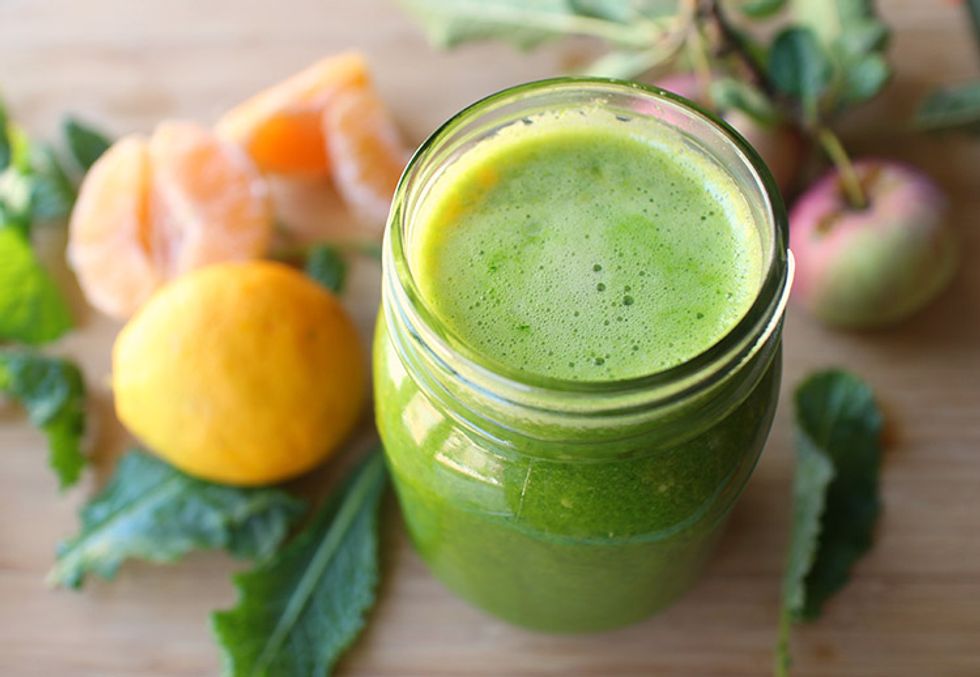 Many people do this in order to "detox" or add more nutrients to their diets.
Supporters claim that juicing can improve nutrient absorption, while others say it strips away important nutrients like fiber.
This is a detailed review of juicing and its health effects, both good and bad.
What is Juicing?
Juicing is a process that extracts the juices from fresh fruits and vegetables.
This usually strips away most of the solid matter, including seeds and pulp, from whole fruits and vegetables.
The resulting liquid contains most of the vitamins, minerals and antioxidants naturally present in the whole fruit or vegetable.
Juicing Methods
Juicing methods vary, from squeezing fruit by hand to the more commonly used motor-driven juicers.
These are two common types of juicers:
Centrifugal juicers: These juicers grind fruits and vegetables into pulp through a high-speed spinning action.
Cold-press juicers: Also called masticating juicers, these crush and press fruits and vegetables much more slowly to get as much juice as possible.
Cold-press juicers don't produce heat, so they do not cause the breakdown of beneficial enzymes and nutrients that is thought to happen with centrifugal juicers.
Purpose of Juicing
Juicing is generally used for two different purposes:
For cleansing or detox: Solid food is eliminated and only juice is consumed as a way to cleanse your body of toxins. Juice cleanses range from 3 days to several weeks in length.
To supplement a normal diet: Fresh juice can be used as a handy supplement to your daily diet, increasing nutrient intake from fruits and vegetables that you wouldn't otherwise consume.
Bottom Line: Juicing involves extracting and drinking the juice from fresh fruit and vegetables. Some people do this to "detox," while others do it to supplement their current diet.
Juice is an Easy Way to Get Lots of Nutrients
Many people don't get enough nutrients from their diet alone (2).
Nutrient levels in the foods we eat are also much lower than they used to be.
This is largely due to processing methods and the long time it takes to get produce from the field to the supermarket (3, 4).
Polluted environments and high stress levels can also increase our requirements for certain nutrients.
Fruits and vegetables are full of vitamins, minerals, antioxidants and plant compounds that may protect against disease (5, 6).
If you find it difficult to get the recommended amount of fruits and vegetables into your diet each day, juicing can be a convenient way to increase your intake.
One study found that supplementing mixed fruit and vegetable juice over 14 weeks improved participants' nutrient levels for beta-carotene, vitamin C, vitamin E, selenium and folate (7).
A review of 22 studies found that drinking juice made from fresh fruits and vegetables or blended powder concentrate improved folate and antioxidant levels, including beta-carotene, vitamin C and vitamin E (8).
Bottom Line: If you struggle to eat enough fruits and vegetables each day, juicing is a convenient way to get a wide range of important nutrients.
Whole Produce Protects Against Disease, But Studies on Juice are Disappointing
There's plenty of evidence linking whole fruits and vegetables to reduced risk of disease, but studies for fruit and vegetable juices are harder to find.
One review reported that the health benefits of fruits and vegetables may be due to antioxidants, rather than fiber. If this is true, then juice may provide comparable health benefits to whole produce (9).
However, there is only weak evidence that pure fruit and vegetable juices can help fight cancer. There is a lack of human data and other findings are inconsistent (9).
Nonetheless, other areas of health show more promise. For example, juices may reduce the risk of heart disease. Apple and pomegranate juices have been linked to reduced blood pressure and cholesterol levels (9, 10, 11).
Additionally, consuming fruit and vegetable juices in liquid form or blended concentrations may reduce homocysteine levels and markers of oxidative stress, both of which are linked to improved heart health (8).
One large study found that the risk for Alzheimer's disease was reduced among those who drank fruit and vegetable juices three or more times per week, compared with those who drank juices less than once per week (11).
The reduction in Alzheimer's risk may be due to the high levels of polyphenols in the juices. These are antioxidants found in plant foods, believed to protect brain cells.
Despite these results, more studies are needed to better understand the health effects of fruit and vegetable juices (8).
Bottom Line: Limited evidence is available to link fruit and vegetable juice to a reduced risk of diseases like cancer, Alzheimer's and heart disease.
Fruits And Veggies Are Best Consumed Whole
Juicing advocates often claim that drinking juice is better than eating whole fruits and vegetables.
They justify this by saying that removing the fiber makes nutrients easier to absorb.
However, there isn't any scientific research to support this.
You may actually need the fiber content of the fruit or vegetable to experience the plant's full health benefits (12).
For example, important antioxidants that are naturally bound to plant fibers are lost in the juicing process. These may play an important role in the health benefits of whole fruits and vegetables (13, 14, 15).
In fact, up to 90 percent of fiber is removed during the juicing process, depending on the juicer. Some soluble fiber will remain, but the majority of insoluble fiber is removed.
Potential Health Benefits of Fiber
Higher fiber intakes have been associated with lower risks of heart disease, obesity and type 2 diabetes (16, 17).
Studies have shown that increasing soluble fiber, in particular, may improve blood sugar and cholesterol levels (18, 19).
One study compared whole apples to apple juice. It found that drinking clear apple juice increased LDL cholesterol levels by 6.9 percent, compared to whole apples. This effect is thought to be due to the fiber content of whole apples (12).
An observational study showed an increased risk of type 2 diabetes in people who consumed fruit juices, whereas whole fruits were linked to a reduced risk (20).
People also tend to feel more full when they eat whole fruits, compared to when they drink the juice equivalent (19, 21, 22).
One study compared the effects of blending and juicing on the nutrient content of grapefruits. Results showed that blending, which retains more fiber, is a better technique for obtaining higher levels of beneficial plant compounds (23).
Should You Add Fiber to Your Juices?
The level of fiber in your juices will depend on what type of juicer you use, but some sources suggest adding leftover pulp to other foods or drinks to increase fiber intake.
Although this is better than throwing the fiber away, evidence suggests that re-adding fiber to juice doesn't give you the same health benefits as simply eating whole fruits and vegetables (24).
Additionally, a study found that adding naturally occurring levels of fiber to juice did not enhance feelings of fullness (25).
Bottom Line: Eating whole fruit and vegetables is better for your health. Juicing makes you miss out on beneficial fiber and antioxidants.
Juicing For Weight Loss May be a Bad Idea
Many people use juicing as a way to lose weight.
Most juice "diets" involve consuming around 600–1,000 calories per day from juices only, resulting in a severe calorie deficit and fast weight loss.
However, this is very difficult to sustain for more than a few days.
While juice diets may help you lose weight in the short-term, such a severe calorie restriction can slow your metabolism in the long-term (26).
This is also likely to lead to nutrient deficiencies in the long-term, since juices lack many important nutrients.
Bottom Line: Most juicing diets involve severe calorie restriction, which is generally unsustainable in the long-term and can lead to a reduction in the amount of calories you burn.
Juices Should Not Replace Meals
Using juices as a meal replacement can be bad for your body.
This is because juice on its own is not nutritionally balanced, since it does not contain sufficient protein or fat.
Consuming enough protein throughout the day is necessary for muscle maintenance and long-term health (27).
Additionally, healthy fats are important for sustained energy, hormone balance and cell membranes. They may also provide the fat-soluble vitamins A, D, E and K.
However, replacing one meal a day with juice is unlikely to cause harm, as long as the rest of your diet is more balanced.
You can make your juice more balanced by adding protein and good fats. Some good sources are whey protein, almond milk, avocados, Greek yogurt and peanut butter.
Bottom Line: Juices are nutritionally unbalanced because they do not contain adequate protein or fat. Adding protein and fat sources to your juices can help with this.
Juice Cleanses Are Not Necessary and May be Harmful
Consuming 100 percent fruit juice has been associated with an increased risk of metabolic syndrome, liver damage and obesity (24).
In addition, there is no evidence that your body needs to be detoxified by eliminating solid food.
Your body is designed to remove toxins on its own, using the liver and kidneys.
Furthermore, if you're juicing with non-organic vegetables, you can end up consuming other toxins that come along with them, such as pesticides.
For individuals with kidney problems, a heavy consumption of juices rich in oxalate has been linked to kidney failure (28).
More extreme juice cleanses are associated with negative side effects such as diarrhea, nausea, dizziness and fatigue.
If you take prescription medication, you should be aware of potential drug-nutrient interactions.
For example, large amounts of vitamin K found in green leafy vegetables like kale and spinach can interfere with blood thinners (29).
Bottom Line: There is no evidence that juice cleanses are necessary for detoxifying the body. Juicing may harm people who have kidney problems or take certain medications.
Fruit Juice Contains High Amounts of Sugar
What you put in your juice can also make a big difference and fruits contain much more sugar and calories than vegetables.
Consuming too much fructose, one of the naturally occurring sugars in fruit, has been linked to high blood sugar, weight gain and an increased risk of type 2 diabetes (30, 31, 32).
About 3.9 oz (114 ml) of 100 percent apple juice contains zero grams of fiber, but packs 13 grams of sugar and 60 calories (30).
Similarly, 100 percent grape juice has 20 grams of sugar in a serving of 3.9 oz (114 ml).
To keep the sugar content of your juices low, you can juice the vegetables and then add a small piece of fruit if you want more sweetness.
Bottom Line: Juices based mainly on fruit are much higher in sugar and calories compared to vegetable-based juices.
Take Home Message
Fresh juices contain important vitamins and antioxidants that can benefit your health.
However, fruits and vegetables are still the healthiest and most nutritious when consumed whole.
This article was reposted from our media associate Authority Nutrition.
YOU MIGHT ALSO LIKE
10 Worst Foods to Eat in the Morning
This New Milk Featuring an Old Protein Promises Big Health Benefits
14 Simple Ways to Stick to a Healthy Diet
Winegrowers check vines during the burning of anti-frost candles in the Luneau-Papin wine vineyard in Le Landreau, near Nantes, western France, on April 12, 2021. SEBASTIEN SALOM-GOMIS / AFP via Getty Images
French winemakers are facing devastating grape loss from the worst frost in decades, preceded by unusually warm temperatures, highlighting the dangers to the sector posed by climate change.
"An important share of the harvest has been lost. It's too early to give a percentage estimate, but in any case it's a tragedy for the winegrowers who have been hit," said Christophe Chateau, director of communications at the Bordeaux Wine Council, told CNN.
Climate change, caused by the extraction and combustion of fossil fuels, has pushed winegrowing seasons earlier, putting crops at higher risk of cold — and wildfires supercharged by climate change also threaten American vignerons and farmworkers as well.
"I think it's good for people to understand that this is nature, climate change is real, and to be conscious of the effort that goes into making wine and the heartbreak that is the loss of a crop," Jeremy Seysses of Domaine Dujac in Burgundy's Côte de Nuits told Wine Enthusiast.
As reported by Wine Enthusiast:
Last week, images of candlelit French vineyards flooded social media. Across the country, winemakers installed bougies, or large wax-filled metal pots, among the vines to prevent cold air from settling in during an especially late frost.

With temperatures in early April as low as 22°F, and following an unseasonably warm March, this year's frost damage may be the worst in history for French winegrowers. Every corner of France reports considerable losses, from Champagne to Provence, and Côtes de Gascogne to Alsace. As a result, there will likely be very little French wine from the 2021 vintage reaching U.S. shores.
For a deeper dive:

CNN, Wine Enthusiast, France24, Eater
For more climate change and clean energy news, you can follow Climate Nexus on Twitter and Facebook, sign up for daily Hot News, and visit their news site, Nexus Media News.
From Your Site Articles
Related Articles Around the Web
EcoWatch Daily Newsletter
A recent study focused on regions in Ethiopia, Africa's largest coffee-producing nation. Edwin Remsberg / Getty Images
Climate change could make it harder to find a good cup of coffee, new research finds. A changing climate might shrink suitable areas for specialty coffee production without adaptation, making coffee taste blander and impacting the livelihoods of small farms in the Global South.
In "Weather," Jenny Offill tells the story of a librarian named Lizzie who prepares for a climate apocalypse. Andrew Merry / Getty Images
By Suzanne Cords
One day Lizzie, the first-person narrator of the novel, receives an old book as a gift, with a dedication wishing the reader to be among the survivors. Like the preppers who build bunkers and stockpile supplies in remote areas to be ready for the end of the world, Lizzie is convinced that the end of the world is definitely near in times of a threatening climate disaster.
Lizzie, who lives in New York with her husband and son, is a university campus librarian. She worries about almost everything: her brother, an ex-junkie, or her dental insurance and the future in the face of the apocalypse. She is obsessed with reading reference books and articles about climate change.
She also devours words of wisdom, including about Buddhist spirituality: "A visitor once asked the old monks on Mount Athos what they did all day, and was told: We have died and we are in love with everything." But nothing can lift her spirits.
'Lizzie Is Just Like Us'
Lizzie observes rich New Yorkers plan their move to regions that are less threatened by climate change, something she simply cannot afford. Sometimes she watches disaster movies, which lead her to worry even more.
Above all, she is a gifted observer of her fellow human beings. "Young person worry: What if nothing I do matters? Old person worry: What if everything I do, does?"
Lizzie, the U.S. author told DW, is a bit like the rest of us — well aware of the climate crisis, but because she cares and worries about so many other things, that awareness falls by the wayside. That's how she felt herself, Jenny Offill said, but the more she looked into the issue, the more she saw a need for action on her part, too.

"I also was trying to see if there was a way to make it funny, because, you know, so much of the world of prepping and imagining disaster is actually sort of strangely funny."
The novel was shortlisted for the 2020 UK's Women's Prize for Fiction and has now been released in German translation.
Climate Activist With a Vision
But then, there is also this serious, scientifically based concern about what climate change means. In the past, says Offill, artists were the ones who would predict disasters; today it's the experts, as well as the students she teaches. In the end, their fears and their justified anger motivated her to take a closer look at the issue. Today, she is a climate activist herself, and is involved in initiatives along with many other artists.
Lizzie, the heroine of Weather, hasn't gotten that far. But she voices her fears, and that's a start. "Of course, the world continues to end," says Sylvia, a mentor of Lizzie's, at one point — and commences to water her garden. There is hope after all.
Reposted with permission from Deutsche Welle.
A Shell oil drilling rig off the coast of Alaska in the Chukchi Sea on May 21, 2015. Orjan F. Ellingvag / Corbis via Getty Images
By Jake Johnson
A federal appeals court on Tuesday dealt the final blow to former President Donald Trump's attempt to open nearly 130 million acres of territory in the Arctic and Atlantic Oceans to oil and gas drilling.
Electric vehicles are the cars of the future. sl-f / Getty Images
By 2035, every new car and truck sold in the U.S. could be an EV, a new report says.
Accelerations in technology and especially battery affordability, paired with new policy, mean the dramatic transition would save American drivers $2.7 trillion by 2050, an average savings of $1,000 per household per year.
The ramp up in EV production would also create 2 million new jobs by 2035. Battery prices have fallen 74% since 2014, and their unexpectedly rapid fall is a key driver of the cost savings.
EVs are far simpler mechanically, and more efficient, than internal combustion engine (ICE) vehicles, which translates to reduced climate pollution and lower costs for consumers.
Strengthened vehicle efficiency standards and investment in fast charging infrastructure are needed to accelerate the transition, which would prevent 150,000 premature deaths and save $1.3 trillion in health environmental costs by 2050.
For a deeper dive:

The Guardian, Fast Company, E&E, Morning Consult, Canary Media

For more climate change and clean energy news, you can follow Climate Nexus on Twitter and Facebook, sign up for daily Hot News, and visit their news site, Nexus Media News.