Is Fracking Industry Too Wounded to Respond as Oil Prices Bottom Out?
Eventually what goes down, must come up. And to the relief of everyone in the oil industry, the global energy watchdog, the International Energy Agency (IEA) believes that there are signs that oil prices "might have bottomed out."
The IEA goes onto hope that "there may be light at the end of what has been a long, dark tunnel," before warning that "we cannot be precisely sure when in 2017 the oil market will achieve the much-desired balance."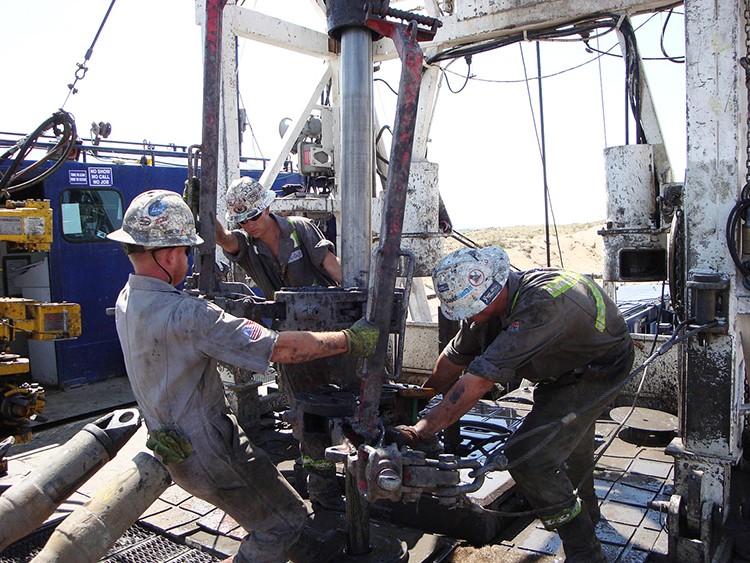 The oil price is certainly showing signs of recovery. Indeed, in its latest monthly report, the IEA notes that oil prices have risen by a whopping forty percent since early February.
But as the OilPrice website notes, much of this rise has nothing to do with the fundamentals of the oil market—supply and demand—it is due to the fact that speculators believe the price could go no further down.
As they say: "Much of the rally has a lot more to do with market sentiment than with the fundamentals. Oil speculators have closed out a huge chunk of their short positions, making bets that oil prices had reached a bottom. The short-covering rally contributed to a sharp jump in prices."
"We've got the bottom in for oil," argues influential trader Bill O'Grady, chief market strategist at Confluence Investment Management in St. Louis, which runs a portfolio of $3.4 billion. "Gasoline demand is improving and we have a strong speculative participation in the market. You are building a base for oil to trade between $30 to $50."
Whether this recent rise is actually good for the oil industry is open to debate. Some analysts believe that the rise could become "self-defeating" as it will allow some American shale producers to ramp up production, after moth-balling certain operations due to the price plunge.
One such analyst Jeffrey Currie, the head of commodities research at Goldman Sachs, argues "My concern is if the market surges right back to $50 a barrel … we just end up with another problem six months from now."
But whether the U.S. shale industry can just crank up production and act as what is known as a "swing producer," is now open to debate.
Restarting production overnight is just not going to happen. The shale industry may have cut itself too close to the bone to be able to start running again.
The industry has shed more than 100,000 jobs in the last year and these cannot be replaced at a click of the fingers. Some 60 percent of fracking equipment is idle or offsite.
Alex Beeker, a Wood Mackenzie analyst says simply: a recovery "doesn't happen overnight."
Others agree. According to today's Wall Street Journal "As oil prices show some signs of stabilizing, American producers and oilfield-services companies are warning that they may not be able to jump-start drilling."
The Wall Street Journal argues that the reason for this is that "many independent companies are too financially strapped, have let go too many workers or have idled too much equipment to immediately ramp up again."
John Hess, the chief executive of Hess Corporation tells the paper: "The balance sheets of these shale-only producers have to be repaired for them to get back to drilling. That's going to curb any recovery."
Others are equally cautious. Lynn Helms, director of North Dakota's Department of Mineral Resources is quoted as saying, "If you've been on a strict diet for a long period of time, it takes a while to put the weight back on."
Indeed, the boss of one fracking company, Basic Energy Services, which has laid off more than 40 percent of its workforce, told a conference last week: "We have lost a lot of good people. They won't be back."
YOU MIGHT ALSO LIKE
Obama to Limit Arctic, Atlantic Offshore Oil Drilling as Part of New Five-Year Plan
Oregon Becomes First State in Nation to Sign Bill That Phases Out Coal, Ramps Up Renewables
Duke Energy vs. Solar Energy: Battle Over Solar Heats Up in North Carolina
Women on the Front Lines Fighting Fracking in the Bakken Oil Shale Formations
Monsanto, the maker of the glyphosate-based herbicide Roundup, filed a motion June 16 in U.S. District Court, Northern District of California to reconsider the chemical's addition to California's Proposition 65 list of agents known to cause cancer.
The agrochemical giant made this move based on a June 14 Reuters investigation of Dr. Aaron Blair, a lead researcher on the World Health Organization's International Agency for Research on Cancer (IARC) committee, that classified glyphosate as a "2A probable human carcinogen" in March 2015.
Keep reading...
Show less
By Avery Friedman
Algae is often considered a nuisance, but for Sweden, the rapidly growing sea plant is now an asset.
As the Scandinavian country works to cut all of its greenhouse gas emissions by 2045, it's using algae to sop up the carbon emissions from cement.
Keep reading...
Show less
Jun. 24, 2017 01:35PM EST
By Itai Vardi
A recent intensification in protests against Williams Partners' planned Atlantic Sunrise pipeline in Pennsylvania prompted a state senator to propose legislation aimed at limiting demonstrations.
Last month, Pennsylvania Sen. Scott Martin (R-Norman) announced his intention to introduce legislation that would pass the costs of law enforcement responding to protests onto the demonstrators. Martin also helped introduce a different bill that would criminalize protests at natural gas facilities.
Keep reading...
Show less
Jun. 24, 2017 01:29PM EST
Black Shogun / iStock
The Federal Energy Regulatory Commission (FERC) released its Final Environmental Impact Statement Friday for the Mountain Valley Pipeline, a controversial 303-mile pipeline that would carry two billion cubic feet of fracked gas per day from West Virginia through Virginia.
Keep reading...
Show less
Jun. 24, 2017 01:46PM EST
Falcon PEV
The so-called "first and last mile" problem is one of the biggest hurdles with public transportation. How do you encourage more people to take Earth-friendlier commutes when their homes are miles away from the train or bus station?
One solution, as this Estonian electric scooter company proposes, is to simply take your commute with you—literally. Tallinn-based Stigo has developed a compact e-scooter that folds to the size of a rolling suitcase in about two seconds.
Keep reading...
Show less
Jun. 24, 2017 05:12PM EST
Connect4Climate
[Editor's note: I'm still in shock after hearing the news that Lucia Grenna passed away in her sleep last week. When we first met in April of 2014 at a Copenhagen hotel, I was immediately taken by here powerful presence. We spent the next couple days participating in a Sustainia climate change event where Lucia presented her audacious plans to connect people to the climate issue. I had the chance to partner with Lucia on several other projects throughout the years and work with her incredible Connect4Climate team. I was always in awe of her ability to "make the impossible possible." Her spirit will live on forever. — Stefanie Spear]
It is with a heavy heart that Connect4Climate announces the passing of its founder and leading light, Lucia Grenna. Lucia passed peacefully in her sleep on June 15, well before her time. We remember her for her leadership and extraordinary ability to motivate people to take on some of the greatest challenges of our time, not least climate change.
Keep reading...
Show less
Jun. 23, 2017 07:29PM EST
Wikimedia Commons
By Stacy Malkan
Neil deGrasse Tyson has inspired millions of people to care about science and imagine themselves as participants in the scientific process. What a hopeful sign it is to see young girls wearing t-shirts emblazoned with the words, "Forget princess, I want to be an astrophysicist."
Keep reading...
Show less
Jun. 23, 2017 01:57PM EST
www.youtube.com
By Andy Rowell
Any day now we will truly witness climate change in action. Within days at worst, maybe weeks at best, scientists predict that a huge section of the Larsen C ice shelf in Antarctica will break off into the ocean, in what is called a major "carving" event.
Keep reading...
Show less
Jun. 23, 2017 02:27PM EST
www.youtube.com
President Trump visited Cedar Rapids, Iowa on June 21 to speak to a large crowd in the U.S. Cellular Center at a political rally organized by his campaign.
As Trevor Noah noted during The Daily Show episode last night (starts at 2:25), the real reason Trump has these rallies is to "get back in front of his loyal crowds and feed of their energy." Noah believes that "Trump supporters are so on board with their dude he can say anything and they'll come along for the ride."
Keep reading...
Show less