This website uses cookies to ensure you get the best experience while browsing it. By clicking 'Got It' you're accepting these terms.
Is Extreme Weather a Sign of the Apocalypse?
Nov. 24, 2014 03:52PM EST
Climate
While 62 percent of Americans say that they believe climate change is a factor driving recent natural disasters and extreme weather—probably a higher percentage than in Congress—49 percent also believe they are caused by "Biblical end times," with an especially high number of white evangelicals holding that belief. That's according to a new survey released by the Public Religion Research Institute, which queried people on the intersection of their religious faith and their beliefs about climate change. And it found dramatic differences between people expressing different faith beliefs.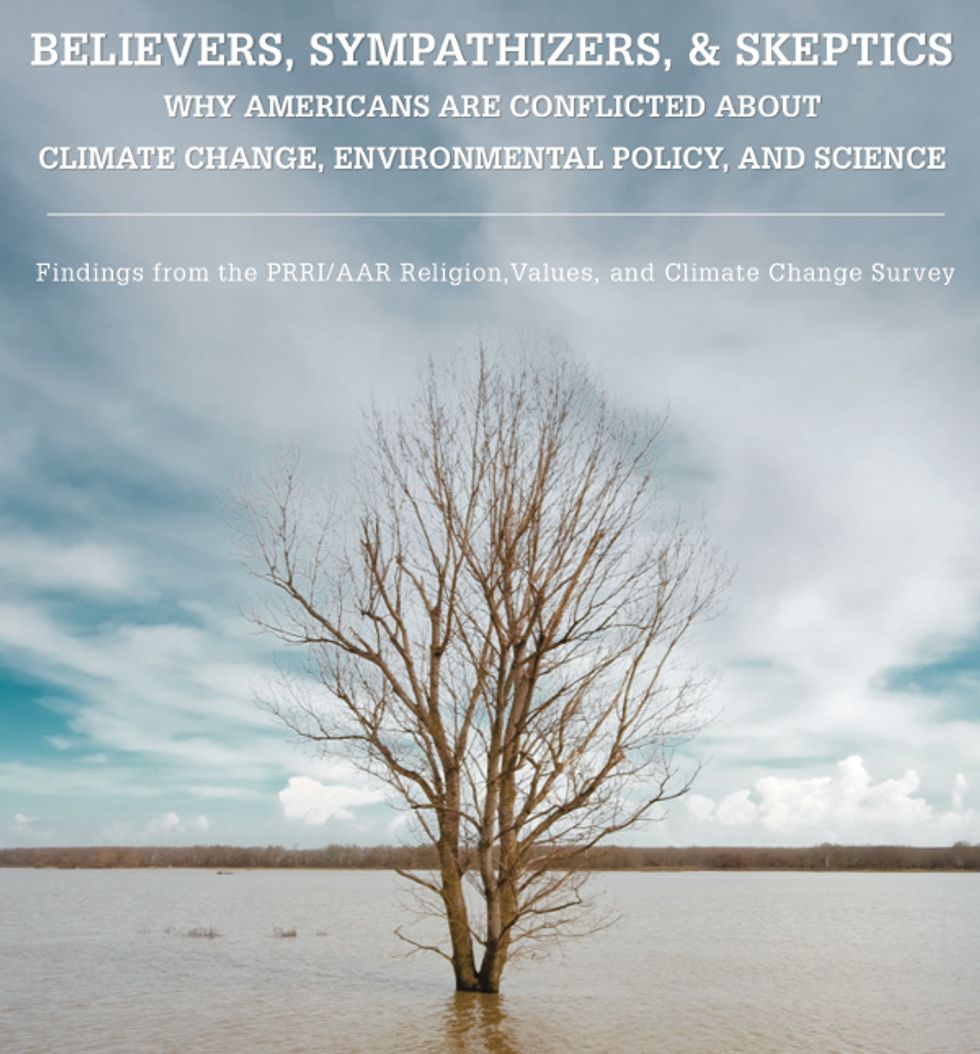 Overall, it found that while a majority of respondents were sympathetic to the cause of fighting climate change, it wasn't at the top of their minds. Only 5 percent said it was "the most important issue" facing the U.S., well behind issues like lack of jobs (22 percent), income inequality (18 percent) and health care (17 percent). And it seemed as if most people treated it as an "out of sight, out of mind" issue, looking only at the direct impact on their own lives. More people identified the symptoms of climate change such as air and water pollution, water shortages, drought and diminishing wilderness areas as the most pressing environmental problem, rather than climate change itself. And far more people believed it would have a greater impact in poorer, far-away countries than in the U.S or on themselves.
The survey sorted its respondents into three groups: "believers," "sympathizers" and "skeptics"—46 percent, 25 percent and 26 percent respectively, with a handful failing to provide information. The believers think that climate change is happening and is human-drive; sympathizers believe it is happening as a result of natural forces and skeptics don't think it is happening at all.
The self-centeredness continued when skeptics were asked why they thought climate change wasn't happening. "Answers varied considerably, but the most frequently cited reason (33 percent of all open-ended answers) was that they have not noticed a change in the weather around them," the study said.
Responses among religious groups vary, bookended by Hispanic Catholics and white Catholics at the far ends of the scale. With minorities, both black and Hispanic, registering a far higher concern about climate change than white respondents, Hispanic Catholics had by far the highest level of concern, with 43 percent saying they are "very concerned" and another 30 percent saying they are "somewhat concerned." Among the religiously unaffiliated, black Protestants, non-Christian religious and Jews, those vert concerned and somewhat concerned combine top 50 percent. But among white mainline Protestants, it drops to 43 percent, and only 35 percent of white evangelical Protestants expressing any level of concern. Forty-one percent of white Catholics express some concern, although the number saying they are "very concerned" is the lowest of all groups, at 17 percent.
While 54 percent of Americans feel that science and religion are often in conflict, 59 percent say it doesn't conflict with their own religious beliefs. Nearly 6-in-10 (59 percent) Americans say that science does not conflict with their religious beliefs, and 38 percent say that it does. And that raises the question of which do you adjust: your religious belief or your trust in science? More people are saying that science needs to be tossed out before their religious beliefs. That 49 percent who believe that recent climate change-driven natural disasters are the result of the approaching Biblical "end times" has risen from 44 percent in 2011 to the current 49 percent.
Most likely to hold that opinion? No surprise—it's white evangelical protestants who say that Biblical "end times" rather than climate change is driving the severity of recent natural disasters severity of recent natural disasters to the biblical "end times" 77 percent to 49 percent (The overlap is presumably those who think both are responsible).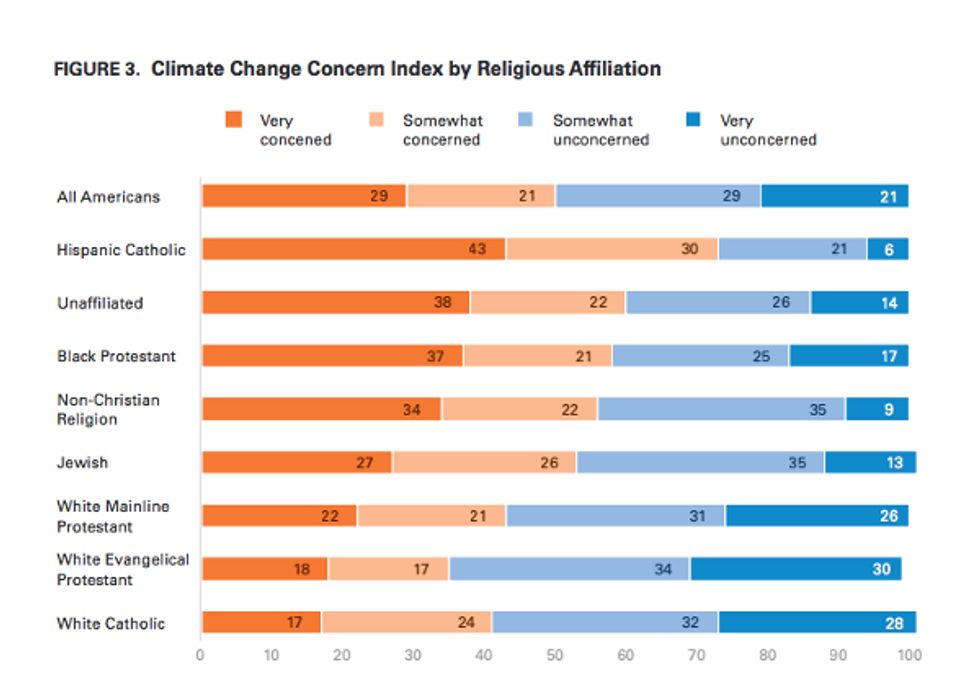 There's some sort-of good news though:
"Americans generally reject the idea that God intended humans to use the earth strictly for their own benefit. Nearly 6 in 10 (57 percent) Americans say God gave humans the task of living responsibly with animals, plants and other resources, which are not just for human benefit. By contrast, about one-third (35 percent) of Americans believe that God gave human beings the right to use animals, plants and all other resources of the planet solely for their own benefit."
YOU MIGHT ALSO LIKE
2 + 2 = 5 in Texas Textbook Debate
Hottest October on Record Puts Planet on Track for Hottest Year Ever
Evangelical Christian Tells Bill Moyers Not All Christians Are Climate Deniers
EcoWatch Daily Newsletter
A Starbucks barista prepares a drink at a Starbucks Coffee Shop location in New York. Ramin Talaie / Corbis via Getty Images
By Cathy Cassata
Are you getting your fill of Starbucks' new Almondmilk Honey Flat White, Oatmilk Honey Latte, and Coconutmilk Latte, but wondering just how healthy they are?
By Sharon Kelly
Back in April last year, the Trump administration's Environmental Protection Agency decided it was "not necessary" to update the rules for toxic waste from oil and gas wells. Torrents of wastewater flow daily from the nation's 1.5 million active oil and gas wells and the agency's own research has warned it may pose risks to the country's drinking water supplies.
Swedish climate activist Greta Thunberg takes part in a "Friday for Future" youth demonstration in a street of Davos on Jan. 24, 2020 on the sideline of the World Economic Forum annual meeting. FABRICE COFFRINI / AFP via Getty Images
Treasury Secretary Steven Mnuchin pretended not to know who Greta Thunberg is, and then he told her to get a degree in economics before giving world leaders advice, as The Guardian reported.
The Visible Infrared Imaging Radiometer Suite on the Suomi NPP satellite acquired this image of forest fire smoke hovering over North America on Aug. 15, 2018. NASA Earth Observatory
New York City isn't known for having the cleanest air, but researchers traced recent air pollution spikes there to two surprising sources — fires hundreds of miles away in Canada and the southeastern U.S.
If temperatures continue to rise, the world is at risk from global
sea-level rise
, which will flood many coastal cities as seen above in Bangladesh. NurPhoto / Contributor / Getty Images
The mounting climate emergency may spur the next global financial crisis and the world's central banks are woefully ill equipped to handle the consequences, according to a new book-length report by the Bank for International Settlements (BIS), as S&P Global reported. Located in Basel, Switzerland, the BIS is an umbrella organization for the world's central banks.