Is Climate Change to Blame for Increased Number of Shark Attacks?
Jul. 03, 2015 09:16AM EST
Climate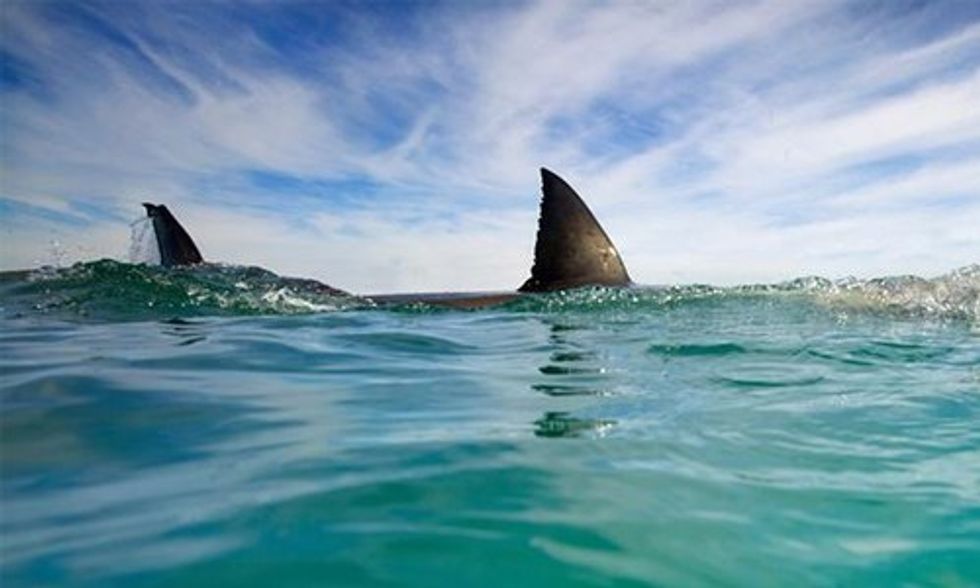 What's up with all the shark attacks recently? According to the International Shark Attack File at the University of Florida, the Carolinas have had at least 10 shark attacks so far this year—seven in North Carolina and three in South Carolina. This is already more than last year, in which North Carolina saw only four attacks total for the year, according to National Geographic.
---
"In the previous decade, there were only 25 shark attacks in North Carolina. And there have been just 55 documented shark attacks in the state between 1905 and 2014," says National Geographic. Clearly, shark attacks are on the rise in the state. So what gives?
"Across the United States overall, shark attacks are on pace with an average year, and the chance of getting bit is still very low—an estimated one in 11.5 million for an ocean bather," George H. Burgess, the director of the International Shark Attack File at the Florida Museum of Natural History, tells National Geographic. But, he adds, "Clearly, something is going on in North Carolina right now."
"It's kind of a perfect storm," Burgess tells National Geographic. Warmer air temperatures have brought warmer water temperatures to the coastal Carolina waters earlier than ever this year. North Carolina is also experiencing a moderate drought, which means less fresh water has flowed to the ocean, making the coastal waters more salty than usual, says National Geographic. It just so happens sharks like warm, salty waters. Add to that the fact that warmer temperatures are bringing more and more people to the beach and into the water to cool off, and that several of the attacks have happened to people who were near fishing lines, whose bait attracts—you guessed it—sharks, and you've got Burgess's "perfect storm."
While Burgess thinks the link between shark attacks and climate change is "plausible," Frank J. Schwartz, a shark biologist with the University of North Carolina, Chapel Hill, told National Geographic, "There's too much natural variability in weather cycles to blame the recent shark attacks on global warming." Chip Knappenberger of the CATO Institute was very critical of Nat Geo's theory:
National Geographic jumps the #globalwarming #shark: "As warming is expected to increase...will lead to more bites." http://t.co/9w4mRqHOjw — Chip Knappenberger (@PCKnappenberger) June 30, 2015
I see what you did there, Chip. Maybe, the best approach is to spend our efforts trying to help stop shark attacks rather than figuring out why exactly there's been an increase (since it's probably, as
National Geographic
concludes, a combination of factors). And where better to turn than the home of the
most fatal shark attacks in the world
: Australia. That's right, our friends from down under have come up with a very clever way to prevent shark attacks.
"Government researchers have tagged 338 sharks with acoustic transmitters that monitor where the animals are," reports NPR. "When a tagged shark is about half a mile away from a beach, it triggers a computer alert, which tweets out a message on the Surf Life Saving Western Australia Twitter feed. The tweet notes the shark's size, breed and approximate location." It's basically a GPS for sharks. This is what that looks like:
Public report 4m tiger shark sighted Herald Point, Albany. sighted 14:10hrs 24/06 Reported: 14:21hrs 25/06
— Surf Life Saving WA (@SLSWA) June 25, 2015

Pretty cool, right? They can also be a little more ominous, though.
Westpac Helicopter confirmed the sighting of a 4.5m white shark. It's circling a vessel 3.7km off Floreat Beach. Floreat beach remains open. — Surf Life Saving WA (@SLSWA) July 1, 2015

Hope everyone was all right at Floreat Beach. The important thing to remember is that we are a much larger threat to sharks than they are to us. According to data from the International Shark Attack File, sharks have attacked about 700 people with only 59 of those attacks being fatal in the last decade. While these deaths are tragic and should absolutely be reduced or ideally stopped altogether, scientists estimate 100 million sharks are killed every year for commercial fishing. So whose the bigger threat—us or them?
EcoWatch Daily Newsletter
Related Articles from EcoWatch
Recent Stories from EcoWatch