This website uses cookies to ensure you get the best experience while browsing it. By clicking 'Got It' you're accepting these terms.
Is BP Getting Away with Murder?
Nov. 15, 2012 05:31PM EST
Energy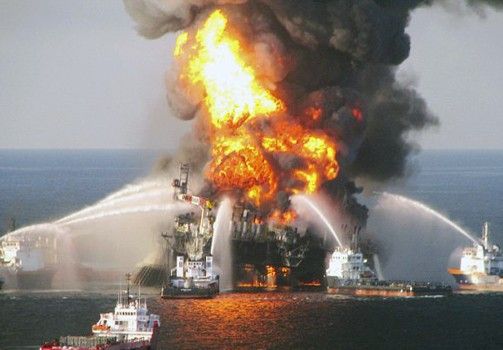 According to various news reports, BP has reached a deal with the Department of Justice and agreed to pay a record U.S. criminal penalty totaling $4.5 billion in addition to pleading guilty to gross misconduct in the 2010 Deepwater Horizon gulf oil disaster.
The AP reports BP will also plead guilty to obstruction "for lying to Congress about how much oil was pouring out of the ruptured well." The agreement was reportedly made in exchange for a waiver of future prosecution on the charges, and sources say it will not cover outstanding federal civil claims.
It remains to be seen whether BP will plead guilty to felony counts, or if the Department of Justice will grant a deferred prosecution agreement. Deferred prosecution would fail to address the company's willful negligence in the deaths of 11 people, permanent damage to the gulf ecosystem and the ongoing impact on the residents of gulf states.
Greenpeace senior investigator Mark Floegel issued the following statement in response to the reports:
"Today's announcement of a proposed settlement between BP and the U.S. government fails every aspect of the commonly accepted notion of penalty.
"This proposed settlement would not hold the guilty accountable for their actions. This fine amounts to a rounding error for a corporation the size of BP. It is far less than Shell Oil has already spent in the Arctic, without yet commencing serious operations.  
"BP management is clearly hanging low-echelon technical and engineering staff out to dry while making no significant changes to their disastrous business model.
"This proposed settlement would not protect the innocent. Nothing in this proposed settlement gives any oil company incentive to be more careful in future operations. Cutting corners and skimping on safety will still be the rule of the day.
"This proposed settlement would not deter future crime. As the other oil giants have resources similar to BP's, this proposed settlement would give a green light for more reckless behavior in environments across the globe. Shell will now be eager to return to the Arctic Ocean in 2013, knowing that its inevitable oil spills will be met with similar slaps on the wrist.
"Indeed, if one looks at the fate of BP's stock price—the only metric of value in the corporate world—it's clear that far from a penalty, this proposed settlement would be a reward to BP."
Earlier this year, Greenpeace released previously unseen photos of endangered Gulf species covered in BP oil, as well photos of a dead sperm whale found 77 miles from the site of the disaster.
"The price of one sperm whale in the gulf is immeasurable," John Hocevar, director of Greenpeace U.S. oceans campaign said, "and we still don't know the full ecological story of the BP Deepwater Horizon Disaster. This settlement would buy off further government silence about the full impacts. The Gulf deserves a full accounting for the damage BP has done, and this proposed settlement is simply BP trying to buy its way out of responsibility."
Visit EcoWatch's CLEAN WATER ACT and GULF OIL SPILL pages for more related news on this topic.
EcoWatch Daily Newsletter
Artist's conception of solar islands in the open ocean. PNAS
Millions of solar panels clustered together to form an island could convert carbon dioxide in seawater into methanol, which can fuel airplanes and trucks, according to new research from Norway and Switzerland and published in the Proceedings of the National Academy of Sciences journal, PNAS, as NBC News reported. The floating islands could drastically reduce greenhouse gas emissions and dependence on fossil fuels.
Marcos Alves / Moment Open / Getty Images
More than 40 percent of insects could go extinct globally in the next few decades. So why did the U.S. Environmental Protection Agency (EPA) last week OK the 'emergency' use of the bee-killing pesticide sulfoxaflor on 13.9 million acres?
EcoWatch teamed up with Center for Biological Diversity via EcoWatch Live on Facebook to find out why. Environmental Health Director and Senior Attorney Lori Ann Burd explained how there is a loophole in the The Federal Insecticide, Fungicide, and Rodenticide Act under section 18, "that allows for entities and states to request emergency exemptions to spraying pesticides where they otherwise wouldn't be allowed to spray."
Simple swaps that cut down on kitchen trash.
Sponsored
By Kayla Robbins
Along with the bathroom, the kitchen is one of the most daunting areas to try and make zero waste.
View of downtown Miami, Florida from Hobie Island on Feb. 2, 2019.
Michael Muraz / Flickr
The Democratic candidates for president descended upon Miami for a two-night debate on Wednesday and Thursday. Any candidate hoping to carry the state will have to make the climate crisis central to their campaign, as The New York Times reported.
By Sharon Kelly
On Monday, the Wall Street Journal featured a profile of Scott Sheffield, CEO of Pioneer Natural Resources, whose company is known among investors for its emphasis on drawing oil and gas from the Permian basin in Texas using horizontal drilling and hydraulic fracturing, or fracking.
Pexels
By Craig K. Chandler
The federal government has available to it, should it choose to use them, a wide range of potential climate change management tools, going well beyond the traditional pollution control regulatory options. And, in some cases (not all), without new legislative authorization.
Denis Poroy / Getty Images
By Dan Gray
Processed foods, in their many delicious forms, are an American favorite.
But new research shows that despite increasing evidence on just how unhealthy processed foods are, Americans have continued to eat the products at the same rate.
By Sarah Steffen
With a profound understanding of their environmental surroundings, indigenous communities around the world are often cited as being pivotal to tackling climate change.