This website uses cookies to ensure you get the best experience while browsing it. By clicking 'Got It' you're accepting these terms.
Is Bill Nye a Hired Gun for Monsanto?
Mar. 23, 2015 08:53AM EST
GMO

You may have heard that popular scientist Bill Nye has mysteriously revised his outlook on genetically modified organisms (GMOs). Several years ago, the children's show host advocated for the labeling of genetically modified foods, citing concerns about what GMOs could do to ecosystems. But now his position on the controversial technology has flipped. This development is the latest in a trend spearheaded by agribusiness giants to discredit the GMO labeling movement, and it's especially hard to disassociate his reversal from this PR blitz since it coincided with Nye's recent trip to Monsanto's headquarters.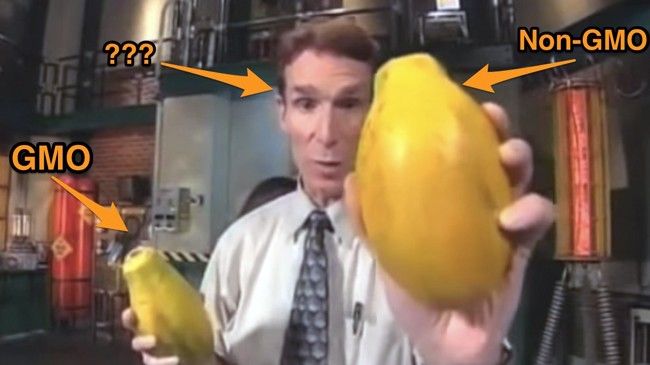 We'll never know what actually went down during Nye's visit, as Tom Philpott at Mother Jones notes, but we do know that Monsanto has poured millions of dollars into public relation efforts to sell the public on GMOs. Because that's what you do when you are a corporation with deep coffers and a product that the public is wisely skeptical of.
Does this mean that it's game over for the GMO labeling movement or that we should trust Monsanto's word? Of course not. In fact, it means we should be more suspicious than ever.
Companies like Monsanto hope that casting doubt on the GMO labeling debate will cause us to get caught up in the proverbial weeds of the issue. So let's get something straight: the debate over GMOs isn't just about GMOs. It's about the current and future state of our food system—who grows and sells our food, how it's marketed, and what technologies were used to produce it. By selling seeds to farmers, peddling pesticides, forming corporate monopolies and funding academic research on GMOs, agribusiness giants like Monsanto have one goal in mind: controlling the food system. The millions of people calling for labeling of GMO foods have a problem with that. Furthermore, it is disappointing to see such beloved science advocates as Bill Nye and Neil deGrasse Tyson being captured by the industry.
As I outlined in my book Foodopoly, Monsanto's roots in the biotech game date back decades, and they have a long history of subverting public policy. In effect, the company used its relationship with the Reagan Administration to create a weak regulatory process that would help the company bring its products to market quickly and smoothly. A 1985 U.S. Patent and Trademark Office ruling that allowed for plants to be patented further entrenched Monsanto's power in this area. Since 1999, the fifty largest agricultural and food patent-holding companies and two of the largest biotech and agrochemical trade associations have spent more than US$572 million in campaign contributions and lobbying expenditures, much of it to create a favorable political context to allow GMOs to proliferate.
Just because the industry has launched a charm offensive in the media when it comes to GMOs doesn't change the basic facts: GMOs are largely untested, and their long-term effects on our health and our planet are still unknown; they promote the use of dangerous chemicals, and they pose a significant threat to organic agriculture. What's more, consumers should absolutely get to decide whether the food they are buying carries these unknown risks or supports this system; GMO foods must be labeled.
Corporations and their hired guns love confusing people about the science behind their questionable products to help shape favorable public opinion (in the case of GMOs, asserting there is scientific consensus where none actually exists). But we aren't buying their spin, nor should you.
YOU MIGHT ALSO LIKE
USDA Approves GMO Arctic Apples Despite Opposition
EcoWatch Daily Newsletter

georgeclerk / E+ / Getty Images
By Jennifer Molidor
One million species are at risk of extinction from human activity, warns a recent study by scientists with the United Nations. We need to cut greenhouse gas pollution across all sectors to avoid catastrophic climate change — and we need to do it fast, said the Intergovernmental Panel on Climate Change.
This research should serve as a rallying cry for polluting industries to make major changes now. Yet the agriculture industry continues to lag behind.
Edwin Remsburg / VW Pics / Getty Images
Botswana, home to one third of Africa's elephants, announced Wednesday that it was lifting its ban on the hunting of the large mammals.
"The Ministry of Environment, Natural Resources Conservation and Tourism wishes to inform the public that following extensive consultations with all stakeholders, the Government of Botswana has taken a decision to lift the hunting suspension," the government announced in a press release shared on social media.
Pxhere
By Richard Denison
Readers of this blog know how concerned EDF is over the Trump EPA's approval of many dozens of new chemicals based on its mere "expectation" that workers across supply chains will always employ personal protective equipment (PPE) just because it is recommended in the manufacturer's non-binding safety data sheet (SDS).
By Grant Smith
From 2009 to 2012, Gregory Jaczko was chairman of the Nuclear Regulatory Commission, which approves nuclear power plant designs and sets safety standards for plants. But he now says that nuclear power is too dangerous and expensive — and not part of the answer to the climate crisis.
A lake in Rocky Mountain National Park. Brett Walton / Circle of Blue
By Brett Walton
When Greg Wetherbee sat in front of the microscope recently, he was looking for fragments of metals or coal, particles that might indicate the source of airborne nitrogen pollution in Rocky Mountain National Park. What caught his eye, though, were the plastics.
Gabriele Holtermann Gorden / Pacific Press / LightRocket / Getty Images
In a big victory for animals, Prada has announced that it's ending its use of fur! It joins Coach, Jean Paul Gaultier, Giorgio Armani, Versace, Ralph Lauren, Vivienne Westwood, Michael Kors, Donna Karan and many others PETA has pushed toward a ban.
This is a victory more than a decade in the making. PETA and our international affiliates have crashed Prada's catwalks with anti-fur signs, held eye-catching demonstrations all around the world, and sent the company loads of information about the fur industry. In 2018, actor and animal rights advocate Pamela Anderson sent a letter on PETA's behalf urging Miuccia Prada to commit to leaving fur out of all future collections, and the iconic designer has finally listened.
Amer Ghazzal / Barcroft Media / Getty Images
If people in three European countries want to fight the climate crisis, they need to chill out more.
That's the conclusion of a new study from think tank Autonomy, which found that Germany, the UK and Sweden all needed to drastically reduce their workweeks to fight climate change.
Amazon Employees for Climate Justice held a press conference after the annual shareholder meeting on May 22. Amazon Employees for Climate Justice