Is Barack Obama Morphing Into Dick Cheney?
Jun. 21, 2012 10:55AM EST
Energy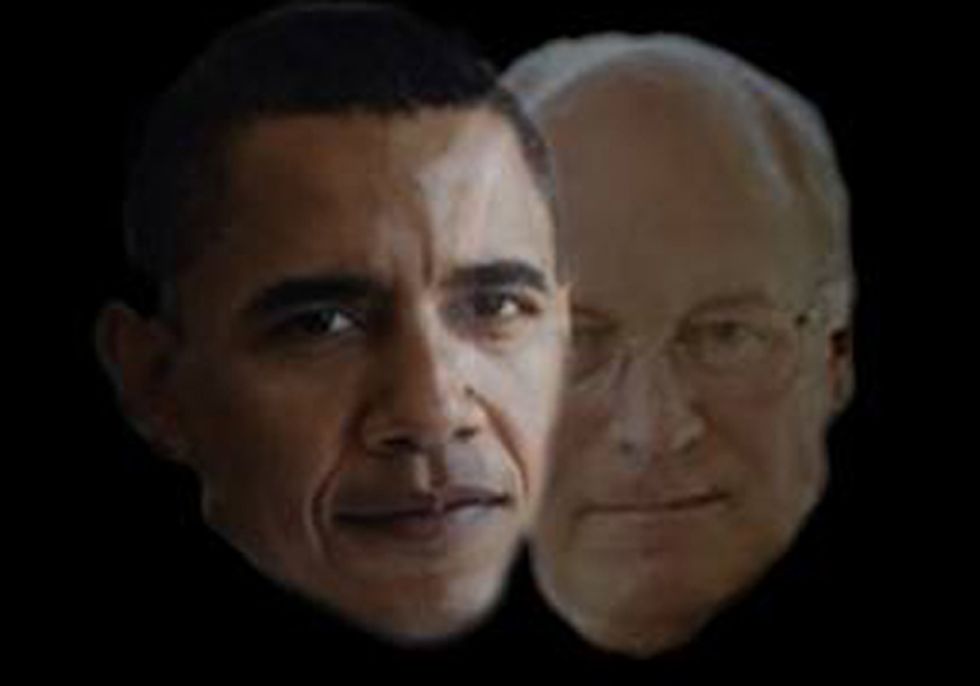 Four Ways the President Is Pursuing Cheney's Geopolitics of Global Energy
As details of his administration's global war against terrorists, insurgents and hostile warlords have become more widely known—a war that involves a mélange of drone attacks, covert operations and presidentially selected assassinations—President Obama has been compared to President George W. Bush in his appetite for military action. "As shown through his stepped-up drone campaign," Aaron David Miller, an advisor to six secretaries of state, wrote at Foreign Policy, "Barack Obama has become George W. Bush on steroids."
When it comes to international energy politics, however, it is not Bush but his vice president, Dick Cheney, who has been providing the role model for the president. As recent events have demonstrated, Obama's energy policies globally bear an eerie likeness to Cheney's, especially in the way he has engaged in the geopolitics of oil as part of an American global struggle for future dominance among the major powers.
More than any of the other top officials of the Bush administration—many with oil-company backgrounds—Cheney focused on the role of energy in global power politics.  From 1995 to 2000, he served as chairman of the board and chief executive officer of Halliburton, a major supplier of services to the oil industry.  Soon after taking office as vice president he was asked by Bush to devise a new national energy strategy that has largely governed U.S. policy ever since.
Early on, Cheney concluded that the global supply of energy was not growing fast enough to satisfy rising world demand, and that securing control over the world's remaining oil and natural gas supplies would therefore be an essential task for any state seeking to acquire or retain a paramount position globally.  He similarly grasped that a nation's rise to prominence could be thwarted by being denied access to essential energy supplies. As coal was to the architects of the British empire, oil was for Cheney—a critical resource over which it would sometimes be necessary to go to war.
More than any of his peers, Cheney articulated such views on the importance of energy to national wealth and power. "Oil is unique in that it is so strategic in nature," he told an audience at an industry conference in London in 1999. "We are not talking about soapflakes or leisurewear here. Energy is truly fundamental to the world's economy. The Gulf War was a reflection of that reality."
Cheney's reference to the 1990-1991 Gulf War is particularly revealing. During that conflict, he was the secretary of defense and so supervised the American war effort. But while his boss, President George H.W. Bush, played down the role of oil in the fight against Iraq, Cheney made no secret of his belief that energy geopolitics lay at the heart of the matter. "Once [Iraqi autocrat Saddam Hussein] acquired Kuwait and deployed an army as large as the one he possesses," Cheney told the Senate Armed Services Committee when asked to justify the administration's decision to intervene, "he was clearly in a position to be able to dictate the future of worldwide energy policy, and that gave him a stranglehold on our economy."
This would be exactly the message he delivered in 2002, as the second President Bush girded himself for the invasion of Iraq. Were Saddam Hussein successful in acquiring weapons of mass destruction, Cheney told a group of veterans that August 25th, "[he] could then be expected to seek domination of the entire Middle East [and] take control of a great portion of the world's energy supplies."
For Cheney, the geopolitics of oil lay at the core of international relations, largely determining the rise and fall of nations. From this, it followed that any steps, including war and environmental devastation, were justified so long as they enhanced America's power at the expense of its rivals.
Cheney's World
Through his speeches, Congressional testimony and actions in office, it is possible to reconstruct the geopolitical blueprint that Cheney followed in his career as a top White House strategist—a blueprint that President Obama, eerily enough, now appears to be implementing, despite the many risks involved.
That blueprint consists of four key features:
1. Promote domestic oil and gas production at any cost to reduce America's dependence on unfriendly foreign suppliers, thereby increasing Washington's freedom of action.
2. Keep control over the oil flow from the Persian Gulf (even if the U.S. gets an ever-diminishing share of its own oil supplies from the region) in order to retain an "economic stranglehold" over other major oil importers.
3. Dominate the sea lanes of Asia, so as to control the flow of oil and other raw materials to America's potential economic rivals, China and Japan.
4. Promote energy "diversification" in Europe, especially through increased reliance on oil and natural gas supplies from the former Soviet republics of the Caspian Sea basin, in order to reduce Europe's heavy dependence on Russian oil and gas, along with the political influence this brings Moscow.
The first objective, increased reliance on domestic oil and gas, was highlighted in National Energy Policy, the energy strategy Cheney devised for the president in May 2001 in close consultation with representatives of the oil giants.  Although mostly known for its advocacy of increased drilling on federal lands, including the Arctic National Wildlife Refuge, the Cheney Report (as it came to be known) largely focused on the threat of growing U.S. dependence on foreign oil suppliers and the need to achieve greater "energy security" through a damn-the-torpedoes-full-speed-ahead program of accelerated exploitation of domestic energy supplies.
"A primary goal of the National Energy Policy is to add supply from diverse sources," the report declared. "This means domestic oil, gas, and coal.  It also means hydropower and nuclear power." The plan also called for a concerted drive to increase U.S. reliance on friendly sources of energy in the Western hemisphere, especially Brazil, Canada, and Mexico.
The second objective, control over the flow of oil through the Persian Gulf, was, for Cheney, the principal reason for both the First Gulf War and the 2003 invasion of Iraq. Although before that invasion, the president and other top officials focused on Saddam Hussein's supposed weapons of mass destruction, his human rights record, and the need to bring democracy to Iraq, Cheney never wavered in his belief that the basic goal was to ensure that Washington would control the Middle Eastern oil jugular.
After Saddam's ouster and the occupation of Iraq began, Cheney was especially outspoken in his insistence that neighboring Iran be prevented, by force of arms if need be, from challenging American preeminence in the Gulf.  "We'll keep the sea lanes open," he declared from the deck of an aircraft carrier during maneuvers off the coast of Iran in May 2007. "We'll stand with others to prevent Iran from gaining nuclear weapons and dominating the region."
Cheney also focused in a major way on ensuring control over the sea lanes from the Strait of Hormuz, at the mouth of the Persian Gulf (out of which 35 percent of the world's tradable oil flows each day) across the Indian Ocean, through the Straits of Malacca, and into the South and East China Seas. To this day, these maritime corridors remain essential for the economic survival of China, Japan, South Korea, and Taiwan, bringing oil and other raw materials to their industries and carrying manufactured goods to their markets abroad. By maintaining U.S. control over these vital conduits, Cheney sought to guarantee the loyalty of America's key Asian allies and constrain the rise of China. In pursuit of these classic geopolitical objectives, he pushed for an enhanced U.S. naval presence in the Asia-Pacific region and the establishment of a network of military alliances linking Japan, Australia, and India, all aimed at containing China.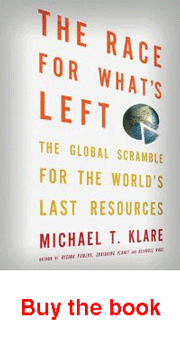 Finally, Cheney sought to rein in America's other major great-power rival, Russia. While his boss, George W. Bush, spoke of the potential for cooperation with Moscow, Cheney, still an energy cold warrior, viewed Russia as a geopolitical competitor and sought every opportunity to diminish its power and influence. He particularly feared that Europe's growing dependence on Russian natural gas could undermine its resolve to resist aggressive Russian moves in Eastern Europe and the Caucasus.
To counter this trend, Cheney tried to persuade the Europeans to get more of their energy from the Caspian Sea basin by building new pipelines to that region via Georgia and Turkey. The idea was to bypass Russia by persuading Azerbaijan, Kazakhstan, and Turkmenistan to export their gas through these conduits, not those owned by Gazprom, the Russian state-controlled monopoly. When Georgia came under attack from Russian forces in August 2008, after Georgian troops shelled the pro-Moscow enclave of South Ossetia, Cheney was the first senior U.S. official to visit Tbilisi, bringing a promise of $1 billion in reconstruction assistance, as well as an offer of fast-track entry into NATO. France and Germany blocked the move, fearing Moscow might respond with actions that could destabilize Europe.
Obama as Cheney
This four-part geopolitical blueprint, relentlessly pursued by Cheney while vice president, is now being implemented in every respect by President Obama.
When it comes to the pursuit of enhanced energy independence, Obama has embraced the ultra-nationalistic orientation of the 2001 Cheney report, with its call for increased reliance on domestic and Western Hemisphere oil and natural gas—no matter the dangers of drilling in environmentally fragile offshore areas or the use of hazardous techniques like hydro-fracking. In recent speeches, he has boasted of his administration's efforts to facilitate increased oil and gas drilling at home and promised to speed drilling in new locations, including offshore Alaska and the Gulf of Mexico.
"Over the last three years," he boasted in his January State of the Union address, "we've opened millions of new acres for oil and gas exploration, and tonight, I'm directing my administration to open more than 75 percent of our potential offshore oil and gas resources.  Right now—right now—American oil production is the highest that it's been in eight years… Not only that—last year, we relied less on foreign oil than in any of the past 16 years." He spoke with particular enthusiasm about the extraction of natural gas via fracking from shale deposits: "We have a supply of natural gas that can last America nearly 100 years. And my administration will take every possible action to safely develop this energy."
Obama has also voiced his desire to increase U.S. reliance on Western Hemisphere energy, thereby diminishing its dependence on unreliable and unfriendly suppliers in the Middle East and Africa. In March 2011, with the Arab Spring gaining momentum, he traveled to Brazil for five days of trade talks, a geopolitical energy pivot noted at the time. In the eyes of many observers, Obama's focus on Brazil was inextricably linked to that country's emergence as a major oil producer, thanks to new discoveries in the "pre-salt" fields off its coast in the depths of the Atlantic Ocean, discoveries that could help the U.S. wean itself off Middle Eastern oil but could also turn out to be pollution nightmares. Although environmentalists have warned of the risks of drilling in the pre-salt fields, where a Deepwater Horizon-like blowout is an ever-present danger, Obama has made no secret of his geopolitical priorities. "By some estimates, the oil you recently discovered off the shores of Brazil could amount to twice the reserves we have in the United States," he told Brazilian business leaders in that country's capital. "When you're ready to start selling, we want to be one of your best customers. At a time when we've been reminded how easily instability in other parts of the world can affect the price of oil, the United States could not be happier with the potential for a new, stable source of energy."
At the same time, Obama has made it clear that the U.S. will retain its role as the ultimate guardian of the Persian Gulf sea lanes.  Even while trumpeting the withdrawal of U.S. combat forces from Iraq, he has insisted that the U.S. will bolster its air, naval, and special operations forces in the Gulf region, so as to remain the preeminent military power there. "Back to the future," is how Major General Karl R. Horst, chief of staff of the U.S. Central Command, described the new posture, referring to a time before the Iraq War when the U.S. exercised dominance in the region mainly through its air and naval superiority.
While less conspicuous than "boots on the ground," the expanded air and naval presence will be kept strong enough to overpower any conceivable adversary. "We will have a robust continuing presence throughout the region," Secretary of State Hillary Clinton declared last October. Such a build-up has in fact been accentuated, in preparation either for a strike on Iranian nuclear facilities, should Obama conclude that negotiations to curb Iranian enrichment activities have reached a dead end, or to clear the Strait of Hormuz, if the Iranians carry out threats to block oil shipping there in retaliation for the even harsher economic sanctions due to be imposed after July 1.
Like Cheney, Obama also seeks to ensure U.S. control over the vital sea lanes extending from the Strait of Hormuz to the South China Sea.  This is, in fact, the heart of Obama's much publicized policy "pivot" to Asia and his new military doctrine, first revealed in a speech to the Australian Parliament on Nov. 17. "As we plan and budget for the future," he declared, "we will allocate the resources necessary to maintain our strong military presence in this region." A major priority of this effort, he indicated, would be enhanced "maritime security," especially in the South China Sea.
Central to the Obama plan—like that advanced by Dick Cheney in 2007—is the construction of a network of bases and alliances encircling China, the globe's rising power, in an arc stretching from Japan and South Korea in the north to Australia, Vietnam and the Philippines in the southeast and thence to India in the southwest. When describing this effort in Canberra, Obama revealed that he had just concluded an agreement with the Australian government to establish a new U.S. military basing facility at Darwin on the country's northern coast, near the South China Sea. He also spoke of the ultimate goal of U.S. geopolitics: a region-embracing coalition of anti-Chinese states that would include India. "We see America's enhanced presence across Southeast Asia," both in growing ties with local powers like Australia and "in our welcome of India as it 'looks east' and plays a larger role as an Asian power."
As anyone who follows Asian affairs is aware, a strategy aimed at encircling China—especially one intended to incorporate India into America's existing Asian alliance system—is certain to produce alarm and pushback from Beijing. "I don't think they're going to be very happy," said Mark Valencia, a senior researcher at the National Bureau of Asian Research, speaking of China's reaction. "I'm not optimistic in the long run as to how this is going to wind up."
Finally, Obama has followed in Cheney's footsteps in his efforts to reduce Russia's influence in Europe and Central Asia by promoting the construction of new oil and gas pipelines from the Caspian via Georgia and Turkey to Europe. On June 5, at the Caspian Oil and Gas Conference in Baku, President Ilham Aliyev of Azerbaijan read a message from Obama promising Washington's support for a proposed Trans-Anatolia gas pipeline, a conduit designed to carry natural gas from Azerbaijan across Georgia and Turkey to Europe—bypassing Russia, naturally. At the same time, Secretary of State Clinton traveled to Georgia, just as Cheney had, to reaffirm U.S. support and offer increased U.S. military aid. As during the Bush-Cheney era, these moves are bound to be seen in Moscow as part of a calculated drive to lessen Russia's influence in the region—and so are certain to elicit a hostile response.
In virtually every respect, then, when it comes to energy geopolitics the Obama administration continues to carry out the strategic blueprint pioneered by Dick Cheney during the two Bush administrations. What explains this surprising behavior?  Assuming that it doesn't represent a literal effort to replicate Cheney's thinking—and there's no evidence of that—it clearly represents the triumph of imperial geopolitics (and hidebound thinking) over ideology, principle or even simple openness to new ideas.
When you get two figures as different as Obama and Cheney pursuing the same pathways in the world—and the first time around was anything but a success—it's a sign of just how closed and airless the world of Washington really has become. At a time when most Americans are weary of grand ideological crusades, the pursuit of what looks like simple national self-interest—in the form of assured energy supplies—may appear far more attractive as a rationale for military and political involvement abroad.
In addition, Obama and his advisers are no doubt influenced by talk of a new "golden age" of North American oil and gas, made possible by the exploitation of shale deposits and other unconventional—and often dirty—energy resources. According to projections given by the Department of Energy, U.S. reliance on imported energy is likely to decline in the years ahead (though there is a domestic price to be paid for such "independence"), while China's will only rise—a seeming geopolitical advantage for the United States that Obama appears to relish.
It is easy enough to grasp the appeal of such energy geopolitics for White House strategists, especially given the woeful state of the U.S. economy and the declining utility of other instruments of state power. And if you are prepared to overlook the growing environmental risks of reliance on offshore oil, shale gas, and other unconventional forms of energy, rising U.S. energy output conveys certain geopolitical advantages. But as history suggests, engaging in aggressive global geopolitical confrontations with other determined, well-armed players usually leads to friction, crisis, war and disaster.
In this regard, Cheney's geopolitical maneuvering led us into two costly Middle Eastern wars while heightening tensions with both China and Russia. President Obama claims he seeks to build a more peaceful world, but copying the Cheney energy blueprint is bound to produce the exact opposite.
--------
Michael T. Klare is a professor of peace and world security studies at Hampshire College, a TomDispatch regular, and the author most recently of The Race for What's Left: The Global Scramble for the World's Last Resources (Metropolitan Books). To listen to Timothy MacBain's latest Tomcast audio interview in which Klare discusses imperial geopolitics as the default mode for Washington since 1945, click here or download it to your iPod here.
Cross-posted with permission from TomDispatch.com.
The Gowanus Canal in Brooklyn, New York, a polluted nearly 2 mile-long waterway that is an EPA Superfund site. Jonathan Macagba / Moment / Getty Images
Thousands of Superfund sites exist around the U.S., with toxic substances left open, mismanaged and dumped. Despite the high levels of toxicity at these sites, nearly 21 million people live within a mile of one of them, according to the U.S. Environmental Protection Agency (EPA).
EcoWatch Daily Newsletter
The National Weather Service station in Chatham, Massachusetts, near the edge of a cliff at the Monomoy National Wildlife Refuge. Bryce Williams / National Weather Service in Boston / Norton
A weather research station on a bluff overlooking the sea is closing down because of the climate crisis.
The National Weather Service (NWS) station in Chatham, Massachusetts was evacuated March 31 over concerns the entire operation would topple into the ocean.
"We had to say goodbye to the site because of where we are located at the Monomoy Wildlife Refuge, we're adjacent to a bluff that overlooks the ocean," Boston NWS meteorologist Andy Nash told WHDH at the time. "We had to close and cease operations there because that bluff has significantly eroded."
Chatham is located on the elbow of Cape Cod, a land mass extending out into the Atlantic Ocean that has been reshaped and eroded by waves and tides over tens of thousands of years, The Guardian explained. However, sea level rise and extreme weather caused by the climate crisis have sped that change along.
"It's an extremely dynamic environment, which is obviously a problem if you are building permanent infrastructure here," Andrew Ashton, an associate scientist at Cape-Cod based Woods Hole Oceanographic Institution, told The Guardian. "We are putting our foot on the accelerator to make the environment even more dynamic."
This was the case with the Chatham weather station. It used to be protected from the drop into the ocean by about 100 feet of land. However, storm action in 2020 alone washed away as much as six feet of land a day.
"We'd know[n] for a long time there was erosion but the pace of it caught everyone by surprise," Nash told The Guardian. "We felt we had maybe another 10 years but then we started losing a foot of a bluff a week and realized we didn't have years, we had just a few months. We were a couple of storms from a very big problem."
The Chatham station was part of a network of 92 NWS stations that monitor temperature, pressure, humidity, wind speed and direction and other data in the upper atmosphere, The Cape Cod Chronicle explained. The stations send up radiosondes attached to weather balloons twice a day to help with weather research and prediction. The Chatham station, which had been observing this ritual for the past half a century, sent up its last balloon the morning of March 31.
"We're going to miss the observations," Nash told The Cape Cod Chronicle. "It gives us a snapshot, a profile of the atmosphere when the balloons go up."
The station was officially decommissioned April 1, and the two buildings on the site will be demolished sometime this month. The NWS is looking for a new location in southeastern New England. In the meantime, forecasters will rely on data from stations in New York and Maine.
Nash said the leavetaking was bittersweet, but inevitable.
"[M]other nature is evicting us," he told The Cape Cod Chronicle.
Amsterdam is one of the Netherlands' cities which already has "milieuzones," where some types of vehicles are banned. Unsplash / jennieramida
By Douglas Broom
If online deliveries continue with fossil-fuel trucks, emissions will increase by a third.
So cities in the Netherlands will allow only emission-free delivery vehicles after 2025.
The government is giving delivery firms cash help to buy or lease electric vehicles.
The bans will save 1 megaton of CO2 every year by 2030.
Cities in the Netherlands want to make their air cleaner by banning fossil fuel delivery vehicles from urban areas from 2025.
"Now that we are spending more time at home, we are noticing the large number of delivery vans and lorries driving through cities," said Netherlands environment minister Stientje van Veldhoven, announcing plans to ban all but zero-emission deliveries in 14 cities.
"The agreements we are setting down will ensure that it will be a matter of course that within a few years, supermarket shelves will be stocked, waste will be collected, and packages will arrive on time, yet without any exhaust fumes and CO2 emissions," she added.
Protestors stage a demonstration against fracking in California on May 30, 2013 in San Francisco, California. Justin Sullivan / Getty Images
The bill, SB467, would have prohibited fracking and other controversial forms of oil extraction. It would also have banned oil and gas production within 2,500 feet of a home, school, hospital or other residential facility. The bill originally set the fracking ban for 2027, but amended it to 2035, The AP reported.
"Obviously I'm very disappointed," State Sen. Scott Wiener (D-San Francisco), one of the bill's two introducers, told the Los Angeles Times. "California really has not done what it needs to do in terms of addressing the oil problem. We have communities that are suffering right now, and the Legislature has repeatedly failed to act."
The bill was introduced after California Gov. Gavin Newsom said he would sign a fracking ban if it passed the legislature, though his administration has continued to issue permits in the meantime, Forbes reported. Newsom has also spoken in favor of a buffer zone between oil and gas extraction and places where people live and learn, according to the Los Angeles Times. The latter is a major environmental justice issue, as fossil fuel production is more likely to be located near Black and Latinx communities.
Urban lawmakers who want California to lead on the climate crisis supported the bill, while inland lawmakers in oil-rich areas concerned about jobs opposed it. The oil and gas industry and trade unions also opposed the bill.
This opposition meant the bill failed to get the five votes it needed to move beyond the Senate's Natural Resources and Water Committee. Only four senators approved it, while Democrat Sen. Susan Eggman of Stockton joined two Republicans to oppose it, and two other Democrats abstained.
Eggman argued that the bill would have forced California to rely on oil extracted in other states.
"We're still going to use it, but we're going to use it from places that produce it less safely," Eggman told The AP. She also said that she supported the transition away from fossil fuels, but thought the bill jumped the gun. "I don't think we're quite there yet, and this bill assumes that we are," she added.
Historically, California has been a major U.S. oil producer. Its output peaked in 1986 at 1.1 million barrels a day, just below Texas and Alaska, according to Forbes. However, production has declined since then making it the seventh-most oil-producing state.
Still, California's fossil fuel industry is at odds with state attempts to position itself as a climate leader.

"There is a large stain on California's climate record, and that is oil," Wiener said Tuesday, according to The AP.
Wiener and Democrat co-introducer Sen. Monique Limón from Santa Barbara vowed to keep fighting.
"While we saw this effort defeated today, this issue isn't going away," they wrote in a joint statement. "We'll continue to fight for aggressive climate action, against harmful drilling, and for the health of our communities."
From Your Site Articles
Related Articles Around the Web
EXTREME-PHOTOGRAPHER / E+ / Getty Images
By Brett Wilkins
As world leaders prepare for this November's United Nations Climate Conference in Scotland, a new report from the Cambridge Sustainability Commission reveals that the world's wealthiest 5% were responsible for well over a third of all global emissions growth between 1990 and 2015.
The report, Changing Our Ways: Behavior Change and the Climate Crisis, found that nearly half the growth in absolute global emissions was caused by the world's richest 10%, with the most affluent 5% alone contributing 37%.
"In the year when the UK hosts COP26, and while the government continues to reward some of Britain's biggest polluters through tax credits, the commission report shows why this is precisely the wrong way to meet the UK's climate targets," the report's introduction states.
The authors of the report urge United Kingdom policymakers to focus on this so-called "polluter elite" in an effort to persuade wealthy people to adopt more sustainable behavior, while providing "affordable, available low-carbon alternatives to poorer households."
The report found that the "polluter elite" must make "dramatic" lifestyle changes in order to meet the UK's goal — based on the Paris climate agreement's preferential objective — of limiting global heating to 1.5°C, compared with pre-industrial levels.
In addition to highlighting previous recommendations — including reducing meat consumption, reducing food waste, and switching to electric vehicles and solar power — the report recommends that policymakers take the following steps:
Implement frequent flyer levies;
Enact bans on selling and promoting SUVs and other high polluting vehicles;
Reverse the UK's recent move to cut green grants for homes and electric cars; and
Build just transitions by supporting electric public transport and community energy schemes.
"We have got to cut over-consumption and the best place to start is over-consumption among the polluting elites who contribute by far more than their share of carbon emissions," Peter Newell, a Sussex University professor and lead author of the report, told the BBC.
"These are people who fly most, drive the biggest cars most, and live in the biggest homes which they can easily afford to heat, so they tend not to worry if they're well insulated or not," said Newell. "They're also the sort of people who could really afford good insulation and solar panels if they wanted to."
Newell said that wealthy people "simply must fly less and drive less. Even if they own an electric SUV, that's still a drain on the energy system and all the emissions created making the vehicle in the first place."
"Rich people who fly a lot may think they can offset their emissions by tree-planting schemes or projects to capture carbon from the air," Newell added. "But these schemes are highly contentious and they're not proven over time."
The report concludes that "we are all on a journey and the final destination is as yet unclear. There are many contradictory road maps about where we might want to get to and how, based on different theories of value and premised on diverse values."
"Promisingly, we have brought about positive change before, and there are at least some positive signs that there is an appetite to do what is necessary to live differently but well on the planet we call home," it states.
The new report follows a September 2020 Oxfam International study that revealed the wealthiest 1% of the world's population is responsible for emitting more than twice as much carbon dioxide as the poorest 50% of humanity combined.
Reposted with permission from Common Dreams.

From Your Site Articles
Related Articles Around the Web