This website uses cookies to ensure you get the best experience while browsing it. By clicking 'Got It' you're accepting these terms.
Is Artificial Turf Safe for Your Children?
Jan. 22, 2015 11:40AM EST
Artificial turf is commonplace on athletic fields all over the U.S. There are benefits to turf: it uses less water, requires less maintenance and has much higher durability than grass fields. But many have become concerned about the impact artificial turf can have on children's health, as well as the burden on taxpayers with synthetic turf costing around $800,000.
Many turf fields are covered in fake dirt called crumb rubber, which is made up of recycled tires. Experts are still trying to figure out how much of a threat crumb rubber poses to children, but we already know that tires contain dangerous toxins. It's just a question of whether or not kids are being exposed to these toxins and what schools and city officials are doing to address the potential exposure. That's what reporter Cara Santa Maria seeks to find out in this video posted on KCET, the largest independent pubic television station in the U.S.
Santa Maria interviews people in the Los Angeles area like Jenny Chamberlain, who avoids turf fields in her area because her child's shoes kept melting from the heat that turf fields give off. She measured the temperature of the turf fields her child was playing on, and they often registered 40 degrees hotter than grass fields. Turf companies claim artificial turf is safe because kids don't ingest the crumb rubber. Chamberlain, however, doesn't buy it because she has seen kids drop an orange, brush it off and eat it—putting them at risk of exposure. Kids also fall on the ground constantly in sports and risk ingesting the crumb rubber that way, too.
Kids might not even have to put the crumb rubber in their mouths. Dr. James Seltzer, an allergy and immunology specialist, says, "There is a number of heavy metals that are present in crumb rubber" and "some of the chemicals in crumb rubber can vaporize into the air, so anybody in the vicinity can be exposed to small amounts of these volatile compounds. Whether those small amounts are truly harmful or not is still a question mark. It hasn't been fully answered," he said.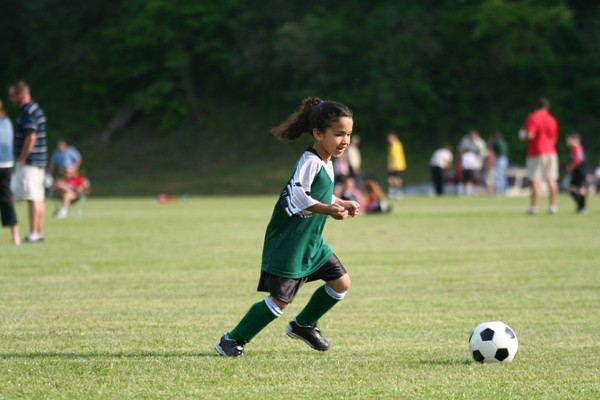 Photo credit: Shutterstock
The potential threat to children's health and well being is enough for Michael Shull, general manager of the City of Los Angles Department of Recreation and Parks. He says that even though the research is inconclusive, the city has already decided to stop using crumb rubber in its fields. Check out this map that shows where crumb rubber fields are in the LA area.
The Los Angeles Unified School District already banned crumb rubber in 2009 because of the health risks. When they tested their fields and found lead, even in low concentrations, they decided to phase out crumb rubber and instead use virgin rubber or cork. Now that all city-operated athletic fields are phasing out crumb rubber, community members who use athletic fields that aren't property of the city and those who live outside of Los Angeles are still concerned about their health and their children's health.
YOU MIGHT ALSO LIKE
Scientists Find High Fructose Corn Syrup Is as Bad For You as You Might Think
5 Ways to Make Grocery Shopping Healthier for You and the Planet
1 Simple Way to Get Your Kids to Eat Their Fruits and Veggies
Plus, learn if there's one that's best for your health.
Catherine Falls Commercial / Moment / Getty Images
An invasive Amynthas worm, also known as a crazy snake worm, Asian jumping worm and Alabama jumper Tom Potterfield / Flickr
By Jason Bittel
My wife and I built a house two years ago on a few acres of woodland outside of Pittsburgh. The backyard is full of maples, poplars, briars and common spicebush. Two-lined salamanders and grumpy-looking crayfish wade among the rocks in the small stream that runs down the edge of the property. Deer, raccoon and opossum tracks appear regularly in the snow and mud. Sometimes, my trail-cam even catches a pair of gray foxes as they slink through the night.
AleksandarNakic / Getty Images
By Kate Murphy
No matter the time of year, there's always a point in each season when my skin decides to cause me issues. While these skin issues can vary, I find the most common issues to be dryness, acne and redness.

David Woodfall / The Image Bank / Getty Images
By Sam Nickerson
The U.S. Environmental Protection Agency (EPA) in April 2018 proposed relaxing standards related to how it assesses the effects of exposure to low levels of toxic chemicals on public health.
Now, correspondence obtained by the LA Times revealed just how deeply involved industry lobbyists and a controversial, industry-funded toxicologist were in drafting the federal agency's proposal to scrap its current, protective approach to regulating toxin exposure.
Steve Irwin poses with a three foot long alligator at the San Francisco Zoo on June 26, 2002. Justin Sullivan / Getty Images
February 22 is the birthday of conservationist and beloved TV personality "Crocodile Hunter" Steve Irwin, who would have been 57 years old today.
Irwin's life was tragically cut short when the barb from a stingray went through his chest while he was filming in 2006, but his legacy of loving and protecting wildlife lives on, most recently in a Google Doodle today honoring his birthday.