This website uses cookies to ensure you get the best experience while browsing it. By clicking 'Got It' you're accepting these terms.
Is a Low-Fat Diet Healthy?
Dec. 14, 2015 11:47AM EST
For decades, dietary guidelines have instructed us to eat a "low-fat" diet.
The way this diet is defined, is that fat is supposed to be around 30 percent of calories.
Many studies have shown that this diet is ineffective in the long-term.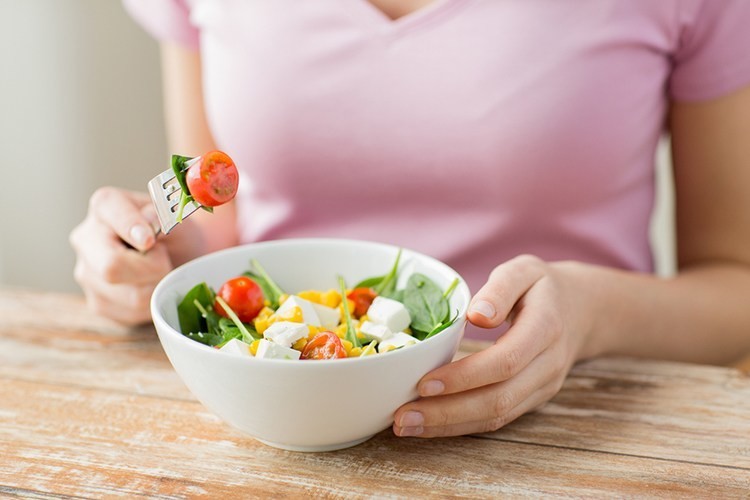 Photo credit: Shutterstock
The largest and longest studies show only tiny reductions in weight and no effects on heart disease or cancer risk (1, 2, 3, 4, 5).
However, many proponents of low-fat diets claim that such a diet is highly flawed, because it isn't low-fat enough.
Many scientists and doctors who study low-fat diets claim that it needs to be around 10 percent fat in order to work.
As with low-carb diets, the difference between 30 percent and 10 percent can be massive.
This article takes a detailed look at "ultra" low-fat diets and their health effects.
What is an "Ultra" Low-Fat Diet?
An ultra low-fat or very low-fat diet, is a diet that contains 10 percent or less calories from fat. It also tends to be low in protein (10 percent) and very high in carbs (80 percent).
Ultra low-fat diets are mostly plant-based. They limit the intake of animal products, such as eggs, meat and full-fat dairy (6).
They also tend to limit high-fat plant foods that are generally perceived as healthy, including extra virgin olive oil, nuts and avocados.
This can be problematic, because fat serves several important functions in the body.
It is a major source of calories, helps build cell membranes and hormones and helps the body absorb fat-soluble vitamins like vitamins A, D, E and K.
Additionally, fat makes food taste good. A diet that is very low in fat is not as pleasurable as a diet that is moderate or high in fat.
All that being said, studies show that an ultra low-fat diet can have very impressive benefits against several serious diseases.
Bottom Line: An ultra low-fat (very low-fat) diet provides less than 10 percent of calories from fat. It limits the intake of most animal foods and even eliminates healthy higher-fat plant foods like nuts and avocados.
Research on The Ultra Low-Fat Diet Started in the 1930s
In 1939, a man named Walter Kempner developed a special diet, called the Rice Diet, to treat patients with high blood pressure and kidney disease (7).
This tasteless diet, consisting mainly of white rice, fruit, fruit juice and refined table sugar, also had surprising effects on other serious health conditions.
Kempner was only the first of many to research the effects of ultra low-fat diets on health. Other well-known low-fat proponents include Roy Swank, Ancel Keys, Nathan Pritikin, John McDougall, Caldwell Esselstyn and Dean Ornish.
Bottom Line: In the 1930s, Walter Kempner was the first to research and document the benefits of ultra low-fat diets. Many researchers have since followed in his footsteps.
Health Effects of Ultra Low-Fat Diets
Ultra low-fat diets have been studied against several serious diseases, including heart disease, diabetes, obesity and multiple sclerosis.
Here is a summary of the findings.
Heart Disease
Studies have shown that the ultra low-fat diet can improve several important risk factors for heart disease:
One study of 198 patients with established heart disease found particularly striking effects. Out of the 177 patients who followed the diet, only one patient experienced a cardiac event (stroke) (14).
However, 13 of 21 (62 percent) of patients who didn't follow the diet experienced a cardiac event.
Bottom Line: An ultra low-fat diet can improve several risk factors for heart disease, including high blood pressure and high cholesterol. It may also decrease the risk of heart attacks and strokes.
Type 2 Diabetes
Several studies have found that very low-fat, high-carb diets can lead to improvements in patients with type 2 diabetes (15, 16, 17, 18, 19).
Diabetics did very well on the rice diet. In fact, one study found that 63 of 100 patients decreased their fasting blood sugar levels (20).
What's more, of the 72 patients that were dependent on insulin before the study, 58 percent of them were able to reduce or stop insulin therapy completely.
Another study found that eating an ultra low-fat diet may be even more beneficial for diabetics who are not already dependent on insulin (17).
Bottom Line: Eating an ultra low-fat diet may have benefits for patients with type 2 diabetes, especially those not already dependent on insulin.
Obesity
People with obesity may also benefit from eating a diet that is very low in fat.
Kempner used a form of the rice diet to treat obese patients with impressive results.
In one of his studies, he collected data from 106 massively obese patients and found that, on average, they lost 140 pounds (21).
That's not what you might expect from eating a diet mainly consisting of refined carbohydrates.
Bottom Line: Obese people may also benefit from eating an ultra low-fat diet. One study of 106 people documented tremendous weight loss success.
Multiple Sclerosis
Multiple sclerosis (MS) is an autoimmune disease that affects the brain, spinal cord and the optic nerves in the eyes.
People with this disease may also benefit from an ultra low-fat diet. In 1948, Roy Swank started to treat MS with a regimen he called the Swank diet.
In Swank's most famous study, he followed 150 MS patients for more than 50 years. The results indicated that an ultra low-fat diet slowed the progression of MS (22, 23).
After 34 years, only 31 percent of those who stuck to his diet had died. On other hand, 80 percent of those who failed to follow his recommendations had died (24).
Bottom Line: One study reported that MS patients eating a diet very low in fat lived longer, compared to patients not following the recommended diet.
Why Do Ultra Low-Fat Diets Work?
Exactly how or why ultra low-fat diets improve health is not very well understood.
Some argue that the blood pressure lowering effects may not even be directly linked to eating a low-fat diet. The rice diet, for example, was extremely low in sodium.
Additionally, the diet was highly monotonous and bland, with a low "food reward" value. This may have caused the participants to unintentionally reduce their calorie intake.
Cutting calories tends to have major benefits for both weight and metabolic health, no matter whether you are cutting carbs or fat.
Despite being high in carbs, ultra low-fat diets are also able to improve insulin sensitivity and blood sugar control in some people.
Bottom Line: It is not fully known why ultra low-fat diets have these powerful health benefits. It may be related to drastically reduced calorie intake.
Ultra Low-Fat Diets May Work For Some People
An ultra low-fat diet may help treat some serious diseases, including diabetes and heart disease.
But, in the long run, following a strict diet very low in fat is extremely hard. It is not very enjoyable to eat this way and the diet lacks variety.
You may also have to limit your intake of some very healthy foods, including unprocessed meat, fatty fish, eggs, nuts, extra virgin olive oil and full-fat dairy.
So, while this diet may benefit certain people with serious health conditions, it isn't likely to go mainstream anytime soon.
If you are interested in reading more, then check out Denise Minger's YouTube presentation and detailed blog post on the subject. I got much of the information for this article from her material.
This article was reposted from our media associate Authority Nutrition.
YOU MIGHT ALSO LIKE
Dr. Mark Hyman: Why You Should Ditch Artificial Sweeteners
How Probiotics Can Help You Lose Weight
10 Easy Vegan Superfood Recipes
Prince William and British naturalist David Attenborough attend converse during the World Economic Forum annual meeting, on January 22 in Davos, Switzerland. Fabrice Cofferini /AFP / Getty Images
Britain's Prince William interviewed famed broadcaster David Attenborough on Tuesday at the World Economic Forum's annual meeting in Switzerland.
During the sit-down, the 92-year-old naturalist advised the world leaders and business elite gathered in Davos this week that we must respect and protect the natural world, adding that the future of its survival—as well as humanity's survival—is in our hands.
Electric vehicle sales took off in 2018, with a record two million units sold around the world, according to a new Deloitte analysis.
What's more, the accounting firm predicts that another 21 million electric cars will be on the road globally over the next decade due to growing market demand for clean transportation, government subsidies, as well as bans on fossil fuel cars.
Teenager Alex Weber and friends collected nearly 40,000 golf balls hit into the ocean from a handful of California golf courses.
Alex Weber /
CC BY-ND
Southwest Greenland had the most consistent ice loss from 2003 to 2012. Eqalugaarsuit, Ostgronland, Greenland on Aug. 1, 2018.
Rob Oo / CC BY 2.0
Greenland is melting about four times faster than it was in 2003, a new study published Monday in the Proceedings of the National Academy of Sciences found, a discovery with frightening implications for the pace and extent of future sea level rise.
"We're going to see faster and faster sea level rise for the foreseeable future," study lead author and Ohio State University geodynamics professor Dr. Michael Bevis said in a press release. "Once you hit that tipping point, the only question is: How severe does it get?"
Finally, some good news about the otherwise terrible partial government shutdown. A federal judge ruled that the Trump administration cannot issue permits to conduct seismic testing during the government impasse.
The Justice Department sought to delay—or stay—a motion filed by a range of coastal cities, businesses and conservation organizations that are suing the Trump administration over offshore oil drilling, Reuters reported. The department argued that it did not have the resources it needed to work on the case due to the shutdown.
Most people have heard of the Amazon, South America's famed rainforest and hub of biological diversity. Less well known, though no less critical, is the Pantanal, the world's largest tropical wetland.
Like the Amazon, the Pantanal is ecologically important and imperiled. Located primarily in Brazil, it also stretches into neighboring Bolivia and Paraguay. Covering an area larger than England at more than 70,000 square miles, the massive wetland provides irreplaceable ecosystem services that include the regulation of floodwaters, nutrient renewal, river flow for navigability, groundwater recharge and carbon sequestration. The wetland also supports the economies of the four South American states it covers.
Demonstrators participate in a protest march over agricultural policy on Jan. 19 in Berlin, Germany. Carsten Koall / Getty Images Europe
By Andrea Germanos
Organizers said 35,000 people marched through the streets of the German capital on Saturday to say they're "fed up" with industrial agriculture and call for a transformation to a system that instead supports the welfare of the environment, animals and rural farmers.

The fire that erupted after a pipeline explosion in Mexico Friday. FRANCISCO VILLEDA / AFP / Getty Images
By Patrick Rogers
If you have ever considered making the switch to an environmentally friendly electric vehicle, don't drag your feet. Though EV prices are falling, and states are unveiling more and more public charging stations and plug-in-ready parking spots, the federal government is doing everything it can to slam the brakes on our progress away from gas-burning internal combustion engines. President Trump, likely pressured by his allies in the fossil fuel industry, has threatened to end the federal tax credits that have already helped put hundreds of thousands of EVs on the road—a move bound to harm not only our environment but our economy, too. After all, the manufacturing and sale of EVs, hybrids, and plug-in hybrids supported 197,000 jobs in 2017, according to the most recent U.S. Energy and Employment Report.