This website uses cookies to ensure you get the best experience while browsing it. By clicking 'Got It' you're accepting these terms.
Is a Low-Fat Diet Healthy?
Dec. 14, 2015 11:47AM EST
Food
For decades, dietary guidelines have instructed us to eat a "low-fat" diet.
The way this diet is defined, is that fat is supposed to be around 30 percent of calories.
Many studies have shown that this diet is ineffective in the long-term.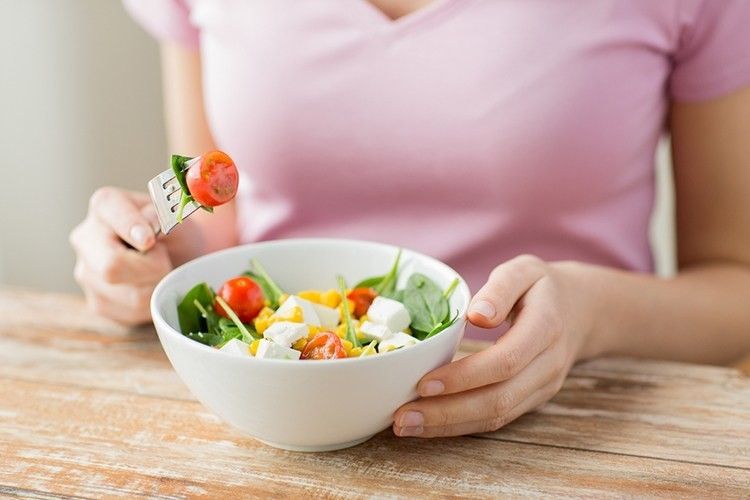 Photo credit: Shutterstock
The largest and longest studies show only tiny reductions in weight and no effects on heart disease or cancer risk (1, 2, 3, 4, 5).
However, many proponents of low-fat diets claim that such a diet is highly flawed, because it isn't low-fat enough.
Many scientists and doctors who study low-fat diets claim that it needs to be around 10 percent fat in order to work.
As with low-carb diets, the difference between 30 percent and 10 percent can be massive.
This article takes a detailed look at "ultra" low-fat diets and their health effects.
What is an "Ultra" Low-Fat Diet?
An ultra low-fat or very low-fat diet, is a diet that contains 10 percent or less calories from fat. It also tends to be low in protein (10 percent) and very high in carbs (80 percent).
Ultra low-fat diets are mostly plant-based. They limit the intake of animal products, such as eggs, meat and full-fat dairy (6).
They also tend to limit high-fat plant foods that are generally perceived as healthy, including extra virgin olive oil, nuts and avocados.
This can be problematic, because fat serves several important functions in the body.
It is a major source of calories, helps build cell membranes and hormones and helps the body absorb fat-soluble vitamins like vitamins A, D, E and K.
Additionally, fat makes food taste good. A diet that is very low in fat is not as pleasurable as a diet that is moderate or high in fat.
All that being said, studies show that an ultra low-fat diet can have very impressive benefits against several serious diseases.
Bottom Line: An ultra low-fat (very low-fat) diet provides less than 10 percent of calories from fat. It limits the intake of most animal foods and even eliminates healthy higher-fat plant foods like nuts and avocados.
Research on The Ultra Low-Fat Diet Started in the 1930s
In 1939, a man named Walter Kempner developed a special diet, called the Rice Diet, to treat patients with high blood pressure and kidney disease (7).
This tasteless diet, consisting mainly of white rice, fruit, fruit juice and refined table sugar, also had surprising effects on other serious health conditions.
Kempner was only the first of many to research the effects of ultra low-fat diets on health. Other well-known low-fat proponents include Roy Swank, Ancel Keys, Nathan Pritikin, John McDougall, Caldwell Esselstyn and Dean Ornish.
Bottom Line: In the 1930s, Walter Kempner was the first to research and document the benefits of ultra low-fat diets. Many researchers have since followed in his footsteps.
Health Effects of Ultra Low-Fat Diets
Ultra low-fat diets have been studied against several serious diseases, including heart disease, diabetes, obesity and multiple sclerosis.
Here is a summary of the findings.
Heart Disease
Studies have shown that the ultra low-fat diet can improve several important risk factors for heart disease:
One study of 198 patients with established heart disease found particularly striking effects. Out of the 177 patients who followed the diet, only one patient experienced a cardiac event (stroke) (14).
However, 13 of 21 (62 percent) of patients who didn't follow the diet experienced a cardiac event.
Bottom Line: An ultra low-fat diet can improve several risk factors for heart disease, including high blood pressure and high cholesterol. It may also decrease the risk of heart attacks and strokes.
Type 2 Diabetes
Several studies have found that very low-fat, high-carb diets can lead to improvements in patients with type 2 diabetes (15, 16, 17, 18, 19).
Diabetics did very well on the rice diet. In fact, one study found that 63 of 100 patients decreased their fasting blood sugar levels (20).
What's more, of the 72 patients that were dependent on insulin before the study, 58 percent of them were able to reduce or stop insulin therapy completely.
Another study found that eating an ultra low-fat diet may be even more beneficial for diabetics who are not already dependent on insulin (17).
Bottom Line: Eating an ultra low-fat diet may have benefits for patients with type 2 diabetes, especially those not already dependent on insulin.
Obesity
People with obesity may also benefit from eating a diet that is very low in fat.
Kempner used a form of the rice diet to treat obese patients with impressive results.
In one of his studies, he collected data from 106 massively obese patients and found that, on average, they lost 140 pounds (21).
That's not what you might expect from eating a diet mainly consisting of refined carbohydrates.
Bottom Line: Obese people may also benefit from eating an ultra low-fat diet. One study of 106 people documented tremendous weight loss success.
Multiple Sclerosis
Multiple sclerosis (MS) is an autoimmune disease that affects the brain, spinal cord and the optic nerves in the eyes.
People with this disease may also benefit from an ultra low-fat diet. In 1948, Roy Swank started to treat MS with a regimen he called the Swank diet.
In Swank's most famous study, he followed 150 MS patients for more than 50 years. The results indicated that an ultra low-fat diet slowed the progression of MS (22, 23).
After 34 years, only 31 percent of those who stuck to his diet had died. On other hand, 80 percent of those who failed to follow his recommendations had died (24).
Bottom Line: One study reported that MS patients eating a diet very low in fat lived longer, compared to patients not following the recommended diet.
Why Do Ultra Low-Fat Diets Work?
Exactly how or why ultra low-fat diets improve health is not very well understood.
Some argue that the blood pressure lowering effects may not even be directly linked to eating a low-fat diet. The rice diet, for example, was extremely low in sodium.
Additionally, the diet was highly monotonous and bland, with a low "food reward" value. This may have caused the participants to unintentionally reduce their calorie intake.
Cutting calories tends to have major benefits for both weight and metabolic health, no matter whether you are cutting carbs or fat.
Despite being high in carbs, ultra low-fat diets are also able to improve insulin sensitivity and blood sugar control in some people.
Bottom Line: It is not fully known why ultra low-fat diets have these powerful health benefits. It may be related to drastically reduced calorie intake.
Ultra Low-Fat Diets May Work For Some People
An ultra low-fat diet may help treat some serious diseases, including diabetes and heart disease.
But, in the long run, following a strict diet very low in fat is extremely hard. It is not very enjoyable to eat this way and the diet lacks variety.
You may also have to limit your intake of some very healthy foods, including unprocessed meat, fatty fish, eggs, nuts, extra virgin olive oil and full-fat dairy.
So, while this diet may benefit certain people with serious health conditions, it isn't likely to go mainstream anytime soon.
If you are interested in reading more, then check out Denise Minger's YouTube presentation and detailed blog post on the subject. I got much of the information for this article from her material.
This article was reposted from our media associate Authority Nutrition.
YOU MIGHT ALSO LIKE
Dr. Mark Hyman: Why You Should Ditch Artificial Sweeteners
How Probiotics Can Help You Lose Weight
10 Easy Vegan Superfood Recipes
EcoWatch Daily Newsletter

While airlines only serve bottled drinking water directly to customers, they use the plane's water for coffee and tea, and passengers can drink the tap water. Aitor Diago / Getty Images
You might want to think twice before washing your hands in an airplane bathroom.
By Allegra Kirkland, Jeremy Deaton, Molly Taft, Mina Lee and Josh Landis
Climate change is already here. It's not something that can simply be ignored by cable news or dismissed by sitting U.S. senators in a Twitter joke. Nor is it a fantastical scenario like The Day After Tomorrow or 2012 that starts with a single crack in the Arctic ice shelf or earthquake tearing through Los Angeles, and results, a few weeks or years later, in the end of life on Earth as we know it.
A pregnant woman works out in front of the skyline of London. SHansche / iStock / Getty Images Plus
Air pollution particles that a pregnant woman inhales have the potential to travel through the lungs and breach the fetal side of the placenta, indicating that unborn babies are exposed to black carbon from motor vehicles and fuel burning, according to a study published in the journal Nature Communications.
Teen activist Greta Thunberg delivered a talking-to to members of Congress Tuesday during a meeting of the Senate Climate Change Task Force after politicians praised her and other youth activists for their efforts and asked their advice on how to fight climate change.
Ten feet of water flooded 20 percent of this Minot, North Dakota neighborhood in June 2011.
DVIDSHUB
/
CC BY 2.0
A protestor holds up her hand covered with fake oil during a demonstration on the U.C. Berkeley campus in May 2010. Justin Sullivan / Getty Images
The University of California system will dump all of its investments from fossil fuels, as the Associated Press reported. The university system controls over $84 billion between its pension fund and its endowment. However, the announcement about its investments is not aimed to please activists.
By Ngozi Okonjo-Iweala
World leaders have a formidable task: setting a course to save our future. The extreme weather made more frequent and severe by climate change is here. This spring, devastating cyclones impacted 3 million people in Mozambique, Malawi and Zimbabwe. Record heatwaves are hitting Europe and other regions — this July was the hottest month in modern record globally. Much of India is again suffering severe drought.