Is a Low-Fat Diet Healthy?
For decades, dietary guidelines have instructed us to eat a "low-fat" diet.
The way this diet is defined, is that fat is supposed to be around 30 percent of calories.
Many studies have shown that this diet is ineffective in the long-term.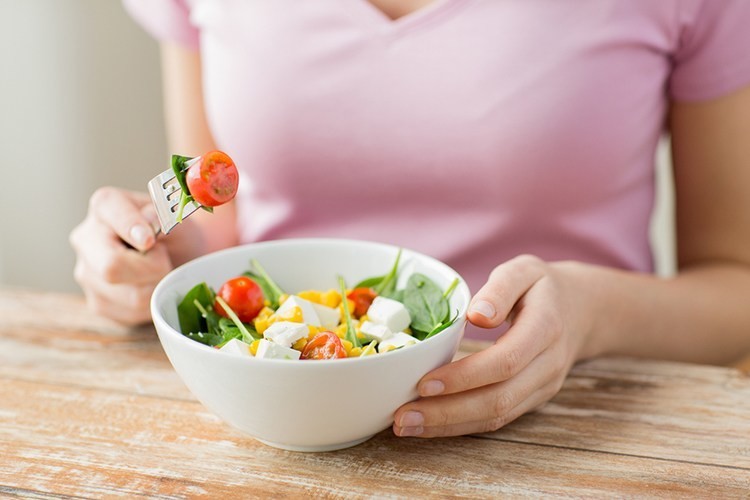 Photo credit: Shutterstock
The largest and longest studies show only tiny reductions in weight and no effects on heart disease or cancer risk (1, 2, 3, 4, 5).
However, many proponents of low-fat diets claim that such a diet is highly flawed, because it isn't low-fat enough.
Many scientists and doctors who study low-fat diets claim that it needs to be around 10 percent fat in order to work.
As with low-carb diets, the difference between 30 percent and 10 percent can be massive.
This article takes a detailed look at "ultra" low-fat diets and their health effects.
What is an "Ultra" Low-Fat Diet?
An ultra low-fat or very low-fat diet, is a diet that contains 10 percent or less calories from fat. It also tends to be low in protein (10 percent) and very high in carbs (80 percent).
Ultra low-fat diets are mostly plant-based. They limit the intake of animal products, such as eggs, meat and full-fat dairy (6).
They also tend to limit high-fat plant foods that are generally perceived as healthy, including extra virgin olive oil, nuts and avocados.
This can be problematic, because fat serves several important functions in the body.
It is a major source of calories, helps build cell membranes and hormones and helps the body absorb fat-soluble vitamins like vitamins A, D, E and K.
Additionally, fat makes food taste good. A diet that is very low in fat is not as pleasurable as a diet that is moderate or high in fat.
All that being said, studies show that an ultra low-fat diet can have very impressive benefits against several serious diseases.
Bottom Line: An ultra low-fat (very low-fat) diet provides less than 10 percent of calories from fat. It limits the intake of most animal foods and even eliminates healthy higher-fat plant foods like nuts and avocados.
Research on The Ultra Low-Fat Diet Started in the 1930s
In 1939, a man named Walter Kempner developed a special diet, called the Rice Diet, to treat patients with high blood pressure and kidney disease (7).
This tasteless diet, consisting mainly of white rice, fruit, fruit juice and refined table sugar, also had surprising effects on other serious health conditions.
Kempner was only the first of many to research the effects of ultra low-fat diets on health. Other well-known low-fat proponents include Roy Swank, Ancel Keys, Nathan Pritikin, John McDougall, Caldwell Esselstyn and Dean Ornish.
Bottom Line: In the 1930s, Walter Kempner was the first to research and document the benefits of ultra low-fat diets. Many researchers have since followed in his footsteps.
Health Effects of Ultra Low-Fat Diets
Ultra low-fat diets have been studied against several serious diseases, including heart disease, diabetes, obesity and multiple sclerosis.
Here is a summary of the findings.
Heart Disease
Studies have shown that the ultra low-fat diet can improve several important risk factors for heart disease:
One study of 198 patients with established heart disease found particularly striking effects. Out of the 177 patients who followed the diet, only one patient experienced a cardiac event (stroke) (14).
However, 13 of 21 (62 percent) of patients who didn't follow the diet experienced a cardiac event.
Bottom Line: An ultra low-fat diet can improve several risk factors for heart disease, including high blood pressure and high cholesterol. It may also decrease the risk of heart attacks and strokes.
Type 2 Diabetes
Several studies have found that very low-fat, high-carb diets can lead to improvements in patients with type 2 diabetes (15, 16, 17, 18, 19).
Diabetics did very well on the rice diet. In fact, one study found that 63 of 100 patients decreased their fasting blood sugar levels (20).
What's more, of the 72 patients that were dependent on insulin before the study, 58 percent of them were able to reduce or stop insulin therapy completely.
Another study found that eating an ultra low-fat diet may be even more beneficial for diabetics who are not already dependent on insulin (17).
Bottom Line: Eating an ultra low-fat diet may have benefits for patients with type 2 diabetes, especially those not already dependent on insulin.
Obesity
People with obesity may also benefit from eating a diet that is very low in fat.
Kempner used a form of the rice diet to treat obese patients with impressive results.
In one of his studies, he collected data from 106 massively obese patients and found that, on average, they lost 140 pounds (21).
That's not what you might expect from eating a diet mainly consisting of refined carbohydrates.
Bottom Line: Obese people may also benefit from eating an ultra low-fat diet. One study of 106 people documented tremendous weight loss success.
Multiple Sclerosis
Multiple sclerosis (MS) is an autoimmune disease that affects the brain, spinal cord and the optic nerves in the eyes.
People with this disease may also benefit from an ultra low-fat diet. In 1948, Roy Swank started to treat MS with a regimen he called the Swank diet.
In Swank's most famous study, he followed 150 MS patients for more than 50 years. The results indicated that an ultra low-fat diet slowed the progression of MS (22, 23).
After 34 years, only 31 percent of those who stuck to his diet had died. On other hand, 80 percent of those who failed to follow his recommendations had died (24).
Bottom Line: One study reported that MS patients eating a diet very low in fat lived longer, compared to patients not following the recommended diet.
Why Do Ultra Low-Fat Diets Work?
Exactly how or why ultra low-fat diets improve health is not very well understood.
Some argue that the blood pressure lowering effects may not even be directly linked to eating a low-fat diet. The rice diet, for example, was extremely low in sodium.
Additionally, the diet was highly monotonous and bland, with a low "food reward" value. This may have caused the participants to unintentionally reduce their calorie intake.
Cutting calories tends to have major benefits for both weight and metabolic health, no matter whether you are cutting carbs or fat.
Despite being high in carbs, ultra low-fat diets are also able to improve insulin sensitivity and blood sugar control in some people.
Bottom Line: It is not fully known why ultra low-fat diets have these powerful health benefits. It may be related to drastically reduced calorie intake.
Ultra Low-Fat Diets May Work For Some People
An ultra low-fat diet may help treat some serious diseases, including diabetes and heart disease.
But, in the long run, following a strict diet very low in fat is extremely hard. It is not very enjoyable to eat this way and the diet lacks variety.
You may also have to limit your intake of some very healthy foods, including unprocessed meat, fatty fish, eggs, nuts, extra virgin olive oil and full-fat dairy.
So, while this diet may benefit certain people with serious health conditions, it isn't likely to go mainstream anytime soon.
If you are interested in reading more, then check out Denise Minger's YouTube presentation and detailed blog post on the subject. I got much of the information for this article from her material.
This article was reposted from our media associate Authority Nutrition.
YOU MIGHT ALSO LIKE
Dr. Mark Hyman: Why You Should Ditch Artificial Sweeteners
How Probiotics Can Help You Lose Weight
10 Easy Vegan Superfood Recipes
Monsanto, the maker of the glyphosate-based herbicide Roundup, filed a motion June 16 in U.S. District Court, Northern District of California to reconsider the chemical's addition to California's Proposition 65 list of agents known to cause cancer.
The agrochemical giant made this move based on a June 14 Reuters investigation of Dr. Aaron Blair, a lead researcher on the World Health Organization's International Agency for Research on Cancer (IARC) committee, that classified glyphosate as a "2A probable human carcinogen" in March 2015.
Keep reading...
Show less
By Avery Friedman
Algae is often considered a nuisance, but for Sweden, the rapidly growing sea plant is now an asset.
As the Scandinavian country works to cut all of its greenhouse gas emissions by 2045, it's using algae to sop up the carbon emissions from cement.
Keep reading...
Show less
Jun. 24, 2017 01:35PM EST
By Itai Vardi
A recent intensification in protests against Williams Partners' planned Atlantic Sunrise pipeline in Pennsylvania prompted a state senator to propose legislation aimed at limiting demonstrations.
Last month, Pennsylvania Sen. Scott Martin (R-Norman) announced his intention to introduce legislation that would pass the costs of law enforcement responding to protests onto the demonstrators. Martin also helped introduce a different bill that would criminalize protests at natural gas facilities.
Keep reading...
Show less
Jun. 24, 2017 01:29PM EST
Black Shogun / iStock
The Federal Energy Regulatory Commission (FERC) released its Final Environmental Impact Statement Friday for the Mountain Valley Pipeline, a controversial 303-mile pipeline that would carry two billion cubic feet of fracked gas per day from West Virginia through Virginia.
Keep reading...
Show less
Jun. 24, 2017 01:46PM EST
Falcon PEV
The so-called "first and last mile" problem is one of the biggest hurdles with public transportation. How do you encourage more people to take Earth-friendlier commutes when their homes are miles away from the train or bus station?
One solution, as this Estonian electric scooter company proposes, is to simply take your commute with you—literally. Tallinn-based Stigo has developed a compact e-scooter that folds to the size of a rolling suitcase in about two seconds.
Keep reading...
Show less
Jun. 24, 2017 05:12PM EST
Connect4Climate
[Editor's note: I'm still in shock after hearing the news that Lucia Grenna passed away in her sleep last week. When we first met in April of 2014 at a Copenhagen hotel, I was immediately taken by here powerful presence. We spent the next couple days participating in a Sustainia climate change event where Lucia presented her audacious plans to connect people to the climate issue. I had the chance to partner with Lucia on several other projects throughout the years and work with her incredible Connect4Climate team. I was always in awe of her ability to "make the impossible possible." Her spirit will live on forever. — Stefanie Spear]
It is with a heavy heart that Connect4Climate announces the passing of its founder and leading light, Lucia Grenna. Lucia passed peacefully in her sleep on June 15, well before her time. We remember her for her leadership and extraordinary ability to motivate people to take on some of the greatest challenges of our time, not least climate change.
Keep reading...
Show less
Jun. 23, 2017 07:29PM EST
Wikimedia Commons
By Stacy Malkan
Neil deGrasse Tyson has inspired millions of people to care about science and imagine themselves as participants in the scientific process. What a hopeful sign it is to see young girls wearing t-shirts emblazoned with the words, "Forget princess, I want to be an astrophysicist."
Keep reading...
Show less
Jun. 23, 2017 01:57PM EST
www.youtube.com
By Andy Rowell
Any day now we will truly witness climate change in action. Within days at worst, maybe weeks at best, scientists predict that a huge section of the Larsen C ice shelf in Antarctica will break off into the ocean, in what is called a major "carving" event.
Keep reading...
Show less
Jun. 23, 2017 02:27PM EST
www.youtube.com
President Trump visited Cedar Rapids, Iowa on June 21 to speak to a large crowd in the U.S. Cellular Center at a political rally organized by his campaign.
As Trevor Noah noted during The Daily Show episode last night (starts at 2:25), the real reason Trump has these rallies is to "get back in front of his loyal crowds and feed of their energy." Noah believes that "Trump supporters are so on board with their dude he can say anything and they'll come along for the ride."
Keep reading...
Show less