This website uses cookies to ensure you get the best experience while browsing it. By clicking 'Got It' you're accepting these terms.
Is 3D Printing the Answer to Plastic Waste?
Jan. 29, 2015 11:53AM EST
Business
You've probably heard a lot about 3D printing in the last few years. "Printing" is sort of a misnomer. Also referred to as "additive manufacturing," it's the process of creating an object from a digital file by layering filaments to form the finished product. It's been hyped as a revolution that will make conventional manufacturing obsolete, allowing people to create the products and tools they need in their own homes.
We'll see about that. But meanwhile, a company in Rotterdam, Netherlands called Better Future Factory, which launched last year by a team of recent graduates of Delft University of Technology, is promoting 3D printing as the solution to the widespread problem: plastic waste. Their Perpetual Plastic Project proposes that the filaments used in the process be made from recycled plastic bottles, cups and other stuff that too often ends up in landfills.
"Two things are for sure," says Gaspard Bos, who describes himself as the "navigator" of the Perpetual Plastics Project. "One is that the production of plastics worldwide is increasing and two is that the recovery of plastics worldwide is not increasing at the same rate. Less than 10 percent of plastics gets recycled. The municipalities and local governments decide what to do with the waste and the consumer is almost powerless. We want to empower these consumers in their local communities to do something with their waste."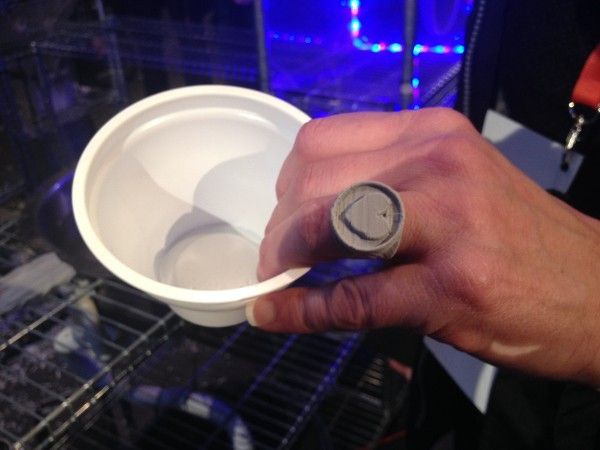 "We make an intervention in these economies, radically changing the value of their plastic waste," he explains. "We use the power of design to change it into something people want. We designed an interactive recycling installation that allows anyone to make really cool things from their plastic trash in a really awesome way."
The process starts with ordinary plastic cups which are washed, dried and fed into a shredder that reduces them to tiny pieces. Those pieces are fed into an extruder, heated and melted into the filaments used in the 3D printer.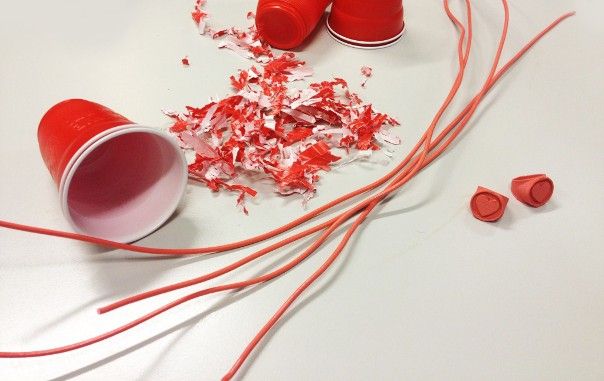 So far, the interactive recycling installation has been used primarily to produce cute little plastic rings with a heart design. That might not make a huge dent in the plastic waste stream but it gives the Perpetual Plastic Project engineers a hook to demonstrate to observers at events the potential of the process and give them something to take away with them to remind them what can be done with stuff that gets thrown away.
"The person that made his own ring has forever changed his mind about plastic products," says Bos. "Wherever you are in the world and you feel like your waste should be turned into awesomeness, contact us."
YOU MIGHT ALSO LIKE
Beyond 'Reduce, Reuse, Recycle' to a World Without Waste
World's Largest Plastic Bottle Structure Draws Attention to Global Plastic Pollution Crisis
EcoWatch Daily Newsletter
People carry children on a flooded street in Almoradi, Spain on Sept. 13. JOSE JORDAN / AFP / Getty Images
Large food companies are following in the footsteps of fast-food restaurants such as Burger King and KFC by offering meat alternatives. Getty Images
By Elizabeth Pratt
Hormel, Kellogg's, and Kroger are among the large companies now planning to offer "fake meat" products at grocery stores.
Experts say the trend toward plant-based meats coincides with consumers' desires to eat less meat.
However, experts urge consumers to closely check package labels as a product isn't necessarily healthy just because it's described as plant-based.
In grocery stores and fast-food outlets around the U.S., a revolution is taking place.
Colombia rainforest. Marcel Oosterwijk / CC BY-SA 2.0
Many of us think of the Amazon as an untouched wilderness, but people have been thriving in these diverse environments for millennia. Due to this long history, the knowledge that Indigenous and forest communities pass between generations about plants, animals and forest ecology is incredibly rich and detailed and easily dwarfs that of any expert.
picture-alliance / Newscom / R. Ben Ari
By Wesley Rahn
Plastic byproducts were found in 97 percent of blood and urine samples from 2,500 children tested between 2014 and 2017, according to a study by the German Environment Ministry and the Robert Koch Institute.

Pexels
Medically reviewed by Daniel Bubnis, MS, NASM-CPT, NASE Level II-CSS
Hot yoga has become a popular exercise in recent years. It offers many of the same benefits as traditional yoga, such as stress reduction, improved strength, and flexibility.
Lara Hata / iStock / Getty Images
By SaVanna Shoemaker, MS, RDN, LD
Rice is a staple in many people's diets. It's filling, inexpensive, and a great mild-tasting addition to flavorful dishes.
An image of the trans-alaskan oil pipeline that carries oil from the northern part of Alaska all the way to valdez. This shot is right near the arctic national wildlife refuge. kyletperry / iStock / Getty Images Plus
The Trump administration has initialized the final steps to open up nearly 1.6 million acres of the protected Alaskan National Wildlife Refuge to allow oil and gas drilling.