This website uses cookies to ensure you get the best experience while browsing it. By clicking 'Got It' you're accepting these terms.
'Irreversible' Damage to Planet From Climate Change Says Leaked IPCC Report
Aug. 28, 2014 09:01AM EST
Climate change is here, man-made and already having dangerous impacts, according to leaked drafts of the upcoming UN climate science report.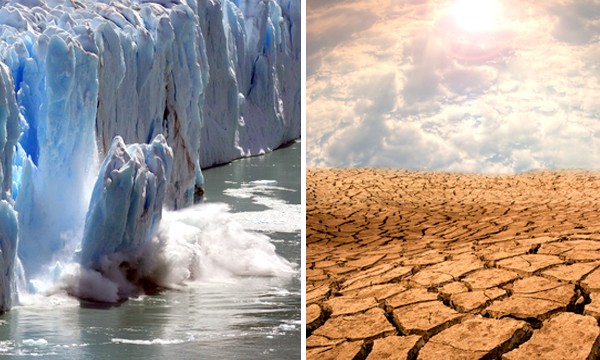 The 127-page final draft of the latest Intergovernmental Panel on Climate Change (IPCC) report shows the effects of global warming are already being felt across all continents and the oceans.
It warns that further emission rises will increase the likelihood of "severe, pervasive and irreversible impacts for people and ecosystems."
The report will be a synthesis of the IPCC's three comprehensive reports released in the past year, which examined the science of climate change, its impacts and potential mitigation options.
The report will be finalised after governments and scientists go over it line-by-line at a meeting in Copenhagen in October.
The leaked report, which has been circulated to several media outlets, shows temperatures have already increased by 0.85°C since 1880—a more rapid shift in the climate than that which heralded the end of the last ice age about 10,000 years ago.
The report mentions several impacts that could "already be considered dangerous" including extreme weather including heat waves, flooding and drought and rising sea levels.
It also raises the risk that climate change and its impacts could worsen violent conflicts and refugee problems, hinder efforts to grow more food and threaten public health.
Ocean acidification, which comes from the added carbon absorbed by the oceans, could also harm marine life, the draft warns.
"Climate change risks are likely to be high or very high by the end of the 21st century" without sharp reductions in greenhouse gas emissions, it says.
It is hoped the new report will focus minds ahead of the global UN climate talks to take place in Lima, Peru in December, where governments are expected to lay the groundwork for the crucial Paris Summit in late 2015.
It is here where countries have agreed to finalise a new global treaty on climate change.
In 2009, countries had agreed to set a goal of limiting global warming to below 2°C—the international agreed danger threshold for climate change.
However, the leaked IPCC report warns it is increasingly likely the world will shoot past this point, and that limiting warming to within this level would require dramatic and immediate cuts in carbon pollution.
Without action to limit the levels of carbon dioxide released into the atmosphere, it warns temperatures could increase by 2°C by mid-century compared to 1986 to 2005.
But the end of the century, that scenario could bring temperatures that are 3.7°C warming, it warns.
YOU ALSO MIGHT LIKE
Leonardo DiCaprio Narrates Climate Change Films Urging Shift From Fossil Fuels to Renewables
Five Reasons Climate Deniers Are Dead Wrong
KarinaKnyspel / iStock / Getty Images
2018 saw a number of studies pointing to the outsized climate impact of meat consumption. Beef has long been singled out as particularly unsustainable: Cows both release the greenhouse gas methane into the atmosphere because of their digestive processes and require a lot of land area to raise. But for those unwilling to give up the taste and texture of a steak or burger, could lab-grown meat be a climate-friendly alternative? In a first-of-its-kind study, researchers from the Oxford Martin School set out to answer that question.
Three scissor-tailed flycatcher fledglings in a mesquite tree in Texas. Texas Eagle / CC BY-NC 2.0
By Gary Paul Nabhan
President Trump has declared a national emergency to fund a wall along our nation's southern border. The border wall issue has bitterly divided people across the U.S., becoming a vivid symbol of political deadlock.
PeopleImages / E+ / Getty Images
By Daniel Ross
Hurricane Florence, which battered the U.S. East Coast last September, left a trail of ruin and destruction estimated to cost between $17 billion and $22 billion. Some of the damage was all too visible—smashed homes and livelihoods. But other damage was less so, like the long-term environmental impacts in North Carolina from hog waste that spilled out over large open-air lagoons saturated in the rains.
Hog waste can contain potentially dangerous pathogens, pharmaceuticals and chemicals. According to the state's Department of Environmental Quality, as of early October nearly 100 such lagoons were damaged, breached or were very close to being so, the effluent from which can seep into waterways and drinking water supplies.
This picture taken on May 21, 2018 shows discarded climbing equipment and rubbish scattered around Camp 4 of Mount Everest. Decades of commercial mountaineering have turned Mount Everest into the world's highest rubbish dump as an increasing number of big-spending climbers pay little attention to the ugly footprint they leave behind. DOMA SHERPA / AFP / Getty Images
China has closed its Everest base camp to tourists because of a buildup of trash on the world's tallest mountain.