This website uses cookies to ensure you get the best experience while browsing it. By clicking 'Got It' you're accepting these terms.
IPCC Report: Fossil Fuels Should Be 'Phased Out by 2100'
Nov. 02, 2014 02:53PM EST
Climate
Today, the Intergovernmental Panel on Climate Change (IPCC)—the world body for assessing the science related to climate change—released the final component of its Fifth Assessment Report, the Synthesis Report in Copenhagen, Denmark.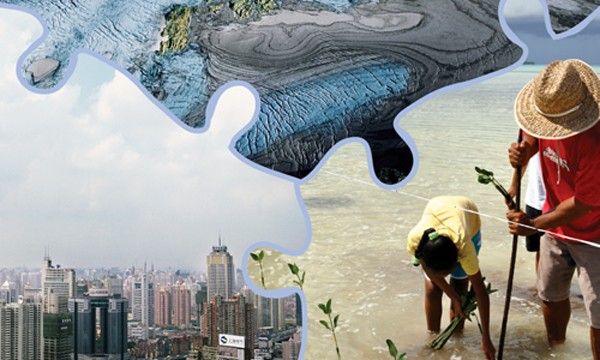 The IPCC report states that "Human influence on the climate system is clear and growing, with impacts observed on all continents. If left unchecked, climate change will increase the likelihood of severe, pervasive and irreversible impacts for people and ecosystems."
The report details how "options are available to adapt to climate change and implementing stringent mitigations activities can ensure that the impacts of climate change remain within a manageable range, creating a brighter and more sustainable future."
The Synthesis Report was produced by more than 800 scientists and is the most comprehensive assessment of climate change ever undertaken.
"We have the means to limit climate change," said R. K. Pachauri, chair of the IPCC. "The solutions are many and allow for continued economic and human development. All we need is the will to change, which we trust will be motivated by knowledge and an understanding of the science of climate change."
The report concludes that:
emissions of greenhouse gases and other anthropogenic drivers are the dominant reason for observed warming since the mid-20th century.

renewables will have to grow from their current 30 percent share to 80 percent of the power sector by 2050.

fossil fuel power generation without carbon capture and storage technology would need to be "phased out almost entirely by 2100."

impacts of climate change are felt on all continents.

continued emissions of greenhouse gases will cause more warming and long-lasting changes to the climate, "increasing the likelihood of widespread and profound impacts affecting all levels of society and the natural world."

climate risks are a particular challenge for the least developed countries.
"This landmark report makes it absolutely clear: we must rapidly transition to a clean energy economy free from dirty fossil fuels, and we must do it now," said Sierra Club Executive Director Michael Brune. "In the starkest terms ever used, the scientific community is looking world leaders directly in the eye and demanding that they wake up. To fight global poverty, sustain stable governments and societies, and maintain a livable planet, all findings indicate that we should kick fossil fuels to the curb. The silver lining to the report is that it recognizes clean energy climate solutions are affordable and ready to deploy."
Nations have collectively agreed that beyond two degrees of warming, the risks posed by climate change could be irreversible.
"The scientific case for prioritizing action on climate change is clearer than ever," Pachauri said. "We have little time before the window of opportunity to stay within 2ºC of warming closes. To keep a good chance of staying below 2ºC, and at manageable costs, our emissions should drop by 40 to 70 percent globally between 2010 and 2050, falling to zero or below by 2100. We have that opportunity, and the choice is in our hands."
Today's report, the clearest guide yet from scientists on why we need to reduce climate risk, says that if  all governments work to cut emissions, we can still keep the risks of climate change low. With the right policies we can prevent dangerous climate change, allow ecosystems to adapt and ensure countries can develop sustainably, the IPCC concludes.
"As momentum for global action builds, this report reminds us that the impacts of climate change are dangerous and far-reaching. No one reading this report can doubt the reality of climate change," said Jennifer Morgan, director of the Climate and Energy Programs at World Resources Institute.
"Unless we sharply reduce carbon pollution, the toll on our economies and people's well-being will be far more than we can bear. The good news is that solutions are well understood. A growing body of evidence finds that action on climate change can go hand-in-hand with policies that will strengthen our economies. The synthesis report should bring a deep sense of purpose to the climate talks in Lima. Negotiators need to lay the groundwork for a strong and universal climate agreement to be finalized in Paris next year."
Watch the Fifth Assessment Synthesis Report press conference today in Copenhagen, Denmark:
YOU MIGHT ALSO LIKE
Bill McKibben: IPCC Report Says Climate Change Is 'Severe, Widespread and Irreversible'
World's Top Sustainable Solution: Pedal-Powered Recycling
EcoWatch Daily Newsletter
Cigarette butts are the most-littered item found at beach clean ups. John R. Platt
By Tara Lohan
By now it's no secret that plastic waste in our oceans is a global epidemic. When some of it washes ashore — plastic bottles, plastic bags, food wrappers — we get a stark reminder. And lately one part of this problem has been most glaring to volunteers who comb beaches picking up trash: cigarette butts.

Andrea Rodgers, second from the right, takes notes during a hearing in the Juliana v. U.S. case before the 9th Circuit Court of Appeals in Portland, Oregon on June 4. Colleague Elizabeth Brown sits to her left, while colleague Julia Olson sits on her right, with co-council Philip Gregory on Julia's right. Robin Loznak / Our Children's Trust
By Fran Korten
On June 4, Andrea Rodgers was in the front row of attorneys sitting before a three-judge panel of the 9th Circuit Court. The court session, held in Portland, Oregon, was to determine whether the climate change lawsuit (Juliana v. United States) brought by 21 young plaintiffs should be dismissed, as requested by the U.S. government, or go on to trial.
Seventy Extinction Rebellion protesters were arrested outside The New York Times building Saturday.
SCOOTERCASTER / YouTube screenshot
Explosions and a blaze at the Philadelphia Energy Solutions Refining Complex on June 21.
VOA News / YouTube screenshot
A fire broke out at a Philadelphia oil refinery Friday morning, starting with an explosion so massive it was felt as far away as South Jersey and Delaware County, Pennsylvania, CNN reported.
Asian elephants in Bandipur National Park, India. Mike Prince / CC BY 2.0
By John R. Platt
Some of the tiniest creatures in Myanmar benefit from living near the largest species in the area.
Eucador's Waorani indigenous people celebrated a court ruling against oil extraction on their ancestral lands.