This website uses cookies to ensure you get the best experience while browsing it. By clicking 'Got It' you're accepting these terms.
Iowa Scientists Ask Candidates to Recognize Climate Reality
Nov. 15, 2011 10:06AM EST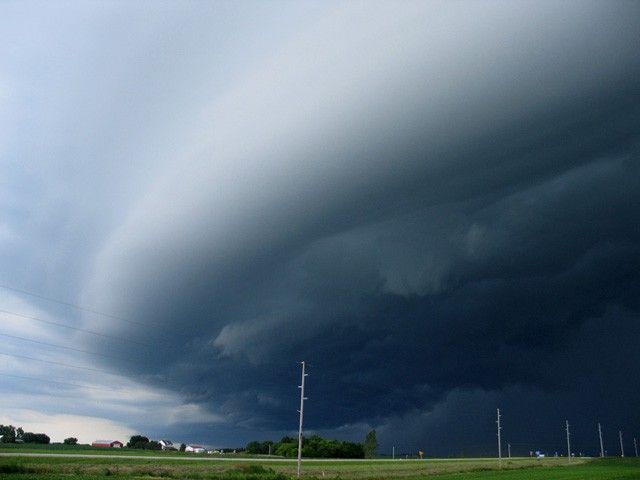 By Miles Grant
With the Iowa caucus now exactly seven weeks away, more than 30 Iowa scientists are asking political candidates to acknowledge the threats posed by ongoing climate change, particularly to Iowa's farmers.
"All major scientific societies and the U.S. National Academy of Science have affirmed that the recent rise in greenhouse gases in the global atmosphere has contributed to changes in our climate," the scientists write in a letter being delivered Nov. 15 to Iowa Gov. Terry Branstad and made available to candidates for local, state and federal office. Additional climate changes will challenge farmers and planners "to maintain the prosperity of our state and its role in national and global food security," say the scientists.
The statement was drafted by four climate science researchers at Iowa State University, including Prof. Gene Takle, the director of Iowa State's Climate Science Program. Drake University Prof. David Courard-Hauri organized the scientists from other colleges and universities who signed on to the statement, saying, "This is an issue that all candidates for elected office, from city council to President of the United States, should acknowledge and address through public policy."
The letter comes less than two months ahead of the Republican presidential field's first contest, the Iowa caucus. While polls show Republican voters support climate science, most of the GOP presidential candidates have chosen to side with the big polluting Koch brothers against climate science. Of the top GOP contenders, only Jon Huntsman acknowledges climate reality, once tweeting, "To be clear, I believe in evolution and trust scientists on global warming. Call me crazy." While Newt Gingrich and Mitt Romney previously embraced climate science, both have now disavowed it in hopes of appealing to Tea Party extremists. Ron Paul has veered from cautious skeptic to firm denier. Michele Bachmann, Herman Cain and Rick Santorum all reject climate science outright.
But rather than winning voters over to their side, extreme climate science denial may actually be having the opposite effect, turning some voters into climate science believers. A Reuters/Ipsos poll showed the public's awareness of climate threats up in recent months. Majorities of Republican voters continue to say the world's temperature is going up, and that it's partly or mostly due to human activities.
Following is the letter in full:
Climate Science and Public Policy in Iowa
November, 2011
The productive soils and favorable climate of Iowa underpin the economy of our State. Over the last half-century our farmers have adapted to changing conditions to keep Iowa ranked as one of the leading agriculture states in the U.S. We take well-earned pride in our contributions to national and global food security.
Changes in rainfall patterns and other climate indicators have emerged as the latest and potentially the most serious challenge to Iowans' lives and livelihoods. Subtle changes in climate can have large effects on agriculture, making it a sensitive indicator of climate change. Statewide data show changes in temperature, precipitation, and humidity over the last forty years affecting Iowa's producers. In recent decades a longer growing season, more precipitation, and lack of extreme high daytime temperatures have contributed to improved crop yields in our State. But the accompanying increase in extreme rainfall events, higher humidity, and higher nighttime temperatures have required costly adaptations.
Like its farmers, Iowa's cities and rural communities, which provide our infrastructure, educational opportunities, and cultural amenities, also have felt the effects of a changing climate. Over the last 40 years intense rainfall has occurred about five times more often than in our previous history. As a result our communities have faced enormous expense to recover from repeated "500-year" floods. Cedar Rapids, Des Moines, Iowa City, and Ames all have suffered multi-million dollar losses from floods since 1993. In 2008 alone, 85 of Iowa's 99 counties were declared federal disaster areas.
These changes in Iowa's climate have clear connections to changes in global climate and to changes in how we use the land. As the global climate continues to evolve, our farmers and city planners will face new challenges to maintain the prosperity of our state and its role in national and global food security. All major scientific societies and the US National Academy of Science have affirmed that the recent rise in greenhouse gases in the global atmosphere has contributed to changes in our climate. We urge all candidates for public office at national, state, and local levels to acknowledge the overwhelming balance of evidence for the underpinning causes of climate change, to develop appropriate policy responses, and to develop local and statewide strategies to adapt to near-term changes in climate.
Signed,*
Chris Anderson, Climate Science Program, Iowa State University
Ray Arritt, Climate Science Program, Iowa State University
Bill Gutowski, Climate Science Program, Iowa State University
Gene Takle, Climate Science Program, Iowa State University
Mark Aronson, Department of Biology, Scott Community College
Neil Bernstein, Chair, Department of Natural and Applied Sciences, Mount Mercy University
Aaron Bunker, Department of Biology, Morningside College
David Campbell, Henry R. Luce Professor in Nations & the Global Environment and Professor of Biology, Grinnell College
David Courard-Hauri, Environmental Science and Policy Program, Drake University
Richard Cruse, Director, Iowa Water Center, Department of Agronomy, Iowa State University
Gary Donnermeyer, Math/Science Department, Kirkwood Community College
Robert de Haan, Environmental Studies Department, Dordt College
Rhawn Denniston, Chair, Department of Geology, Cornell College
Jack Gittinger, Department of Education, Simpson College
Brian Hazlett, Director, Environmental Science Program, Briar Cliff University
Laura Jackson, Professor of Biology, University of Northern Iowa
M. Patrick McAdams, Division of Health and Life Science, William Penn University
David McCullough, Professor of Biology, Coordinator, Environmental Studies, Wartburg College
Gilbert Nebgen, Associate Professor of Science and Math, Indian Hills Community College
Laura Peterson, Department of Chemistry, Environmental Studies Program, Luther College
Gary Phillips, Environmental Studies Department, Iowa Lakes Community College
Thomas Rosburg, Professor of Biology, Drake University
Melanie Hansen Sadeghpour, Chair, Environmental Science Program, Des Moines Area Community College
Paula Sanchini, Professor of Biology, Coe College
Jerald Schnoor, Department of Civil and Environmental Engineering, Co-Director, Center for Global and Regional Environmental Research, University of Iowa
Keith Summerville, Environmental Science and Policy, Drake University
Kathryn Szramek, Environmental Science and Policy, Drake University
Martin St. Clair, Professor of Chemistry, Coe College
Tracy Todd, Associate Professor of Biology, Northwestern College
Paul Weihe, Biology & Environmental Science, Central College
Danielle Wirth, Environmental Science Department, Des Moines Area Community College
* The views expressed herein are those of the individual signatories, and do not necessarily represent the views of the institutions with which they are affiliated.
For more information, click here.
EcoWatch Daily Newsletter
Oil palm plantations in northeastern Borneo, state of Sabah, Malaysia. Recently planted oil palms can be seen in the bright green grassy areas and a tiny bit of natural rainforest still struggles for survival farther away. Vaara / E+ / Getty Images
A fuel truck carries fuel into a fracking site past the warning signs Jan. 27, 2016 near Stillwater, Oklahoma. J Pat Carter / Getty Images
By Jessica Corbett
For more than three decades, the U.S. government has mismanaged toxic oil and gas waste containing carcinogens, heavy metals and radioactive materials, according to a new Earthworks report — and with the country on track to continue drilling and fracking for fossil fuels, the advocacy group warns of growing threats to the planet and public health.
European Union blue and gold flags flying at the European Commission building in Brussels, Belgium. 35007/ iStock / Getty Images Plus
Newly adopted guidelines set forth by the European Commission Tuesday aim to tackle climate change by way of the financial sector. The move comes to bolster the success of the Sustainable Action Plan published last year to reorient capital flows toward sustainable investment and manage financial risks from climate change, environmental degradation and social issues.
Prime Minister Justin Trudeau delivering remarks to supporters at a Liberal Climate Action Rally in Toronto, Ontario on March 4. Arindam Shivaani / NurPhoto / Getty Images
Canadian Prime Minister Justin Trudeau announced Tuesday that his government would once again approve the expansion of the Trans Mountain pipeline, which would triple the amount of oil transported from Alberta's tar sands to the coast of British Columbia (BC).
An exhausted polar bear wanders the streets of Norilsk, a Siberian city hundreds of miles from its natural habitat. IRINA YARINSKAYA / AFP / Getty Images

An exhausted, starving polar bear has been spotted wandering around the Siberian city of Norilsk, Reuters reported Tuesday. It is the first time a polar bear has entered the city in more than 40 years.
Bumblebees flying and pollinating a creeping thyme flower. emeliemaria / iStock / Getty Images
It pays to pollinate in Minnesota.