This website uses cookies to ensure you get the best experience while browsing it. By clicking 'Got It' you're accepting these terms.
Investigation Finds Toxic Pesticides in Lipton Tea
Apr. 24, 2012 07:51AM EST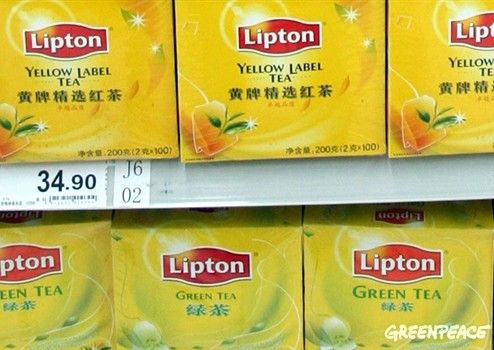 A Greenpeace investigation has found that Lipton, the world's best-selling tea brand, sold tea bags to Chinese consumers that violated Chinese laws and failed European Union (EU) safety standards.
In March 2012, Greenpeace randomly purchased several boxes of Lipton tea bags produced and sold in China at two Beijing stores. The samples, which included green tea, oolong tea, jasmine tea and black tea, were then sent to an independent third-party lab for pesticide residue testing.
"This was a random selection of Lipton products from the Chinese market, and the results were scary. It also puts a big question mark over the safety of Lipton products in other markets," said Wang Jing, Greenpeace food and agriculture campaigner.
The testing found that all four Lipton samples contained pesticides that exceeded the EU's maximum levels of residue, while three samples contained pesticides unapproved by the EU, such as Bifenthrin, which scientists say could negatively affect male hormone production.
"As the world's best-selling tea brand, Lipton is taking advantage of China's loose pesticide control measures at the expense of its Chinese customers," added Wang Jing.
Some of the detected pesticides are also banned for use in tea production by the Chinese Ministry of Agriculture, including highly toxic Methomyl, as well as Dicofol and Endosulfan that may affect fertility.
"The results are outrageous. Lipton has committed to minimizing toxic agrochemicals in its products, but it is doing the exact opposite in China. It either had no idea what was being sprayed on its tea farms, or simply didn't care," Wang Jing said.
Lipton now joins the shameful ranks of nine top Chinese tea companies whom Greenpeace also found to be selling tea laced with pesticides. A previous Greenpeace report, released on April 11, showed that all 18 tea samples produced by the nine tea brands, when tested, each contained at least three kinds of pesticides.
"It will be a huge shame if Lipton's global sourcing and marketing systems becomes an umbrella for substandard products," added Wang Jing.
Greenpeace demands Lipton and other tea companies operating in China drastically reduce the use of pesticides, stop the use of banned and highly toxic pesticides altogether, and establish an effective traceability and supply chain control system that ensures the reduction of pesticide use and its compliance with the law.
Read the report: Pesticide Testing on Lipton Tea, by clicking here.
For more information, click here.
EcoWatch Daily Newsletter
People carry children on a flooded street in Almoradi, Spain on Sept. 13. JOSE JORDAN / AFP / Getty Images
Large food companies are following in the footsteps of fast-food restaurants such as Burger King and KFC by offering meat alternatives. Getty Images
By Elizabeth Pratt
Hormel, Kellogg's, and Kroger are among the large companies now planning to offer "fake meat" products at grocery stores.
Experts say the trend toward plant-based meats coincides with consumers' desires to eat less meat.
However, experts urge consumers to closely check package labels as a product isn't necessarily healthy just because it's described as plant-based.
In grocery stores and fast-food outlets around the U.S., a revolution is taking place.
Colombia rainforest. Marcel Oosterwijk / CC BY-SA 2.0
Many of us think of the Amazon as an untouched wilderness, but people have been thriving in these diverse environments for millennia. Due to this long history, the knowledge that Indigenous and forest communities pass between generations about plants, animals and forest ecology is incredibly rich and detailed and easily dwarfs that of any expert.
picture-alliance / Newscom / R. Ben Ari
By Wesley Rahn
Plastic byproducts were found in 97 percent of blood and urine samples from 2,500 children tested between 2014 and 2017, according to a study by the German Environment Ministry and the Robert Koch Institute.

Pexels
Medically reviewed by Daniel Bubnis, MS, NASM-CPT, NASE Level II-CSS
Hot yoga has become a popular exercise in recent years. It offers many of the same benefits as traditional yoga, such as stress reduction, improved strength, and flexibility.
Lara Hata / iStock / Getty Images
By SaVanna Shoemaker, MS, RDN, LD
Rice is a staple in many people's diets. It's filling, inexpensive, and a great mild-tasting addition to flavorful dishes.
An image of the trans-alaskan oil pipeline that carries oil from the northern part of Alaska all the way to valdez. This shot is right near the arctic national wildlife refuge. kyletperry / iStock / Getty Images Plus
The Trump administration has initialized the final steps to open up nearly 1.6 million acres of the protected Alaskan National Wildlife Refuge to allow oil and gas drilling.