This website uses cookies to ensure you get the best experience while browsing it. By clicking 'Got It' you're accepting these terms.
Investigation Exposes Revolving Door Between Fossil Fuel Lobbyists and Politicians
Nov. 20, 2014 12:56PM EST
Climate
There was much speculation about Louisiana Senator Mary Landrieu's motivation for pushing the first full Senate vote this week on approving the Keystone XL pipeline. Some revolved around her trying to improve her chances in the Dec. 6 Senate runoff against Republican Congressman Bill Cassidy (neither candidate got a majority on Nov. 4). Others say she's likely to lose anyway and that her grandstanding was directed at oil and gas companies that might provide a lucrative landing spot for her after she leaves the Senate in January.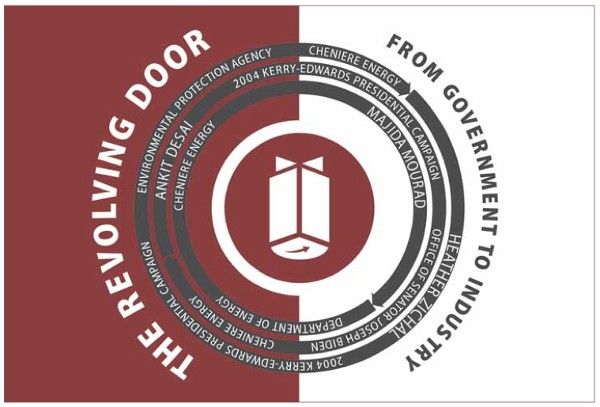 That latter speculation isn't idle, as a new report from DeSmogBlog and Republic Report indicates. Natural Gas Exports: Washington's Revolving Door Fuels Climate Threat lays out how corporate lobbyists swap roles with politicians and government officials constantly, leading to excessive influence by corporations on lawmakers, the Obama administration and federal agencies. It describes how this revolving door eased the way for Big Oil to land four permits for liquified natural gas (LNG) export facilities from the Obama administration since 2012. And while the report, the first salvo in an ongoing investigation of what it calls "the LNG exports influence peddling machine," looks specifically at LNG export facilities, its conclusions could be applied to the entire machinery of climate denier influence in Washington DC.
"The 2014 U.S. congressional midterm elections are now complete, and the Republican Party controls both the House of Representatives and the Senate," says the report. "Some have forecasted that this could have catastrophic impacts for progress on climate change and environmental protection in general. But below the radar in Washington DC—little noticed by the media or public—a major change on energy policy has already been long in the making. Corporate lobbyists have helped to engineer a transformative shift with little scrutiny or meaningful debate: plans to extract U.S. natural gas and export the gas overseas to more lucrative markets. This shift—if fully realized—will continue to transition the U.S. into a resource colony, where our communities, homes, air and water are exploited and polluted so that large multinational corporations can pursue ever-higher profits by selling U.S. fossil fuels abroad."
Four permits for LNG export facilities have already been approved, with many more in the pipeline. To feed these facilities and as domestic gas prices rise as a result of export, there will likely be increased pressure to expand fracking dramatically.
"Big oil and gas companies have engineered this policy outcome through shrewd hiring of Washington insider lobbyists and public relations professionals: Obama and Bush Administration veterans, as well as former Capitol Hill staffers, who have moved through Washington's revolving door to high-paying influence peddling jobs," the report authors write.
They go on to enumerate the officials who formerly served both administrations or as congressional staffers, then moved on to new jobs representing LNG companies where they now lobby their former colleagues. Conversely, the report calls out former fossil fuel industry lobbyists who are now elected officials chairing key congressional committees. It describes how many of those officials and lobbyists work specifically within the Democratic Party, often working with those who give lip service to addressing climate change while working behind the scenes to further the interests of fossil fuel companies."Natural gas interests and the LNG lobby have in fact gone on a hiring spree targeting Democratic officials and those close to the administration," they say.
The report includes an endless stream of revealing nuggets like this one: "When lawmakers convened for the annual Congressional Baseball Game for Charity in July 2014, they were greeted with packets reminding them of the event's sponsors: Cheniere119, the LNG firm that was the first to win an export license from the federal government, and ANGA, the lobbying association pushing for more exports."
These influence peddlers have greased the regulatory process that goes through the Department of Energy (DOE) and the Federal Energy Regulatory Commission (FERC), streamlining it with inadequate attention to citizen concerns about community safety, health and climate impacts, the report says. It cites Dominion's Cove Point facility in Maryland as an example. The proposed and now approved LNG export facility led to a wave of organizing, public testimony, protests and rallies by citizen and environmental advocacy groups like Calvert Citizens for a Health Community and Chesapeake Climate Action Network, charging FERC with ignoring their input in the rush to approve it. The report names former Democratic Congressman Lewis F. Payne, Jr. of Virginia and three former congressional staff members who lobbied for Dominion on behalf of Cove Point.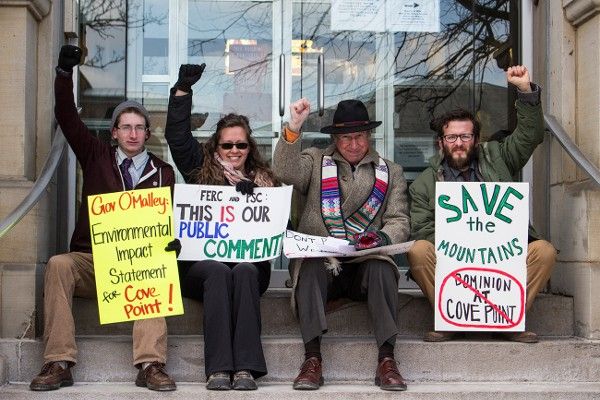 Meanwhile, a bill was introduced in Congress called H.R. 6, which would have required the DOE to speed up the approval process for LNG export facilities. The report explains that two staff members of the House committee hearing the bill were former LNG lobbyists and that among the 57 corporate or corporate-backed entities lobbying for it were "Koch Industries, ExxonMobil, Anadarko, Statoil, Eastman Chemical, FirstEnergy Corp, General Electric, Halliburton, Dominion Resources, Dow Chemical, Chesapeake Energy, Chevron, Sempra Energy, Marathon Oil and BP." The bill passed the House but not the Senate.
"Unfortunately, as lobbying and influence peddling heats up in Washington and elsewhere, so too does the planet," report authors Lee Fang of Republic Report and Steve Horn of DeSmogBlog conclude. "Relentless fracking and opening the export floodgates with U.S.—harvested shale gas can only make the planet hotter still."
YOU MIGHT ALSO LIKE
Feds Approve Cove Point Fracked Gas Export Facility
Public Outcry Intensifies to Stop Cove Point LNG Export Facility
Climate Denial Machine Fueled By Big Oil and Koch Brothers Impacts Congressional Races
EcoWatch Daily Newsletter
Fabian Krause / EyeEm / Getty Images
Water protectors of all persuasions gathered in talking circles at Borderland Ranch in Pe'Sla, the heart of the sacred Black Hills, during the first Sovereign Sisters Gathering. At the center are Cheryl Angel in red and white and on her left, Lyla June. Tracy Barnett
By Tracy L. Barnett
Sources reviewed this article for accuracy.
For Sicangu Lakota water protector Cheryl Angel, Standing Rock helped her define what she stands against: an economy rooted in extraction of resources and exploitation of people and planet. It wasn't until she'd had some distance that the vision of what she stands for came into focus.
Hedges, 2019 © Hugh Hayden. All photos courtesy of Lisson Gallery
By Patrick Rogers
"I'm really into trees," said the sculptor Hugh Hayden. "I'm drawn to plants."
BruceBlock / iStock / Getty Images
Thanks to their high concentration of powerful plant compounds, foods with a natural purple hue offer a wide array of health benefits.
Environmental Investigation Agency
Last week, the Peruvian Palm Oil Producers' Association (JUNPALMA) promised to enter into an agreement for sustainable and deforestation-free palm oil production. The promise was secured by the U.S. based National Wildlife Federation (NWF) in collaboration with the local government, growers and the independent conservation organization Sociedad Peruana de Ecodesarrollo.
Pixabay
Leaked documents show that Jair Bolsonaro's government intends to use the Brazilian president's hate speech to isolate minorities living in the Amazon region. The PowerPoint slides, which democraciaAbierta has seen, also reveal plans to implement predatory projects that could have a devastating environmental impact.
XL CATLIN SEAVIEW SURVEY / THE OCEAN AGENCY
Hope may be on the horizon for the world's depleted coral reefs thanks to scientists who successfully reproduced endangered corals in a laboratory setting for the first time, according to Reuters.