This website uses cookies to ensure you get the best experience while browsing it. By clicking 'Got It' you're accepting these terms.
Intersex Fish Found in Three Pennsylvania Rivers Linked to Endocrine Disrupting Chemicals
Jul. 07, 2014 08:23AM EST
A study led by the U.S. Geological Service (USGS) finds intersex fish in three watersheds of Pennsylvania and shows strong connections between these occurrences and increased pollution in waterways from endocrine-disrupting chemicals.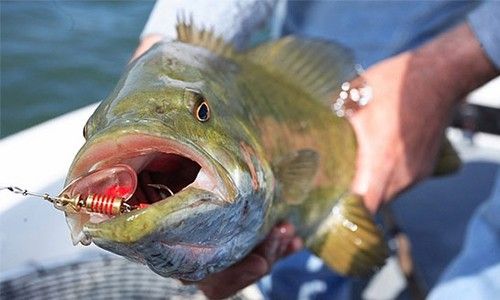 The study, Reproductive Health Indicators of Fish from Pennsylvania Watersheds: Associations with Chemicals of Emerging Concern, examined three species of fish in three separate watersheds of Pennsylvania to assess whether characteristics caused by hormones and hormone-mimicking compounds, such as immature eggs in male fish, were present. In aquatic environments, the presence of these intersex characteristics is widely used as a biomarker for assessing exposure to estrogenic chemicals, as well as anti-androgenic chemicals which inhibit development of male characteristics.
Male smallmouth bass from all sites sampled had immature eggs in their testes; prevalence was lowest in the Ohio drainage, intermediate in the Delaware and highest in the Susquehanna. While these findings were disturbing in and of themselves, the study was also able to draw a connection to the increased presence of intersex characteristics and areas of high agricultural use.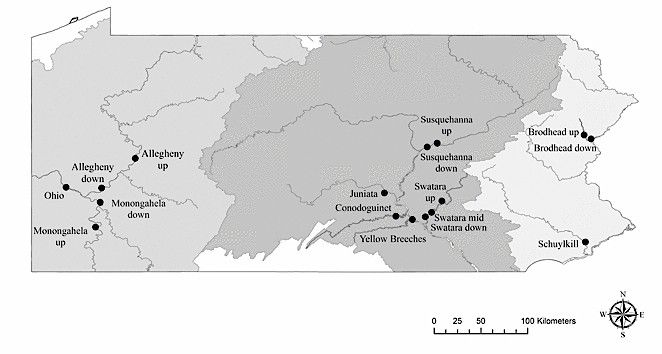 "The prevalence and severity of the immature eggs in smallmouth bass corresponded with the percent of agricultural land use in the watershed above the collection sites," said Vicki Blazer, PhD, a research fish biologist and lead author of the study. "Chemical compounds associated with estrogenic endocrine disruption, in particular estrone, a natural estrogen, were also associated with the extent and severity of these effects in bass."
In other words, sites in the Susquehanna drainage  had a higher prevalence and severity of these effects than sites in the Ohio drainage and when compared against the percentage of agricultural land use, which is higher in the Susquehanna, a link was established.

Interestingly, the same connection could not be drawn from the data concerning wastewater treatment plants, leading researchers to conclude that there was no significant relationship between the number of wastewater treatment plants and the prevalence of immature eggs in male fish. Data did show, however, that the severity of intersex characteristics of male small mouth bass generally increased at downstream sites from wastewater treatment plants.
"The sources of estrogenic chemicals are most likely complex mixtures from both agricultural sources, such as animal wastes, pesticides and herbicides, and human sources from wastewater treatment plant effluent and other sewage discharges," said Dr. Blazer.
Reproductive Health Indicators of Fish from Pennsylvania Watersheds
Endocrine Disruption and Agriculture: Not Only a Problem for Fish
If you are wondering why such a strong correlation could be drawn between agricultural use and water contaminated by endocrine-disrupting chemicals, then one need only look to the nation's environmental law responsible for water pollution control and the chemical-intensive practices common to most conventional forms of agriculture. Under the Clean Water Act (CWA), agriculture is exempt from most water pollution standards and permitting requirements—even when it comes to pesticides. This leaves one of the largest sources of all kinds of pollutants completely unfettered and free to pollute, significantly contributing to everything from algal blooms and dead zones to intersex fish and pesticide contamination.
In fish and humans, endocrine disrupting effects include direct effects on traditional endocrine glands, their hormones and receptors such as estrogens, anti-androgens and thyroid hormones, as well as signaling cascades that affect many of the body's systems, including reproductive function and fetal development, the nervous system and behavior, the immune and metabolic systems, the liver, bones and many other organs, glands and tissues. Hundreds of scientific articles have been published across the globe demonstrating how a broad selection of chemicals can interfere with the normal development at all ranges of exposure. Scientists discovered effects for some widely used chemicals at concentrations thousands of times less than federal "safe" levels of exposure derived through traditional toxicological tests. Whatever the exposure level, neither fish nor human are protected from most endocrine-disrupting chemicals present in our waterways.
EcoWatch Daily Newsletter
Lara Hata / iStock / Getty Images
By SaVanna Shoemaker, MS, RDN, LD
Rice is a staple in many people's diets. It's filling, inexpensive, and a great mild-tasting addition to flavorful dishes.
An image of the trans-alaskan oil pipeline that carries oil from the northern part of Alaska all the way to valdez. This shot is right near the arctic national wildlife refuge. kyletperry / iStock / Getty Images Plus
The Trump administration has initialized the final steps to open up nearly 1.6 million acres of the protected Alaskan National Wildlife Refuge to allow oil and gas drilling.
Kaboompics / Pexels
Tensions between lawmakers and several large manufacturing companies came to a head on Capitol Hill this week during a hearing on toxic fluorochemicals in U.S. drinking water.
A male african lion plays with his 4 month old cub at Big Marsh in Serengeti National Park, Tanzania. Nick Garbutt / Barcroft Media / Getty Images
A Florida man has been allowed to import a Tanzanian lion's skin, skull, claws and teeth, a first since the animal was listed as threatened under the Endangered Species Act, according to US Fish and Wildlife Service records uncovered by the Center for Biological Diversity through the Freedom of Information Act.
A fracked natural gas well in northwest Louisiana has been burning for two weeks after suffering a blowout. A state official said the fire will likely burn for the next month before the flames can be brought under control by drilling a relief well.
The universe is expanding much quicker than previously thought, according to researchers in Germany, leading scientists to suggest it may be more than 2 billion years younger than past estimates.