This website uses cookies to ensure you get the best experience while browsing it. By clicking 'Got It' you're accepting these terms.
Internal Documents Reveal Coverup in North Dakota Oil Spill
Oct. 24, 2013 09:10AM EST
Energy
By Jesse Coleman
North Dakota, long known for its cattle ranches and open spaces, has recently become one of the oil and gas industry's most prized—and profitable—possessions, thanks to the advent of fracking. However, the price of oil and gas industry development is paid in destruction to the environment and strains to the regulatory framework meant to protect the public from a reckless industry, as Tesoro's massive oil spill attests.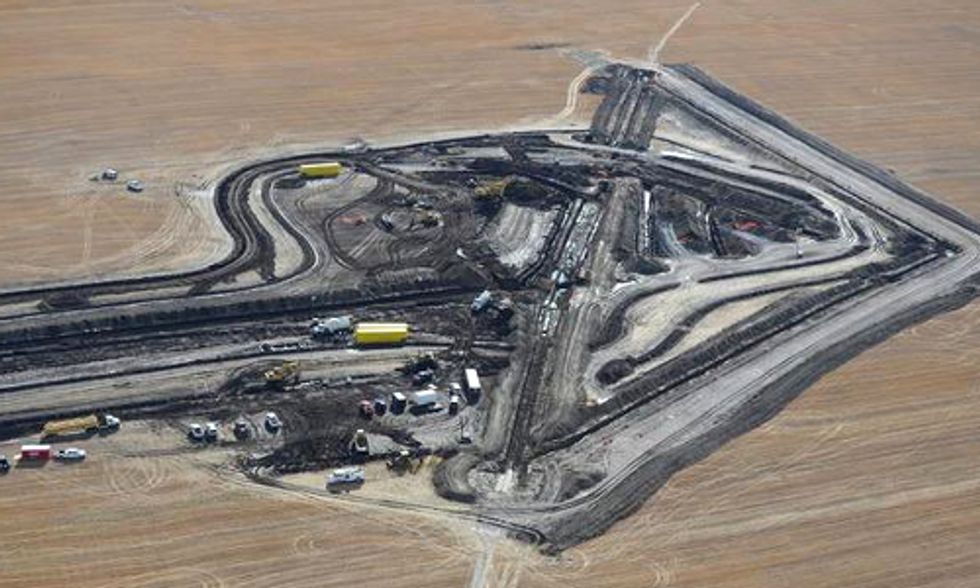 When the spill was finally reported to the authorities, the quarter inch hole in the pipeline had already released hundreds of thousands of gallons of oil.Neal Lauron/ Greenpeace
Documents from an open records request by Greenpeace have uncovered that Tesoro, a fracking giant based in San Antonio:
Possibly Knew Their Pipeline was Dangerously Weak
Tesoro ran tests on the pipeline that ruptured more than two weeks before the spill was discovered.
A robot, known as a "smart pig," detected weaknesses in the pipeline on Sept.10 and 11. Tesoro claims that they did not have ample time to digest the data before the spill, but Tesoro employees on the ground tell a different story. Furthermore, once the pipeline spill was discovered, Tesoro dispatched crews to check two other sites on the pipeline for leaks, indicating they were aware of potential fail points in the pipeline.
Did Not Report the Spill Correctly or Promptly
Tesoro corp is not saying how long the pipeline has been leaking. The hole in the line was about a quarter inch in diameter, and it would have taken some time for 20,600 barrels of oil to foul a wheat field the size of seven football fields. However, when the spill was finally reported to the authorities, the quarter inch hole had already released hundreds of thousands of gallons, enough to make the Tesoro spill the largest since North Dakota began fracking for oil. When Tesoro did report the spill, it did not report it through the proper channels. This caused confusion with state officials, and helped keep the spill out of the public eye for weeks.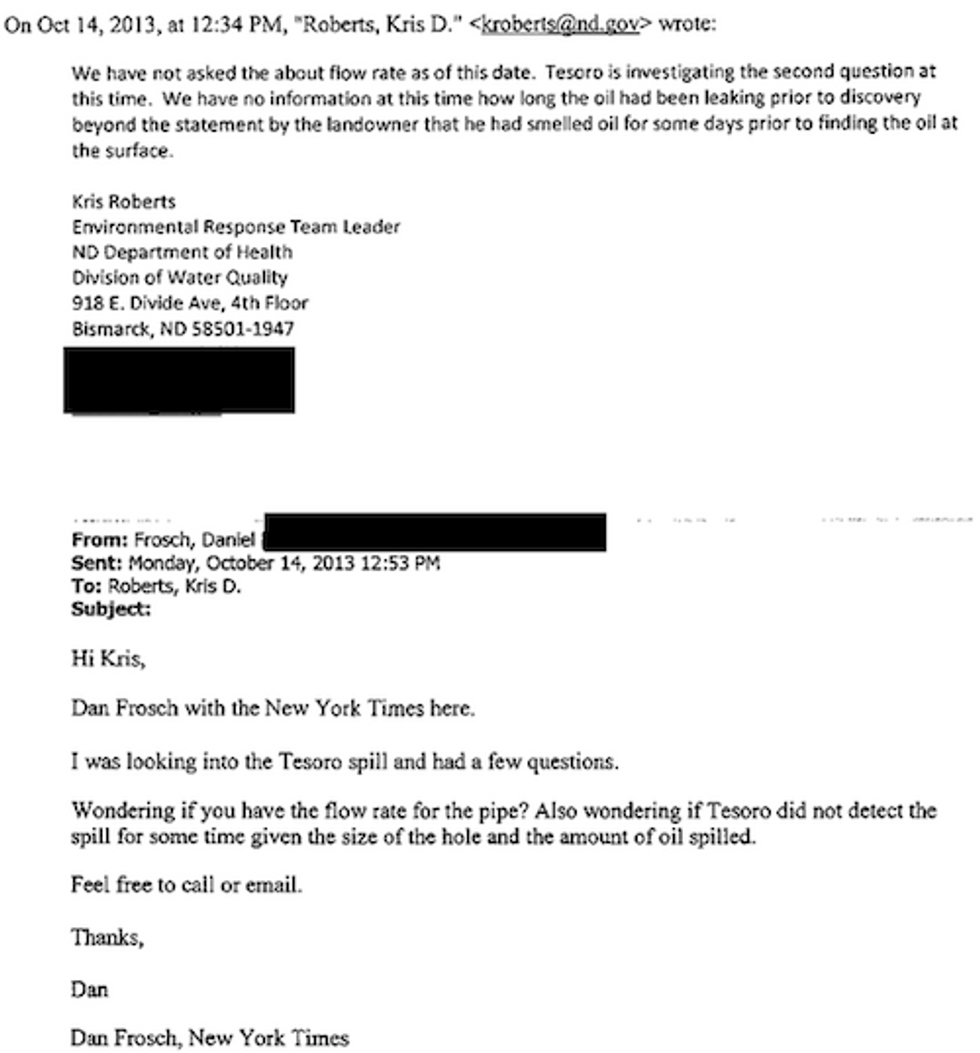 Internal documents reveal that Tesoro gave no indication of how long oil was leaking from the damaged pipeline.
Tesoro has revised the amount they admit spilling multiple times since the oil spill became public, increasing the amount significantly each time. These revisions are not a surprise given that Tesoro is using an inaccurate and backward system for measuring the oil lost, that experts say doesn't "add up." Their current method is to roughly estimate the amount of oil it would take to cause the evident destruction, rather than measuring the amount that should have arrived at the other end of the pipeline.
Got Help From Regulators to "Keep the Problem in North Dakota"
As with other areas that have faced oil industry invasion underwritten by fracking, North Dakota's oil infrastructure has far outpaced the state's ability to regulate it. Fun fact, The Pipeline and Hazardous Materials Safety Administration (PHMSA), the federal body in charge of Tesoro's pipeline, has only 135 federal inspectors overseeing 2.6 million miles of pipeline, which means each inspector is responsible for almost enough pipe to circle the Earth.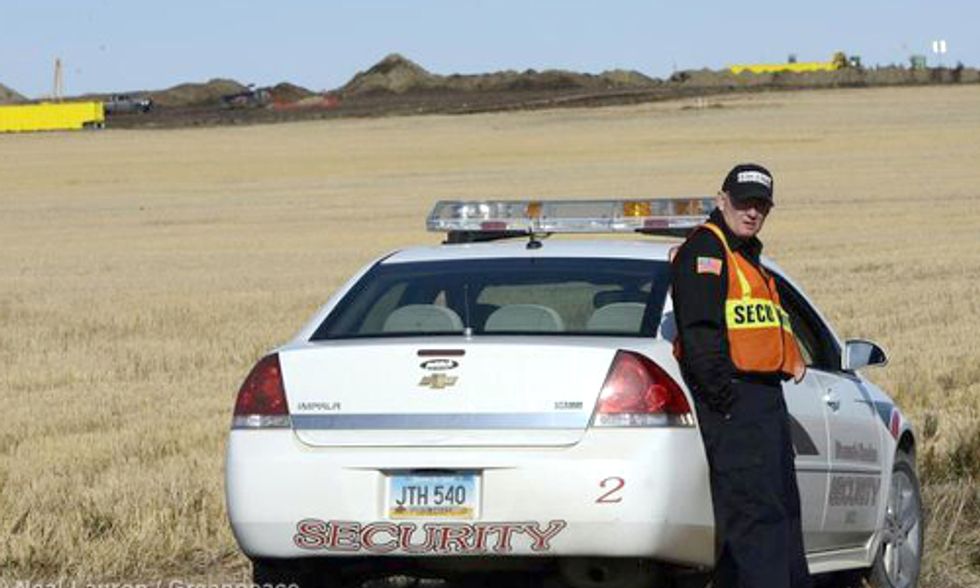 Regulators for North Dakota's Department Of Health helped Tesoro call the police on people investigating the spillNeal Lauron/ Greenpeace
The huge boom in oil and gas production has been driven by fracking, the controversial drilling process that has made North Dakota one of the top producing oil fields in the world. In August North Dakota produced more than 911,000 barrels of oil per day. The Tesoro spill belies the danger of under-regulated and dangerous pipelines, like the proposed Keystone XL. These pipelines enrich the few, while the risks are borne by the unfortunate people in their path.
EcoWatch Daily Newsletter
This study found evidence of illegal hammerhead fins in 46 out of 46 sampling events in Hong Kong. NOAA / Teachers at Sea Program
By Jason Bittel
Authorities in Hong Kong intercepted some questionable cargo three years ago — a rather large shipment of shark fins that had originated in Panama. Shark fins are a hot commodity among some Asian communities for their use in soup, and most species are legally consumed in Hong Kong, but certain species are banned from international trade due to their extinction risk. And wouldn't you know it: this confiscated shipment contained nearly a ton of illegal hammerhead fins.
A video shows a woman rescuing a koala from Australia's wildfires.
VOA News / YouTube screenshot
More than 350 koalas may have died in the wildfires raging near the Australian town of Port Macquarie in New South Wales, but one got a chance at survival after a woman risked her life to carry him to safety.
Heat waves emanate from the exhaust pipe of a city transit bus as it passes an American flag hung on the Los Angeles County Hall of Justice on April 25, 2013. David McNew / Getty Images
Air pollution rules aren't doing enough to protect Americans, finds a major new study that examined the cause of death for 4.5 million veterans, as The Guardian reported.
Coldplay is releasing a new album on Friday, but the release will not be followed by a world tour.
Ash dieback is seen infecting a European ash (Fraxinus excelsior) in Bottomcraig, Scotland, UK on Aug. 10, 2016.
nz_willowherb / Flickr
Scientists have discovered a genetic basis to resistance against ash tree dieback, a devastating fungal infection that is predicted to kill over half of the ash trees in the region, and it could open up new possibilities to save the species.