Internal Documents Reveal Coverup in North Dakota Oil Spill
By Jesse Coleman
North Dakota, long known for its cattle ranches and open spaces, has recently become one of the oil and gas industry's most prized—and profitable—possessions, thanks to the advent of fracking. However, the price of oil and gas industry development is paid in destruction to the environment and strains to the regulatory framework meant to protect the public from a reckless industry, as Tesoro's massive oil spill attests.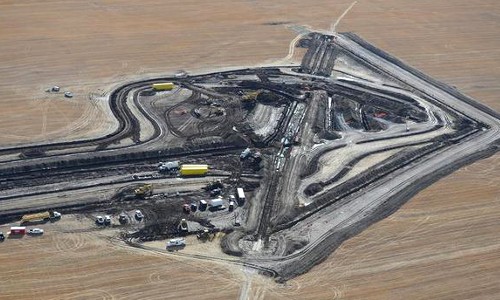 When the spill was finally reported to the authorities, the quarter inch hole in the pipeline had already released hundreds of thousands of gallons of oil.Neal Lauron/ Greenpeace
Documents from an open records request by Greenpeace have uncovered that Tesoro, a fracking giant based in San Antonio:
Possibly Knew Their Pipeline was Dangerously Weak
Tesoro ran tests on the pipeline that ruptured more than two weeks before the spill was discovered.
A robot, known as a "smart pig," detected weaknesses in the pipeline on Sept.10 and 11. Tesoro claims that they did not have ample time to digest the data before the spill, but Tesoro employees on the ground tell a different story. Furthermore, once the pipeline spill was discovered, Tesoro dispatched crews to check two other sites on the pipeline for leaks, indicating they were aware of potential fail points in the pipeline.
Did Not Report the Spill Correctly or Promptly
Tesoro corp is not saying how long the pipeline has been leaking. The hole in the line was about a quarter inch in diameter, and it would have taken some time for 20,600 barrels of oil to foul a wheat field the size of seven football fields. However, when the spill was finally reported to the authorities, the quarter inch hole had already released hundreds of thousands of gallons, enough to make the Tesoro spill the largest since North Dakota began fracking for oil. When Tesoro did report the spill, it did not report it through the proper channels. This caused confusion with state officials, and helped keep the spill out of the public eye for weeks.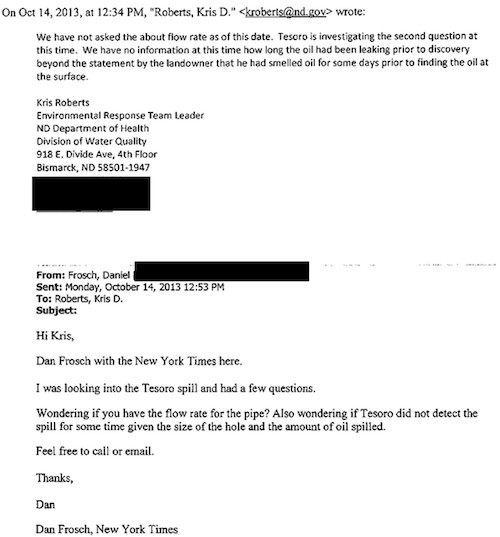 Internal documents reveal that Tesoro gave no indication of how long oil was leaking from the damaged pipeline.
Tesoro has revised the amount they admit spilling multiple times since the oil spill became public, increasing the amount significantly each time. These revisions are not a surprise given that Tesoro is using an inaccurate and backward system for measuring the oil lost, that experts say doesn't "add up." Their current method is to roughly estimate the amount of oil it would take to cause the evident destruction, rather than measuring the amount that should have arrived at the other end of the pipeline.
Got Help From Regulators to "Keep the Problem in North Dakota"
As with other areas that have faced oil industry invasion underwritten by fracking, North Dakota's oil infrastructure has far outpaced the state's ability to regulate it. Fun fact, The Pipeline and Hazardous Materials Safety Administration (PHMSA), the federal body in charge of Tesoro's pipeline, has only 135 federal inspectors overseeing 2.6 million miles of pipeline, which means each inspector is responsible for almost enough pipe to circle the Earth.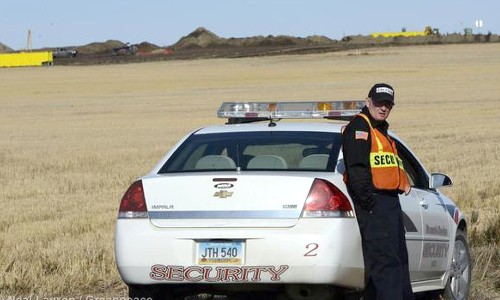 Regulators for North Dakota's Department Of Health helped Tesoro call the police on people investigating the spillNeal Lauron/ Greenpeace
The huge boom in oil and gas production has been driven by fracking, the controversial drilling process that has made North Dakota one of the top producing oil fields in the world. In August North Dakota produced more than 911,000 barrels of oil per day. The Tesoro spill belies the danger of under-regulated and dangerous pipelines, like the proposed Keystone XL. These pipelines enrich the few, while the risks are borne by the unfortunate people in their path.
A coalition of conservation groups and others announced Thursday that a historic number of comments and petitions of support have been submitted to the U.S. Department of the Interior in support of Bears Ears National Monument. Despite the entirely inadequate 15-day comment period ending on May 26, more than 685,000 comments in support of Bears Ears National Monument have been collected.
Keep reading...
Show less
Rink Glacier in western Greenland, with a meltwater lake visible center. NASA/OIB
Scientists have had their eyes on Greenland as its iconic glaciers have begun disappearing due to a warming climate. But, what they didn't expect to see was a whole new type of melting.
Keep reading...
Show less
Mountain View Fire
By Lena Moffitt
An oil tanker in Mead, Colorado exploded, killing one and injuring three on Thursday. Authorities are continuing to investigate the cause of the explosion.
Keep reading...
Show less
Banner created by Alliance for Climate Education
Keep reading...
Show less
Twenty-two GOP senators sent a letter Thursday urging Donald Trump to pull out of the Paris agreement. They argued remaining in the deal could "upend" the administration's ability "to fulfill its goal of rescinding the Clean Power Plan."
Keep reading...
Show less
By Cheryl Johncox
The Federal Energy Regulatory Commission (FERC) rejected on Thursday Energy Transfer Partners' request to resume horizontal directional drilling at two sites for its Rover fracked gas pipeline. This rejection comes after numerous leaks into Ohio's wetlands, and Clean Air and Clean Water act violations. FERC has halted the process at only eight locations of the 32 where drilling is taking place under Ohio's wetlands and streams.
Keep reading...
Show less
By Nadia Prupis
A majority of people in eight countries say they are ready to change their lifestyles if it would prevent climate catastrophe, a survey on global threats released Wednesday found.
Keep reading...
Show less
May. 25, 2017 01:55PM EST
Bill Maher is sick of billionaires' obsession with Mars, more like "Mars-a-Lago," he said.
In a new animation produced by ATTN:, the popular talk show host of Real Time, discusses the perils of our planet, including how "climate change is killing us."
Keep reading...
Show less