This website uses cookies to ensure you get the best experience while browsing it. By clicking 'Got It' you're accepting these terms.
Interests, Ideology and the Climate Denial Machine
Jun. 10, 2014 11:20AM EST

Paul Krugman has an interesting op-ed in Sunday's New York Times entitled "Interests, Ideology & Climate." In this commentary, Krugman argues that the current campaign to deny climate change is steeped more in political ideology than in industry-funded opposition.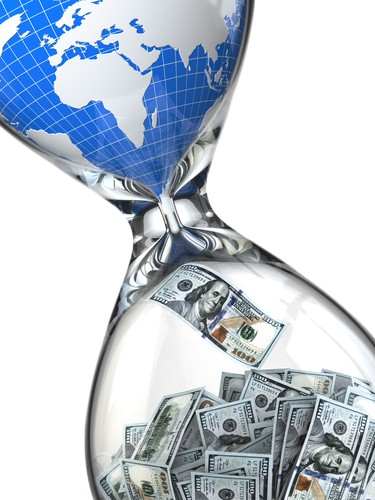 Photo courtesy of Shutterstock
I'm a big fan of Krugman's work, and he makes a number of very good points in this latest commentary. I agree with him that the current campaign to deny the reality and threat of climate change does indeed feed off a very large, ideologically-driven partisan divide that is grounded in anti-regulatory beliefs and libertarian principles.
But I take issue with Krugman's argument that the massive funding of climate change denial by monied interests like the Koch Brothers doesn't play an equal role. The fallacy in Krugman's thesis, in my view, is that the ideological divide that exists with regard to climate change is somehow independent of the massively-funded disinformation campaign. It isn't.
The Kochs, Scaifes and others have used their billions to construct a vast "Potemkin Village" (in the words of science historian Naomi Oreskes) of denialism, by funding groups like Americans for Prosperity, the Heartland Institute, the Competitive Enterprise Institute and a whole cadre of other front groups, organizations and hired guns implicated in the campaign to discredit climate science and climate scientists. I should know since, as I describe in my book The Hockey Stick and the Climate Wars, I found myself at the center of that campaign more than a decade ago because of my scientific work establishing the unprecedented nature of recent global warming.
This network of front groups, organizations and paid advocates is sometimes referred to as the "Climate Denial Machine" or just "CDM" (though, to be precise, they aren't denying "climate" per se, but rather, the overwhelming scientific consensus that the climate is changing, and that we're the cause).
The CDM has, in my view, played a far more critical role than Krugman's piece might seem to imply. It is this well-organized and well-funded apparatus that supports and nurtures the larger conservative echo chamber of climate change denialism. A favored mode of attack by the CDM involves firing up the conservative "base" through dog whistles and red meat-loaded attacks on climate scientists via conservative media outlets. These attacks frequently seek to create the notion that climate scientists are part of an evil cabal seeking to take away your freedom in support of creating a socialist world government. The "one world government" conspiracy theory is a staple of the Koch and Scaife-funded attack machine.
The partisan divide on climate change didn't arise in a vacuum. Despite the substantial differences in political ideology between affiliates of the two major parties that existed during the Clinton years, there was relatively little difference in their level of acceptance of the science of climate change. But the schism has increased steadily over time ever since as the funding and extent of the CDM disinformation campaign has ramped up.
The fact that there is such strong ideological opposition now among self-identified conservatives to acting on climate change is a direct result of this massively funded and well-organized disinformation campaign. So, yes, the current opposition on the right to acting on climate change is largely ideologically-driven. But that ideological divide was created and continues to be nurtured by a very deliberate disinformation campaign, funded by the Koch Brothers and other conservative interests who are arguably driven as much by financial self-interest (think Koch & Keystone) as by ideology. To argue otherwise is, with all due respect, to let these bad faith actors off the hook.
——–
YOU ALSO MIGHT LIKE
New Video Turns Up the Heat on GOP Climate Change Deniers
Robert F. Kennedy Jr. Praises Obama's Carbon Rules, Blasts Koch Brothers on 'The Ed Show'
Why Obama 'Absolutely' Wants to Go Off on Climate Deniers
——–
Plus, learn if there's one that's best for your health.
Catherine Falls Commercial / Moment / Getty Images
An invasive Amynthas worm, also known as a crazy snake worm, Asian jumping worm and Alabama jumper Tom Potterfield / Flickr
By Jason Bittel
My wife and I built a house two years ago on a few acres of woodland outside of Pittsburgh. The backyard is full of maples, poplars, briars and common spicebush. Two-lined salamanders and grumpy-looking crayfish wade among the rocks in the small stream that runs down the edge of the property. Deer, raccoon and opossum tracks appear regularly in the snow and mud. Sometimes, my trail-cam even catches a pair of gray foxes as they slink through the night.
AleksandarNakic / Getty Images
By Kate Murphy
No matter the time of year, there's always a point in each season when my skin decides to cause me issues. While these skin issues can vary, I find the most common issues to be dryness, acne and redness.

David Woodfall / The Image Bank / Getty Images
By Sam Nickerson
The U.S. Environmental Protection Agency (EPA) in April 2018 proposed relaxing standards related to how it assesses the effects of exposure to low levels of toxic chemicals on public health.
Now, correspondence obtained by the LA Times revealed just how deeply involved industry lobbyists and a controversial, industry-funded toxicologist were in drafting the federal agency's proposal to scrap its current, protective approach to regulating toxin exposure.
Steve Irwin poses with a three foot long alligator at the San Francisco Zoo on June 26, 2002. Justin Sullivan / Getty Images
February 22 is the birthday of conservationist and beloved TV personality "Crocodile Hunter" Steve Irwin, who would have been 57 years old today.
Irwin's life was tragically cut short when the barb from a stingray went through his chest while he was filming in 2006, but his legacy of loving and protecting wildlife lives on, most recently in a Google Doodle today honoring his birthday.