This website uses cookies to ensure you get the best experience while browsing it. By clicking 'Got It' you're accepting these terms.
Interactive Tool Maps Final Draft of Paris Climate Deal
Nov. 25, 2015 10:35AM EST
Climate
From Nov. 30 to Dec. 11, the world's governments will gather in Paris to negotiate 54 pages of dense legal text.
Heavily bracketed, filled with uncertainties and expressed in opaque UN jargon, this is the final draft of a text that has been in the making since 2010.
This is the document that 196 parties hope to transform into a historic UN climate agreement on Dec. 11 in Paris.
This agreement will aim to provide direction for decades to come on how countries reduce their emissions and cope with the impacts of climate change.
Carbon Brief has broken up the text into its component parts and summarized the issues, creating an interactive tool that maps out the draft of the Paris climate deal.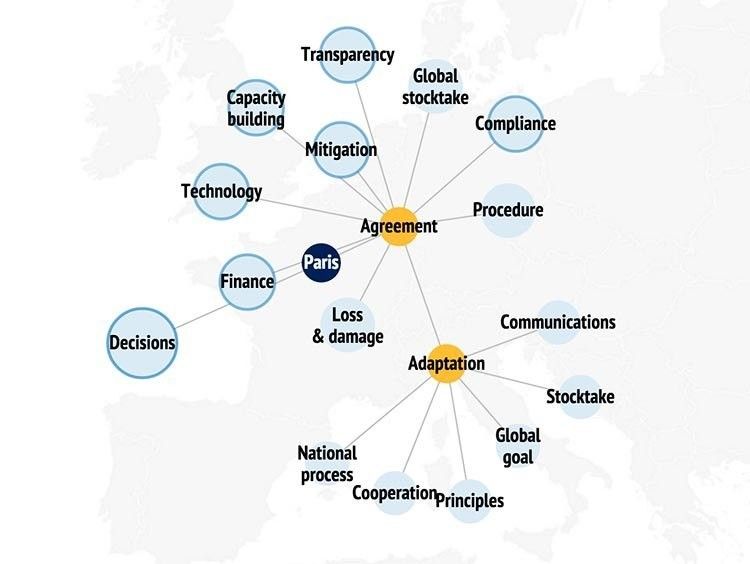 Like a family tree, the graphic will expand as you delve further into the text, revealing further detailed debates contained under each of the headline topics. Equally, click on any expanded bubble and it will retract to ensure uncluttered navigation.
The structure of the graphic is based on the structure of the text itself, with bubbles divided into separate branches according to whether they appear in the "agreement" or the "decisions" section of the document. The agreement is the legal core of the agreement, while the decisions function as an instruction manual on how to use it.
The Evolution of the UN Text
After watching hopes of a UN climate deal crumble around them in Copenhagen in 2009, countries agreed to "launch a process to develop a protocol, another legal instrument or an agreed outcome with legal force under the convention applicable to all parties."
One of the most important tasks has been to ensure that, when the Paris conference begins, there is a draft text already on the table that can provide the basis for negotiations. This means that negotiators will have a good idea of what needs to be discussed over the course of the two weeks, with the initial sprawl of ideas whittled down to the key debates.
This sprawl was captured in the so-called Geneva text. This 86-page document, which was produced in February 2015, was the first incarnation of the draft deal.
It remains the only text with any official status. But during subsequent negotiating sessions countries have worked to streamline it into something more manageable that they can work from in December. In doing so, they have had to walk the fragile line between a text that is clear and concise and yet contains all the necessary information.
Progress has ebbed and flowed. A new draft was issued in October, slimmed down to a short 20 pages. But countries were quick to express their displeasure at this edit, accusing the co-chairs of the negotiations of prematurely deleting key passages of the text.
In October, at the most recent session, parties worked to put the flesh back on the bones. They negotiated a text that was more than twice as long, but which countries agreed they could work with in Paris.
The co-chairs released another version in November, lightly edited to make it neater (the October version having been hastily assembled and released at 11:30 p.m. after a long week of negotiations).
This is the text that countries will have before them when they arrive in Paris for the talks, beginning Nov. 30. It contains all the issues that are up for negotiation, often arranged into the possible options that countries can choose. It contains all the issues that will eventually be formalized in the UN deal.
This interactive was developed in collaboration with Kiln, a data visualization and digital journalism studio.
YOU MIGHT ALSO LIKE
Paris and Beyond: Climate Movement Won't Be Silenced at COP21
100% Renewable-Powered World 'Technically Feasible and Economically Viable' by 2030
World Mayors Lead by Example on Climate Action, Provides Hope for Binding Agreement at COP21
EcoWatch Daily Newsletter
Tuna auctions are a tourist spectacle in Tokyo. Outside the city's most famous fish market, long queues of visitors hoping for a glimpse of the action begin to form at 5 a.m. The attraction is so popular that last October the Tsukiji fish market, in operation since 1935, moved out from the city center to the district of Toyosu to cope with the crowds.

gmnicholas / E+ / Getty Images
Kristan Porter grew up in a fishing family in the fishing community of Cutler, Maine, where he says all roads lead to one career path: fishing. (Porter's father was the family's lone exception. He suffered from terrible seasickness, and so became a carpenter.) The 49-year-old, who has been working on boats since he was a kid and fishing on his own since 1991, says that the recent warming of Maine's cool coastal waters has yielded unprecedented lobster landings.
Nicole Greenfield is a writer at NRDC whose articles on religion, the environment, popular culture and social justice have appeared in many publications.
Aerial view of lava flows from the eruption of volcano Kilauea on Hawaii, May 2018. Frizi / iStock / Getty Images
Hawaii's Kilauea volcano could be gearing up for an eruption after a pond of water was discovered inside its summit crater for the first time in recorded history, according to the AP.
The Eqip Sermia Glacier is seen behind a moraine left exposed by the glacier's retreat during unseasonably warm weather on Aug. 1 at Eqip Sermia, Greenland. Sean Gallup / Getty Images
hadynyah / E+ / Getty Images
By Johnny Wood
The Ganges is a lifeline for the people of India, spiritually and economically. On its journey from the Himalayas to the Bay of Bengal, it supports fishermen, farmers and an abundance of wildlife.
The river and its tributaries touch the lives of roughly 500 million people. But having flowed for millennia, today it is reaching its capacity for human and industrial waste, while simultaneously being drained for agriculture and municipal use.
Here are some of the challenges the river faces.
Protesters gathered outside US Bank and Wells Fargo locations around the U.S. to protest investment in the Dakota Access Pipeline on Dec. 1, 2016. This photo is from a protest outside US Bank in south Minneapolis, Minnesota.
Fibonacci Blue / CC BY 2.0
By Jake Johnson
As a growing number of states move to pass laws that would criminalize pipeline protests and hit demonstrators with years in prison, an audio recording obtained by The Intercept showed a representative of a powerful oil and gas lobbying group bragging about the industry's success in crafting anti-protest legislation behind closed doors.
Reposted with permission from our media associate Common Dreams.

DESIREE MARTIN / AFP / Getty Images
Wildfires raging on Gran Canaria, the second most populous of Spain's Canary Islands, have forced around 9,000 people to evacuate.