This website uses cookies to ensure you get the best experience while browsing it. By clicking 'Got It' you're accepting these terms.
Interactive Tool Maps Final Draft of Paris Climate Deal
Nov. 25, 2015 10:35AM EST
Climate
From Nov. 30 to Dec. 11, the world's governments will gather in Paris to negotiate 54 pages of dense legal text.
Heavily bracketed, filled with uncertainties and expressed in opaque UN jargon, this is the final draft of a text that has been in the making since 2010.
This is the document that 196 parties hope to transform into a historic UN climate agreement on Dec. 11 in Paris.
This agreement will aim to provide direction for decades to come on how countries reduce their emissions and cope with the impacts of climate change.
Carbon Brief has broken up the text into its component parts and summarized the issues, creating an interactive tool that maps out the draft of the Paris climate deal.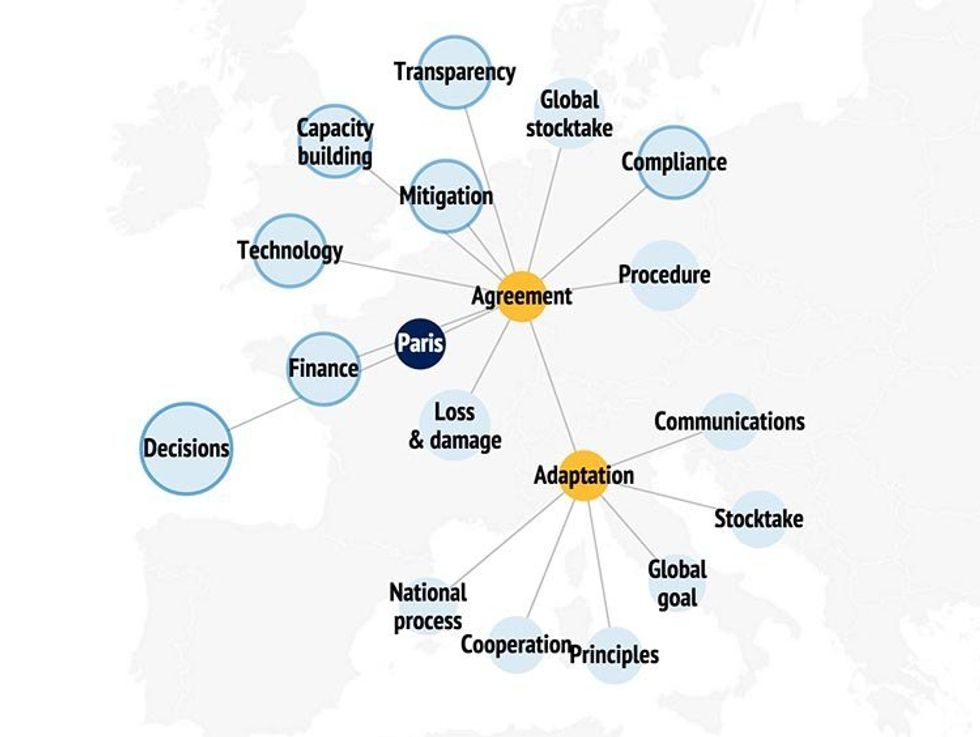 Like a family tree, the graphic will expand as you delve further into the text, revealing further detailed debates contained under each of the headline topics. Equally, click on any expanded bubble and it will retract to ensure uncluttered navigation.
The structure of the graphic is based on the structure of the text itself, with bubbles divided into separate branches according to whether they appear in the "agreement" or the "decisions" section of the document. The agreement is the legal core of the agreement, while the decisions function as an instruction manual on how to use it.
The Evolution of the UN Text
After watching hopes of a UN climate deal crumble around them in Copenhagen in 2009, countries agreed to "launch a process to develop a protocol, another legal instrument or an agreed outcome with legal force under the convention applicable to all parties."
One of the most important tasks has been to ensure that, when the Paris conference begins, there is a draft text already on the table that can provide the basis for negotiations. This means that negotiators will have a good idea of what needs to be discussed over the course of the two weeks, with the initial sprawl of ideas whittled down to the key debates.
This sprawl was captured in the so-called Geneva text. This 86-page document, which was produced in February 2015, was the first incarnation of the draft deal.
It remains the only text with any official status. But during subsequent negotiating sessions countries have worked to streamline it into something more manageable that they can work from in December. In doing so, they have had to walk the fragile line between a text that is clear and concise and yet contains all the necessary information.
Progress has ebbed and flowed. A new draft was issued in October, slimmed down to a short 20 pages. But countries were quick to express their displeasure at this edit, accusing the co-chairs of the negotiations of prematurely deleting key passages of the text.
In October, at the most recent session, parties worked to put the flesh back on the bones. They negotiated a text that was more than twice as long, but which countries agreed they could work with in Paris.
The co-chairs released another version in November, lightly edited to make it neater (the October version having been hastily assembled and released at 11:30 p.m. after a long week of negotiations).
This is the text that countries will have before them when they arrive in Paris for the talks, beginning Nov. 30. It contains all the issues that are up for negotiation, often arranged into the possible options that countries can choose. It contains all the issues that will eventually be formalized in the UN deal.
This interactive was developed in collaboration with Kiln, a data visualization and digital journalism studio.
YOU MIGHT ALSO LIKE
Paris and Beyond: Climate Movement Won't Be Silenced at COP21
100% Renewable-Powered World 'Technically Feasible and Economically Viable' by 2030
World Mayors Lead by Example on Climate Action, Provides Hope for Binding Agreement at COP21
EcoWatch Daily Newsletter
A Starbucks barista prepares a drink at a Starbucks Coffee Shop location in New York. Ramin Talaie / Corbis via Getty Images
By Cathy Cassata
Are you getting your fill of Starbucks' new Almondmilk Honey Flat White, Oatmilk Honey Latte, and Coconutmilk Latte, but wondering just how healthy they are?
By Sharon Kelly
Back in April last year, the Trump administration's Environmental Protection Agency decided it was "not necessary" to update the rules for toxic waste from oil and gas wells. Torrents of wastewater flow daily from the nation's 1.5 million active oil and gas wells and the agency's own research has warned it may pose risks to the country's drinking water supplies.
Swedish climate activist Greta Thunberg takes part in a "Friday for Future" youth demonstration in a street of Davos on Jan. 24, 2020 on the sideline of the World Economic Forum annual meeting. FABRICE COFFRINI / AFP via Getty Images
Treasury Secretary Steven Mnuchin pretended not to know who Greta Thunberg is, and then he told her to get a degree in economics before giving world leaders advice, as The Guardian reported.
The Visible Infrared Imaging Radiometer Suite on the Suomi NPP satellite acquired this image of forest fire smoke hovering over North America on Aug. 15, 2018. NASA Earth Observatory
New York City isn't known for having the cleanest air, but researchers traced recent air pollution spikes there to two surprising sources — fires hundreds of miles away in Canada and the southeastern U.S.
If temperatures continue to rise, the world is at risk from global
sea-level rise
, which will flood many coastal cities as seen above in Bangladesh. NurPhoto / Contributor / Getty Images
The mounting climate emergency may spur the next global financial crisis and the world's central banks are woefully ill equipped to handle the consequences, according to a new book-length report by the Bank for International Settlements (BIS), as S&P Global reported. Located in Basel, Switzerland, the BIS is an umbrella organization for the world's central banks.