Interactive Tool Makes Global CO2 Emissions Data Smartphone Accessible
"Big data" has never been bigger. New tools—such as satellites, cloud computing and other technological upgrades—are fueling a "data revolution," allowing researchers to analyze the world in ways they've never been able to before.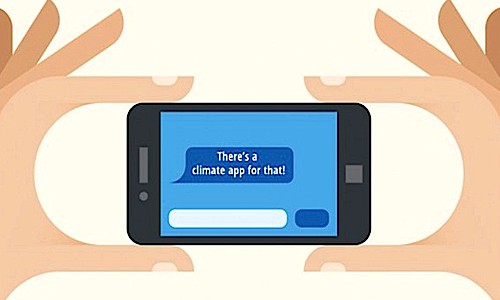 But while compiling and analyzing this data is incredibly important, the other piece of the puzzle is making data accessible. Identifying solutions to global environment and development challenges—such as climate change, deforestation and water management—means making data fully available to a wide set of decision-makers from government, business, academia and civil society.
That's why World Resources Institute (WRI) is launching a fully mobile-accessible version of its Climate Analysis Indicators Tool, or CAIT 2.0. The tool allows users everywhere to access, visualize and compare greenhouse gas emissions data from 186 countries and 50 U.S. states, as well as other comprehensive, global climate data. And now, all of this invaluable information is available via smart phones, iPads and other mobile devices.
Addressing Accessibility in the Data Revolution
Making data accessible to all users around the world is critical for addressing an issue as globally relevant as climate change. Mobile-friendly data is important for ensuring this type of accessibility—especially when it comes to decision-makers in Africa and Asia.
Consider the mobile usage chart below, created by StatCounter. This map and associated research are indicators of the growing importance of mobile-friendly data. Mobile internet access overwhelmingly dominates in Sub-Saharan Africa and South-East Asia. For example, in India, 65 percent of the total population uses mobile devices to access the Internet; 82.8 percent do so in the Democratic Republic of the Congo.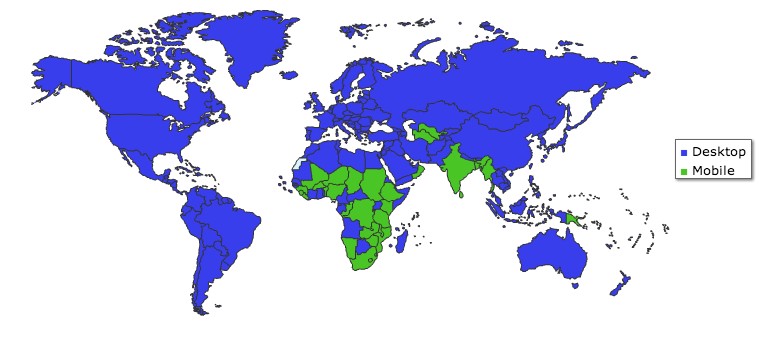 Mobile usage is also growing globally. Worldwide, mobile phones already account for 17 percent of global web usage, with Africa and Asia having the major share.
Mobile-Friendly Data Can Support Climate Change Action
Mobile-accessible climate data can be useful for stakeholders like policymakers, businesses, NGOs and academics as they work on climate issues. Imagine, for example, a discussion between two country delegates at a U.N. climate conference in which they come to a disagreement on appropriate mitigation actions. One of the delegates takes out his smart phone to access the most recent available emissions data within CAIT 2.0, which immediately helps to make the conversation more fact-based and allows them to reach a mutual understanding on the best path forward.
Or take a policy analyst, who is in transit and finishing a presentation that will inform a climate policy meeting she is attending the next day. With CAIT 2.0 mobile, from her taxi she is able to directly access GHG emissions numbers for the countries she's been asked about, and can thus support her arguments with the latest available data.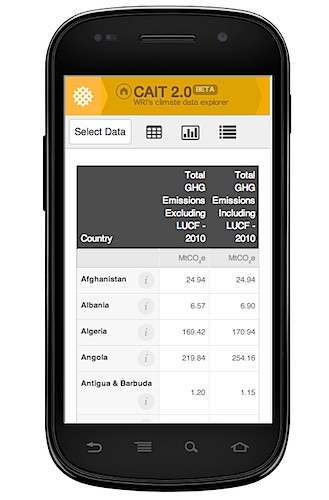 And importantly, a mobile-friendly CAIT 2.0 gives everyone with internet access the ability to gain information about countries' and states' greenhouse gas emissions. This type of data transparency can allow the public to become informed and hold leaders accountable for climate action—or inaction.
Making Data Accessible at Any Time
By introducing a mobile solution, WRI seeks to establish CAIT 2.0 as the go-to source for reliable and accessible climate data. The CAIT 2.0 mobile site is designed with streamlined functionality to accommodate devices such as smart phones and small tablets without sacrificing the level of detail contained in the existing, full-sized CAIT 2.0 platform.
Visit EcoWatch's CLIMATE CHANGE page for more related news on this topic.

The Brooks Range in the Arctic National Wildlife Refuge. Hillebrand / U.S. Fish and Wildlife Service
By Andy Rowell
"Disruption" is one of the buzzwords of the energy market right now as plummeting costs of renewables is changing the way we heat our homes and drive our automobiles.
Some of the biggest names in the energy business spoke Wednesday on that very topic in London at the Financial Times' Energy Transition Strategies Summit, at the panel Rethinking Energy in a Time of Disruption.
Keep reading...
Show less
Chris Kick / Twitter
Keep reading...
Show less
Shaahina Ali
Keep reading...
Show less
The federal government is providing extensive support for fossil fuel production on public lands and waters offshore, through a combination of direct subsidies, enforcement loopholes, lax royalty collection, stagnant lease rates and other advantages to the industry, a report released Wednesday found.
Keep reading...
Show less
Keep reading...
Show less
By Elgie Holstein
The federal budget that the president proposes annually and Congress votes on is more than a collection of numbers. It tells us who the president is, what he stands for and what he cares about.
Keep reading...
Show less
The U.S. Environmental Protection Agency (EPA) budget will still be slashed by nearly a third, from $8.2 billion to $5.65 billion, under President Trump's fiscal 2018 budget proposal released Tuesday.
The EPA, which has long been targeted by the Trump administration, is the hardest hit federal agency under the new plan. Opponents say it "endangers Americans" and cripples an institution charged with protecting their health and safety.
Keep reading...
Show less
Frustrated by non-experts taking to the internet to dispute the science behind human-made climate change, North Carolina meteorologist Greg Fishel issued a challenge to climate deniers, urging them to "put up or shut up" and "submit your work the way real scientists do, and see where it takes you."
Keep reading...
Show less


Get EcoWatch in your inbox