This website uses cookies to ensure you get the best experience while browsing it. By clicking 'Got It' you're accepting these terms.
Interactive Map Shows Where Toxic Air Pollution From Oil and Gas Industry Is Threatening 12.4 Million Americans
Jun. 15, 2016 08:25AM EST
Fracking
Two leading national environmental groups—Clean Air Task Force (CATF) and Earthworks—unveiled a suite of tools Wednesday designed to inform and mobilize Americans about the health risks from toxic air pollution from the oil and gas industry.
---
For the first time, Americans across the country—from Washington County, Pennsylvania, to Weld County, Colorado to Kern County, California—can access striking new community-level data on major health risks posed by oil and gas operations across the country.
The oil and gas industry is the country's largest and fastest-growing source of methane emissions. And its facilities emit numerous other hazardous and toxic air pollutants along with methane—including benzene, formaldehyde, acetaldehyde and ethylbenzene. That toxic pollution presents significant cancer and respiratory health risks, underscoring the need for the U.S. Environmental Protection Agency (EPA) to clean up existing sources of toxic air pollution without delay.
The EPA recently signed New Source Performance Standards (NSPS) that for the first time will regulate methane pollution from new and modified oil and gas facilities, preventing some of the sector's future toxic air pollution from being released. The EPA's current regulations addressing the industry's toxic air pollution are limited and the NSPS does not cover the 1.2 million existing facilities in 33 states. CATF's report, Fossil Fumes, and Earthworks' Oil & Gas Threat Map focus specifically on toxic pollutants from those facilities and their resulting health impacts.
Earthworks Oil & Gas Threat Map Summary
The Oil and Gas Threat Map maps the nation's 1.2 million active oil and gas wells, compressors and processors. Using the latest peer-reviewed research into the health impacts attributed to oil and gas air pollution, the map conservatively draws a half mile health threat radius around each facility. 

Within that total area are:
11,543 schools and 639 medical facilities
184,578 square miles, an area larger than California
For each of the 1,459 counties in the U.S. that host active oil and gas facilities, the interactive map reports:
instances of elevated cancer and respiratory risk
total affected population (with separate counts for Latino & African-Americans)
total affected schools and medical facilities
The searchable map allows users to:
look up any street address to see if it lies within the health threat radius
view infrared videos which makes visible the normally invisible pollution at hundreds of the mapped facilities
view 50+ interviews with citizens impacted by this pollution
"The Oil & Gas Threat Map shows that oil and gas air pollution isn't someone else's problem, it's everyone's problem," Earthworks executive director Jennifer Krill said.
"Our homes and schools are at risk while most state regulators do nothing. Although completely solving this problem ultimately requires ditching fossil fuels, communities living near oil and gas operations need the EPA to cut methane and toxic air pollution from these operations as soon as possible."
Clean Air Task Force Fossil Fumes Report Summary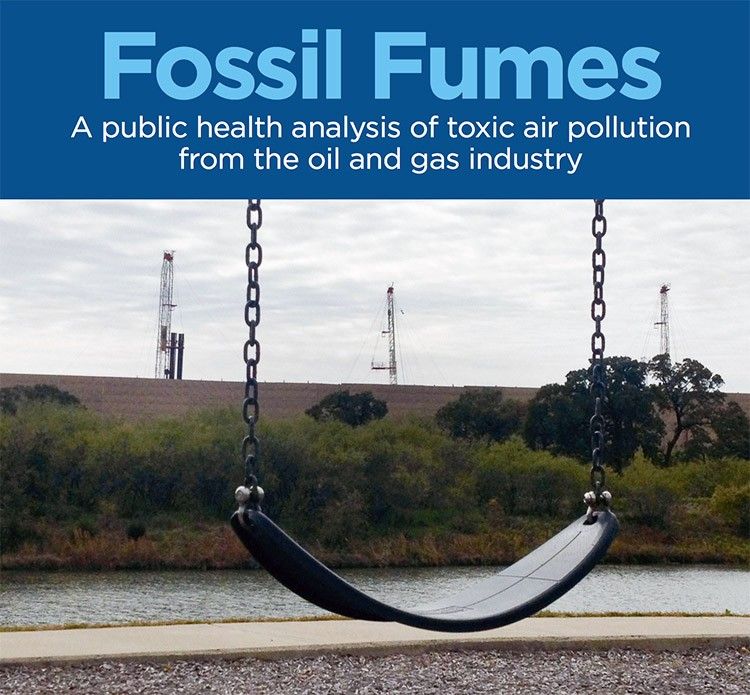 Fossil Fumes, CATF's companion report to Earthworks' Oil and Gas Threat Map, is based on EPA's recent National Air Toxics Assessment (NATA) analysis updated to reflect the latest emissions data from EPA's National Emissions Inventory (NEI) and the conclusions are striking.
The report finds that:
238 counties in 21 states face a cancer risk that exceeds EPA's one-in-a-million threshold level of concern
Combined, these counties have a population of more than 9 million people and are mainly located in Texas, Louisiana, Oklahoma, North Dakota, Pennsylvania and Colorado
Of these counties, 43 face a cancer risk that exceeds one in 250,000 and two counties in West Texas (Gaines and Yoakum) face a cancer risk that exceeds one in 100,000
32 counties, primarily in Texas and West Virginia, also face a respiratory health risk from toxic air emissions that exceeds EPA's level of concern (with a hazard index greater than one)
"The Fossil Fumes report and Earthwork's Interactive Threat Map will allow concerned citizens to learn the cancer and respiratory risks they face from toxic air pollution from the oil and gas industry," Lesley Fleischman, CATF technical analyst and author of Fossil Fumes, said. "Armed with this information, we trust that citizens and communities will demand protective safeguards requiring industry to clean up its act and reduce these serious risks to public health."
"The Oil & Gas Threat Map and Fossil Fumes are outstanding tools for nurses, their patients and affected communities to better understand the health risks posed by oil and gas facilities," Katie Huffling, director of programs for the Alliance of Nurses for Healthy Environments, said.
"As nurses, we are especially concerned by the number of schools and hospitals revealed to be within a half mile of an active oil and gas facility. The best available science shows that methane and toxic chemicals emitted by these facilities threaten our most vulnerable citizens, which is why we encourage the EPA to quickly address this pollution."
Other key findings of the map and report at the statewide level include:
Los Angeles County, California is home to the most impacted "vulnerable" populations: there are more impacted schools and hospitals in Los Angeles than any other county in America (226 schools and 60 hospitals)
There are particularly widespread impacts in Texas, with 15 counties with more than 75 percent of their populations living within ½ mile risk radius and 32 percent of Texas counties have elevated oil and gas health risks (82 out of 254)
Almost 25 percent of all Pennsylvanians live within the half-mile threat radius
"The Oil & Gas Threat Map and Fossil Fumes show more than 12 million Americans need protection from oil and gas industry air pollution as soon as possible. Industry talks about voluntarily reducing their pollution, but refuses to make binding commitments," Earthworks policy director Lauren Pagel said.
"Some states like Colorado have stepped up, but other states like Texas have vowed never to regulate greenhouse gases and associated toxics. It is only the U.S. Environmental Protection Agency that can act to protect all Americans, their health and the climate from this pollution."
EcoWatch Daily Newsletter

georgeclerk / E+ / Getty Images
By Jennifer Molidor
One million species are at risk of extinction from human activity, warns a recent study by scientists with the United Nations. We need to cut greenhouse gas pollution across all sectors to avoid catastrophic climate change — and we need to do it fast, said the Intergovernmental Panel on Climate Change.
This research should serve as a rallying cry for polluting industries to make major changes now. Yet the agriculture industry continues to lag behind.
Edwin Remsburg / VW Pics / Getty Images
Botswana, home to one third of Africa's elephants, announced Wednesday that it was lifting its ban on the hunting of the large mammals.
"The Ministry of Environment, Natural Resources Conservation and Tourism wishes to inform the public that following extensive consultations with all stakeholders, the Government of Botswana has taken a decision to lift the hunting suspension," the government announced in a press release shared on social media.
Pxhere
By Richard Denison
Readers of this blog know how concerned EDF is over the Trump EPA's approval of many dozens of new chemicals based on its mere "expectation" that workers across supply chains will always employ personal protective equipment (PPE) just because it is recommended in the manufacturer's non-binding safety data sheet (SDS).
By Grant Smith
From 2009 to 2012, Gregory Jaczko was chairman of the Nuclear Regulatory Commission, which approves nuclear power plant designs and sets safety standards for plants. But he now says that nuclear power is too dangerous and expensive — and not part of the answer to the climate crisis.
A lake in Rocky Mountain National Park. Brett Walton / Circle of Blue
By Brett Walton
When Greg Wetherbee sat in front of the microscope recently, he was looking for fragments of metals or coal, particles that might indicate the source of airborne nitrogen pollution in Rocky Mountain National Park. What caught his eye, though, were the plastics.
Gabriele Holtermann Gorden / Pacific Press / LightRocket / Getty Images
In a big victory for animals, Prada has announced that it's ending its use of fur! It joins Coach, Jean Paul Gaultier, Giorgio Armani, Versace, Ralph Lauren, Vivienne Westwood, Michael Kors, Donna Karan and many others PETA has pushed toward a ban.
This is a victory more than a decade in the making. PETA and our international affiliates have crashed Prada's catwalks with anti-fur signs, held eye-catching demonstrations all around the world, and sent the company loads of information about the fur industry. In 2018, actor and animal rights advocate Pamela Anderson sent a letter on PETA's behalf urging Miuccia Prada to commit to leaving fur out of all future collections, and the iconic designer has finally listened.
Amer Ghazzal / Barcroft Media / Getty Images
If people in three European countries want to fight the climate crisis, they need to chill out more.
That's the conclusion of a new study from think tank Autonomy, which found that Germany, the UK and Sweden all needed to drastically reduce their workweeks to fight climate change.
Amazon Employees for Climate Justice held a press conference after the annual shareholder meeting on May 22. Amazon Employees for Climate Justice