This website uses cookies to ensure you get the best experience while browsing it. By clicking 'Got It' you're accepting these terms.
Interactive Map Shows Where Toxic Air Pollution From Oil and Gas Industry Is Threatening 12.4 Million Americans
Jun. 15, 2016 09:25AM EST
Energy
Two leading national environmental groups—Clean Air Task Force (CATF) and Earthworks—unveiled a suite of tools Wednesday designed to inform and mobilize Americans about the health risks from toxic air pollution from the oil and gas industry.
---
For the first time, Americans across the country—from Washington County, Pennsylvania, to Weld County, Colorado to Kern County, California—can access striking new community-level data on major health risks posed by oil and gas operations across the country.
The oil and gas industry is the country's largest and fastest-growing source of methane emissions. And its facilities emit numerous other hazardous and toxic air pollutants along with methane—including benzene, formaldehyde, acetaldehyde and ethylbenzene. That toxic pollution presents significant cancer and respiratory health risks, underscoring the need for the U.S. Environmental Protection Agency (EPA) to clean up existing sources of toxic air pollution without delay.
The EPA recently signed New Source Performance Standards (NSPS) that for the first time will regulate methane pollution from new and modified oil and gas facilities, preventing some of the sector's future toxic air pollution from being released. The EPA's current regulations addressing the industry's toxic air pollution are limited and the NSPS does not cover the 1.2 million existing facilities in 33 states. CATF's report, Fossil Fumes, and Earthworks' Oil & Gas Threat Map focus specifically on toxic pollutants from those facilities and their resulting health impacts.
Earthworks Oil & Gas Threat Map Summary
The Oil and Gas Threat Map maps the nation's 1.2 million active oil and gas wells, compressors and processors. Using the latest peer-reviewed research into the health impacts attributed to oil and gas air pollution, the map conservatively draws a half mile health threat radius around each facility. 

Within that total area are:
11,543 schools and 639 medical facilities
184,578 square miles, an area larger than California
For each of the 1,459 counties in the U.S. that host active oil and gas facilities, the interactive map reports:
instances of elevated cancer and respiratory risk
total affected population (with separate counts for Latino & African-Americans)
total affected schools and medical facilities
The searchable map allows users to:
look up any street address to see if it lies within the health threat radius
view infrared videos which makes visible the normally invisible pollution at hundreds of the mapped facilities
view 50+ interviews with citizens impacted by this pollution
"The Oil & Gas Threat Map shows that oil and gas air pollution isn't someone else's problem, it's everyone's problem," Earthworks executive director Jennifer Krill said.
"Our homes and schools are at risk while most state regulators do nothing. Although completely solving this problem ultimately requires ditching fossil fuels, communities living near oil and gas operations need the EPA to cut methane and toxic air pollution from these operations as soon as possible."
Clean Air Task Force Fossil Fumes Report Summary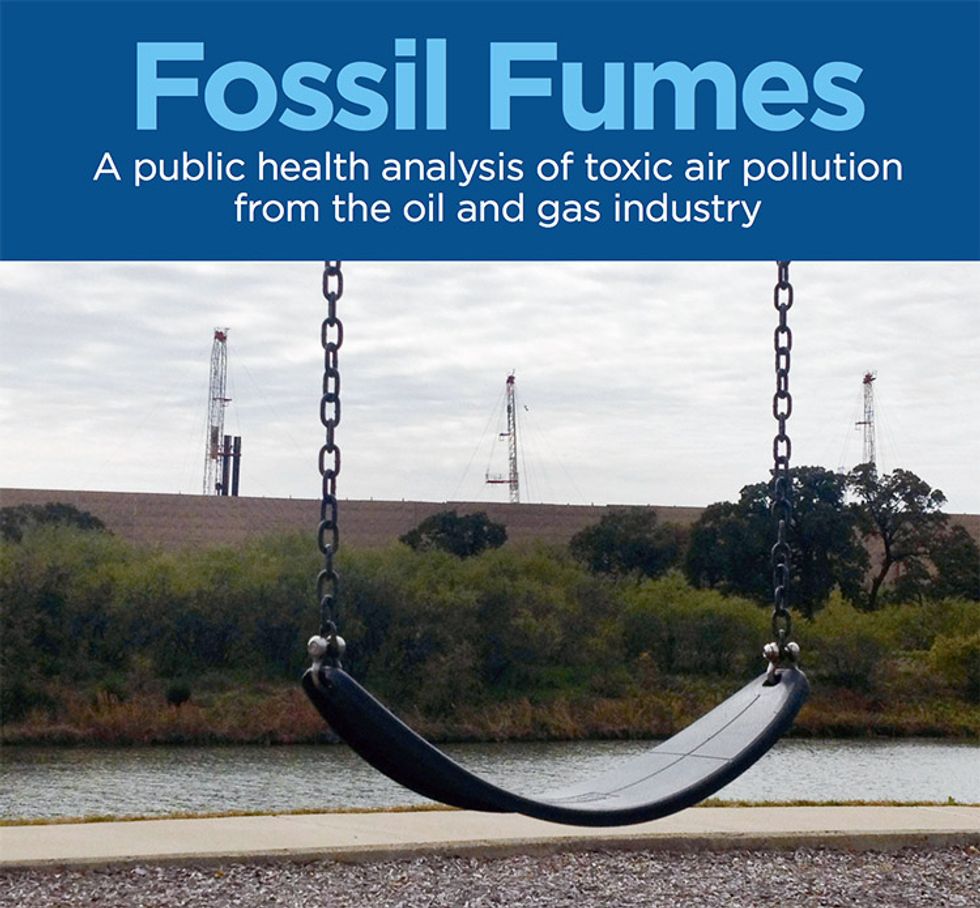 Fossil Fumes, CATF's companion report to Earthworks' Oil and Gas Threat Map, is based on EPA's recent National Air Toxics Assessment (NATA) analysis updated to reflect the latest emissions data from EPA's National Emissions Inventory (NEI) and the conclusions are striking.
The report finds that:
238 counties in 21 states face a cancer risk that exceeds EPA's one-in-a-million threshold level of concern
Combined, these counties have a population of more than 9 million people and are mainly located in Texas, Louisiana, Oklahoma, North Dakota, Pennsylvania and Colorado
Of these counties, 43 face a cancer risk that exceeds one in 250,000 and two counties in West Texas (Gaines and Yoakum) face a cancer risk that exceeds one in 100,000
32 counties, primarily in Texas and West Virginia, also face a respiratory health risk from toxic air emissions that exceeds EPA's level of concern (with a hazard index greater than one)
"The Fossil Fumes report and Earthwork's Interactive Threat Map will allow concerned citizens to learn the cancer and respiratory risks they face from toxic air pollution from the oil and gas industry," Lesley Fleischman, CATF technical analyst and author of Fossil Fumes, said. "Armed with this information, we trust that citizens and communities will demand protective safeguards requiring industry to clean up its act and reduce these serious risks to public health."
"The Oil & Gas Threat Map and Fossil Fumes are outstanding tools for nurses, their patients and affected communities to better understand the health risks posed by oil and gas facilities," Katie Huffling, director of programs for the Alliance of Nurses for Healthy Environments, said.
"As nurses, we are especially concerned by the number of schools and hospitals revealed to be within a half mile of an active oil and gas facility. The best available science shows that methane and toxic chemicals emitted by these facilities threaten our most vulnerable citizens, which is why we encourage the EPA to quickly address this pollution."
Other key findings of the map and report at the statewide level include:
Los Angeles County, California is home to the most impacted "vulnerable" populations: there are more impacted schools and hospitals in Los Angeles than any other county in America (226 schools and 60 hospitals)
There are particularly widespread impacts in Texas, with 15 counties with more than 75 percent of their populations living within ½ mile risk radius and 32 percent of Texas counties have elevated oil and gas health risks (82 out of 254)
Almost 25 percent of all Pennsylvanians live within the half-mile threat radius
"The Oil & Gas Threat Map and Fossil Fumes show more than 12 million Americans need protection from oil and gas industry air pollution as soon as possible. Industry talks about voluntarily reducing their pollution, but refuses to make binding commitments," Earthworks policy director Lauren Pagel said.
"Some states like Colorado have stepped up, but other states like Texas have vowed never to regulate greenhouse gases and associated toxics. It is only the U.S. Environmental Protection Agency that can act to protect all Americans, their health and the climate from this pollution."
EcoWatch Daily Newsletter
Penguins are seen near the Great Wall station in Antarctica, Feb. 9, days after the continent measured its hottest temperature on record at nearly 65 degrees Fahrenheit. Xinhua / Liu Shiping / Getty Images
By Richard Connor
Scientists have recorded Antarctica's first documented heat wave, warning that animal and plant life on the isolated continent could be drastically affected by climate change.
The Athos I tanker was carrying crude oil from Venezuela when a collision caused oil to begin gushing into the Delaware River.
U.S. Department of the Interior
A case that has bounced around the lower courts for 13 years was finally settled yesterday when the U.S. Supreme Court upheld a lower court decision, finding oil giant Citgo liable for a clean up of a 2004 oil spill in the Delaware River, according to Reuters.
The buildings of downtown Los Angeles are partially obscured in the late afternoon on Nov. 5, 2019, as seen from Pasadena, California, a day when air quality for Los Angeles was predicted to be "unhealthy for sensitive groups." Mario Tama / Getty Images
The evidence continues to build that breathing dirty air is bad for your brain.
Wave power in Portugal. The oceans' energy potential is immense. Luis Ascenso, via Wikimedia Commons
By Paul Brown
The amount of energy generated by tides and waves in the last decade has increased tenfold. Now governments around the world are planning to scale up these ventures to tap into the oceans' vast store of blue energy.
Yellowstone National Park closed to visitors on March 24, 2020 because of the Covid-19 virus threat. William Campbell-Corbis via Getty Images
When the novel coronavirus started to sweep across the country, the National Park Service started to waive entrance fees. The idea was that as we started to practice social distancing, Americans should have unfettered access to the outdoors. Then the parking lots and the visitor centers started to fill up, worrying park employees.