Interactive Map Shows Where Monsanto's Roundup Is Sprayed in New York City
By Reverend Billy & The Stop Shopping Choir
New York City residents can now find out if Monsanto's Roundup is sprayed on their corners, parks, playgrounds and picnic areas.
The interactive map below will be presented to Mitchell J. Silver, commissioner of the New York City Department of Parks and Recreation at a meeting Tuesday by the the Black Institute, Reverend Billy and The Stop Shopping Choir, Stop The Spray and other members of the Coalition Against Poison Parks. The groups will demand an end to the use of Roundup and glyphosate, the active ingredient in Roundup, in New York City and full public disclosure.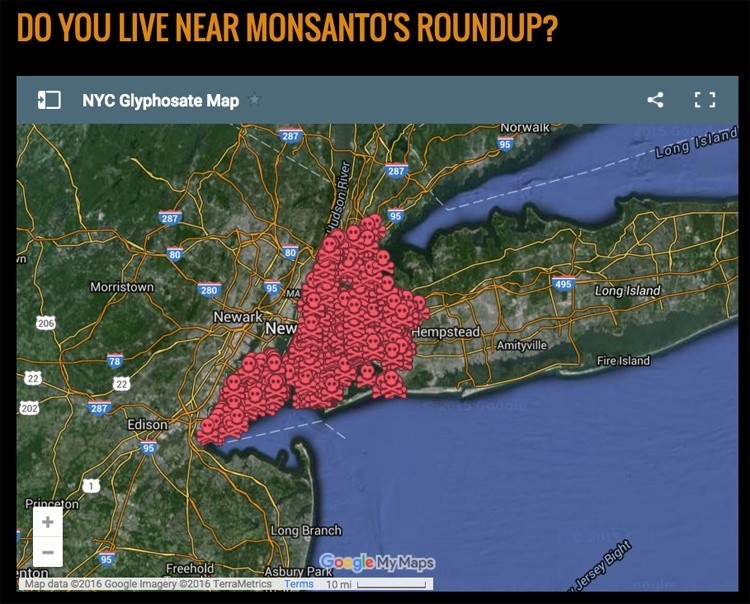 The groups are pursuing legal options to force the city to reveal all locations where glyphosate is sprayed. According to the Pesticide Use by New York City Agencies in 2014, published in May 2015, New York City applied glyphosate 2,748 times. Through a Freedom of Information Law request, the city has revealed only 2,000 locations of glyphosate in 2014. Data from Central Park and other areas managed by non-profit conservancies has not been shared with the public.
Before the meeting, there will be a choir performance in support of the Roundup Ban on the steps of the parks department headquarters at the Arsenal in Central Park in New York City. Members of the Lower East Side Girls Club and The Stop Shopping Choir will perform at 2:30 p.m. Members of the public are welcome to join the choirs in song.
Monsanto's Roundup continues to be the major weapon in the New York City parks department's arsenal of herbicides while scientific evidence that Roundup's key ingredient, glyphosate, is toxic approaches the level of scientific consensus. The frequency of parks department's use of Monsanto's Roundup doubled since 2013 with 1,300 spraying events reported. In 2014, overall herbicides use reported by volume increased by 16 percent with a 9 percent increase in the amount of glyphosate applied by volume.
The World Health Organization recently reported that glyphosate is a probable carcinogen. Scientific studies have found that glyphosate causes non-Hodgkin's lymphoma and other cancers, birth defects, celiac disease, allergies, asthma and chronic fatigue syndrome.
Glyphosate is persistent in body tissue, blood and breast milk in humans. The non-profit organization, Moms Across America, claims exposure to Roundup has cause pregnancy problems, including stillbirths.
Check out the interactive map here:
YOU MIGHT ALSO LIKE
Farmers Key to Bringing Monarch Butterflies Back From the Brink of Extinction
Brazilian State Suspends Larvicide Used to Combat Zika, Monsanto Slams 'Rumors' Regarding Virus
Organic Farmer Dealt Final Blow in Landmark Lawsuit Over Monsanto's GMO Contamination
Latin American Doctors Suggest Monsanto-Linked Larvicide Cause of Microcephaly, Not Zika Virus
Bill Maher is sick of billionaires' obsession with Mars, more like "Mars-a-Lago," he said.
In a new animation produced by ATTN:, the popular talk show host of Real Time, discusses the perils of our planet, including how "climate change is killing us."
Keep reading...
Show less
Dr. Benjamin D. Santer, research scientist
A group of prominent climate scientists have written a study explicitly refuting statements made by the U.S. Environmental Protection Agency Administrator Scott Pruitt on climate data. During his Senate confirmation hearing, Pruitt claimed in a written response that satellite data shows a "leveling off" of warming over the past two decades.
Keep reading...
Show less
By David Pomerantz
The Nevada Assembly passed a bill Wednesday that would dramatically increase the growth of renewable energy in the state, but Sheldon Adelson, the casino magnate and major donor to Donald Trump, is attempting to prevent the bill from becoming law.
Keep reading...
Show less
Matt Crossick
By Yosola Olorunshola
Whether it's through fashion or protest, Vivienne Westwood is not a woman afraid of making a statement.
On May 23, she rocked up to the residence of the Archbishop of Canterbury in London with a special guest—the Grim Reaper—to issue a strong statement on the Church of England's position on fracking.
Keep reading...
Show less
By Paul Brown
The food industry and big agricultural concerns are driving climate change and at the same time threatening to undermine efforts to feed the world's growing population, according to GRAIN, an organization that supports small farmers.
Particularly singled out for criticism are the large chemical fertilizer producers that have gained access to the United Nations talks on climate change. GRAIN accuses them of behaving like the fossil fuel companies did in the 1990s, pushing false information in the hope of delaying real action on climate change.
Keep reading...
Show less
By Sydney Robinson
President Trump has no doubt been given a long list of extravagant, elaborate gifts in his lifetime, but the gift given to him today by Pope Francis may not make it on his most favorite list.
Keep reading...
Show less
By John Rogers
Maybe it's because I first started working on clean energy while serving in the Peace Corps he founded, or maybe it's my years of working on these issues from his home state. But I can't help thinking about the 100th anniversary of John F. Kennedy's birth, and connecting his stirring rhetoric to the energy challenges of our times.
Here's what our 35th president might have said about the challenges of energy transition and the opportunities in clean energy:
"Change is the law of life. And those who look only to the past or present are certain to miss the future."
Keep reading...
Show less
May. 24, 2017 01:47PM EST
Keep reading...
Show less


Get EcoWatch in your inbox