Interactive Map Shows 96% of Americans Live in Counties Hit by Extreme Weather
Nov. 12, 2015 11:10AM EST
Climate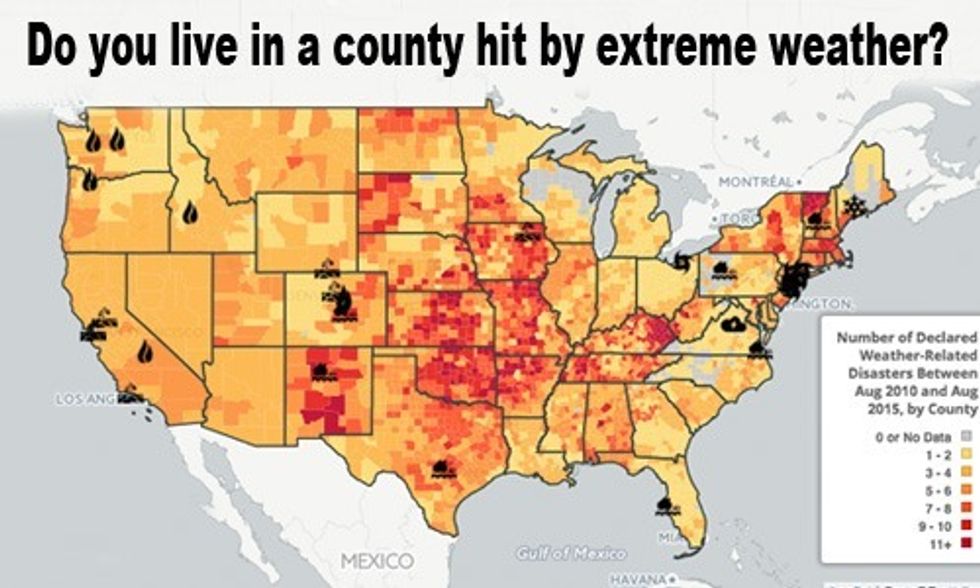 Ninety six percent of Americans live in a county affected by at least one weather-related disaster in the last five years, according to new interactive map created by Environment America and Frontier Group using federal government data.
Scientists have confirmed that global warming is causing an increase in extreme weather around the world. A recent study published in the Bulletin of the American Meteorological Society was even able to link at least 14 extreme weather events in 2014 to climate change. And last year, the World Bank warned in a report that extreme weather will be the "new climate normal" unless world leaders take immediate action.
"We used to think of climate change as a problem that would happen someday, somewhere," said Anna Aurilio, director of Environment America's Global Warming Solutions program. "But as this map helps demonstrate, global warming is happening now, and it's already hitting close to home."
[email protected]

: #SouthCarolina #tourism hit hard by last month's historic flooding https://t.co/btg33dtTzu https://t.co/h65mH2GE8d

— Power of Travel (@Power of Travel)1447262067.0
Superstorm Sandy, California's drought, flooding in Texas and Oklahoma this past spring and most recently the flooding in South Carolina are all examples of the headline-grabbing extreme weather that has rocked the U.S. in recent years. But since September 2010, weather-related disasters were declared in all 50 states and Washington, DC, according to the online map.
And scientists predict that if global warming is left unchecked, extreme weather will only increase in frequency and intensity—more intense hurricanes, more heavy downpours, more flooding, more drought, more heat waves and more wildfires.
To create the interactive map, the researchers collected data from the Federal Emergency Management Agency and the U.S. Department of Agriculture. The map also includes case studies and personal stories from Americans impacted by extreme weather events across the country, says Environment America.
"The 2015 Memorial Day Weekend flood of the Blanco River was an unprecedented, historic, catastrophic event," began the story from Scott from Wimberley, Texas, where deadly floods struck last spring. "I speak for many in saying that we've lost many personal possessions that can not be replaced; family photos, baby books, family heirlooms, furniture, a lot of our family history … gone forever."
"The drought in California has hit every single resident hard. Living in Northern California, my family is one of those families struggling to reduce water from being wasted," wrote Julia from Kensington, California. "I now also track the path of wildfires in Northern California hoping they can be stopped. Yet I watch them creep ever closer to my home and family. It's hard to watch the state I love go through all of this at once."
The map comes just weeks before world leaders convene in Paris for COP21 to try to reach an agreement to slash carbon emissions to keep warming below the dangerous two degrees Celsius warming above pre-industrial levels. So far, more than 150 countries comprising 90 percent of the world's pollution have already pledged reductions. A recent UN Framework Convention on Climate Change report found that the climate action plans (known as Intended Nationally Determined Contributions or INDCs) will not be enough to avoid the worst impacts of warming alone, but they provide a significant foundation that can be built on.
The urgency of the crisis could not be any more apparent. Earlier this week the World Meteorological Organization (WMO) announced that greenhouse gas emissions have hit yet another record. This past spring the global average "crossed the 400 ppm barrier," reports the WMO. March marked the first time ever that global carbon levels surpassed 400 ppm for an entire month. The UK's Met Office also reported earlier this week that for the first time global mean temperature at the Earth's surface this year is set to reach one degree Celsius above pre-industrial levels.
Still, many, including notable environmental activist Al Gore, remain positive about the upcoming talks. "I'm optimistic," said Gore in an interview this week with the Associated Press. "We're going to win this."
In more positive news, a new report this week from the International Energy Agency found that renewables will overtake coal as the largest power source globally in the 2030s. The report says, "there's a clear sign an energy transition is underway."
Environment America and Frontier Group hope this interactive map will "hit home" with Americans, as well as, international leaders on the need to act immediately to stop the worst effects of climate change. "To avoid even more devastating climate impacts," said Aurilio, "we need our leaders to act boldly to slash carbon pollution and transition to 100 percent clean renewable energy."
YOU MIGHT ALSO LIKE
Underwater Vertical Seaweed Farm Restores Our Oceans While Providing Food and Fuel Source
Exxon + 49 Other Big Polluters Set to Be Investigated for Causing Extreme Weather Events
Monsanto Handed 'Double Whammy' by Mexican Courts Over Planting GMOs
What's Going on in Antarctica? Is the Ice Melting or Growing?
EcoWatch Daily Newsletter