This website uses cookies to ensure you get the best experience while browsing it. By clicking 'Got It' you're accepting these terms.
Interactive Map: Find Out Which Country Is Most Responsible for Climate Change
Dec. 17, 2015 02:05PM EST
Which country is most responsible for climate change? It's a big question, with weighty consequences for decisions on who should take the lead in tackling the rise in emissions.
Finding a way to recognize different responsibilities between developed and developing countries was one of the keys to unlocking the historic Paris Agreement, which was sealed late last Saturday.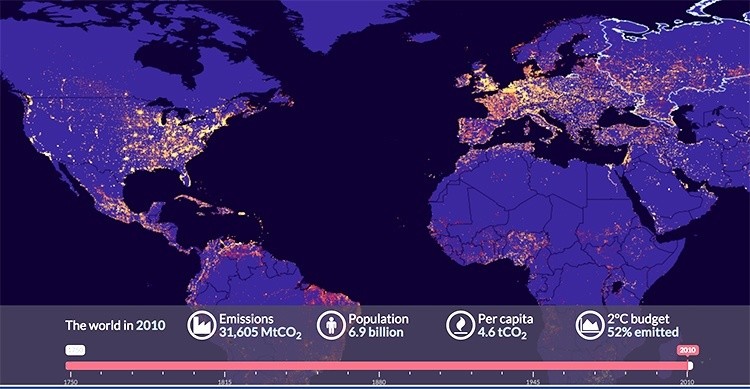 To shed a bit more light on historical responsibility for emissions, Aurélien Saussay, an economist at the French Economic Observatory, has put together the interactive map above.
It combines year-by-year CO2 emissions from fossil fuels and cement with gridded population data. You can read Saussay's methodology by following the tab in the interactive.
Here's a time lapse video by Saussay showing where emissions have historically come from and how cumulative emissions have built up over time:
The emissions data comes from the Carbon Dioxide Information Analysis Center. It excludes other greenhouse gases and emissions associated with land use change and forestry.
It's also worth noting that the data coverage varies by country. It goes back all the way to 1751 for the UK, with Germany from 1792, the U.S. from 1800, India from 1858 and China from 1899.
The gridded population data is from the Netherlands Environmental Assessment Agency.
YOU MIGHT ALSO LIKE
How Fracking is Driving Gas Prices Below $2 Per Gallon
Lifting Crude Oil Export Ban Locks in Fossil Fuel Dependency for Decades to Come
What if Americans Stopped Driving for Just One Day?
Plus, learn if there's one that's best for your health.
Catherine Falls Commercial / Moment / Getty Images
An invasive Amynthas worm, also known as a crazy snake worm, Asian jumping worm and Alabama jumper Tom Potterfield / Flickr
By Jason Bittel
My wife and I built a house two years ago on a few acres of woodland outside of Pittsburgh. The backyard is full of maples, poplars, briars and common spicebush. Two-lined salamanders and grumpy-looking crayfish wade among the rocks in the small stream that runs down the edge of the property. Deer, raccoon and opossum tracks appear regularly in the snow and mud. Sometimes, my trail-cam even catches a pair of gray foxes as they slink through the night.
AleksandarNakic / Getty Images
By Kate Murphy
No matter the time of year, there's always a point in each season when my skin decides to cause me issues. While these skin issues can vary, I find the most common issues to be dryness, acne and redness.

David Woodfall / The Image Bank / Getty Images
By Sam Nickerson
The U.S. Environmental Protection Agency (EPA) in April 2018 proposed relaxing standards related to how it assesses the effects of exposure to low levels of toxic chemicals on public health.
Now, correspondence obtained by the LA Times revealed just how deeply involved industry lobbyists and a controversial, industry-funded toxicologist were in drafting the federal agency's proposal to scrap its current, protective approach to regulating toxin exposure.
Steve Irwin poses with a three foot long alligator at the San Francisco Zoo on June 26, 2002. Justin Sullivan / Getty Images
February 22 is the birthday of conservationist and beloved TV personality "Crocodile Hunter" Steve Irwin, who would have been 57 years old today.
Irwin's life was tragically cut short when the barb from a stingray went through his chest while he was filming in 2006, but his legacy of loving and protecting wildlife lives on, most recently in a Google Doodle today honoring his birthday.