This website uses cookies to ensure you get the best experience while browsing it. By clicking 'Got It' you're accepting these terms.
Interactive Map Details What You Need to Know About the World's Nuclear Power Plants
Mar. 11, 2016 09:02AM EST
Energy
From the latest crisis over plans for Hinkley Point in the UK, to today's fifth anniversary of the Fukushima disaster, nuclear power plants are currently much in the news.
To help provide a global overview of the nuclear power sector both today and throughout its history, Carbon Brief has produced this interactive map.
It shows the location, operating status and generating capacity of all 667 reactors that have been built or are under construction, around the world, ever since Russia's tiny Obninsk plant became the first to supply power to the grid in 1954.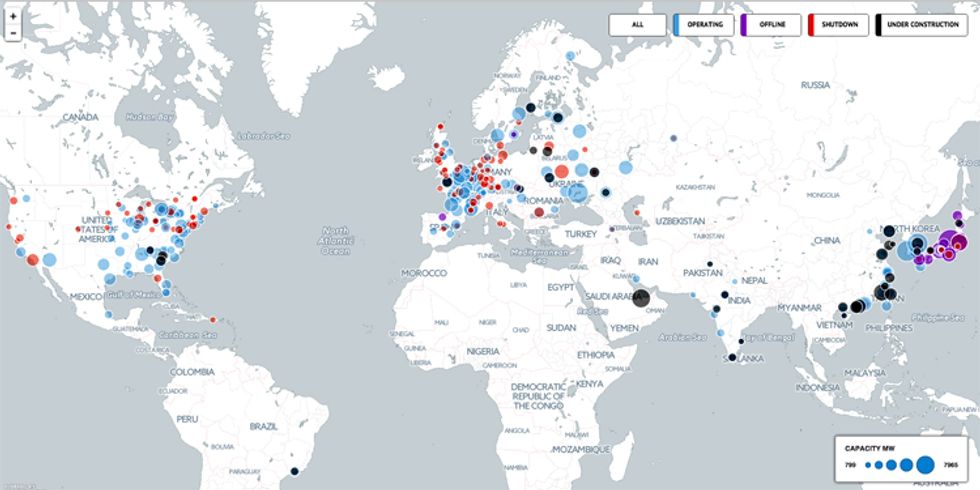 Changing Fortunes
For some, the technology has fallen out of favor. Lithuania and Italy have shut down all of their reactors. Germany's are being phased out. All except three of Japan's remain offline following the tsunami of March 11, 2011 and the nuclear accident that followed.
For others, nuclear offers low-carbon energy and reduced reliance on dirty, imported fossil fuels. There are now 66 reactors under construction in 16 countries, including 24 in China.
Today, there are 400 reactors operating across 31 nations. Most were built in the two decades after 1970, giving the world's fleet an average age of 29. This average varies regionally (see below).
The total global generating capacity for nuclear power is 345 gigawatts (GW). This is down from a peak of 378GW in 2005, largely as a result of reactors being taken offline post-Fukushima.
Whereas "shutdown" reactors will remain closed, those that are "offline" could be restarted. (Where reactors in different categories are close together on the map above, their bubbles can overlap and the colours can become mixed. You can show each category in isolation by clicking on the tabs in the top right-hand corner).
Global Nuclear Power Generating Capacity

Apart from Fukushima, the nuclear industry has witnessed two other major disasters, both of which have had lasting international consequences.
Construction Delays
The first, in 1979, was at Three Mile Island in the U.S. In the decade before the accident, construction started on an average of 24 new reactors each year around the world. In the decade after, that fell to just 10.
In the wake of Three Mile Island, reactor designs were tweaked and safety specifications added. With changes applied retrospectively to reactors already under construction, there were inevitable delays and average build times increased, particularly in the U.S. itself.
Annual Capacity Additions and Construction Times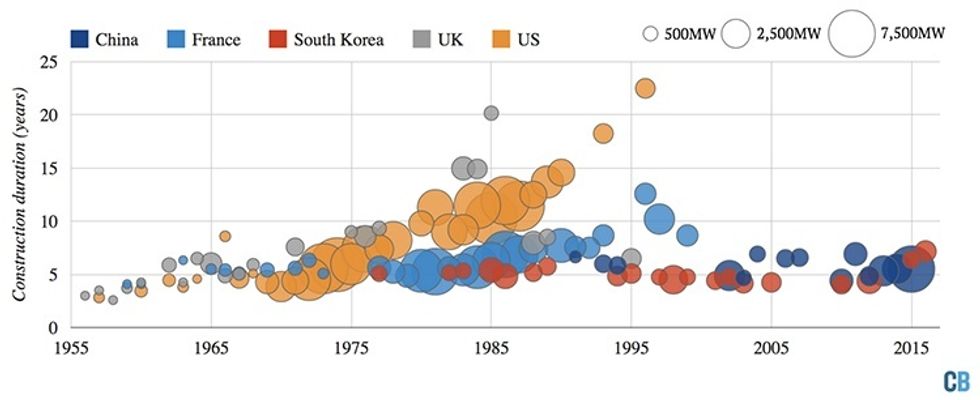 More stringent safety standards and construction delays also added to costs and enthusiasm for new nuclear waned. This has been described as a case of "negative learning by doing," with nuclear costs increasing as capacity has grown.
According to the Nuclear Energy Agency, new nuclear power stations in the UK, such as the planned Hinkley Point C plant, would be the world's most costly.
It's worth noting, however, that some countries have managed to keep a lid on build times, as the chart above shows. They have also limited cost increases, with South Korea reported to have reduced costs as its experience has grown. Some analysts question cost data for South Korea, arguing it is in any case an exception to the trend of rising costs.
Falling Shares
The second major disaster to hit the world's nuclear industry was Chernobyl, which took place 30 years ago, in April 1986. The last of Chernobyl's four reactors continued to operate for another 14 years, until 2000.
In the 25 years after Chernobyl, nuclear construction declined while global demand for electricity more than doubled. As a result, nuclear's share of total electricity supplies peaked just shy of 18 percent in 1996 before falling to 11 percent in 2014.
Nuclear Electricity Generation

According to the International Energy Agency, the rate at which new reactors are being added needs to quadruple by 2020 if the world is to meet its climate targets.
Today, the majority of the world's reactors are concentrated in three broad regions: the eastern U.S.; Europe and the westernmost former Soviet states; and the far east (see map).
Aging Fleet
The age distribution varies widely in each region.U.S. reactors are the world's oldest, with an average age of 36. Those in former Soviet states and the EU average around 31 years. Note that Chernobyl was 30 years ago.
Over the past 20 years, Asia has been the leading light of the nuclear industry. In that time, it has added 51 new reactors, while the rest of the world combined has built 30. China has the world's youngest fleet, with an average age of less than eight.
Surprisingly, perhaps, India has one of the world's oldest operating nuclear power stations, the 47-year-old Tarapur plant. India has ambitious plans to increase its nuclear capacity as part of its efforts to reduce greenhouse gas emissions.
Africa has just one operating nuclear power station, at Koeburg in South Africa. South America has two, one each in Argentina and Brazil. These are shown, along with Switzerland and Iran, in the chart of "other countries," below.
Age of Currently Operating Nuclear Reactors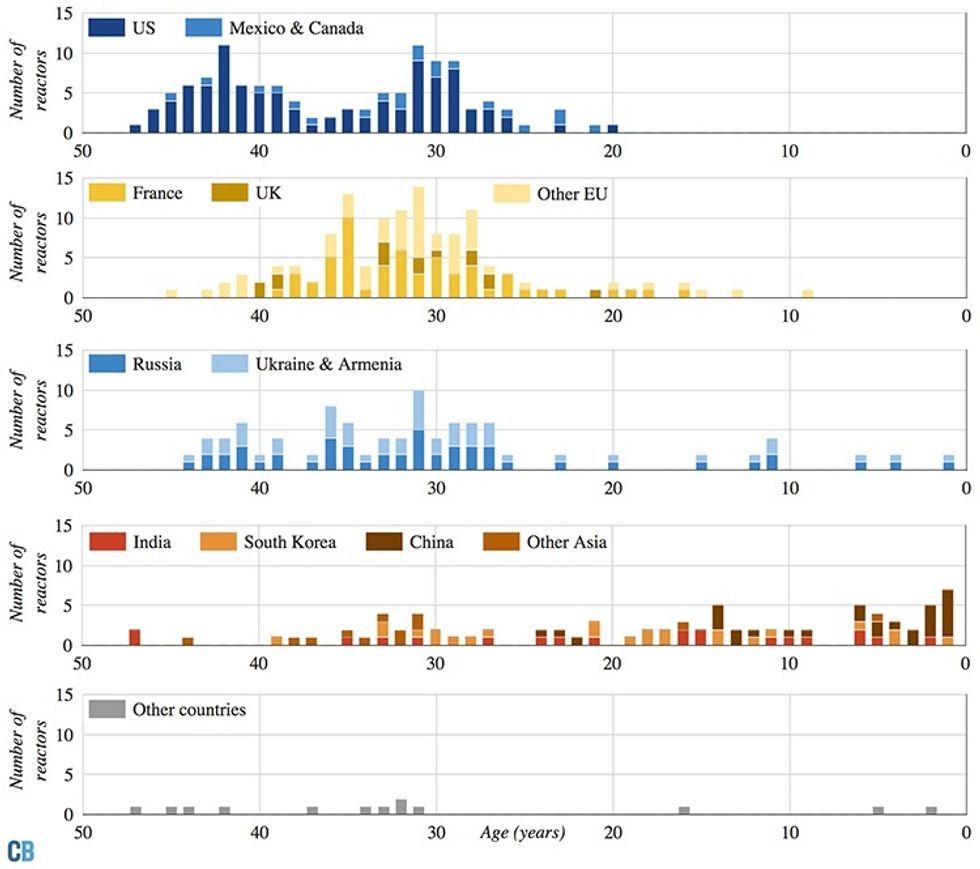 In terms of generating capacity, the world's top nuclear powers are the U.S., France, China, Russia and South Korea. However, their age profiles differ markedly.
Asian Accelerators
Whereas western nations' nuclear power capacities are static or declining, China's is accelerating rapidly and set to grow further. Russia and South Korea are also expanding.
Cumulative Nuclear Capacity in Operation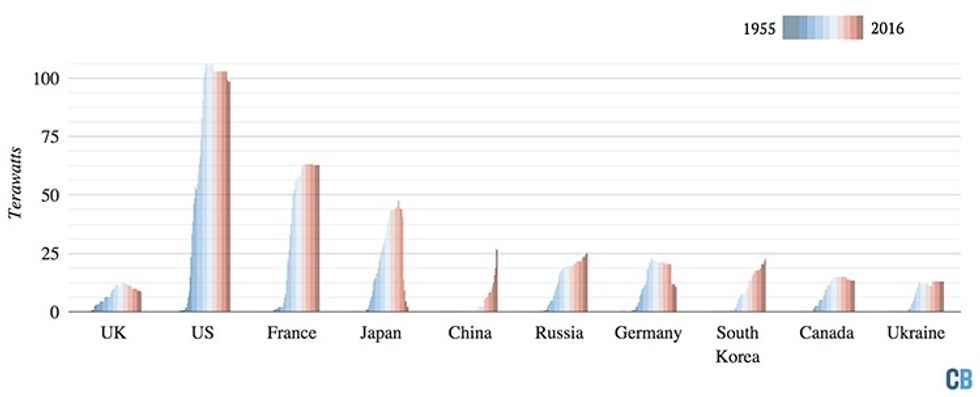 Until Fukushima, Japan was operating the third-largest capacity in the world. Nuclear is a significant part of the country's plans to tackle climate change. Three reactors have now reopened and many more plan to follow. (Update 9/3: Since this article was published a Japanese court has issued an injunction against the restart of one of these three reactors).
In contrast, Germany responded to Fukushima by accelerating its plans to phase out nuclear power, closing eight reactors in 2011. It plans to close all reactors by 2022.
Globally, Belarus and the United Arab Emirates are in the process of joining the nuclear power club. If successful, the UK's plans for a new generation of 19GW of reactors would make it once again one of the world's leading nuclear nations.
Note: The interactive map and associated charts are based on an extract of data from the International Atomic Energy Agency (IAEA) PRIS database, kindly provided by the IAEA. The database lists reactors as "under construction," "operational," "long term shutdown" or "permanent shutdown." The PRIS category "operational" includes 41 Japanese reactors that have not generated electricity for several years. Carbon Brief has listed "long term shutdown" plants and some Japanese reactors as "offline," based on information from the Japan Atomic Industrial Forum.
YOU MIGHT ALSO LIKE
Break Free: Stop Dirty Fossil Fuels, Expedite Transition to 100% Renewable Energy
5 Years After Fukushima, 'No End in Sight' to Ecological Fallout
What Impact Will the Next President Have on America's Energy Future?
5 Years Later Fukushima Still Spilling Toxic Nuclear Waste Into Sea, Top Execs Face Criminal Charges
EcoWatch Daily Newsletter
Scanning electron micrograph of Yersinia pestis, which causes bubonic plague, on proventricular spines of a Xenopsylla cheopis flea. NIAID / Flickr /
CC BY 2.0
A middle-aged married couple in China was diagnosed with pneumonic plague, a highly infectious disease similar to bubonic plague, which ravaged Europe in the middle ages, as CNN reported.
Milk made from almonds, oats and coconut are among the healthiest alternatives to cow's milk. triocean / iStock / Getty Images Plus
Dairy aisles have exploded with milk and milk alternative options over the past few years, and choosing the healthiest milk isn't just about the fat content.
Whether you're looking beyond cow's milk for health reasons or dietary preferences or simply want to experiment with different options, you may wonder which type of milk is healthiest for you.
Greta Thunberg stands aboard the catamaran La Vagabonde as she sets sail to Europe in Hampton, Virginia, on Nov. 13. NICHOLAS KAMM / AFP via Getty Images
Greta Thunberg, the teenage climate activist whose weekly school strikes have spurred global demonstrations, has cut short her tour of the Americas and set sail for Europe to attend COP25 in Madrid next month, as The New York Times reported.
At least 1,688 dams across the U.S. are in such a hazardous condition that, if they fail, could force life-threatening floods on nearby homes, businesses, infrastructure or entire communities, according to an in-depth analysis of public records conducted by the the Associated Press.
By Sabrina Kessler
Far-reaching allegations about how a climate-sinning American multinational could shamelessly lie to the public about its wrongdoing mobilized a small group of New York students on a cold November morning. They stood in front of New York's Supreme Court last week to follow the unprecedented lawsuit against ExxonMobil.
By Alex Robinson
Leah Garcés used to hate poultry farmers.
The animal rights activist, who opposes factory farming, had an adversarial relationship with chicken farmers until around five years ago, when she sat down to listen to one. She met a poultry farmer called Craig Watts in rural North Carolina and learned that the problems stemming from factory farming extended beyond animal cruelty.
People navigate snow-covered sidewalks in the Humboldt Park neighborhood on Nov. 11 in Chicago. Scott Olson / Getty Images
Temperatures plunged rapidly across the U.S. this week and around 70 percent of the population is expected to experience temperatures around freezing Wednesday.
A general view of the flooded St. Mark's Square after an exceptional overnight "Alta Acqua" high tide water level, on Nov. 13 in Venice. MARCO BERTORELLO / AFP / Getty Images