This website uses cookies to ensure you get the best experience while browsing it. By clicking 'Got It' you're accepting these terms.
Inside Europe's Largest Urban Farm
Apr. 28, 2016 07:36AM EST
Food
A former telecommunications building in The Hague, Netherlands has been transformed into Europe's largest commercial urban food production facility.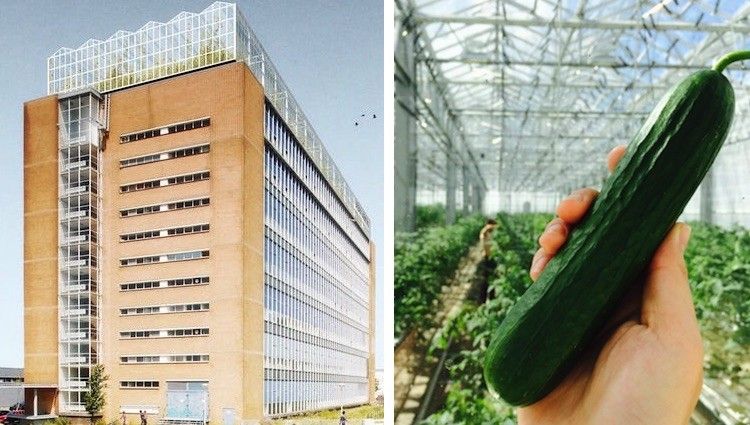 Farming at the next level. The UF002 De Schilde is a rooftop farm in The Hague that's estimate to grow 45 tons of vegetables a year and is Europe's largest urban farm. Photo credit: UrbanFarmers / UrbanFarmers UF002 De Schilde Facebook
The UF002 De Schilde rooftop farm has been dubbed as "Times Square of Urban Farming" due to its prime location and access in the city, Swiss developers UrbanFarmers said.
The enterprise consists of a 1,200-square-meter rooftop greenhouse on the top floor and a 370-square-meter-indoor tilapia farm on the floor below. The building will also house a 250-square-meter processing and packaging facility.
Opening next month, developers estimate that the farm will churn out 45 tons of vegetables such as cucumbers, tomatoes and microgreens and 19 tons of fish a year.
The Guardian reported that the aim is to feed 900 local families, plus restaurants and a cooking school.
The building, built in the 1950's by architect Dirk Roosenburg, was once the site of a Philips television and phone set factory. According to the Guardian, in 2013, The Hague city council launched a competition for sustainable food companies to find new uses for the formerly empty building.
UrbanFarmers won the competition and received free council support and a chance to rent the space after securing private funding and a European loan from The Hague's Fund for Location and Economy, The Guardian wrote.
"It's sometimes said that children who live in the city believe tomatoes grow in the supermarket or fish are born in the freezer," Joris Wijsmuller, head of sustainability at The Hague city council, told the publication. "The municipality hopes the whole building will be a sort of gathering place for education, research and innovation."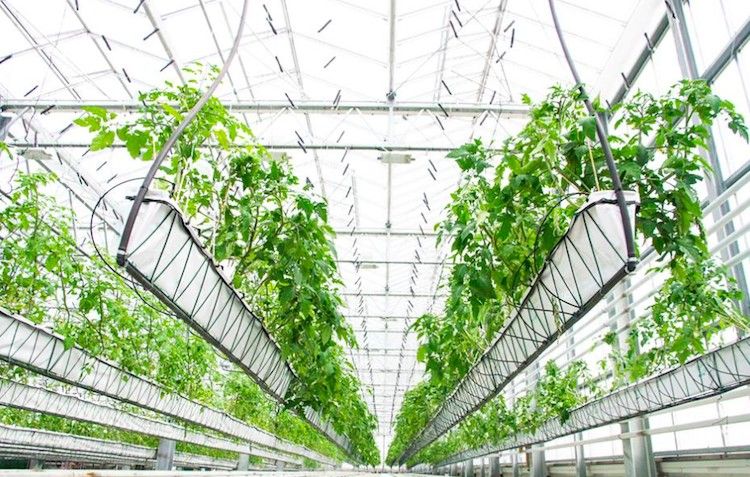 Construction of the 1,200-square-meter rooftop greenhouse has been completed. UrbanFarmers will host a grand opening on May 20. Photo credit: Rosalie Ruardy / Facebook
Mark Durno, managing director of UrbanFarmers Benelux said in a statement last year that "repurposing this signature building is a next step towards realizing alternative means of sustainable fish and vegetable production."
As Emma Hansen of the Worldwatch Institute wrote, urban farming presents a solution to a resource-heavy agricultural system as well as a unique opportunity to grow crops on land that is vacant or unused.
The UN Food and Agriculture Organization notes that 800 million people worldwide grow fruits or vegetables or raise animals in cities, producing an impressive 15 to 20 percent of the world's food. The organization also says that many city dwellers in the developing world grow food for subsistence, food production has been brought back to city centers in recent years in developed countries in a concerted effort to address sustainability issues in our food system.
"Commercial and sustainable urban agriculture will help to reduce pressure on our oceans and improve the supply chain by bringing ultra-fresh, safe produce as close to the point of consumption as possible, minimizing waste," Durno continued in his statement. "We are excited to be paving the way for more sustainable and commercially viable urban farms."
In fact, we might be seeing more rooftop greenhouse projects in the near future. A recent newsletter touting the grand opening of The Hague rooftop farm indicates that UrbanFarmers is looking to expand in the U.S. 
Our global expansion continues to take shape. With UrbanFarmers USA Inc., we have established a U.S.-based subsidiary in New York City. Recently, we hosted the "Tomato meets Big Apple" event, where we presented a plan to launch an East Coast rooftop farm portfolio with 10 rooftop sites across New York, New Jersey and Connecticut and the potential to grow food for 10m people within a short distance. We are excited to keep you posted on this journey.
Learn more about the UrbanFarmers UF002 De Schilde rooftop farm in the videos below:
YOU MIGHT ALSO LIKE
Floating Urban Garden Coming to New York City This Summer
The Hot New Trend Home-Based Businesses Are Loving
World's First Solar Airport No Longer Pays Electricity Bills
EcoWatch Daily Newsletter
Graphical representation of vertical pectoral herding by whale in Southeast Alaska. Prey are denoted in yellow. Whale deploys an upward-spiral bubble-net to corral prey and establish the first barrier; pectorals then protract to form a 'V' shape around the open mouth (depicted by blue arrows), creating a second physical barrier.
Kyle Kosma / Royal Society Open Science /
CC BY 4.0
When you have a whale-sized appetite, you need to figure out some pretty sophisticated feeding strategies. They mysteries of how a humpback whale traps so much prey have eluded scientists, until now.
California Yosemite River Scene.
Mobilus In Mobili / Flickr /
CC BY-SA 2.0
An advisory panel appointed by Trump's first Secretary of the Interior, Ryan Zinke, has recommended privatizing National Parks campgrounds, allowing food trucks in and setting up WiFi at campgrounds while also reducing benefits to seniors, according to the panel's memo.
Strips of native prairie grasses planted on Larry and Margaret Stone's Iowa farm protect soil, water and wildlife.
Iowa State University / Omar de Kok-Mercado, CC BY-ND
In Haiti, Action Against Hunger screens children for malnutrition. Christophe Da Silva / Action Against Hunger, Haiti
By Dr. Charles Owubah
As a child growing up on a farm in Ghana, I have personally known hunger. The most challenging time was between planting and harvesting – "the hunger season." There were many occasions when we did not know where the next meal would come from.
Today, on World Food Day, I think of the 820 million people around the world who are undernourished.
A Lyme disease warning on Montauk, Long Island, New York.
Neil R / Flickr
Biomedical engineers have developed a new, rapid test capable of detecting Lyme disease in just 15 minutes.
Brown bear fishing for salmon in creek at Pavlof Harbor in Tongass National Forest, Alaska. Wolfgang Kaehler / LightRocket / Getty Images
The Trump administration has moved one step closer to opening Earth's largest intact temperate rainforest to logging.
The Democratic primary candidates take the stage during Tuesday's debate. SAUL LOEB / AFP via Getty Images
On Tuesday night, the Democratic presidential candidates gathered for what The Guardian said was the largest primary debate in U.S. history, and they weren't asked a single question about the climate crisis.
A. Battenburg / Technical University of Munich
By Sarah Kennedy
Algae in a pond may look flimsy. But scientists are using algae to develop industrial-strength material that's as hard as steel but only a fraction of the weight.