This website uses cookies to ensure you get the best experience while browsing it. By clicking 'Got It' you're accepting these terms.
Inside Europe's Largest Urban Farm
Apr. 28, 2016 07:36AM EST
A former telecommunications building in The Hague, Netherlands has been transformed into Europe's largest commercial urban food production facility.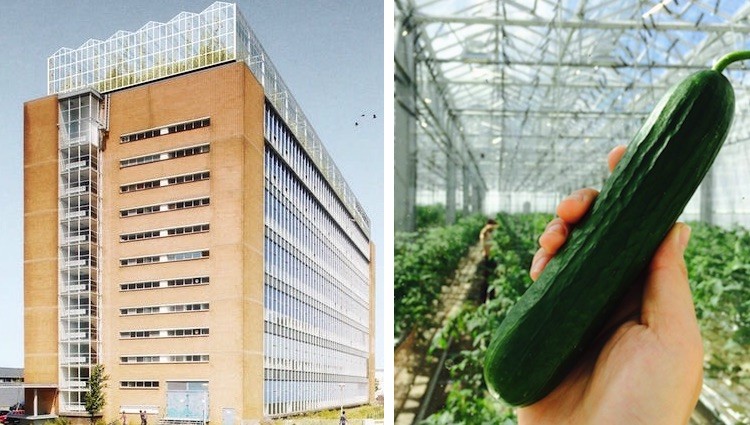 Farming at the next level. The UF002 De Schilde is a rooftop farm in The Hague that's estimate to grow 45 tons of vegetables a year and is Europe's largest urban farm. Photo credit: UrbanFarmers / UrbanFarmers UF002 De Schilde Facebook
The UF002 De Schilde rooftop farm has been dubbed as "Times Square of Urban Farming" due to its prime location and access in the city, Swiss developers UrbanFarmers said.
The enterprise consists of a 1,200-square-meter rooftop greenhouse on the top floor and a 370-square-meter-indoor tilapia farm on the floor below. The building will also house a 250-square-meter processing and packaging facility.
Opening next month, developers estimate that the farm will churn out 45 tons of vegetables such as cucumbers, tomatoes and microgreens and 19 tons of fish a year.
The Guardian reported that the aim is to feed 900 local families, plus restaurants and a cooking school.
The building, built in the 1950's by architect Dirk Roosenburg, was once the site of a Philips television and phone set factory. According to the Guardian, in 2013, The Hague city council launched a competition for sustainable food companies to find new uses for the formerly empty building.
UrbanFarmers won the competition and received free council support and a chance to rent the space after securing private funding and a European loan from The Hague's Fund for Location and Economy, The Guardian wrote.
"It's sometimes said that children who live in the city believe tomatoes grow in the supermarket or fish are born in the freezer," Joris Wijsmuller, head of sustainability at The Hague city council, told the publication. "The municipality hopes the whole building will be a sort of gathering place for education, research and innovation."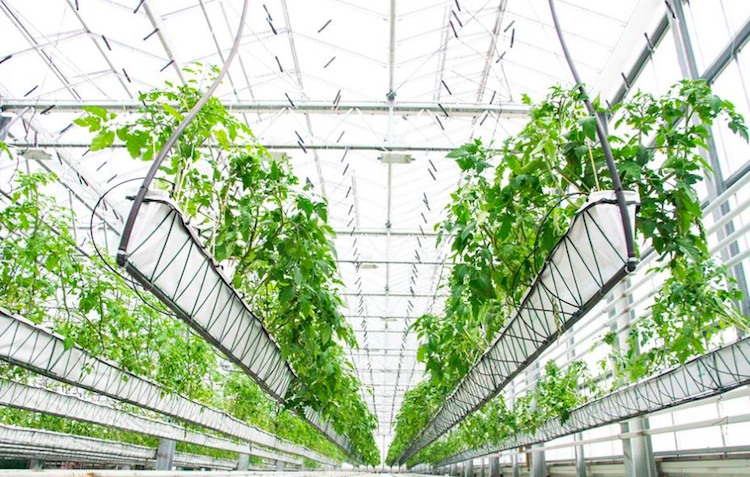 Construction of the 1,200-square-meter rooftop greenhouse has been completed. UrbanFarmers will host a grand opening on May 20. Photo credit: Rosalie Ruardy / Facebook
Mark Durno, managing director of UrbanFarmers Benelux said in a statement last year that "repurposing this signature building is a next step towards realizing alternative means of sustainable fish and vegetable production."
As Emma Hansen of the Worldwatch Institute wrote, urban farming presents a solution to a resource-heavy agricultural system as well as a unique opportunity to grow crops on land that is vacant or unused.
The UN Food and Agriculture Organization notes that 800 million people worldwide grow fruits or vegetables or raise animals in cities, producing an impressive 15 to 20 percent of the world's food. The organization also says that many city dwellers in the developing world grow food for subsistence, food production has been brought back to city centers in recent years in developed countries in a concerted effort to address sustainability issues in our food system.
"Commercial and sustainable urban agriculture will help to reduce pressure on our oceans and improve the supply chain by bringing ultra-fresh, safe produce as close to the point of consumption as possible, minimizing waste," Durno continued in his statement. "We are excited to be paving the way for more sustainable and commercially viable urban farms."
In fact, we might be seeing more rooftop greenhouse projects in the near future. A recent newsletter touting the grand opening of The Hague rooftop farm indicates that UrbanFarmers is looking to expand in the U.S. 
Our global expansion continues to take shape. With UrbanFarmers USA Inc., we have established a U.S.-based subsidiary in New York City. Recently, we hosted the "Tomato meets Big Apple" event, where we presented a plan to launch an East Coast rooftop farm portfolio with 10 rooftop sites across New York, New Jersey and Connecticut and the potential to grow food for 10m people within a short distance. We are excited to keep you posted on this journey.
Learn more about the UrbanFarmers UF002 De Schilde rooftop farm in the videos below:
YOU MIGHT ALSO LIKE
Floating Urban Garden Coming to New York City This Summer
The Hot New Trend Home-Based Businesses Are Loving
World's First Solar Airport No Longer Pays Electricity Bills
Plus, learn if there's one that's best for your health.
Catherine Falls Commercial / Moment / Getty Images
An invasive Amynthas worm, also known as a crazy snake worm, Asian jumping worm and Alabama jumper Tom Potterfield / Flickr
By Jason Bittel
My wife and I built a house two years ago on a few acres of woodland outside of Pittsburgh. The backyard is full of maples, poplars, briars and common spicebush. Two-lined salamanders and grumpy-looking crayfish wade among the rocks in the small stream that runs down the edge of the property. Deer, raccoon and opossum tracks appear regularly in the snow and mud. Sometimes, my trail-cam even catches a pair of gray foxes as they slink through the night.
AleksandarNakic / Getty Images
By Kate Murphy
No matter the time of year, there's always a point in each season when my skin decides to cause me issues. While these skin issues can vary, I find the most common issues to be dryness, acne and redness.

David Woodfall / The Image Bank / Getty Images
By Sam Nickerson
The U.S. Environmental Protection Agency (EPA) in April 2018 proposed relaxing standards related to how it assesses the effects of exposure to low levels of toxic chemicals on public health.
Now, correspondence obtained by the LA Times revealed just how deeply involved industry lobbyists and a controversial, industry-funded toxicologist were in drafting the federal agency's proposal to scrap its current, protective approach to regulating toxin exposure.
Steve Irwin poses with a three foot long alligator at the San Francisco Zoo on June 26, 2002. Justin Sullivan / Getty Images
February 22 is the birthday of conservationist and beloved TV personality "Crocodile Hunter" Steve Irwin, who would have been 57 years old today.
Irwin's life was tragically cut short when the barb from a stingray went through his chest while he was filming in 2006, but his legacy of loving and protecting wildlife lives on, most recently in a Google Doodle today honoring his birthday.