This website uses cookies to ensure you get the best experience while browsing it. By clicking 'Got It' you're accepting these terms.
Inside Bernie Sanders and Donald Trump's Mass Appeal to Americans
Jul. 29, 2015 10:09AM EST
Politics
America's political center, if it ever really existed, appears to be shrinking.
On the left, Bernie Sanders' issue-oriented presidential campaign of economic justice is drawing the crowds and generating the most passion, eclipsing his more moderate competitors. And on the right, Donald Trump's loud promises to use his dealmaking moxie to fix the country, with a dose of racist comments thrown in, has pushed him to the top of the polls in 2016's early states.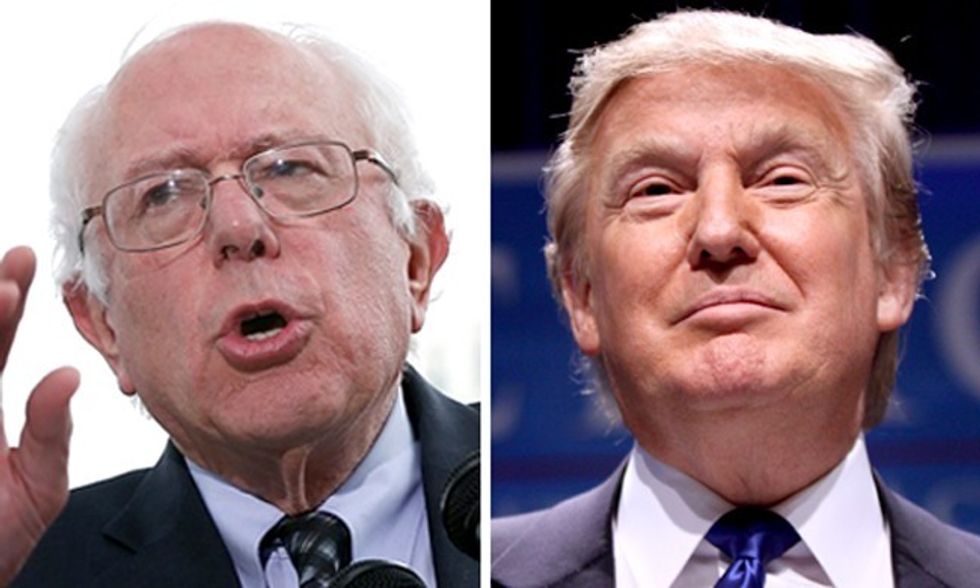 There's no shortage of pundits writing off their surges. Surely, you've heard them all, which amount to saying that when the campaign gets serious, they will seriously falter. The latest analyses from this past weekend's polling noted that both were doing well in two of the whitest states—Iowa and New Hampshire—but not in bigger, more diverse ones. So now these hallowed presidential proving grounds prove nothing?
But there is one explanation you won't find among the politicos who are parsing the interior numbers in polls—such as the negative approval ratings, or appeal by race and gender. That explanation is that the political spectrum is changing, or stretching toward its blunter extremes, which also accounts for the muted enthusiasm for both party's leading establishment candidates, Hillary Clinton and Jeb Bush.
A shifting electorate is the last thing many pundits want to confront. The Washington Post's Chris Cillizza, pointing to four recent polls, merely says Hillary should worry about her rising unpopularity. He does not touch the deeper question: is she out of tune with what's engaging the public now? His colleague, Phillip Bump says she's lagging among whites in Iowa and New Hampshire, but climbs back up in later states where she appeals to non-whites. Sanders and Trump aren't doing that, he said.
At Larry Sabato's Crystal Ball, another go-to site for reporters to get zeitgeist quotes, the reflex is to dismiss both Trumps and Sanders for different reasons, rather than probe how the electorate may be shifting. Trump's surge, according to associate editor Geoffrey Skelly, is because he's well-known, loud, in a crowded field and keeps getting press coverage. Even worse, the GOP idiotically tied participation in its upcoming presidential debate to how candidates are polling, he said, where Trump will be "attacked from all sides."
One can go very far in political analysis by being cynical. But that does not mean you've got your finger on a changing pulse. Politico's piece on Trump's latest rise in New Hampshire and Iowa points to the politics of anger, especially against Washington power-brokers, which includes the GOP's congressional majority.
"Just 16 percent among all Republicans (15 percent of Republican registered voters … [and] 50 percent of Democrats (51 percent of Democratic registered voters) feel that they are [well] represented in the nation's capital," it reported. "Among independents, just 27 percent feel well-represented."
What are people angry about? Who is giving voice to their problems, or offering solutions? CNN says the top concerns facing voters are the economy (44 percent), health care (20 percent) and terrorism (12 percent). If those numbers are accurate, it is not surprising that Sanders and Trump, on the left and right, have captivated voters because they are speaking outside the safe centrist political box.
Trump's bragging that most of politics comes down to being the best negotiator has an appeal when the Republican-controlled Congress is bumbling at best. His slaps at immigrants are ugly, but there have always been racists in modern Republican ranks. Today's GOP is not the party of Lincoln, nor is it Teddy Roosevelt's anti-corporate reformers. Most of their 2016 candidates have been recycling Ronald Reagan's rhetoric or predictable policies benefitting the upper classes.
While it remains to be seen what broad new agenda will emerge on the right, it is not surprising that the cliché-ridden remedies spouted by a field of predictable candidates isn't creating much excitement, even as they try to out-do each other on the far right. Trump's rise strongly suggests something in the GOP's base is shifting.
Bernie Sanders' surge is more easily traced and also shows shifting voter sensibilities. His messaging has been saturated with specifics, from his speeches to e-mails. On Monday morning, he sent out a long missive seeking $3 donations that listed 12 issue areas and his solutions: jobs, jobs, jobs; raising wages; wealth and income inequality; reforming Wall St.; campaign finance reform; fighting climate change; health care for all; protecting our most vulnerable; expanding opportunity and equality; dismantling structural racism; college for all; war and peace. This is not political fundraising as usual.
It is easy to say that Sanders, like Elizabeth Warren before him, is pulling the Democrats closer to their progressive heart. But Sanders would not be as successful as he has been if Democrats in the electorate were not embracing his message. As one of Iowa's leading pro-Democrat bloggers, BleedingHeartland.com, wrote this weekend, "Bernie Sanders continues to draw the largest crowds in Iowa—including roughly 1,200 people in West Des Moines on Friday—and polls indicate that he is cutting into Hillary Clinton's lead among likely Democratic caucus-goers."
Clinton still led Sanders by 29 points, 55 percent to 26 percent, with Martin O'Malley at 4 percent and Jim Webb at 2 percent, it reported, citing the latest polls. But "his message is resonating with a sizable part of the Democratic base, as anyone could see on Friday night during his town-hall meeting at West Des Moines Valley High School. I challenge any Democrat to find one substantive point to disagree with in Sanders' stump speech. Many people who attend his events are already 'feeling the Bern.' My impression is that the undecideds who show up walk away giving him their serious consideration. I doubt anyone leaves a Sanders event thinking, 'I could never caucus for that guy.'"
BleedingHeartland continued, "Listening to Sanders on Friday, I was again struck by the senator's distinctive way of speaking. He packs a lot of facts and figures into his remarks without sounding wonky. He conveys a lot of passion without raising his voice often. Compared to many candidates, he says very little about his children and grandchildren. Still, his feelings about family come through loud and clear when he contrasts Republican ideas about 'family values' (a 'woman shouldn't be able to control her own body') with what family values should mean (for instance, a mom and dad having paid time off from work so they can get to know their new baby). Although the Sanders stump speech is overly long—pushed well past the one-hour mark by many interruptions for applause—he keeps his listeners' attention. Even my 12-year-old was still engaged."
Next years' presidential caucuses are a long way off and the November election is even further away. It's easy for pundits to dismiss Bernie Sanders and Donald Trump, for different reasons, with respect to their eventual prospects. But doing so can overlook what's happening now, which is the assumed frames, views and mood of the electorate are shifting, or stretching, or changing and favoring the blunt and unconventional.
YOU MIGHT ALSO LIKE
10 Reasons Bernie Sanders Is 'Rockin' in the Free World'
Hillary Dodges Questions on Climate, Keystone and Fracking in Facebook Q&A
3 Presidential Candidates Say 'No' to Fossil Fuel Funding, Will Hillary Join Them?
EcoWatch Daily Newsletter
A pangolin at a rescue center in Cambodia. Rhett A. Butler / Mongabay
A man carries plastic shopping bags in Times Square on May 5, 2018 in New York City. Kena Betancur / VIEWpress / Corbis / Getty Images
White gold man-made diamond solitaire engagement ring. Clean Origin
While keeping track of the new trends in the diamond industry can be hard, it is still an essential task of any savvy consumer or industry observer. Whether you are looking to catch a deal on your next diamond purchase or researching the pros and cons of an investment within the diamond industry, keeping up with the trends is imperative.
Rep. Alexandria Ocasio-Cortez (D-NY) (C) chants with housing and environmental advocates before a news conference to introduce legislation to transform public housing as part of her Green New Deal outside the U.S. Capitol Nov. 14, 2019 in Washington, DC. Chip Somodevilla / Getty Images
Rep. Alexandria Ocasio-Cortez (D-N.Y.) took to the floor of the House of Representatives yesterday to chide Republicans for not reading the Green New Deal, which she introduced over one year ago, as The Hill reported. She then read the entire 14-page document into the congressional record.
Anti Ivan Duque's demonstrator is seen holding a placard with the photos of social leader Alirio Sánchez Sánchez and the indigenous Hector Janer Latín, both killed in Cauca, Colombia during a protest against Ivan Duque visit in London which included a meeting about fracking, environmental issues, the peace process implementation, and questioning the risk that social leaders in Colombia face. Andres Pantoja / SOPA Images / LightRocket / Getty Images
Colombia was the most dangerous nation in 2019 to be an environmental activist and experts suspect that conditions will only get worse.