This website uses cookies to ensure you get the best experience while browsing it. By clicking 'Got It' you're accepting these terms.
Insane Heat Wave in Alaska Put Temperatures Higher Than in Arizona
Jun. 05, 2015 10:44AM EST
Climate
Alaska, along with the rest of the Arctic, has been warming even faster than other regions of the world due to climate change. That was the findings of a report this spring from the Department of Energy's Pacific Northwest National Laboratory, which found that the rate of warming will only continue to increase in the coming decades.
Insane heat in Alaska--90 deg temps near Fairbanks, records toppling like, um, snowmen in May http://t.co/mo6xgGKqoR pic.twitter.com/3yqhV0Sbt6

— Bill McKibben (@billmckibben) May 29, 2015
The signs of rapid warming in Alaska were everywhere this past winter. The Iditarod was moved north 300 miles to Fairbanks because Anchorage had record low snowfall. A ski resort outside of Juneau had to close because of low snowfall and warm temperatures that inhibited snow-making.
Now the 49th state experienced a heat wave at the end of May. Over Memorial Day weekend, while Texas was being inundated with floods, parts of Alaska were warmer than Arizona. On May 23 in Fairbanks, the temperature reached 86 degrees Fahrenheit, while Phoenix topped out at 83 for the day, reports Al Jazeera. Even the town of Bettles, which is north of Fairbanks and falls within the Arctic Circle, recorded a temperature of 82.
That same day, Eagle, Alaska hit 91 degrees Fahrenheit, marking the earliest 90-degree day in state history, according to NASA Earth Observatory. And it wasn't just one unusually warm day. "Between May 16 and May 24, Eagle hit 27 degrees Celsius (80 degrees Fahrenheit) or higher daily—its second longest such streak on record for any time of the year," says Al Jazeera.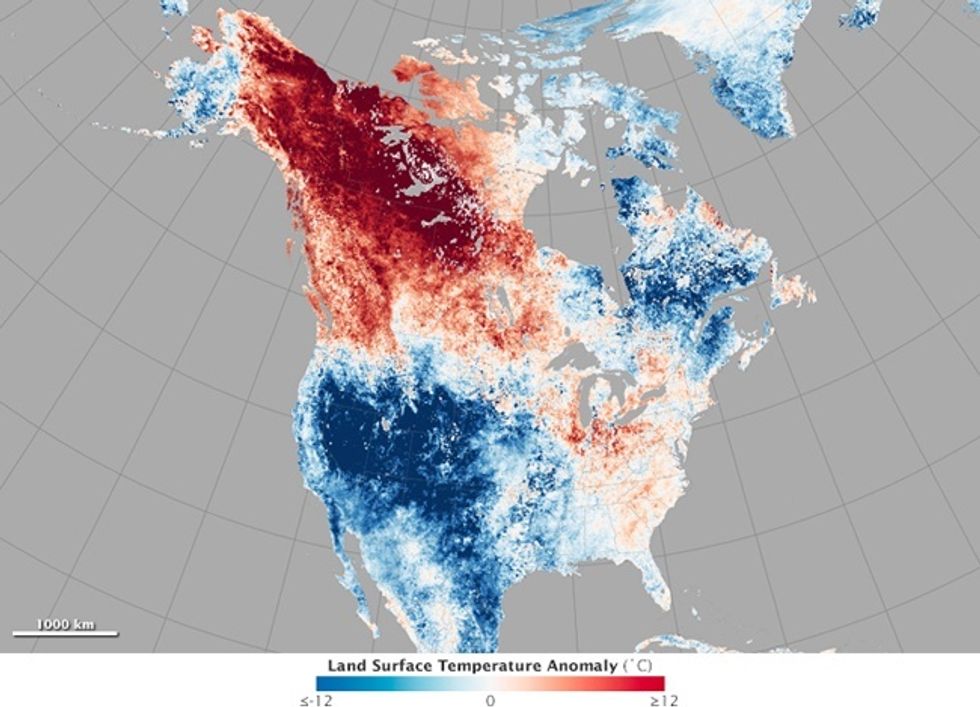 This map shows the record heat northwestern Canada and parts of Alaska experienced in the third week of May. Photo credit: NASA Earth Observatory
Even America's northernmost city, Barrow, Alaska, set record high temperatures for four out of the six days between May 17-22, topping out at 47 degrees on May 21 (nearly 18 degrees above normal), The Weather Channel reports. This may sound like nothing compared to the current heat wave in India, "but north of the Arctic Circle, this is extreme warmth for late May," says The Weather Channel.
This particular heat wave in Alaska and northwestern Canada has to do with two typhoons altering the jet stream pattern."A series of two western Pacific super typhoons—Noul and Dolphin—have done a number on the (jet stream) pattern across the north Pacific following their extratropical transition," says Dr. Michael Ventrice, operational scientist at The Weather Channel Professional Division.
This "persistent high-pressure system ... is but one consequence of a developing El Niño in the eastern Pacific," says Al Jazeera. While El Niño may be exacerbating the warmth, the long term trend shows the Arctic will continue to warm from climate change. It has warmed faster than anywhere else in the world over the last 30 years.
The effects of the warming are many-fold. Anchorage recorded its warmest April and it will probably be its least snowy season on record with only 25.1 inches of snow to date (its prior least snowy season was in 1957-1958 with 30.4 inches), according to The Weather Channel. The rapid snowmelt led to flooding in some areas and fire danger is already high in what experts worry might be the worst wildfire season yet.
YOU MIGHT ALSO LIKE
NOAA: There Has Been No 'Pause' or 'Hiatus' in Global Warming
Is Antarctica Ice Melting or Growing? Watch This NASA Video and See for Yourself
IKEA Commits $1.13 Billion to Fight Climate Change and Invest in Renewable Energy
EcoWatch Daily Newsletter
A new study shows that half of all Arctic warming and corresponding sea-loss during the late 20th century was caused by ozone-depleting substances. Here, icebergs discharged from Greenland's Jakobshavn Glacier. Kevin Krajick / Earth Institute /
EurekAlert!
The world awakened to the hole in the ozone layer in 1985, which scientists attributed it to ozone depleting substances. Two years later, in Montreal, the world agreed to ban the halogen compounds causing the massive hole over Antarctica. Research now shows that those chemicals didn't just cut a hole in the ozone layer, they also warmed up the Arctic.
Diane Wilson holds up a bag full of nurdles she collected from one of Formosa's outfall areas on Jan. 15. Julie Dermansky / DeSmogBlog
On the afternoon of Jan. 15, activist Diane Wilson kicked off a San Antonio Estuary Waterkeeper meeting on the side of the road across from a Formosa plastics manufacturing plant in Point Comfort, Texas.
After Wilson and the waterkeeper successfully sued Formosa, the company agreed to no longer release even one of the tiny plastic pellets known as nurdles into the region's waterways. The group of volunteers had assembled that day to check whether the plant was still discharging these raw materials of plastics manufacturing.
Malaysian Environment Minister Yeo Bee Yin (front 2nd L) and officials inspect a container containing plastic waste shipment on Jan. 20, 2020 before sending back to the countries of origin. AFP via Getty Images
The Southeast Asian country Malaysia has sent 150 shipping containers packed with plastic waste back to 13 wealthy countries, putting the world on notice that it will not be the world's garbage dump, as CNN reported. The countries receiving their trash back include the United States, the United Kingdom, France and Canada.
Trump leaves after delivering a speech at the Congress Centre during the World Economic Forum annual meeting in Davos on Jan. 21, 2020. JIM WATSON / AFP via Getty Images