This website uses cookies to ensure you get the best experience while browsing it. By clicking 'Got It' you're accepting these terms.
Innovative School Restores Education and the New York Harbor
Aug. 06, 2012 09:54AM EST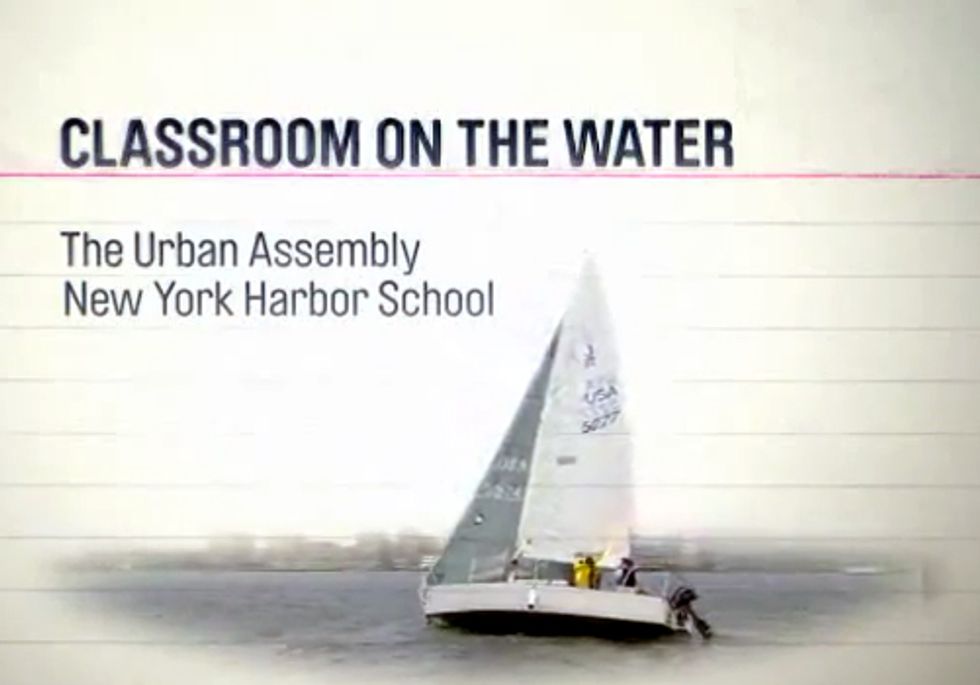 Raised on a farm in Virginia, Murray Fisher developed a deep love for nature. Animals and the outdoors fascinated him and he knew early that he would involve nature into his career.
The son of a former Peace Corp volunteer, Fisher was born in the country his father volunteered in, Columbia. Surrounded by people who were different from him, the power to empathize was instilled in him from infancy.
"My parents taught me that life is richer when you are around people who are different than you," Fisher remembers. "I had a rich childhood because I was surrounded by all walks of life."
As he got older, Fisher found his worldview some times at odds with society's reality. He wanted multiculturalism to thrive and became frustrated when it wasn't embraced. He investigated race relations and understood the only way to bridge the racial divide was education.
"The public education system is the most important element to make sure everyone, no matter their skin color or socio-economic background, can have every opportunity that I had," he says.
Before graduating from Vanderbilt University, he read John Cronin and Robert Kennedy, Jr.'s The Riverkeeper. It is a story of environmental activists battling polluters, and it inspired Fisher so much that he traveled to New York and begged for a job within the Hudson Riverkeeper, an organization founded to protect the Hudson River. Eventually, he convinced the team to hire him through AmeriCorps, and the experience was life changing for Fisher.
"I was giving talks about the Hudson River; I was giving presentations to schools; I was meeting with politicians and investigating pollution complaints; I was working with scientists on the fisheries in the river," recalls Fisher. "Through all of these things, I realized that this should be a school curriculum."
At 23-years old, starting a school didn't seem viable so he focused on replicating the Hudson Riverkeeper's success and traveled to build 60 affiliate programs throughout the world in three short years. He helped each location form a board, identify donors and target polluters. Fisher watched how communities developed using their respective water body as a foundation to learning.
Every time he returned home to New York City, he was troubled that most inhabitants didn't share the same connection to the Hudson River that the communities he worked for did. He wanted people to value the river's history, which is the very reason the city exists in the first place, and protect it.
In 2002, he wrote a proposal for an environmental school, which could connect the 1.1 million public schools students in New York City with the water that surrounded them. He presented his idea to his best friend's uncle, Richard Kahan. In addition to heading the Empire State Development Corporation and developing Battery Park City, Kahan had started two small public schools through the Urban Assembly, an organization he founded.
"Meeting with Richard Kahan was the most important meeting I ever had," says Fisher. "He made my 27-year old idea into a reality ... he liked the concept and brought the political muscle and savvy to navigate bureaucracy and make the school possible."
Soon after, Fisher recruited Nate Dudley to become the founding principal of the Harbor School and lead it on a daily basis. Working together, the three men crafted and presented a formal proposal to New Visions for Public School, the Department of Education and several large funders, including the Bill and Melinda Gates Foundation. At the same time, Mayor Michael Bloomberg and his Department of Education Chancellor, Joel Klein, were replacing big, underperforming public schools with smaller schools and approved Fisher's proposal.
In the Fall of 2003, The Urban Assembly's New York Harbor School opened its doors in Brooklyn's old Bushwick High School. Although its first location wasn't near water, it didn't stop the school from its mission. Beyond the school's state-approved traditional curriculum, the Harbor School requires all freshmen to take an Introduction to the New York Harbor class. One day out of every 10, students travel to various water sites throughout New York City and learn six different fields of study: aquaculture, marine systems technology (boat mechanics), marine biology research, ocean engineering, scientific diving and vessel operations (learning to drive a boat that holds 6 or more individuals). At the end of their freshman year, students choose one of the six fields to pursue for the remainder of their high school career.
In 2007, the New York Harbor School graduated its first class with a graduation rate that tripled the Bushwick High School it replaced. Fisher focused on moving the Harbor School to New York City's historic Governor's Island, ensuring students were surrounded by the harbor they studied. After years of working alongside city officials and redevelopment organizations, Fisher got approval to move his school to Governor's Island in the center of New York Harbor. In Fall 2010, the Harbor School proudly opened its doors to its state-of-the-art facility, which was converted from an abandoned Navy hospital.
Murray and his team continue to evolve the school's curriculum and mission to empower all Harbor School graduates with a diploma, acceptance to a four-year college and a technical credential in their chosen field. Understanding college isn't always a financial option. The Harbor School provides all graduates with professional and technical skills to achieve a career in the third largest port in the world.
"When I get on the ferry from Pier 17 to Governor's Island, I pass at least six passenger vessels," says Fisher. "There is a 50 percent chance a Harbor School graduate is working as a captain or a deckhand on one of those vessels."
The school prepares students to be stewards of New York Harbor and is organizing an ambitious restoration project. Their large-scale initiative aims to restore the once-thriving estuary with one billion live, adult oysters over the next 20 years. Though presently non-existent, oyster reefs used to surround New York City and provide natural water filtration and wave attenuation for a vibrant fishery.
"It's like my experience at Riverkeeper, young people should be engaged in real, productive work," says Fisher. "They will feel more valuable becoming contributing members of society and thus, given that responsibility and value, they will become better learners."
————————
W. Marc Ozburn, Jr. is founder and CEO of TheDoGooder.com, an online fundraising network for schools and nonprofits. TheDoGooder modernizes school fundraising by infusing social entrepreneurial and networking principles so schools/nonprofits can raise funds completely hands free throughout the year. Prior to launching TheDoGooder, Ozburn was an environmental consultant focusing on waste reduction strategies. In addition, he helped launch MY ECO, a sustainable consumer products company. Ozburn's passion for education began when he developed and implemented the School Reuse Challenges to create environmental consciousness with children through competition. He resides in New York City.
You can read more DoGooder Spotlights and fundraise for your school or nonprofit at TheDoGooder.com.
EcoWatch Daily Newsletter
By Sabrina Kessler
Far-reaching allegations about how a climate-sinning American multinational could shamelessly lie to the public about its wrongdoing mobilized a small group of New York students on a cold November morning. They stood in front of New York's Supreme Court last week to follow the unprecedented lawsuit against ExxonMobil.
By Alex Robinson
Leah Garcés used to hate poultry farmers.
The animal rights activist, who opposes factory farming, had an adversarial relationship with chicken farmers until around five years ago, when she sat down to listen to one. She met a poultry farmer called Craig Watts in rural North Carolina and learned that the problems stemming from factory farming extended beyond animal cruelty.
People navigate snow-covered sidewalks in the Humboldt Park neighborhood on Nov. 11 in Chicago. Scott Olson / Getty Images
Temperatures plunged rapidly across the U.S. this week and around 70 percent of the population is expected to experience temperatures around freezing Wednesday.
A general view of the flooded St. Mark's Square after an exceptional overnight "Alta Acqua" high tide water level, on Nov. 13 in Venice. MARCO BERTORELLO / AFP / Getty Images
President Donald Trump doesn't like wind turbines.
In April, he claimed they caused cancer, and he sued to stop an offshore wind farm that was scheduled to go up near land he had purchased for a golf course in Aberdeenshire in Scotland. He lost that fight, and now the Trump Organization has agreed to pay the Scottish government $290,000 to cover its legal fees, The Washington Post reported Tuesday.
A verdant and productive urban garden in Havana. Susanne Bollinger / Wikimedia Commons
By Paul Brown
When countries run short of food, they need to find solutions fast, and one answer can be urban farming.
Trevor Noah appears on set during a taping of "The Daily Show with Trevor Noah" in New York on Nov. 26, 2018.
The Daily Show With Trevor Noah / YouTube screenshot