Influence of Grassroots Anti-Fracking Movement Spreads Like Wildfire
Jun. 19, 2013 02:35PM EST
Energy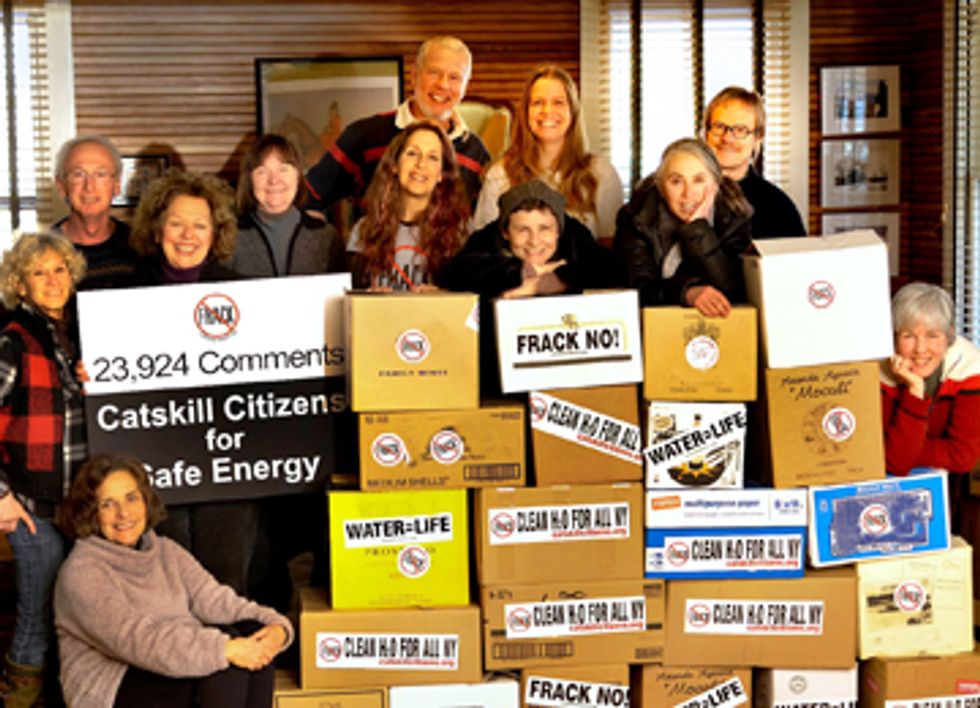 Jill Wiener has dedicated a large part of the past five years of her life to keeping the use of hydraulic fracturing for natural gas extraction out of New York State. The Sullivan County, NY, resident believes that if fracking has yet to happen in a state, it should never be allowed to happen. And where fracking is happening, it should be stopped.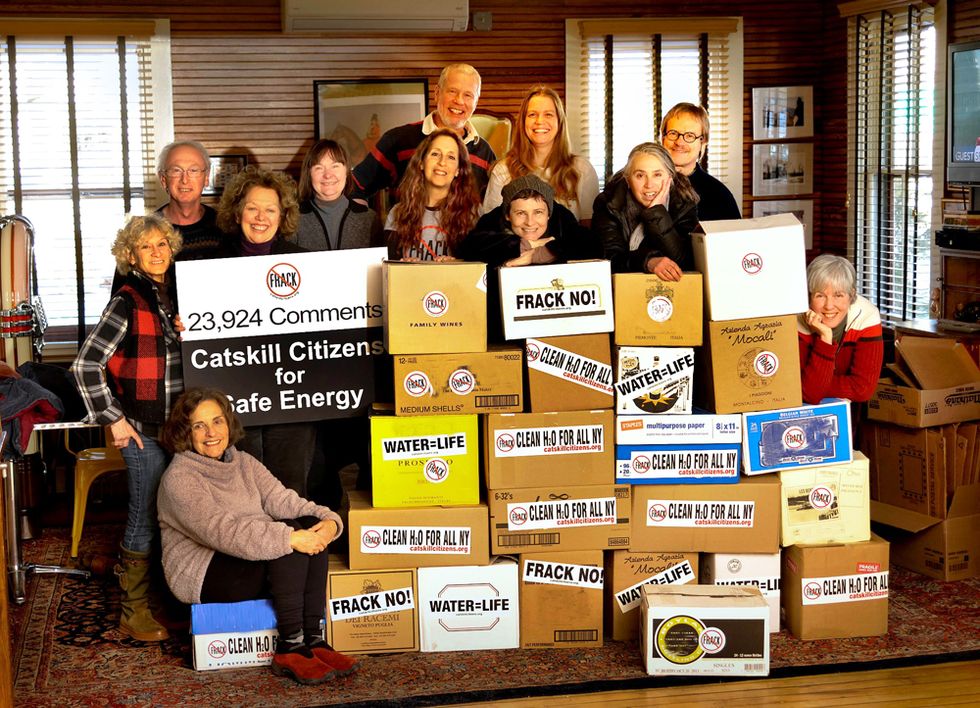 Many of Wiener's fellow grassroots activists in New York share this belief. They're opposed to the regulatory path followed in other states, including in Illinois where some big environmental groups worked with the natural gas industry to get fracking legislation passed and signed into law. So far, the New York activists' strategy for keeping shale gas drilling out of the state has worked: fracking in New York still appears to be a long way off, if it happens at all.
The strength of the resistance manifested itself again June 17 when more than 3,000 people of all ages and backgrounds from across New York gathered in Albany to urge Gov. Andrew Cuomo and the legislature to end the threat of fracking and promote a clean energy agenda. Robert Boyle, a long-time environmental activist and founder of Riverkeeper, remarked last year that he has never seen an environmental movement "spread with such wildfire" as the anti-fracking movement.
"It took me 13 or 14 years to get the first Riverkeeper going. Fracking isn't like that. It's like lighting a train of powder," he told journalist Ellen Cantarow.
Spreading Like Wildfire
The movement started to spread like wildfire in New York when concerned residents began educating their neighbors about the dangers of fracking. "The grassroots groups actually informed the Big Green groups," Wiener said in an interview with EcoWatch. "This was the grassroots telling the grass tops what was happening on the ground and doing the research and seeing that something was wrong. Back in 2008, the Big Greens thought that natural gas was a good bridge fuel, better for the climate."
Anti-fracking activists in New York were hearing news about what was happening in Pennsylvania, stories that put them on high alert. "We had a head-start because the industry marched through Pennsylvania first," Wiener said. When industry representatives began showing up in New York, they guaranteed millions of dollars to residents if they leased their land and minimal impact on the environment from the shale gas extraction process.
But many residents refused to buy into the industry's narrative. "There are a lot of native New Yorkers here," Wiener said. "We all grew up with the story, 'Well, I've got a bridge to sell you.' We're pretty skeptical."
Wiener became involved in the anti-fracking movement after she ran into a friend at a local supermarket who handed her literature describing what the natural gas industry had up its sleeve.
"I looked at it and said, 'Oh dear! They're never going to do this here. This is a hair-brained scheme,'" she recalled.
Wiener and other anti-fracking activists in the region were feeling good about their chances because they had just finished working with state lawmakers to defeat the construction of an electric transmission line called the New York Regional Interconnect (NYRI). The proposed 400-kilovolt, 1,200 megawatt, high-voltage line would have run about 190 miles from Utica, NY, to Orange County, NY.
"The whole project didn't make sense. It was not easily defeated, but we had our elected officials on our side," explained Wiener. The activists were expecting the same success in the fight against fracking. Getting public officials on board the anti-fracking bandwagon would be a "no-brainer," she thought. Activists soon discovered, though, that the fight against fracking would be much tougher and drawn-out than the campaign against the NYRI electric transmission line.
Wiener's concerns about fracking led her to Catskill Citizens for Safe Energy, a group formed in 2008 in reaction to "landmen knocking on doors." The group seeks to educate the public about fracking and to promote clean energy. At Catskill Citizens, no one takes a salary and there's no office. The organization is run by volunteers who make decisions by consensus.
The various anti-fracking groups in New York regularly communicate with each other. "If there is a plan or an action or a piece of legislation, we keep in very close touch. We have open discussions about where we need help," Wiener said.
Catskill Citizens has attracted "creative thinkers from all political stripes," many of whom have organizing experience, she said. "This is not a left-wing, tree-hugging issue. It's a public health issue and everybody deserves clean air, clean water and the right to their property and the quiet enjoyment of their property," she emphasized.
An Artist and an Activist
An artist by trade, Wiener moved into a late nineteenth century farm house in Callicoon, NY, from New York City in 1997, where she set up a pottery studio. Along with running a pottery business, Wiener grows flowers on her farm that she then cuts and arranges for parties, weddings and special events.
"I now spend much more time 'working' with Catskill Citizens than tending to my own businesses," she said. It's Wiener's strong convictions that allow her to work the long hours needed to help sustain a movement. "I don't have kids. It's not like I'm fighting for my own children. But there is right and there is wrong. And, boy, I really hate wrong," she said.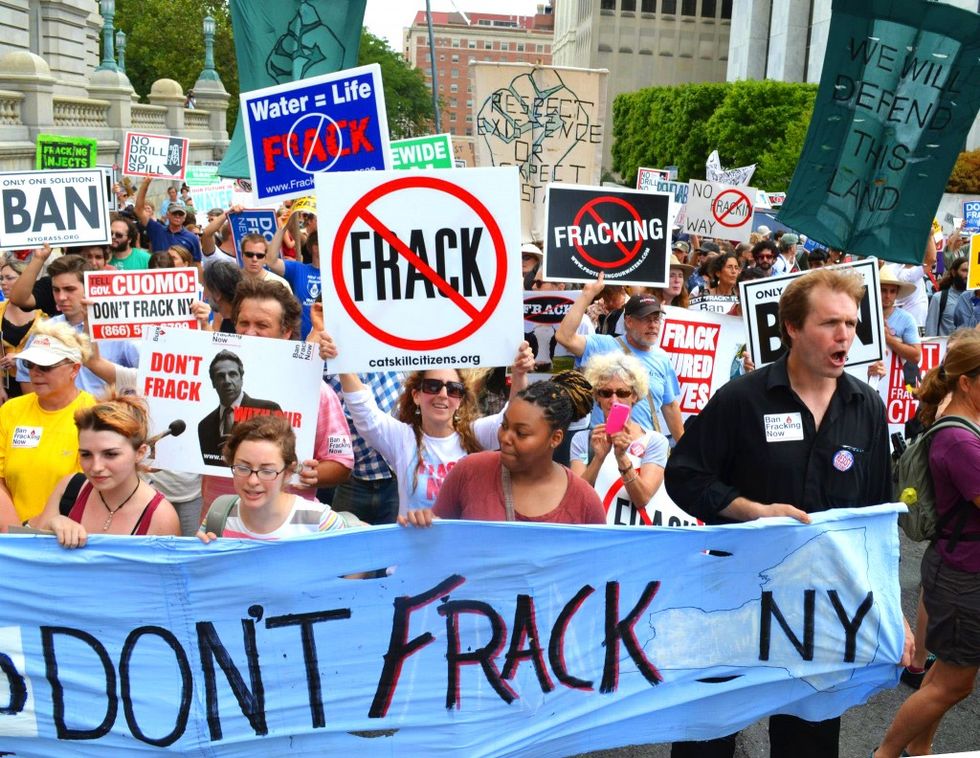 New Yorkers Against Fracking
In her work as an activist, Wiener serves as a member of the board of directors of Catskill Citizens and is on the advisory council of Stop the Frack Attack, a national coalition of anti-fracking groups.
Since moving out of New York City, Wiener also has served on the boards of the Sullivan County Visitors Association, Sullivan County Farmers' Markets, Jeffersonville Area Chamber of Commerce and the Sullivan County Alliance for Sustainable Development. She ran for the Callicoon Town Council in 2011 but did not win a seat. "I believe it is my duty to participate, to try to make our communities better where we can and protect them where we must," she said.
Before she became involved in the anti-fracking movement, Wiener said she had trouble standing up and speaking in front of just a handful of people. In recent years, though, she has become a spokesperson for the movement, speaking at events where she puts her gas industry expertise and her quick wit on display in front of large crowds. "One of my proudest moments was at the [Don't Frack New York rally in Albany in August 2012] when I spoke in front of over 2,000 people," she said.
On most days, Wiener said she is phoning fellow anti-fracking activists to talk strategy, attending meetings or performing ordinary organizational duties to help make the movement even bigger. "Our numbers keep increasing and I think our resolve keeps getting stronger and stronger because everyday something else that is an obvious wrong comes from this industry," she said.
"The industry had for years and years sold natural gas as this perfect solution to our energy problems and to climate change. They sold it as wonderful and clean and green and you put a straw into the ground and you just sort of suck the gas out and it's very simple," Wiener said. "But it really turns out that it wasn't. This is not your grandmother's gas well."
The rush to extract natural gas from the Marcellus Shale and other shale gas plays is creating industrial zones in rural areas across the U.S. The industrialization of wide swaths of forestland, meadows and mountains is threatening the health of humans who live near the drilling zones and disturbing animal and plant species who inhabit these regions.
Most people agree that the natural gas extraction process harms the environment. But they disagree on the extent of the harm. There's debate on whether the benefits of natural gas production outweigh the harm it causes. According to Wiener, the natural gas industry often takes "one kernel of one word of truth and they surround it in this pile of misinformation."
Five Minutes of Happy Dance
The odds appear to be stacked against anti-fracking activists, especially when they compare their meager budgets with the industry's huge war chests. "It's very hard to break through that with the truth when you're faced with insurmountable amounts of money. But somehow we manage to do it, person to person to person," she said.
Echoing a major theme in Gasland 2, the new documentary made by filmmaker Josh Fox, Wiener said the political elite's overwhelming support for fracking at the state and federal levels demonstrates that the nation has "a democracy problem" and that there is "undue influence by corporate money."
The influence of money also is seen in the nonprofit sector. Referring to the Environmental Defense Fund's (EDF) involvement in the Center for Sustainable Shale Development, Wiener said she takes exception to environmental groups that are "GINO," or green in name only. The Pittsburgh-based center, formed earlier this year, bills itself as a coalition of companies and groups working together to improve environmental performance of industry operations. In addition to EDF, the center's members include Chevron Corp., CONSOL Energy Inc. and Royal Dutch Shell plc, as well as Citizens for Pennsylvania's Future and the Pennsylvania Environment Council.
"If the Environmental Defense Fund actually wanted to do something good, they could take their incredible power and the money that they've gotten from Mayor Bloomberg, and put it to good use by educating the public on the dangers of shale gas extraction," she said. In August 2012, Bloomberg Philanthropies awarded the EDF with a three-year, $6 million grant for its work to "minimize the environmental impacts of natural gas operations through hydraulic fracturing."
According to Wiener, the EDF "could walk into Pennsylvania because they have relationships there and say, 'That's enough now, stop! You put a moratorium on this right now. Unless and until you get it right and you're not putting people's lives at risk and polluting their air and changing the character of your state in an irreversible way, you don't do it.'"
North of the border, in New York, pro-industry officials and environmental activists alike are beginning to believe the strength of the anti-fracking movement could spoil the natural gas industry's dream of a shale gas bonanza in the state. Wiener, who describes herself as "really stubborn," believes New York can remain free of shale gas drilling as long as she and fellow activists keep applying pressure.
But what if anti-fracking forces do succeed in New York? That was a question that a state lawmaker asked Wiener at a recent meeting. "My own state senator—not particularly on our side—said, 'Jill, what are you going to do if you ever manage to stop this? Are you going to sit back and do everything you did before?'"
"I said, 'No, if we can stop it in New York, you think I'm going to leave everybody else behind? No. Five minutes of happy dance and then we're right back to work.'"
Visit EcoWatch's FRACKING page for more related news on this topic.
——–

Sign the petition today, telling President Obama to enact an immediate fracking moratorium:

EcoWatch Daily Newsletter