This website uses cookies to ensure you get the best experience while browsing it. By clicking 'Got It' you're accepting these terms.
Industry Responds to Denton, Texas Fracking Ban
Nov. 12, 2014 02:14PM EST

This may be the shortest blog I've ever written. On Election Day, voters in a number of cities and counties voted on whether to severely restrict or ban oil and gas development—the oil industry poured millions of dollars in an effort to avoid these restrictions. In Richmond, California Chevron spent $3 million to gain control of the city council; this overreach backfired and Chevron's slate was trounced. In San Benito County, $2 million wasn't enough to stop a ban on fracking and other intensive oil extraction technologies. Mendocino County also said "no." But in Santa Barbara a $5 million oil industry campaign did prevail, as a similar fracking ban was blocked. Drilling bans in three of four Ohio towns voting on the issue also failed.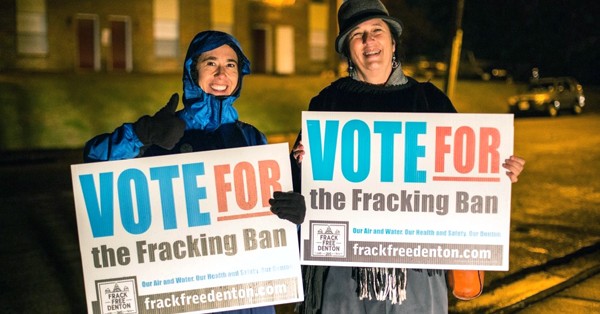 On election day, Denton, Texas voted to ban fracking inside its city limits, in the heart of the oil patch. Photo credit: Frack Free Denton
But the most interesting result may have been Denton, Texas, which voted to ban fracking inside its city limits, in the heart of the oil patch. Oil industry reactions varied.
The CEO of Chesapeake Energy warned his colleagues, "At least some of the oil companies that drilled the 272 active wells in Denton seemingly turned a deaf ear to community concerns about traffic, well location, and other issues not specifically related to fracking. Cathy McMullen, a nurse who headed an anti-fracking group and got the issue on the ballot said, 'It [the ban] says that industry can't come in and do whatever they want to do to people. They can't drill a well 300 feet from a park anymore.' Oil companies would do well to take McMullen's words to heart: 'If you want to prevent more bans, do yourselves a favor and listen to concerned citizens. Because if you don't you may wind up reaping what you've sown.'"
But this common sense message didn't resonate with much of the industry. The Texas Railroad Commission blithely declared it would simply continue giving permits in Denton because it didn't recognize the right of local officials to regulate oil and gas.
And Chris Faulkner, the CEO of Breitling Energy, emailed me this absolutely stunning message:
"The citizens of Denton, Texas have voted themselves into what will most definitely end up as the legal equivalent of a field of quicksand. The ground-rumbling they will hear won't be earthquakes, but the stampede of lawyers running to the area to join in the plethora of lawsuits …
"The real losers here are the citizens of Denton who … now face a future of nothing on their land but tumbleweeds and crickets."
The next time you read a glossy Chevron Ad, you might remember that Chevron and Breitling are on the same team.
YOU MIGHT ALSO LIKE
Why Fossil Fuels Are Dirty Politics as Well as Dirty Energy
Denton, Texas Fracking Ban Under Attack by Bush Family Inner Circle
John Oliver and Bill Nye Put the Climate Change Debate to Rest
Plus, learn if there's one that's best for your health.
Catherine Falls Commercial / Moment / Getty Images
An invasive Amynthas worm, also known as a crazy snake worm, Asian jumping worm and Alabama jumper Tom Potterfield / Flickr
By Jason Bittel
My wife and I built a house two years ago on a few acres of woodland outside of Pittsburgh. The backyard is full of maples, poplars, briars and common spicebush. Two-lined salamanders and grumpy-looking crayfish wade among the rocks in the small stream that runs down the edge of the property. Deer, raccoon and opossum tracks appear regularly in the snow and mud. Sometimes, my trail-cam even catches a pair of gray foxes as they slink through the night.
AleksandarNakic / Getty Images
By Kate Murphy
No matter the time of year, there's always a point in each season when my skin decides to cause me issues. While these skin issues can vary, I find the most common issues to be dryness, acne and redness.

David Woodfall / The Image Bank / Getty Images
By Sam Nickerson
The U.S. Environmental Protection Agency (EPA) in April 2018 proposed relaxing standards related to how it assesses the effects of exposure to low levels of toxic chemicals on public health.
Now, correspondence obtained by the LA Times revealed just how deeply involved industry lobbyists and a controversial, industry-funded toxicologist were in drafting the federal agency's proposal to scrap its current, protective approach to regulating toxin exposure.
Steve Irwin poses with a three foot long alligator at the San Francisco Zoo on June 26, 2002. Justin Sullivan / Getty Images
February 22 is the birthday of conservationist and beloved TV personality "Crocodile Hunter" Steve Irwin, who would have been 57 years old today.
Irwin's life was tragically cut short when the barb from a stingray went through his chest while he was filming in 2006, but his legacy of loving and protecting wildlife lives on, most recently in a Google Doodle today honoring his birthday.