This website uses cookies to ensure you get the best experience while browsing it. By clicking 'Got It' you're accepting these terms.
Industry Lobby Tries to Block Bill That Would Protect U.S. Waters from Plastic Microbeads
Aug. 26, 2014 08:02AM EST
A bill working its way through the California legislature to ban plastic microbeads from cosmetics and other products made and sold in the state has encountered a snag.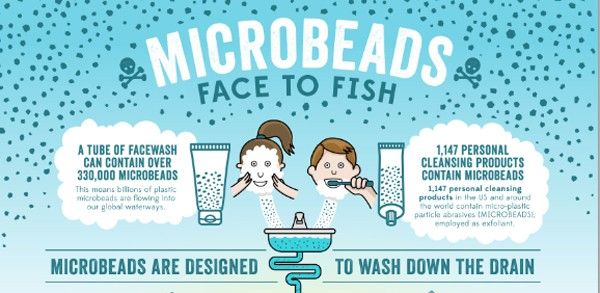 The bill, AB 1699, authored by 5 Gyres Institute and sponsored by Rep. Richard Bloom of Santa Monica, sailed through the other chamber of the legislature, the Assembly, in May. That action came a little less than a month before Illinois enacted such a ban in June becoming the first state to do so.
"Passing the Assembly floor is a big milestone for this bill," Bloom said back in May. "I am proud that my colleagues support our efforts to ensure that our waters are clean. Getting plastic microbeads out of these products will eliminate a significant source of pollution." Every year 38 tons of plastic microbeads are released into California's environment.
Alas, that will have to wait a little longer. The bill failed to garner the needed votes in the Senate by a single vote, but the sponsors have been granted reconsideration, which means if they can get one of the absentee legislators to vote for it, it will pass the Senate and go back to the California Assembly for concurrence.
According to Marcus Eriksen of 5 Gyres Institute, plastics industry lobbyists worked hard to block it, wanting legislation more like the far from ideal bill that passed in Illinois. The Ilinois bill leaves a loophole for plastic, like Polylactic Acid (PLA) the so-called biodegradable plastic that corn cups are made of. Unfortunately, PLA doesn't biodegrade in the environment, it requires an industrial composting facility.
"The California bill is up against its first hurdle, explaining to lawmakers that the microbead bill that passed in Illinois is no shining example of good legislation," said Eriksen. "It's more industry-friendy than water, allowing plastic microbeads from fossil fuels to be replaced with plastic microbeads from other feedstock like plants. Chemically speaking it's the same stuff, with the same problems, and doesn't move us away from the status quo. California policymakers are sold bad information by the cosmetics lobby about naturally derived plastics, but without the facts about the environmental harm they cause.
"They've even gone so far as to say that our bill in California bans natural alternatives to plastic in order to try to kill the bill, which is an outright fabrication. In rhetoric they tell the press they're committed to the environment, in practice they're committed to preserving their bottom line."
"If this bill fails, we all lose and are stuck with the precedent of a bad bill," said Anna Cummins, 5 Gyres' executive director. "5 Gyres is committed to the end goal—preventing toxic plastic beads from polluting our oceans and watersheds—and we will get there. If not at the state level, then city-by-city, which ultimately will be harder for companies that use plastic beads. We hope the business community will quit playing games with legislators and get serious about stopping the pollution they created."
New York was the first state to propose a microbead ban. New York attorney general Eric Schneiderman introduced the Microbead-Free Waters Act there in February with 5 Gyres, presenting it to the legislature for action; it's currently in limbo. And Ohio State Sen. Mike Skindell has introduced SB 304 which would ban microbeads in that state as evidence mounts of increasing micro-plastic pollution of the Great Lakes. But with the Republican supermajority in the Ohio legislature, the bill is unlikely to even get a hearing, says Skindell.
Unfortunately, that will likely be the same fate as that of a bill to ban plastic microbeads on a federal level, introduced by New Jersey Congressman Frank Pallone, Jr. in June.
YOU MIGHT ALSO LIKE
Illinois Breaks Ground With Country's First Microbead Ban
California Assembly Passes Historic Law to Remove Plastic Microbeads from Personal Care Products
5 Gyres Institute Sets Sail For Microbead Research From Bermuda to Iceland
EcoWatch Daily Newsletter
A man spreads pesticides on a plantation of vegetables in Rio de Janeiro Brazil. Ze Martinusso / Moment Open / Getty Images
By Jessica Corbett
Pointing to the deaths of more than half a billion bees in Brazil over a period of just four months, beekeepers, experts and activists are raising concerns about the soaring number of new pesticides greenlighted for use by the Brazilian government since far-right President Jair Bolsonaro took office in January — and the threat that it poses to pollinators, people and the planet.
SHEALAH CRAIGHEAD
By Elliott Negin
On July 19, President Trump hosted Apollo 11 astronauts Buzz Aldrin and Michael Collins and their families, along with the family of their deceased colleague Neil Armstrong, at a White House event to commemorate the 50th anniversary of the first manned landing on the moon.
The study looked at three groups of diverse lizards from South America. Daniel Pincheira-Donoso
Cold-climate lizards that give live birth to their offspring are more likely to be driven to extinction than their egg-laying cousins as global temperatures continue to rise, new research suggests.
Sean Gallup / Getty Images
A stock photo of fire in the Amazon; a record number of fires have burned there this year. Brasil2 / E+ / Getty Images
Tuna auctions are a tourist spectacle in Tokyo. Outside the city's most famous fish market, long queues of visitors hoping for a glimpse of the action begin to form at 5 a.m. The attraction is so popular that last October the Tsukiji fish market, in operation since 1935, moved out from the city center to the district of Toyosu to cope with the crowds.

gmnicholas / E+ / Getty Images
Kristan Porter grew up in a fishing family in the fishing community of Cutler, Maine, where he says all roads lead to one career path: fishing. (Porter's father was the family's lone exception. He suffered from terrible seasickness, and so became a carpenter.) The 49-year-old, who has been working on boats since he was a kid and fishing on his own since 1991, says that the recent warming of Maine's cool coastal waters has yielded unprecedented lobster landings.