Indoor Veggie Garden Lets You Grow Your Own Food Right in Your Kitchen
Nov. 08, 2015 11:39AM EST
Food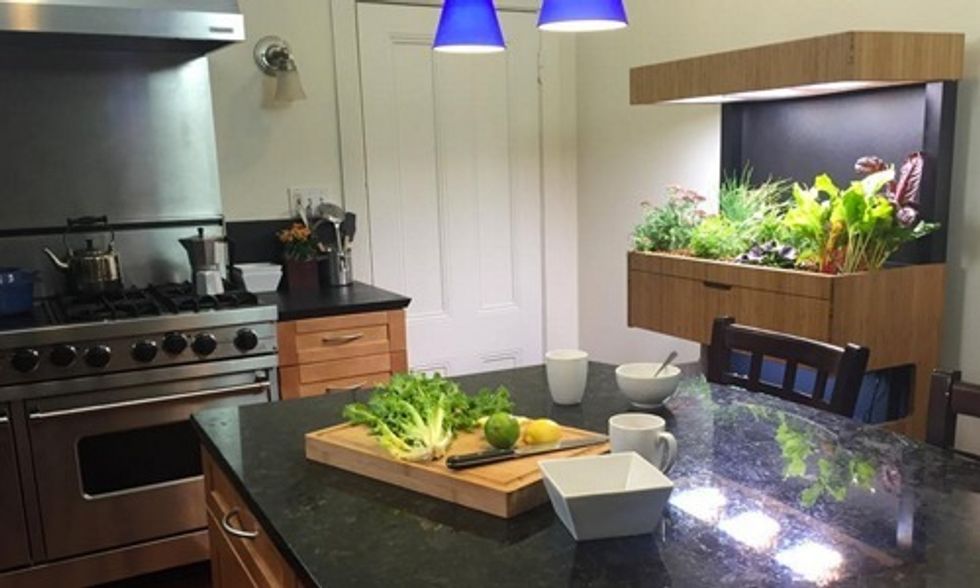 We've sung praises about the farm-to-table movement before, but when the farm is only three-feet away, it's not just local, it's hyperlocal. The Grove Ecosystem allows you to grow fresh lettuce, tomatoes, herbs and even raise fish, right from home.
Designed and built by engineers from MIT, this cabinet-sized indoor garden has LED lighting to induce photosynthesis so that the plants do not need exposure to the sun, much like the way many indoor vertical farms are hooked up.
The WiFi-enabled system also has its own Grove OS mobile app so you can track growth and tinker with settings such as water levels, temperatures, lighting, microbe levels and more. And yes, this means you don't have to worry about your set-up while you're away from home.
The app also helps you optimize the conditions for whatever you choose to grow. If, for example, you're growing cherry tomatoes, it recommends the best ways to promote growth, such as proper temperatures and water needs.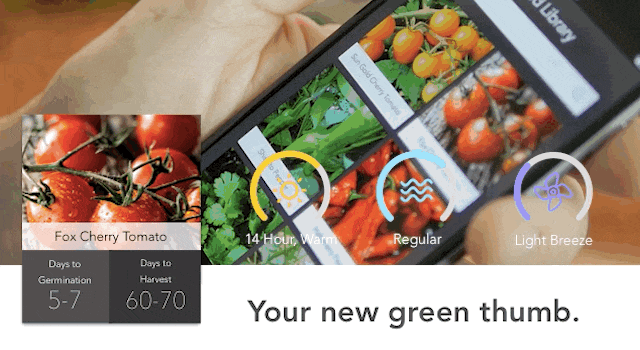 There are three main components to the Grove. The top layer is a gardening bed that so you can grow larger plants like these:

Underneath the top layer is a middle shelf for you to grow microgreens, sprouts and seeds.
Once you've set up the first two components, you can then add a 25-gallon fish tank for your very own aquaponics system, in which fish and plants work symbiotically to grow food.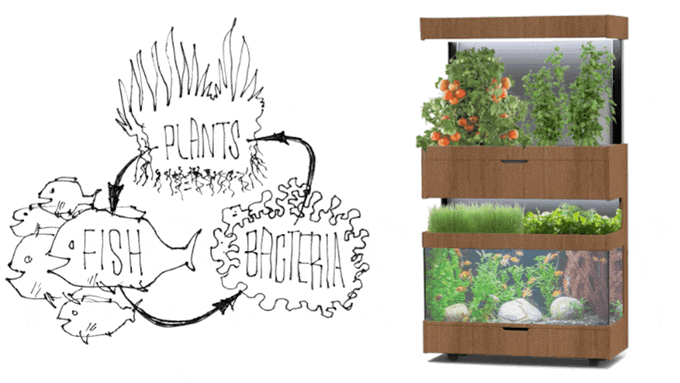 "The fish process the food they are fed and produce ammonia-rich waste," as the creators explain on Kickstarter. "Beneficial microbes convert the ammonia to nitrates (organic plant fertilizer), simultaneously supplying the plants with nutrients and the fish with clean water! As a result of this natural process, you don't have to clean the tank, wash your greens or worry about the freshness of your food!"
The company says that at peak efficiency, you can expect to turn out eight to 10 heads of lettuce every 20 days, for example. If your first crop is microgreens, you can expect to be garnishing salads within 15-20 days, they say.
The Grove recently reached their $100,000 crowdfunding goal on the first day of their Kickstarter campaign.
It costs $2,700 with the Kickstarter deal and will be priced at $4,500 after the campaign ends.
Learn more about the ecosystem in the video below:
https://www.kickstarter.com/projects/grove-ecosystem/grove-ecosystem-grow-fresh-food-in-your-home/comments
YOU MIGHT ALSO LIKE
Meet the Farmer Who's Helping Chipotle Go Beyond Non-GMO to Organic
28 Most Inspiring Urban Agriculture Projects Around the World
Inside the Nation's Largest Organic Vertical Farm
EcoWatch Daily Newsletter