This website uses cookies to ensure you get the best experience while browsing it. By clicking 'Got It' you're accepting these terms.
Indigenous Peoples Call for a Moratorium on REDD+
Dec. 06, 2011 11:00AM EST
GMO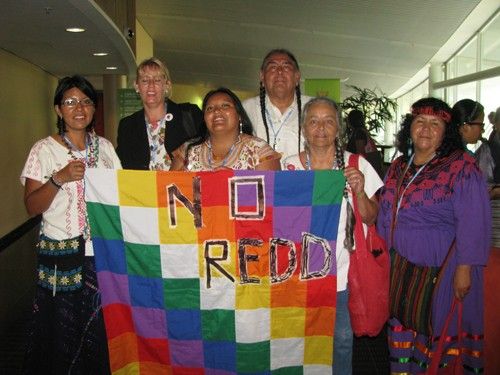 Indigenous Peoples participating in the United Nations Framework Convention on Climate Change (UNFCCC) negotiations in Durban, South Africa have called for a moratorium on Reducing Emissions from Deforestation and Forest Degradation (REDD+) Dec. 6. In a statement released to the press, the Global Alliance of Indigenous Peoples and Local Communities against REDD and for Life declares: "REDD+ threatens the survival of Indigenous Peoples and forest-dependent communities and could result in the biggest land grab of all time. Based on in-depth investigations, a growing number of recent reports provide evidence that Indigenous Peoples are being subjected to violations of their rights as a result of the implementation of REDD+-type programs and policies."
Berenice Sanchez, of MesoAmerican Indigenous Womens BioDiversity Network, Mexico, said, "The supposed safeguards are voluntary, weak and hidden in the annex. REDD+-type projects are already violating Indigenous Peoples' rights throughout the world. We are here to demand an immediate moratorium to stop REDD+-related land grabs and abuses because of REDD+."
The President of the Ogiek Council of Elders of the Mau Forest of Kenya, Joseph K. Towett, said, "We support the moratorium because anything that hurts our cousins, hurts us all."
Marlon Santi, former president of the National Confederation of Indigenous Nationalities of Ecuador, said, "We are here to express our concern about the false solutions that have made a business out of climate change. For Indigenous Peoples, the way of life we maintain in our territories is sacred. Therefore, we see carbon markets as a hypocrisy that will not detain global warming. With this moratorium, we alert our peoples about the risks that come with REDD+—threats against our rights and those of our Mother Earth, with the attempts to turn our lands and our forests into a waste-basket for carbon, while those responsible for the crisis continue reaping the benefits."
"REDD+, in its readiness phase, has proved that it is not an effective tool for providing binding safeguards. We have seen the problems it causes and we take them extremely seriously," said Tom Goldtooth of the Indigenous Environmental Network.
Basing their alert on the precautionary principle and on serious concerns regarding human rights, Indigenous Peoples' rights, and an increasing spate of reports citing the failure of REDD to protect forests or to mitigate the climate crisis, the Global Alliance of Indigenous Peoples and Local Communities against REDD and for Life calls for an immediate moratorium.
In addition, in the document released to the press Dec. 6, they call for the United Nations Human Rights Council, the Office of the High Commissioner on Human Rights, the United Nations Permanent Forum on Indigenous Issues, and other human rights organizations, to investigate and document violations from REDD+-type policies and projects, as well as to prepare reports, to issue recommendations and to establish precautionary measures and reparations to guarantee the implementation of the U.N. Declaration on the Rights of Indigenous Peoples, and other instruments and norms.
The call for moratorium was announced at a press conference at UNCOP17 Dec. 6. See the entire press conference on video by clicking here.
The call for a moratorium follows, below:
Global Alliance of Indigenous Peoples and Local Communities against REDD and for Life Calls for a Moratorium on Reducing Emissions from Deforestation and Forest Degradation (REDD+)
United Nations Framework Convention on Climate Change, 17th Conference of the Parties
Durban, South Africa, December 5, 2011
The Global Alliance of Indigenous Peoples and Local Communities against REDD and for Life calls for a moratorium on Reducing Emissions from Deforestation and forest Degradation (REDD+) at the 17th Conference of the Parties of the United Nations Framework Convention on Climate Change (UNFCCC), until the following concerns are fully addressed and resolved. However, we reserve the right to expand these demands.
Our call for a moratorium is based upon the precautionary principle which says that, "when an activity raises threats of harm to human health or the environment, precautionary measures should be taken even if some cause and effect relationships are not established scientifically." The moratorium that we are demanding is the precaution that must be taken to ensure our rights and our environment because the majority of the forests of the world are found in the land and territories of indigenous peoples.
REDD+ threatens the survival of Indigenous Peoples and forest-dependent communities and could result in the biggest land grab of all time. Based on in depth investigations, a growing number of recent reports provides evidence that Indigenous Peoples are being subjected to violations of their rights as a result of the implementation of REDD+-type policies and programs, including—the right to life of objectors to REDD+, forced displacements and involuntary resettlement, the loss of lands, territories and resources, means of subsistence, food sovereignty and security, and the imposition of so-called "alternative livelihoods" that lead to separation of our people from their communities, cultures and traditional knowledge. Similarly, our rights to free, prior and informed consent, self-determination and autonomy consecrated in the United Nations Declaration on the Rights of Indigenous Peoples (UNDRIPs) are also violated. It is worth noting that the United Nations itself recognizes that REDD+ could result in the "lock-up of forests." Furthermore, REDD+ is portrayed as a vehicle for strengthening land tenure rights, but, in fact, is used to weaken them.
We denounce that the safeguards contained in the Cancun Accords do not provide a framework that prevents or halts the violation of our individual and collective rights established by UNDRIPs; given that they do not establish legally binding obligations or mechanisms to guarantee our rights, present complaints, or demand reparations. The efforts we have made to strengthen human rights safeguards at COP 17 have been rebuffed by relevant Contact Groups of Subsidiary Body for Scientific and Technological Advice and Long-Term Cooperative Action within the UNFCCC process.
REDD+ and the Clean Development Mechanism (CDM) promote the privatization and commodification of forests, trees and air through carbon markets and offsets from forests, soils, agriculture and could even include the oceans. This could commodify almost the entire surface of Mother Earth, hurts our relationship with the sacred and violates the rights of Mother Earth. We denounce that carbon markets are a hypocrisy that will not stop global warming.
We also share our profound concern that the sources of financing for REDD+ carbon offsets come from the private sector and carbon markets, which extractive industries are involved in. Carbon markets and REDD+ convert our territories and forests into carbon dumps, while those most responsible for the climate crisis do not commit to legally binding reductions of greenhouse gas emissions and continue to make profits. The World Bank itself has reported that the "financial flows required for climate stabilization and adaptation, will in the long run be mainly private in composition."
REDD+ not only harms Indigenous Peoples and local communities, but also damages the environment. REDD+ promotes industrial plantations and could include planting genetically modified trees. Perverse incentives are already increasing deforestation and the substitution of native forests with monocultures.
REDD+ jeopardize the human future and the balance of Mother Earth because it entrenches fossil fuel use, which is the major cause of the climate crisis. According to the Director of NASA, James Hansen, the world's most distinguished climatologist, "industrialized countries could offset 24-69 percent of their emissions via the CDM and REDD… thus avoiding the necessary domestic cuts that are required to peak emissions around 2015."
REDD+-type projects lead to conflicts within and between indigenous communities and other vulnerable populations. The loss of traditional use of forest, financial incentives, converting forests into commodities, financial speculation and land grabs undermine our traditional systems of governance, generate conflicts.
Furthermore, every time that a community signs a REDD+ contract in a developing country, which provides pollution credits for the fossil fuel industry and other entities responsible for climate change, it allows environmental destruction and hurts vulnerable communities elsewhere, including in the North. By favoring continued exploitation and burning of fossil fuels, REDD+ allows for the continuation of pollution in industrialized countries, further threatening communities in the North that are already overburdened by these impacts. It is not possible to reform or regulate REDD+ to prevent this situation.
Due to the problems of calculating baselines, leakage, permanence, monitoring, reporting and verification that policy makers and methodology designers are not willing and cannot solve, REDD+ is undermining the climate regime and violating the principle of common but differentiated responsibility established under the UNFCCC. Pollution credits generated by REDD+ obstruct the only workable solution to climate change—keeping oil, coal and gas in the ground. Like the carbon credits produced under the Kyoto Protocol's CDM, REDD+ is not intended to achieve real emissions reductions, but merely to compensate for excessive fossil fuel use elsewhere.
Furthermore, biotic carbon—the carbon stored in forests—can never be the climatic equivalent to fossilized carbon kept underground. Carbon dioxide from burning fossil fuels adds to the overall burden of carbon perpetually circulating between the atmosphere, vegetation, soils and oceans. This inequivalence, among many other complexities, makes REDD carbon accounting impossible, allowing carbon traders to inflate the value of REDD carbon credits with impunity.
Based on the above, we urgently call for the United Nations Human Rights Council, the Office of the High Commissioner on Human Rights, the United Nations Permanent Forum on Indigenous Issues and human rights organizations to investigate and document the violations from REDD+-type policies and projects, as well as to prepare reports, issue recommendations and establish precautionary measures and reparations to guarantee the implementation of UNDRIPs and other instruments and norms.
In summary, REDD+-type policies and projects are moving too quickly, allowing crucial human rights and environmental concerns to be sidelined or dismissed. We reaffirm the need for the moratorium on REDD+. In conclusion, we emphasize that forests are most successfully conserved and managed with indigenous governance of the collective lands and territories of Indigenous Peoples.
For more information, click here.
EcoWatch Daily Newsletter
Sled dog teams pull researchers from the Danish Meteorological Institute through meltwater on the Greenland ice sheet in early June, 2019. Danish Meteorological Institute / Steffen M. Olsen
By Jon Queally
In yet the latest shocking image depicting just how fast the world's natural systems are changing due to the global climate emergency, a photograph showing a vast expanse of melted Arctic ice in Greenland — one in which a pair of sled dog teams appear to be walking on water — has gone viral.
CAFOs often store animal waste in massive, open-air lagoons, like this one at Vanguard Farms in Chocowinity, North Carolina. Bacteria feeding on the animal waste turns the mixture a bright pink. picstever / Flickr / CC BY-ND 2.0
By Tia Schwab
It has been almost a year since Hurricane Florence slammed the Carolinas, dumping a record 30 inches of rainfall in some parts of the states. At least 52 people died, and property and economic losses reached $24 billion, with nearly $17 billion in North Carolina alone. Flood waters also killed an estimated 3.5 million chickens and 5,500 hogs.
Members of the NY Renews coalition gathered before New York lawmakers reached a deal on the Climate and Communities Protection Act. NYRenews / Twitter
By Julia Conley
Grassroots climate campaigners in New York applauded on Monday after state lawmakers reached a deal on sweeping climate legislation, paving the way for the passage of what could be some of the country's most ambitious environmental reforms.
In this picture taken on June 4, an Indian boatman walks amid boats on the dried bed of a lake at Nalsarovar Bird Sanctuary, on the eve of World Environment Day. Sam Panthaky / AFP / Getty Images
By Julia Conley
Nearly 50 people died on Saturday in one Indian state as record-breaking heatwaves across the country have caused an increasingly desperate situation.
A man carries a poster in New York City during the second annual nationwide March For Science on April 14, 2018. Kena Betancur / Getty Images
By Will J. Grant
In an ideal world, people would look at issues with a clear focus only on the facts. But in the real world, we know that doesn't happen often.
People often look at issues through the prism of their own particular political identity — and have probably always done so.

YinYang / E+ / Getty Images
Ragú Old World Style Traditional is one of three flavors named in a voluntary recall.
Mike Mozart
/
CC BY 2.0
Spaghetti with plastic sauce? That's what you might be eating if you pour one of three flavors of Ragú sauce over your pasta.
Mizkan America, the food company that owns Ragú, announced Saturday that it was voluntarily recalling some Chunky Tomato Garlic & Onion, Old World Style Traditional and Old World Style Meat sauces because they might be contaminated with plastic fragments, The Today Show reported.
A butterfly in the National Butterfly Center, a private sanctuary for butterflies in southern Texas, on Jan. 22. Maren Hennemuth / picture alliance / Getty Images