This website uses cookies to ensure you get the best experience while browsing it. By clicking 'Got It' you're accepting these terms.
Indigenous Activist Murdered in Honduras Just Two Weeks After Berta Cáceres Was Killed
Mar. 17, 2016 08:43AM EST
Another member of Berta Cáceres' Indigenous rights group was brutally murdered by unidentified assailants on Tuesday, following a violent eviction of Indigenous people from their land.
Nelson Garcia, a father of five and community leader, was shot four times in the face—"gunned down in his home," the Nation reported. His assassination occurred less than two weeks after Cáceres', and only days following her funeral.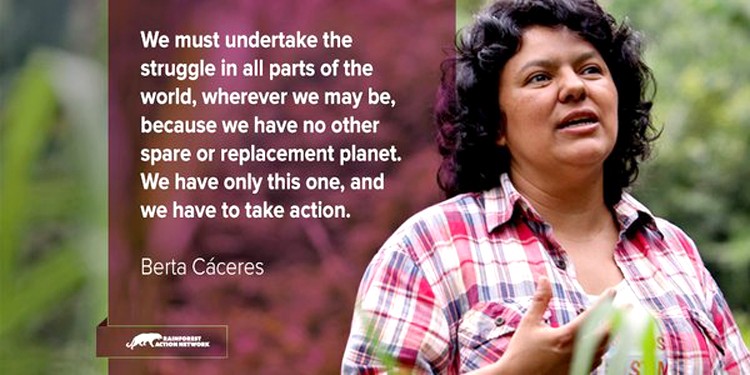 Local reports say that his death occurred shortly after the Honduran government's dispatching of riot police and bulldozers to evict 150 Indigenous people from their homes in Rio Chiquito, where they had occupied ancestral land for two years in protest of the Agua Zarca megadam project.
TeleSUR reported:
"They said that they would be peaceful and they were not going to throw anyone out of their houses, but at midday they started to tear down the houses, they destroyed the maize, the banana trees and the yuca plantations," said Tomas Gomez, a COPINH coordinator.
"When they finished the eviction, our companion Nelson Garcia went to eat in his house, they were waiting in the zone that the commission of COPINH pass, but it was diverted. Garcia arrived first and they killed him," he added.
Garcia was a leader in the Rio Chiquito community, all of whom were members of the Civic Council of Popular and Indigenous organizations of Honduras (COPINH), the Indigenous rights group formed by Cáceres. COPINH has been instrumental in preventing the construction of the Agua Zarca megadam.
The megadam is to be built on the Gualcarque River, ancestral territory of the Lenca tribe—of which Cáceres was a member—and a critical water source for the Indigenous people.
Cáceres' daughter, Bertha Cáceres, only yesterday told the Guardian in an interview that her mother's death "is not the first assassination, but one of a series of assassinations of human rights defenders."
"I don't want another human rights defender to be assassinated," Bertha said.
Garcia's death "brings to 14 the number of COPINH members who have been murdered since the group was founded in 1993," observed fellow activist Beverly Bell.
A witness to Cáceres' murder and fellow Indigenous activist Gustavo Castro was blocked by the Honduran government from returning to Mexico last week and he is currently still being held by the Mexican Embassy in Tegucigalpa despite international pleas for the government to allow him to safely leave the country, DemocracyNow reported.
Honduras is suffering under a brutal regime put in place by a U.S.-backed coup supported by Hillary Clinton during her tenure as secretary of state. Since the coup, the country has maintained the highest murder rate in the world and many environmental and Indigenous rights activists have been killed under the military junta's rule.
After news of Garcia's murder broke, the Europe-based development banks FMO and Finnfund announced that because of the violence and killings they would end their operations in Honduras entirely, which will mean pulling their funding for the Agua Zarca megadam.
TeleSUR reported that the U.S. Agency for International Development, on the other hand, is continuing to fund Agua Zarca in defiance of activists' protests at the agency's headquarters in Washington, DC earlier this week and despite the continued violence and murders of environmentalists and Indigenous activists in Honduras.
YOU MIGHT ALSO LIKE
1 in 4 Deaths Worldwide Caused by Preventable Environmental Factors
What Garland's Supreme Court Nomination Could Mean for the Climate
Science and Politics Clash as Humanity Nears Climate Change Tipping Point
WARNING … This Video Will Break Your Heart: 150 Wild Buffalo Captured at Yellowstone
Plus, learn if there's one that's best for your health.
Catherine Falls Commercial / Moment / Getty Images
An invasive Amynthas worm, also known as a crazy snake worm, Asian jumping worm and Alabama jumper Tom Potterfield / Flickr
By Jason Bittel
My wife and I built a house two years ago on a few acres of woodland outside of Pittsburgh. The backyard is full of maples, poplars, briars and common spicebush. Two-lined salamanders and grumpy-looking crayfish wade among the rocks in the small stream that runs down the edge of the property. Deer, raccoon and opossum tracks appear regularly in the snow and mud. Sometimes, my trail-cam even catches a pair of gray foxes as they slink through the night.
AleksandarNakic / Getty Images
By Kate Murphy
No matter the time of year, there's always a point in each season when my skin decides to cause me issues. While these skin issues can vary, I find the most common issues to be dryness, acne and redness.

David Woodfall / The Image Bank / Getty Images
By Sam Nickerson
The U.S. Environmental Protection Agency (EPA) in April 2018 proposed relaxing standards related to how it assesses the effects of exposure to low levels of toxic chemicals on public health.
Now, correspondence obtained by the LA Times revealed just how deeply involved industry lobbyists and a controversial, industry-funded toxicologist were in drafting the federal agency's proposal to scrap its current, protective approach to regulating toxin exposure.
Steve Irwin poses with a three foot long alligator at the San Francisco Zoo on June 26, 2002. Justin Sullivan / Getty Images
February 22 is the birthday of conservationist and beloved TV personality "Crocodile Hunter" Steve Irwin, who would have been 57 years old today.
Irwin's life was tragically cut short when the barb from a stingray went through his chest while he was filming in 2006, but his legacy of loving and protecting wildlife lives on, most recently in a Google Doodle today honoring his birthday.