This website uses cookies to ensure you get the best experience while browsing it. By clicking 'Got It' you're accepting these terms.
Indigenous Activist Murdered in Honduras Just Two Weeks After Berta Cáceres Was Killed
Mar. 17, 2016 08:43AM EST
Climate
Another member of Berta Cáceres' Indigenous rights group was brutally murdered by unidentified assailants on Tuesday, following a violent eviction of Indigenous people from their land.
Nelson Garcia, a father of five and community leader, was shot four times in the face—"gunned down in his home," the Nation reported. His assassination occurred less than two weeks after Cáceres', and only days following her funeral.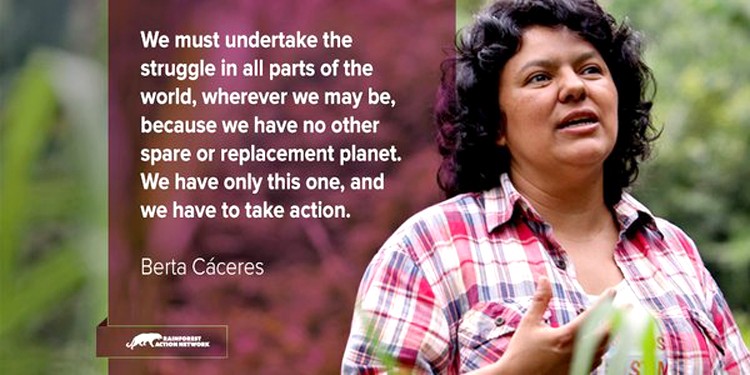 Local reports say that his death occurred shortly after the Honduran government's dispatching of riot police and bulldozers to evict 150 Indigenous people from their homes in Rio Chiquito, where they had occupied ancestral land for two years in protest of the Agua Zarca megadam project.
TeleSUR reported:
"They said that they would be peaceful and they were not going to throw anyone out of their houses, but at midday they started to tear down the houses, they destroyed the maize, the banana trees and the yuca plantations," said Tomas Gomez, a COPINH coordinator.
"When they finished the eviction, our companion Nelson Garcia went to eat in his house, they were waiting in the zone that the commission of COPINH pass, but it was diverted. Garcia arrived first and they killed him," he added.
Garcia was a leader in the Rio Chiquito community, all of whom were members of the Civic Council of Popular and Indigenous organizations of Honduras (COPINH), the Indigenous rights group formed by Cáceres. COPINH has been instrumental in preventing the construction of the Agua Zarca megadam.
The megadam is to be built on the Gualcarque River, ancestral territory of the Lenca tribe—of which Cáceres was a member—and a critical water source for the Indigenous people.
Cáceres' daughter, Bertha Cáceres, only yesterday told the Guardian in an interview that her mother's death "is not the first assassination, but one of a series of assassinations of human rights defenders."
"I don't want another human rights defender to be assassinated," Bertha said.
Garcia's death "brings to 14 the number of COPINH members who have been murdered since the group was founded in 1993," observed fellow activist Beverly Bell.
A witness to Cáceres' murder and fellow Indigenous activist Gustavo Castro was blocked by the Honduran government from returning to Mexico last week and he is currently still being held by the Mexican Embassy in Tegucigalpa despite international pleas for the government to allow him to safely leave the country, DemocracyNow reported.
Honduras is suffering under a brutal regime put in place by a U.S.-backed coup supported by Hillary Clinton during her tenure as secretary of state. Since the coup, the country has maintained the highest murder rate in the world and many environmental and Indigenous rights activists have been killed under the military junta's rule.
After news of Garcia's murder broke, the Europe-based development banks FMO and Finnfund announced that because of the violence and killings they would end their operations in Honduras entirely, which will mean pulling their funding for the Agua Zarca megadam.
TeleSUR reported that the U.S. Agency for International Development, on the other hand, is continuing to fund Agua Zarca in defiance of activists' protests at the agency's headquarters in Washington, DC earlier this week and despite the continued violence and murders of environmentalists and Indigenous activists in Honduras.
YOU MIGHT ALSO LIKE
1 in 4 Deaths Worldwide Caused by Preventable Environmental Factors
What Garland's Supreme Court Nomination Could Mean for the Climate
Science and Politics Clash as Humanity Nears Climate Change Tipping Point
WARNING … This Video Will Break Your Heart: 150 Wild Buffalo Captured at Yellowstone
EcoWatch Daily Newsletter
Ocean Heroes Bootcamp
By Coda Christopherson (11) and Lea Eiders (15)
Growing up in a plastic-free home, I was sheltered from the plastic waste crisis. I (Coda) went to a very progressive school that had vegan lunch items, farm animals and ran on solar power. My mom produces zero-waste events and my dad is a sailor, so we're very passionate about the ocean. When I was nine years old, we moved back to Manhattan Beach, California and I started 3rd grade in a public school. This was the first time I really understood that plastic-free living is not the norm; single-use plastics were everywhere, especially in the cafeteria. Once I recognized this problem, I knew I had to make a difference.
A major California avocado producer issued a voluntary recall of the popular fruit over concerns they could be contaminated with Listeria monocytogenes, USA Today reported.
Henry Avocado issued the recall Saturday after a routine government inspection at its California packing facility turned up positive test results for the bacteria on "environmental samples," the company said in a statement. No illnesses have been reported.
Acting Secretary David Bernhardt visited Watson Hopper Inc., a manufacturer of rigs and oil drilling equipment in Hobbs, New Mexico on Feb. 6, 2019.
Tami A. Heilemann / DOI
Oil executives gathered for a conference laughed about their "unprecedented" access to Trump administration officials, according to a recording obtained by Reveal from the Center for Investigative Reporting.
In the recording, taken at a June 2017 meeting of the Independent Petroleum Association of America (IPAA) at a Ritz-Carlton in Southern California, members expressed excitement about one official in particular: David Bernhardt, who had been nominated that April to be deputy secretary at the Department of Interior (DOI). Bernhardt would be confirmed the following month.
"We know him very well, and we have direct access to him, have conversations with him about issues ranging from federal land access to endangered species, to a lot of issues," IPAA political director Dan Naatz said in the recording.
Pixabay
Saw palmetto (Serenoa repens) is a type of palm native to the southeastern U.S.
Jeff K / Flickr / CC BY-NC 2.0
By Elizabeth Henderson
The certified organic label has helped save many generational farms and enabled people like me, who do not come from agricultural backgrounds, to become successful farmers. Organic farming has brought environmental benefits—healthier soils, freedom from toxic pesticides and herbicides—to 6.5 million acres in the U.S.
PhotoAlto / Laurence Mouton / Getty Images
By Ana Reisdorf, MS, RD
You've probably heard the buzz around collagen supplements and your skin by now. But is the hype really that promising? After all, research has pointed to both the benefits and downsides of collagen supplements — and for many beauty-conscious folk, collagen isn't vegan.
Pixabay
By Marlene Cimons
Neil Pederson's introduction to tree rings came from a "sweet and kindly" college instructor, who nevertheless was "one of the most boring professors I'd ever experienced," Pederson said. "I swore tree rings off then and there." But they kept coming back to haunt him.
Aerial view of the explosion site of a chemical factory on March 22 in Yancheng, Jiangsu Province of China. Caixin Media / VCG / Getty Images)
At least 47 people have died in an explosion at a plant in Yancheng, China Thursday run by a chemical company with a history of environmental violations, Sky News reported.