This website uses cookies to ensure you get the best experience while browsing it. By clicking 'Got It' you're accepting these terms.
Indigenous Activist Murdered in Honduras Just Two Weeks After Berta Cáceres Was Killed
Mar. 17, 2016 09:43AM EST
Climate
Another member of Berta Cáceres' Indigenous rights group was brutally murdered by unidentified assailants on Tuesday, following a violent eviction of Indigenous people from their land.
Nelson Garcia, a father of five and community leader, was shot four times in the face—"gunned down in his home," the Nation reported. His assassination occurred less than two weeks after Cáceres', and only days following her funeral.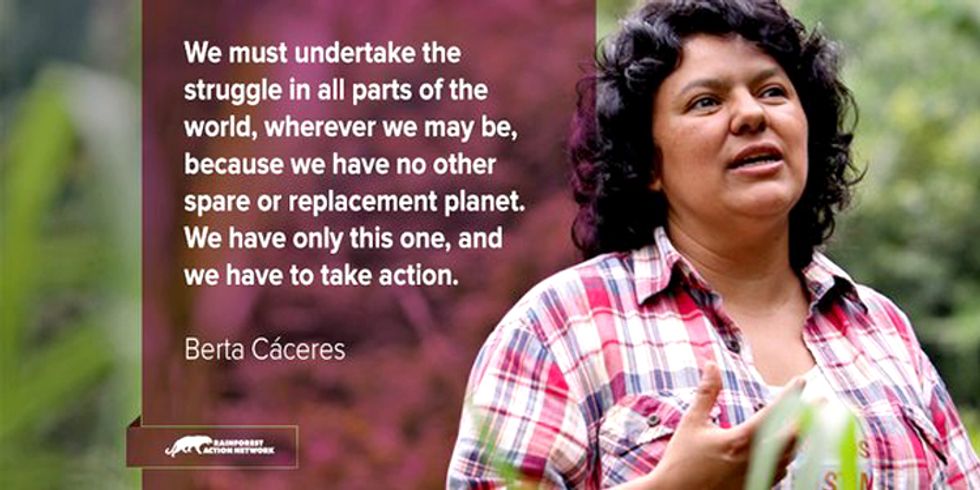 Local reports say that his death occurred shortly after the Honduran government's dispatching of riot police and bulldozers to evict 150 Indigenous people from their homes in Rio Chiquito, where they had occupied ancestral land for two years in protest of the Agua Zarca megadam project.
TeleSUR reported:
"They said that they would be peaceful and they were not going to throw anyone out of their houses, but at midday they started to tear down the houses, they destroyed the maize, the banana trees and the yuca plantations," said Tomas Gomez, a COPINH coordinator.
"When they finished the eviction, our companion Nelson Garcia went to eat in his house, they were waiting in the zone that the commission of COPINH pass, but it was diverted. Garcia arrived first and they killed him," he added.
Garcia was a leader in the Rio Chiquito community, all of whom were members of the Civic Council of Popular and Indigenous organizations of Honduras (COPINH), the Indigenous rights group formed by Cáceres. COPINH has been instrumental in preventing the construction of the Agua Zarca megadam.
The megadam is to be built on the Gualcarque River, ancestral territory of the Lenca tribe—of which Cáceres was a member—and a critical water source for the Indigenous people.
Cáceres' daughter, Bertha Cáceres, only yesterday told the Guardian in an interview that her mother's death "is not the first assassination, but one of a series of assassinations of human rights defenders."
"I don't want another human rights defender to be assassinated," Bertha said.
Garcia's death "brings to 14 the number of COPINH members who have been murdered since the group was founded in 1993," observed fellow activist Beverly Bell.
A witness to Cáceres' murder and fellow Indigenous activist Gustavo Castro was blocked by the Honduran government from returning to Mexico last week and he is currently still being held by the Mexican Embassy in Tegucigalpa despite international pleas for the government to allow him to safely leave the country, DemocracyNow reported.
Honduras is suffering under a brutal regime put in place by a U.S.-backed coup supported by Hillary Clinton during her tenure as secretary of state. Since the coup, the country has maintained the highest murder rate in the world and many environmental and Indigenous rights activists have been killed under the military junta's rule.
After news of Garcia's murder broke, the Europe-based development banks FMO and Finnfund announced that because of the violence and killings they would end their operations in Honduras entirely, which will mean pulling their funding for the Agua Zarca megadam.
TeleSUR reported that the U.S. Agency for International Development, on the other hand, is continuing to fund Agua Zarca in defiance of activists' protests at the agency's headquarters in Washington, DC earlier this week and despite the continued violence and murders of environmentalists and Indigenous activists in Honduras.
YOU MIGHT ALSO LIKE
1 in 4 Deaths Worldwide Caused by Preventable Environmental Factors
What Garland's Supreme Court Nomination Could Mean for the Climate
Science and Politics Clash as Humanity Nears Climate Change Tipping Point
WARNING … This Video Will Break Your Heart: 150 Wild Buffalo Captured at Yellowstone
EcoWatch Daily Newsletter
A worker with nonprofit organization Martha's Table loads bags of fresh produce to distribute to people in need during the novel coronavirus outbreak on April 1, 2020 in Washington, DC. Chip Somodevilla / Getty Images
By Shawn Radcliffe
The CDC recommends that all people wear cloth face masks in public places where it's difficult to maintain a 6-foot distance from others. This will help slow the spread of the virus from people without symptoms or people who do not know they have contracted the virus. Cloth face masks should be worn while continuing to practice social distancing. Instructions for making masks at home can be found here. Note: It's critical to reserve surgical masks and N95 respirators for healthcare workers.
The CDC has emphasized that washing hands with soap and water is one of the most effective ways to prevent the spread of COVID-19. Guido Mieth / Moment / Getty Images
The Centers for Disease Control has emphasized that washing hands with soap and water is one of the most effective measures we can take in preventing the spread of COVID-19. However, millions of Americans in some of the most vulnerable communities face the prospect of having their water shut off during the lockdowns, according to The Guardian.
A California newt (Taricha torosa) from Napa County, California, USA. Connor Long /
CC BY-SA 3.0
Aerial photos of the Sierra Nevada — the long mountain range stretching down the spine of California — showed rust-colored swathes following the state's record-breaking five-year drought that ended in 2016. The 100 million dead trees were one of the most visible examples of the ecological toll the drought had wrought.
Now, a few years later, we're starting to learn about how smaller, less noticeable species were affected.
Disinfectants and cleaners claiming to sanitize against the novel coronavirus have started to flood the market.
Natthawat / Moment / Getty Images
Disinfectants and cleaners claiming to sanitize against the novel coronavirus have started to flood the market, raising concerns for the U.S. Environmental Protection Agency (EPA), which threatened legal recourse against retailers selling unregistered products, according to The New York Times.