This website uses cookies to ensure you get the best experience while browsing it. By clicking 'Got It' you're accepting these terms.


The best of EcoWatch, right in your inbox. Sign up for our email newsletter!
India's Prime Minister Modi Joins Obama in Redoubling Pledge to Act on Climate Change
Jun. 08, 2016 08:44AM EST
Climate
Redoubling their pledge to act on climate change, Prime Minister Narendra Modi and President Barack Obama vowed to early ratification of the Paris climate agreement this year during the U.S.-India Summit on Tuesday.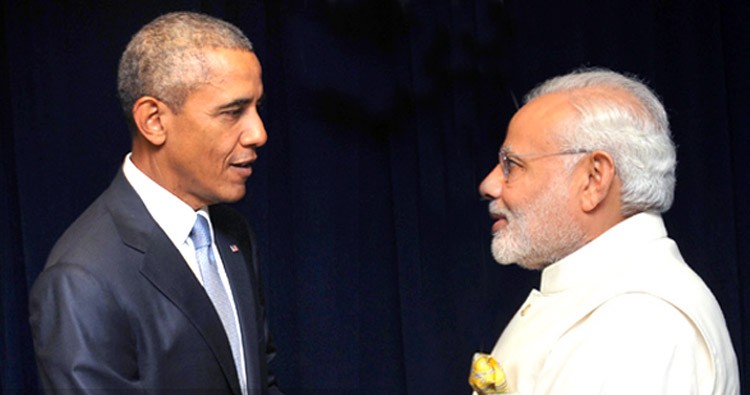 The two leaders committed to work toward a global agreement to cut heat-trapping climate pollutants known as hydrofluorocarbons (HFCs) under the Montreal Protocol this year and an expansive partnership on clean energy finance that fights climate change and grows clean energy markets. Tuesday's announcement builds on years of concerted efforts by both countries to deepen the U.S.-India strategic partnership on climate change.
The U.S.-India commitment to achieve an amendment to the Montreal Protocol this year dramatically boosts prospects for a global deal this year to phase down HFCs. The new clean energy finance initiatives provide greater opportunity for business and government cooperation on solar, wind and energy efficiency to reach the Paris targets. The leaders also made agreements on a range of other environmental issues: wildlife conservation and combatting wildlife trafficking, G20 outcomes to improve heavy-duty vehicle standards, greenhouse gases from aviation and research and development on Mission Innovation.
In her letter to the president before the visit, the Natural Resources Defense Council's (NRDC) President Rhea Suh urged President Obama to seek agreement on real steps to implement the Paris agreement. Cooperation on clean energy technology, finance and policy is essential to scaling up clean energy markets, providing clean energy access and fighting climate change.
The Obama-Modi Joint Statement on redoubling efforts to ratify the Paris agreement declares:
"Both countries are committed to working together and with others to promote full implementation of the Paris agreement to address the urgent threats posed by climate change. India and the United States recognize the urgency of climate change and share the goal of enabling entry into force of the Paris agreement as early as possible. The United States reaffirms its commitment to join the agreement as soon as possible this year. India similarly has begun its processes to work toward this shared objective."
These two leaders are showing their desire to roll up their sleeves and start the critical work of implementing the Paris agreement, as my colleague Jake Schmidt explained.
Stronger Climate Change Cooperation: HFC Phase Down
The commitment by both countries to reach an amendment to phase down HFCs under the Montreal Protocol significantly increases the odds of achieving a global agreement this year in October 2016, during the final Montreal Protocol meeting in Kigali and before COP 22 in Marrakesh. According to the Joint Statement:
"The two countries resolved to work to adopt an HFC amendment in 2016 with increased financial support from donor countries to the Multilateral Fund to help developing countries with implementation and an ambitious phase-down schedule, under the Montreal Protocol pursuant to the Dubai Pathway."
Under the Montreal Protocol, chemicals like chlorofluorocarbons (CFCs) and hydrochlorofluorocarbons (HCFCs), used largely in vehicle and room air conditioners, must be phased out, but the default replacement chemicals are HFCs. Unfortunately, HFCs are powerful greenhouse gases with global warming potential that can be up to 10,000 times higher than that of carbon dioxide. HFC emissions from many markets are growing exponentially and air conditioner usage is increasing equally fast, especially in developing markets. If HFC use in both room and vehicle air conditioners is not reduced substantially, the resulting emissions could undo progress and climate change will occur at a much faster rate. Fortunately, commercially viable alternatives are emerging rapidly and transitioning to these alternatives can be safe and feasible, especially with financial support from the multilateral fund (MLF).
As research by NRDC and our partners shows, a growing number of Indian companies are leapfrogging to coolants in air conditioners and refrigerators that don't heat the planet. Business cooperation among international companies, including those in the U.S., China, Japan and elsewhere, can advance the HFC phasedown. As my colleague David Doniger explained, now is the time to accelerate momentum and urge negotiators in the upcoming Vienna meeting to be steadfast in working through final details, including assurances on the MLF, technology-transfer and accelerated timeframes that respect developed and developing country positions.
Expanding Clean Energy Partnerships and Financing
With clean energy as a centerpiece for both the U.S. and India climate targets, programs to scale-up clean energy finance are vital. Prime Minister Modi and President Obama announced two major programs on clean energy. Focused on unleashing international and domestic financing, the counties are creating a $20 million U.S.-India Clean Energy Finance initiative to "mobilize up to $400 million to provide clean and renewable electricity to up to 1 million households by 2020." The program includes establishing a U.S.-India Clean Energy Hub to coordinate government efforts and drive investment. In order to increase access to clean energy, the governments will also create a $40 million U.S.-India Catalytic Solar Finance Program to provide off-grid renewable energy for villages that are not connected to the grid, which "could mobilize up to $1 billion of projects." Both programs are jointly funded by the U.S. and India.
The U.S. also reaffirmed India's ambitious national goals to install 175 gigawatts (GW) of renewable energy, including 100 GW from solar energy by 2022. As part of the partnership, the U.S. also supports efforts of the International Solar Alliance, launched by Prime Minister Modi during the Paris meetings and research and development under Mission Innovation, as my colleague Sameer Kwatra explained.
While the U.S.-India Summit made significant progress on climate change, one promise from Paris that needs much more action is climate resilience—especially programs on preparedness and air pollution. Strong on-the-ground resilience programs are critical to implementing the Paris agreement. Attention to mitigation efforts far outweighs resilience efforts in both international and bilateral programs. As the impacts of global warming bear down on communities around the globe—from deadly heat waves in Gujarat to devastating droughts in California—climate resilience needs much more focus.
President Obama and Prime Minister Modi's joint actions show commitment following the Paris agreement that puts both countries on a path to a more sustainable future that supports economic growth and improves the lives of millions. Over the past few years, both countries have taken sincere action to build momentum and goodwill on climate action. Solidifying the leadership roles of the U.S. and India is essential to combatting climate change and encouraging a stronger global response, with benefits not only for our two countries, but also for the world.
YOU MIGHT ALSO LIKE
Solar Beats Coal for Entire Month in UK for First Time
228 Cities Around the World Take the Lead on Climate Action
South Korea's Plan to Have World's First Carbon-Free Island
'Free Trade' Will Kill Progress on Climate Change, 450 Groups Warn Congress
EcoWatch Daily Newsletter
PhotoAlto / Laurence Mouton / Getty Images
By Ana Reisdorf, MS, RD
You've probably heard the buzz around collagen supplements and your skin by now. But is the hype really that promising? After all, research has pointed to both the benefits and downsides of collagen supplements — and for many beauty-conscious folk, collagen isn't vegan.
Pixabay
By Marlene Cimons
Neil Pederson's introduction to tree rings came from a "sweet and kindly" college instructor, who nevertheless was "one of the most boring professors I'd ever experienced," Pederson said. "I swore tree rings off then and there." But they kept coming back to haunt him.
Aerial view of the explosion site of a chemical factory on March 22 in Yancheng, Jiangsu Province of China. Caixin Media / VCG / Getty Images)
At least 47 people have died in an explosion at a plant in Yancheng, China Thursday run by a chemical company with a history of environmental violations, Sky News reported.
A fishmonger in Elmina, a fishing port in the Central Region of Ghana. Environmental Justice Foundation
By Daisy Brickhill
Each morning, men living in fishing communities along Ghana's coastline push off in search of the day's catch. But when the boats come back to shore, it's the women who take over.
Pexels
By Sam Nickerson
Links between excess sugar in your diet and disease have been well-documented, but new research by Harvard's School of Public Health might make you even more wary of that next soda: it could increase your risk of an early death.
The study, published this week in the American Heart Association's journal Circulation, found that drinking one or two sugar-sweetened beverages (SSBs) each day — like sodas or sports drinks — increases risk of an early death by 14 percent.
Tyson Foods is recalling approximately 69,093 pounds of frozen chicken strips because they may have been contaminated with pieces of metal, the U.S. Department of Agriculture (USDA) Food Safety and Inspection Service (FSIS) announced Thursday.
The affected products were fully-cooked "Buffalo Style" and "Crispy" chicken strips with a "use by" date of Nov. 30, 2019 and an establishment number of "P-7221" on the back of the package.
"FSIS is concerned that some product may be in consumers' freezers," the recall notice said. "Consumers who have purchased these products are urged not to consume them. These products should be thrown away or returned to the place of purchase."
Environmental exposure to pesticides, both before birth and during the first year of life, has been linked to an increased risk of developing autism spectrum disorder, according to the largest epidemiological study to date on the connection.
The study, published Wednesday in BMJ, found that pregnant women who lived within 2,000 meters (approximately 1.2 miles) of a highly-sprayed agricultural area in California had children who were 10 to 16 percent more likely to develop autism and 30 percent more likely to develop severe autism that impacted their intellectual ability. If the children were exposed to pesticides during their first year of life, the risk they would develop autism went up to 50 percent.