This website uses cookies to ensure you get the best experience while browsing it. By clicking 'Got It' you're accepting these terms.
India Records Highest Temperature Ever: 123.8 Degrees Fahrenheit
May. 22, 2016 09:11AM EST
Climate
India recorded its hottest day on the books on Thursday amid a scorching heatwave and "staggering" number of farmer suicides.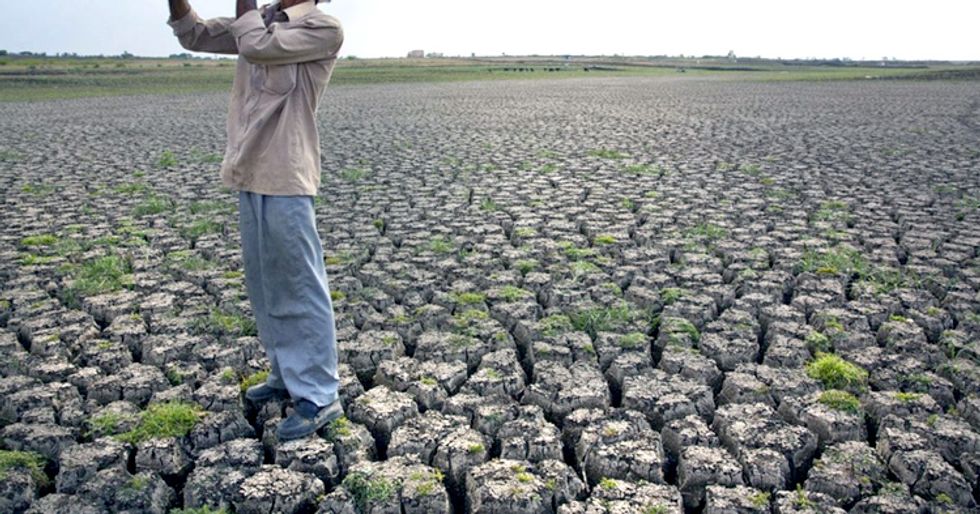 Sizzling at 51 degrees Celsius (123.8 degrees F), the temperature in the city of Phalodi in the western state of Rajasthan topped the nation's previous record of 50.6 Celsius set in 1956.
CNN reports:
The IMD [India Meteorological Department] has issued a red-level alert for Rajasthan as well as for other states like Madhya Pradesh and Gujarat, where temperatures, despite not having crossed the 50-degree mark, are higher than average.

India has recorded higher than normal temperatures throughout 2016.

Many areas are experiencing severe heat waves and state governments estimate more than 370 people killed so far.
And relief isn't coming soon.
"Severe heatwave conditions will prevail in north, west India and central India for the next 10 days," the IMD warns.
According to Laxman Singh Rathore, director general of the IMD, look to climate change for the cause in the increasing temperatures. "It has been observed that since 2001, places in northern India, especially in Rajasthan, are witnessing a rising temperature trend every year. The main reason is the excessive use of energy and emission of carbon dioxide. Factors like urbanization and industrialization too have added to the global warming phenomenon," he stated.
Weeks of high temperatures have "also led to acute water shortage in many areas of central and western India which has seen water riots, government-monitored rationing and armed guards at reservoirs," the Hindustan Times reports.
There is a prolonged drought as well, withering crops and sprouting hopelessness in farmers.
"Constant failure of crops. Very low produce. He couldn't recover the investments, could not pay back the bank loans. That's why he killed himself," said the brother of 41-year-old cotton and sugarcane farmer Srikrishna Pandit Agee who hanged himself this month.
His was among the roughly 400 farmer suicides that have already occurred since the beginning of the year.
Dnyaneshwar Jadhav says his brother Tukaram, a small cotton farmer in the state of Maharashtra, took his own life over the distress of loans and failed crop yields. "When I look into the well, I feel like dying. Life is such a struggle," Dnyaneshwar said to NPR. "We used to earn over $300 for our cotton, we now get less than $100 because the yield is so small."
Last year offers a grim picture of what could be in store.
In 2015, after a heatwave claimed the lives of some 2,500 people and was followed by low monsoon rains, India's earth sciences minister said, "Let us not fool ourselves that there is no connection between the unusual number of deaths from the ongoing heat wave and the certainty of another failed monsoon."
"It's not just an unusually hot summer, it is climate change," he said at the time.
YOU MIGHT ALSO LIKE
How Carbon Farming Can Reverse Climate Change
Earth Sees Record Warming for 12 Straight Months
10 Reasons You Should Have Hope for the Future
EcoWatch Daily Newsletter
A new study shows that half of all Arctic warming and corresponding sea-loss during the late 20th century was caused by ozone-depleting substances. Here, icebergs discharged from Greenland's Jakobshavn Glacier. Kevin Krajick / Earth Institute /
EurekAlert!
The world awakened to the hole in the ozone layer in 1985, which scientists attributed it to ozone depleting substances. Two years later, in Montreal, the world agreed to ban the halogen compounds causing the massive hole over Antarctica. Research now shows that those chemicals didn't just cut a hole in the ozone layer, they also warmed up the Arctic.
Diane Wilson holds up a bag full of nurdles she collected from one of Formosa's outfall areas on Jan. 15. Julie Dermansky / DeSmogBlog
On the afternoon of Jan. 15, activist Diane Wilson kicked off a San Antonio Estuary Waterkeeper meeting on the side of the road across from a Formosa plastics manufacturing plant in Point Comfort, Texas.
After Wilson and the waterkeeper successfully sued Formosa, the company agreed to no longer release even one of the tiny plastic pellets known as nurdles into the region's waterways. The group of volunteers had assembled that day to check whether the plant was still discharging these raw materials of plastics manufacturing.
Malaysian Environment Minister Yeo Bee Yin (front 2nd L) and officials inspect a container containing plastic waste shipment on Jan. 20, 2020 before sending back to the countries of origin. AFP via Getty Images
The Southeast Asian country Malaysia has sent 150 shipping containers packed with plastic waste back to 13 wealthy countries, putting the world on notice that it will not be the world's garbage dump, as CNN reported. The countries receiving their trash back include the United States, the United Kingdom, France and Canada.
Trump leaves after delivering a speech at the Congress Centre during the World Economic Forum annual meeting in Davos on Jan. 21, 2020. JIM WATSON / AFP via Getty Images