India Records Highest Temperature Ever: 123.8 Degrees Fahrenheit
India recorded its hottest day on the books on Thursday amid a scorching heatwave and "staggering" number of farmer suicides.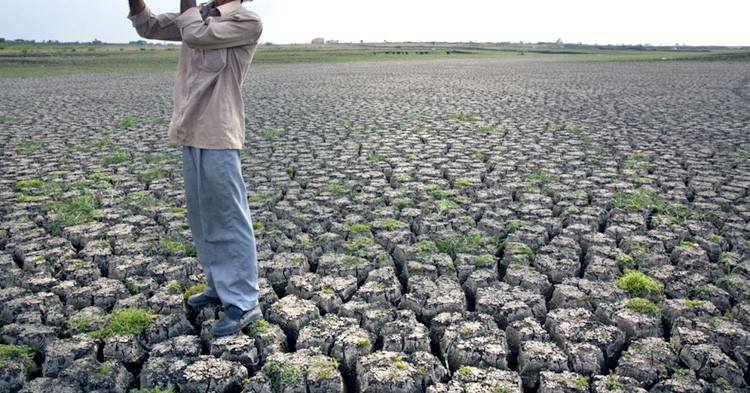 Sizzling at 51 degrees Celsius (123.8 degrees F), the temperature in the city of Phalodi in the western state of Rajasthan topped the nation's previous record of 50.6 Celsius set in 1956.
CNN reports:
The IMD [India Meteorological Department] has issued a red-level alert for Rajasthan as well as for other states like Madhya Pradesh and Gujarat, where temperatures, despite not having crossed the 50-degree mark, are higher than average.

India has recorded higher than normal temperatures throughout 2016.

Many areas are experiencing severe heat waves and state governments estimate more than 370 people killed so far.
And relief isn't coming soon.
"Severe heatwave conditions will prevail in north, west India and central India for the next 10 days," the IMD warns.
According to Laxman Singh Rathore, director general of the IMD, look to climate change for the cause in the increasing temperatures. "It has been observed that since 2001, places in northern India, especially in Rajasthan, are witnessing a rising temperature trend every year. The main reason is the excessive use of energy and emission of carbon dioxide. Factors like urbanization and industrialization too have added to the global warming phenomenon," he stated.
Weeks of high temperatures have "also led to acute water shortage in many areas of central and western India which has seen water riots, government-monitored rationing and armed guards at reservoirs," the Hindustan Times reports.
There is a prolonged drought as well, withering crops and sprouting hopelessness in farmers.
"Constant failure of crops. Very low produce. He couldn't recover the investments, could not pay back the bank loans. That's why he killed himself," said the brother of 41-year-old cotton and sugarcane farmer Srikrishna Pandit Agee who hanged himself this month.
His was among the roughly 400 farmer suicides that have already occurred since the beginning of the year.
Dnyaneshwar Jadhav says his brother Tukaram, a small cotton farmer in the state of Maharashtra, took his own life over the distress of loans and failed crop yields. "When I look into the well, I feel like dying. Life is such a struggle," Dnyaneshwar said to NPR. "We used to earn over $300 for our cotton, we now get less than $100 because the yield is so small."
Last year offers a grim picture of what could be in store.
In 2015, after a heatwave claimed the lives of some 2,500 people and was followed by low monsoon rains, India's earth sciences minister said, "Let us not fool ourselves that there is no connection between the unusual number of deaths from the ongoing heat wave and the certainty of another failed monsoon."
"It's not just an unusually hot summer, it is climate change," he said at the time.
YOU MIGHT ALSO LIKE
How Carbon Farming Can Reverse Climate Change
Earth Sees Record Warming for 12 Straight Months
10 Reasons You Should Have Hope for the Future
Wikimedia Commons
By Stacy Malkan
Neil deGrasse Tyson has inspired millions of people to care about science and imagine themselves as participants in the scientific process. What a hopeful sign it is to see young girls wearing t-shirts emblazoned with the words, "Forget princess, I want to be an astrophysicist."
Keep reading...
Show less
www.youtube.com
By Andy Rowell
Any day now we will truly witness climate change in action. Within days at worst, maybe weeks at best, scientists predict that a huge section of the Larsen C ice shelf in Antarctica will break off into the ocean, in what is called a major "carving" event.
Keep reading...
Show less
www.youtube.com
President Trump visited Cedar Rapids, Iowa on June 21 to speak to a large crowd in the U.S. Cellular Center at a political rally organized by his campaign.
As Trevor Noah noted during The Daily Show episode last night (starts at 2:25), the real reason Trump has these rallies is to "get back in front of his loyal crowds and feed of their energy." Noah believes that "Trump supporters are so on board with their dude he can say anything and they'll come along for the ride."
Keep reading...
Show less
The Kamuthi solar plant in the southern Indian state of Tamil Nadu.
The rapid growth in renewable energy continues to put a dent in the demand for coal.
Coal India, the world's biggest coal mining company and producer of 82 percent of the country's coal, announced the closure of 37 mines that are financially "unviable."
Keep reading...
Show less
www.youtube.com
By Katie O'Reilly
Two years ago—long before coal became one of the most dominant and controversial symbols of the 2016 presidential election—Bloomberg Philanthropies approached production company RadicalMedia with the idea of creating a documentary exploring the U.S. coal mining industry. Last spring, they brought on Emmy-nominated director Michael Bonfiglio, tasked with forging a compelling story out of the multitudes of facts, statistics and narratives underlying the declining industry.
Keep reading...
Show less
Mayors for 100% Clean Energy
Keep reading...
Show less
www.youtube.com
Thanks to Newsy for their coverage on Thursday's news that the U.S. Fish and Wildlife Service removed grizzly bears in the Greater Yellowstone region from the Endangered Species List.
Watch above as Newsy explains that the decision comes despite serious concerns from the environmental and scientific community, and Tribal Nations about a declining, isolated grizzly bear population with diminishing food resources and record-high mortalities.
Keep reading...
Show less
www.facebook.com
By Francine Kershaw
Seismic airguns exploding in the ocean in search for oil and gas have devastating impacts on zooplankton, which are critical food sources for marine mammals, according to a new study in Nature. The blasting decimates one of the ocean's most vital groups of organisms over huge areas and may disrupt entire ecosystems.
And this devastating news comes on the heels of the National Marine Fisheries Service's proposal to authorize more than 90,000 miles of active seismic blasting. Based on the results of this study, the affected area would be approximately 135,000 square miles.
Keep reading...
Show less
By Jill Richardson
Is coconut oil:
good for you
bad for you
neither good nor bad
scientists don't know
The subject of this question is the source of a disagreement. Initially, the question was thought to be settled decades ago, when scientist Ancel Keys declared all saturated fats unhealthy. Coconut oil, which is solid at room temperature, is a saturated fat.
Keep reading...
Show less


Get EcoWatch in your inbox