India Minister: Climate Change to Blame for 5th Deadliest Heat Wave in World History
Jun. 02, 2015 04:20PM EST
Climate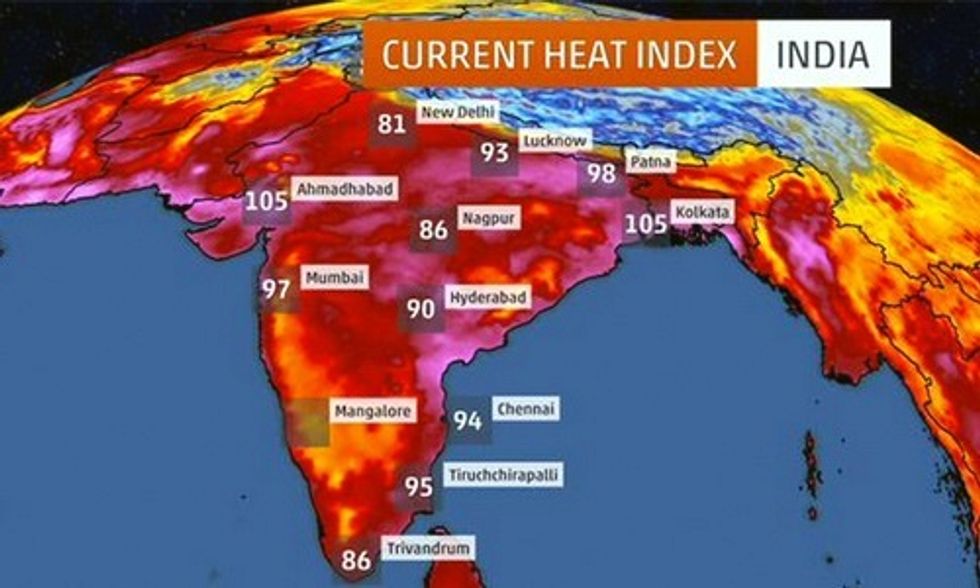 The heat wave that has been ravaging India in recent weeks has now killed more than 2,500 people, making it the fifth deadliest on record. "If the death toll reaches more than 2,541, it will become the fourth deadliest heat wave in the world, and the deadliest in India's history," says Think Progress.
More than 2,300 dead in India - "It's not just an unusually hot summer, it is climate change" minister says http://t.co/PeXiwpdOyB

— Naomi Klein (@NaomiAKlein) June 2, 2015
After the Indian government made an announcement today that the country was entering its first drought in six years, India's Earth sciences minister blamed climate change for the heat wave and the deficient monsoon rains. "Let us not fool ourselves that there is no connection between the unusual number of deaths from the ongoing heat wave and the certainty of another failed monsoon," Harsh Vardhan told Reuters. "It's not just an unusually hot summer, it is climate change," he said.  
#India #HeatWave, Now 5th Deadliest on Record, Kills More Than 2,300. Latest info: http://t.co/ymVrZ1s5D0 pic.twitter.com/gemLk4nlRj

— The Weather Channel (@weatherchannel) June 2, 2015
The minister's statement reflects the findings of the U.N. International Panel on Climate Change, which has predicted that "India will be hit by frequent freak weather patterns if the planet warms," according to Reuters. And, of course, India is not alone. Scientists report that extreme weather, including droughts, floods and heat waves, will increase in frequency due to climate change. On the other side of the world in the U.S., cities such as Houston, Texas were inundated by floods last week and Oklahoma City had its wettest month ever with almost five times the amount of rain it normally sees in May. Again, scientists have confirmed that this heavy downpours are increasing because of climate change.
India's monsoon rains, which are already five days late, are desperately needed. These photos from Twitter capture just how devastating the heat wave has been. Vardhan told Reuters that there is no certainty as to when the rains will arrive. Meanwhile, U.N. climate negotiations in Bonn, Germany this week will set the stage for whether world leaders will be able to finally take meaningful global action to stop climate change by setting targets that will keep global temperatures from rising more than 2°C above pre-industrial levels.
YOU MIGHT ALSO LIKE
50 Cities With Biggest Increases in Heavy Downpours
Negotiations in Bonn Will Likely Decide if Paris Climate Talks 'Can Save Human Civilization From Ultimate Collapse'
EcoWatch Daily Newsletter