Incredible Photos: Is This Tiny Cabin Micro-Community the Future of Sustainable Living?
Owned by a set of good friends, this cabin compound sitting on a picturesque, 10-acre riverfront by the Llano River in Texas might make a wonderful vacation destination—but more significantly—this concept of shared land, simple living and interdependence is also a page right out of the sustainable living handbook.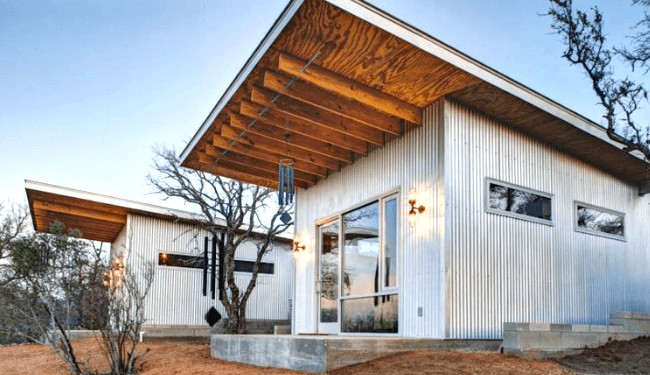 Photo credit: Alexander Stross
A growing number of people are joining the tiny home movement, where people are downsizing their homes into something much smaller to reduce their environmental impact and live more simply.
By the same token, the growing sharing economy (think bike shares, Zipcar, Airbnb, etc.) is something that's ecologically sustainable and socially rewarding at the same time. The idea is this: We don't need that much.
That's the beauty of the Llano River Cabin Compound, tucked 70 miles west of Austin. Like micro-living at a camp site, the bucolic spot is comprised of four tiny cabins and a common area.
According to Small House Bliss, when four couples purchased this stunning piece of property together, they initially set out to build one large house. Instead, they decided to build their own tiny cabin plus a shared area that has a kitchen, space for group meals and room for guests.
The cabins, designed by architecture firm Matt Garcia Design, are 350 square feet in size and cost around $40,000 per unit to build. Although each cabin has a slightly different interior, they all have an open floor design with a combination bedroom/living room, a private bathroom, kitchenette and, of course, a view of the river.
As for the commons, it's spacious enough for a fully-equipped kitchen, a living room with cozy sofas, a full bath and laundry room, as well as a bunkroom that could sleep up to six people.
"The arrangement allows for togetherness in the spacious commons and privacy when needed, to retreat to your cabin," said owner Jodi Zipp.
Check out these amazing cabins: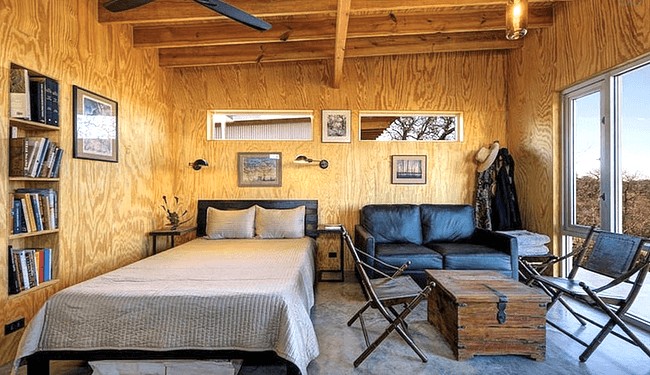 Photo credit: Alexander Stross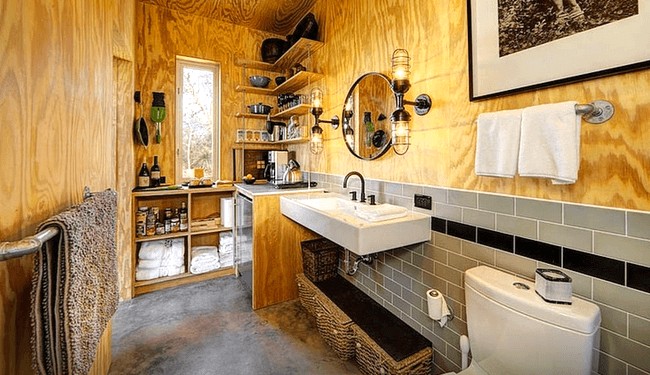 Photo credit: Alexander Stross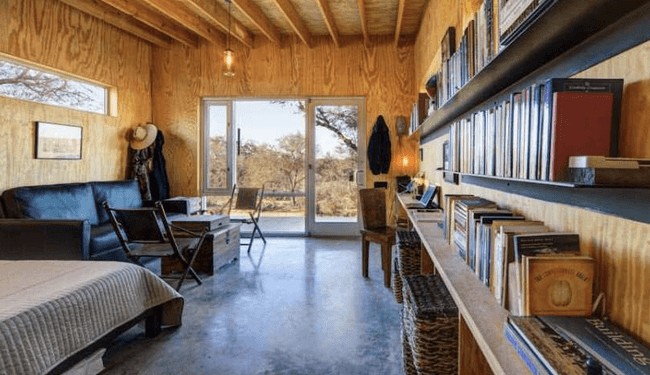 Photo credit: Alexander Stross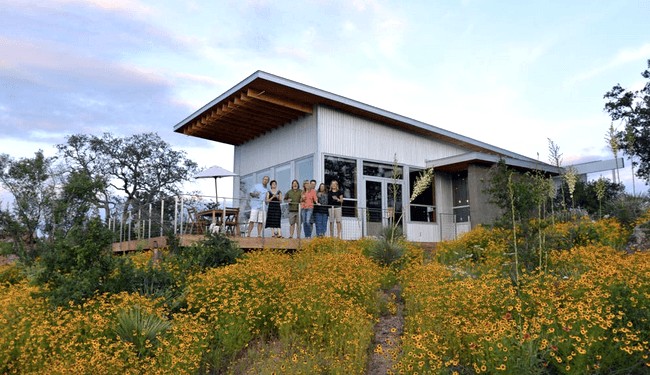 Photo credit: Airbnb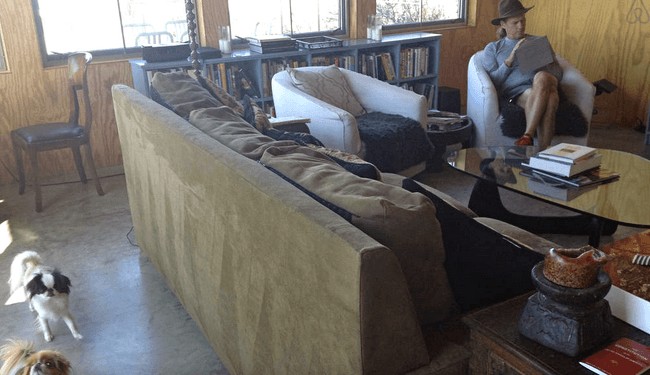 Photo credit: Airbnb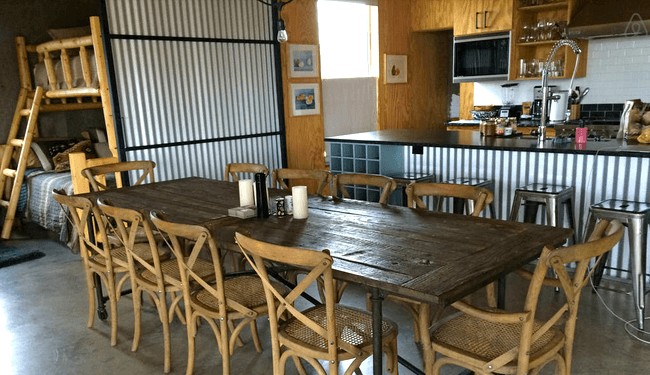 Photo credit: Airbnb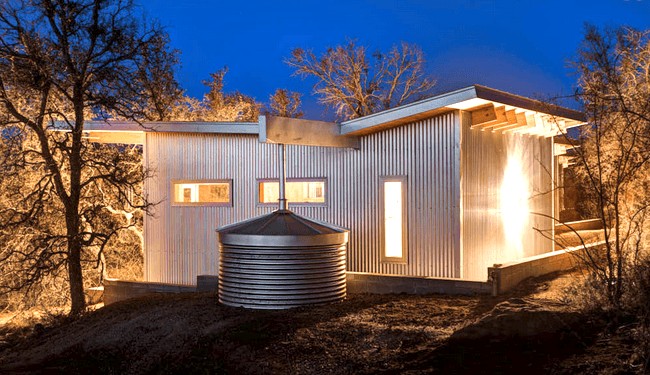 Photo credit: Alexander Stross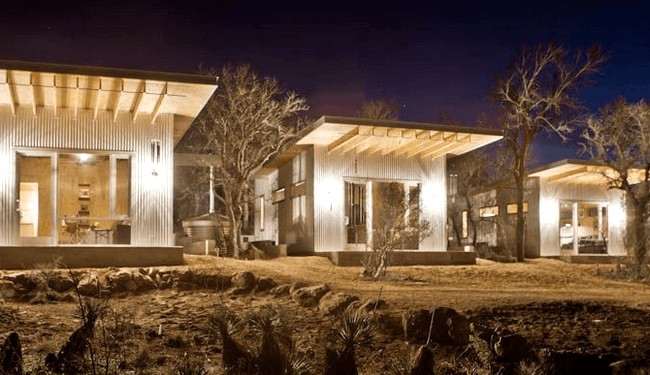 Photo credit: Alexander Stross
YOU MIGHT ALSO LIKE
If You've Ever Wanted to Live in a Treehouse, You've Got to Check This Out
House of the Future Is Here Today, Generates Twice the Energy It Uses
Wikimedia Commons
By Stacy Malkan
Neil deGrasse Tyson has inspired millions of people to care about science and imagine themselves as participants in the scientific process. What a hopeful sign it is to see young girls wearing t-shirts emblazoned with the words, "Forget princess, I want to be an astrophysicist."
Keep reading...
Show less
www.youtube.com
By Andy Rowell
Any day now we will truly witness climate change in action. Within days at worst, maybe weeks at best, scientists predict that a huge section of the Larsen C ice shelf in Antarctica will break off into the ocean, in what is called a major "carving" event.
Keep reading...
Show less
www.youtube.com
President Trump visited Cedar Rapids, Iowa on June 21 to speak to a large crowd in the U.S. Cellular Center at a political rally organized by his campaign.
As Trevor Noah noted during The Daily Show episode last night (starts at 2:25), the real reason Trump has these rallies is to "get back in front of his loyal crowds and feed of their energy." Noah believes that "Trump supporters are so on board with their dude he can say anything and they'll come along for the ride."
Keep reading...
Show less
The Kamuthi solar plant in the southern Indian state of Tamil Nadu.
The rapid growth in renewable energy continues to put a dent in the demand for coal.
Coal India, the world's biggest coal mining company and producer of 82 percent of the country's coal, announced the closure of 37 mines that are financially "unviable."
Keep reading...
Show less
www.youtube.com
By Katie O'Reilly
Two years ago—long before coal became one of the most dominant and controversial symbols of the 2016 presidential election—Bloomberg Philanthropies approached production company RadicalMedia with the idea of creating a documentary exploring the U.S. coal mining industry. Last spring, they brought on Emmy-nominated director Michael Bonfiglio, tasked with forging a compelling story out of the multitudes of facts, statistics and narratives underlying the declining industry.
Keep reading...
Show less
Mayors for 100% Clean Energy
Keep reading...
Show less
www.youtube.com
Thanks to Newsy for their coverage on Thursday's news that the U.S. Fish and Wildlife Service removed grizzly bears in the Greater Yellowstone region from the Endangered Species List.
Watch above as Newsy explains that the decision comes despite serious concerns from the environmental and scientific community, and Tribal Nations about a declining, isolated grizzly bear population with diminishing food resources and record-high mortalities.
Keep reading...
Show less
www.facebook.com
By Francine Kershaw
Seismic airguns exploding in the ocean in search for oil and gas have devastating impacts on zooplankton, which are critical food sources for marine mammals, according to a new study in Nature. The blasting decimates one of the ocean's most vital groups of organisms over huge areas and may disrupt entire ecosystems.
And this devastating news comes on the heels of the National Marine Fisheries Service's proposal to authorize more than 90,000 miles of active seismic blasting. Based on the results of this study, the affected area would be approximately 135,000 square miles.
Keep reading...
Show less
By Jill Richardson
Is coconut oil:
good for you
bad for you
neither good nor bad
scientists don't know
The subject of this question is the source of a disagreement. Initially, the question was thought to be settled decades ago, when scientist Ancel Keys declared all saturated fats unhealthy. Coconut oil, which is solid at room temperature, is a saturated fat.
Keep reading...
Show less


Get EcoWatch in your inbox