This website uses cookies to ensure you get the best experience while browsing it. By clicking 'Got It' you're accepting these terms.
Increased Frequency of Earthquakes Linked to Fracking Wastewater Injection Wells
Jul. 12, 2013 12:41PM EST
Fracking
By Laura Beans

The increased rates of earthquakes occurring in the central and eastern U.S over the past few years is a growing cause of concern. Two recent reports delve into the probability of man-made, wastewater induced earthquakes.
According to the U.S Geological Survey (USGS), more than 300 earthquakes above a magnitude 3.0 occurred from 2010-2012, compared with a much lower national average rate of 21 earthquakes per year observed from 1967-2000. The USGS also found that the increase in seismic activity coincides with the injection of wastewater in deep disposal wells. Much of this is a byproduct of oil and gas production which uses the process of fracking for extraction. The fracking wastewater is disposed of into wells specifically designed and approved for this purpose.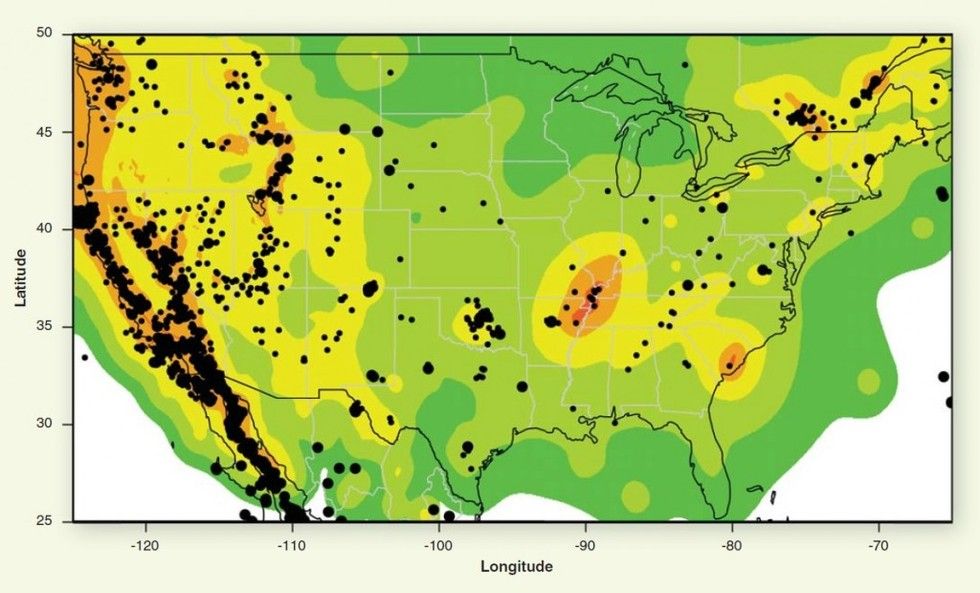 The journal Science published a report Thursday, concluding that powerful earthquakes thousands of miles away can trigger swarms of minor quakes near wastewater-injection well sites like those used in oil and gas recovery, sometimes followed months later by quakes big enough to destroy buildings.
What seems to happen is that wastewater injection leaves local faults "critically loaded," or on the verge of rupture. Even weak seismic waves from faraway quakes are therefore enough to set off a throngs of small quakes in a process called "dynamic triggering."
Geologists have known for 50 years that injecting fluid underground, by the impoundment of water in reservoirs, surface and underground mining, can increase pressure on seismic faults and make them more likely to slip. The result is an induced quake.
The "natural gas boom" of recent years has been linked to an increase in small to moderate earthquakes. According to Rueters, seismologists at Columbia University say they have identified three earthquakes—in Oklahoma, Colorado and Texas—that were triggered at injection-well sites by major quakes a far distance away.
The seismic waves from an 8.8 quake in Maule, Chile, in February 2010 triggered a 4.1 magnitude quake in Prague, OK—site of the Wilzetta oil field—some 16 hours later. Months of smaller tremors in Oklahoma ensued, and then on Nov. 6, 2011, a 5.7 magnitude quake—the largest yet associated with wastewater injection—hit the city of Prague. It destroyed 14 homes, buckled a highway and injured two people.
"The fluids [in wastewater injection wells] are driving the faults to their tipping point," said Nicholas van der Elst of Columbia's Lamont-Doherty Earth Observatory who led the study. 
Before the advent of injection wells, triggered earthquakes were a purely natural phenomenon. Now, according to the Science paper, triggered quakes can occur where human activity has weakened faults.
Visit EcoWatch's FRACKING and FRACKING WASTEWATER pages for more related news on this topic.
——–

EcoWatch Daily Newsletter
The Democratic primary candidates take the stage during Tuesday's debate. SAUL LOEB / AFP via Getty Images
On Tuesday night, the Democratic presidential candidates gathered for what The Guardian said was the largest primary debate in U.S. history, and they weren't asked a single question about the climate crisis.
A. Battenburg / Technical University of Munich
By Sarah Kennedy
Algae in a pond may look flimsy. But scientists are using algae to develop industrial-strength material that's as hard as steel but only a fraction of the weight.
Variety of fermented food korean traditional kimchi cabbage and radish salad. white and red sauerkraut in ceramic plates over grey spotted background. Natasha Breen / REDA&CO / Universal Images Group / Getty Image
Even if you've never taken probiotics, you've probably heard of them.
These supplements provide numerous benefits because they contain live microorganisms, such as bacteria or yeast, which support the healthy bacteria in your gut (1, 2, 3, 4).
Pexels
Singapore will become the first country in the world to place a ban on advertisements for carbonated drinks and juices with high sugar contents, its health ministry announced last week. The law is intended to curb sugar consumption since the country has some of the world's highest diabetes rates per capita, as Reuters reported.
A typical adult takes around 20,000 breaths per day. If you live in a megacity like Beijing, with many of those lungfuls you're likely to inhale a noxious mixture of chemicals and pollutants.
Fred Stone holds his brown swiss cow Lida Rose at his Arundel dairy farm on March 18 after a press conference where he spoke about PFAS chemical contamination in his fields. Gregory Rec / Portland Portland Press Herald via Getty Images
By Susan Cosier
First there was Fred Stone, the third-generation dairy farmer in Maine who discovered that the milk from his cows contained harmful chemicals. Then came Art Schaap, a second-generation dairy farmer in New Mexico, who had to dump 15,000 gallons of contaminated milk a day.
Protesters attend the 32nd annual Fur-Free Friday demonstration on Nov. 23, 2018 in Beverly Hills, California. Ella DeGea / Getty Images
California Governor Gavin Newsom signed into law a bill that that bans the sale and manufacture of fur products in the state. The fur ban, which he signed into law on Saturday, prohibits Californians from selling or making clothing, shoes or handbags with fur starting in 2023, according to the AP.
By Simon Evans
During the three months of July, August and September, renewables generated an estimated total of 29.5 terawatt hours (TWh), compared with just 29.1TWh from fossil fuels, the analysis shows.