Increase in Tar Sands-Derived Fuel Will Set States Back on Emission Standards and Climate Goals
Motorists from Maine to Maryland will soon be filling their tanks with gas increasingly derived from dirty Canadian tar sands oil, a new report from the Natural Resources Defense Council (NRDC) says.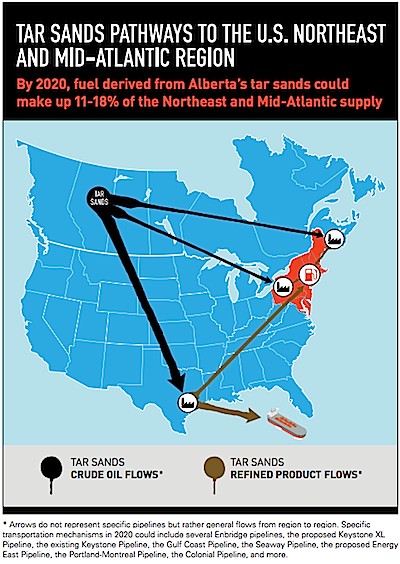 A flood of dirty fuel into these East Coast states would undercut their efforts to reduce carbon pollution. The NRDC report, What's in Your Tank? Northeast and Mid-Atlantic States Need to Reject Tar Sands and Support Clean Fuels, found that under current plans, tar sands-derived gasoline supplies in 11 Northeast and Mid-Atlantic states (plus the District of Columbia) will soar from less than one percent in 2012 to 11.5 percent of the total by 2020, due to increased imports from Canadian refineries, fresh supplies of refined tar sands products from the Gulf Coast and production from East Coast refineries that would obtain tar sands crude via rail and barge.
An influx of carbon-intensive fuels into the region, which in 2012 was virtually tar sands-free, will hurt the efforts to combat climate change, which has already caused billions of dollars in damage in those states, according to the report. 
"Dirty gasoline supplies in the Northeast and Mid-Atlantic are set to rise significantly, unless states take steps to keep out high-carbon fuel," said Danielle Droitsch, director of the NRDC Canada Project. "By 2015 the volume of tar sands-derived fuel in the Northeast could grow six-fold, compared to 2012. Unless these states move as quickly as possible to clean energy, their efforts to combat climate change will suffer."
The new Gulf Coast Pipeline, which will bring tar sands crude from Cushing, OK, to refineries on the Gulf Coast, makes it even more urgent for communities and policy-makers to take action to keep tar sands out of the region, she said.

All the states in the Mid-Atlantic and Northeast region have developed state action plans or enacted legal requirements to cut dangerous carbon pollution, which is the major driver of climate change. Among the steps they've taken: clean car and zero-emission vehicle performance standards, the purchase of clean buses and other fleet vehicles, and funding clean fuel infrastructure, such as charging stations for plug-in vehicles.
But these important carbon savings would be squandered by using gasoline from tar sands, which emits 17 percent more carbon pollution than conventional gasoline measured on a life-cycle basis (from initial extraction to burning in vehicles, or "well-to-wheels".) 
If the controversial Keystone XL pipeline for tar sands oil from Canada to the U.S. is approved by President Obama, the region's share of gas from tar-sands crude could rise even further, according to the report.
The report said the state leaders with the support of citizens and local communities need to take steps to clean up transportation. "First, they should demand that gasoline suppliers disclose the origin and the carbon intensity of the fuel, i.e., the amount of carbon emitted measured on a 'well-to-gas-tank' basis," Droitsch said. "Second, they should enact policies to discourage the greater use of carbon-intensive fuels."
"People have the right to know what is going into their fuel tank," Droitsh added.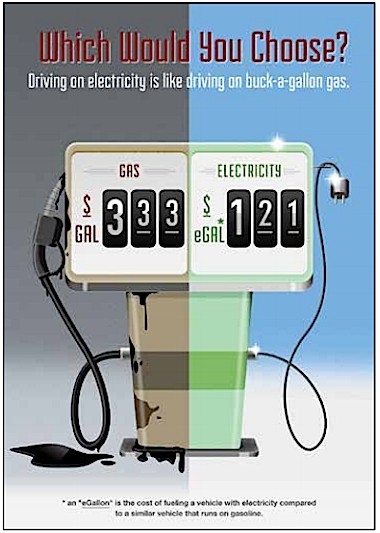 The extraction and refining of oil from Alberta's vast tar sands region, an area the size of Florida, is an energy-intensive process that destroys carbon-trapping forest lands and emits 81 percent more carbon pollution than conventional oil extraction and refining ('well-to-tank'). NRDC and others oppose Keystone XL, which would carry Alberta's tar sands oil through the heartland of America to Gulf Coast refineries, in part because it would enable a vast expansion in tar sands production. As NRDC has explained, Keystone XL is primarily an export pipeline, but some portion of its refined products would flow to the East Coast. 
If dirty tar sands fuel continues on track to become a significant share of supplies in the Northeast and Mid-Atlantic, that would add millions more tons of carbon pollution to the atmosphere each year—just as the region is aiming to cut such pollution under the landmark Regional Greenhouse Gas Initiative, a nine-state pact to combat climate change by reducing carbon pollution from power plants, according to the report. Hurricanes Sandy and Irene—the type of extreme weather that will become more frequent with climate change—have already wreaked billions of dollars of damage in the Northeast and Mid-Atlantic states.
The report also underscores the importance of promoting a wide variety of low-carbon and no-carbon transportation alternatives, from cleaner fuels to buses and rail, bike lanes and pedestrian-friendly city planning.
Visit EcoWatch's TAR SANDS and TRANSPORTATION pages for more related news on this topic.

Bill Maher is sick of billionaires' obsession with Mars, more like "Mars-a-Lago," he said.
In a new animation produced by ATTN:, the popular talk show host of Real Time, discusses the perils of our planet, including how "climate change is killing us."
Keep reading...
Show less
Dr. Benjamin D. Santer, research scientist
A group of prominent climate scientists have written a study explicitly refuting statements made by the U.S. Environmental Protection Agency Administrator Scott Pruitt on climate data. During his Senate confirmation hearing, Pruitt claimed in a written response that satellite data shows a "leveling off" of warming over the past two decades.
Keep reading...
Show less
By David Pomerantz
The Nevada Assembly passed a bill Wednesday that would dramatically increase the growth of renewable energy in the state, but Sheldon Adelson, the casino magnate and major donor to Donald Trump, is attempting to prevent the bill from becoming law.
Keep reading...
Show less
Matt Crossick
By Yosola Olorunshola
Whether it's through fashion or protest, Vivienne Westwood is not a woman afraid of making a statement.
On May 23, she rocked up to the residence of the Archbishop of Canterbury in London with a special guest—the Grim Reaper—to issue a strong statement on the Church of England's position on fracking.
Keep reading...
Show less
By Paul Brown
The food industry and big agricultural concerns are driving climate change and at the same time threatening to undermine efforts to feed the world's growing population, according to GRAIN, an organization that supports small farmers.
Particularly singled out for criticism are the large chemical fertilizer producers that have gained access to the United Nations talks on climate change. GRAIN accuses them of behaving like the fossil fuel companies did in the 1990s, pushing false information in the hope of delaying real action on climate change.
Keep reading...
Show less
By Sydney Robinson
President Trump has no doubt been given a long list of extravagant, elaborate gifts in his lifetime, but the gift given to him today by Pope Francis may not make it on his most favorite list.
Keep reading...
Show less
By John Rogers
Maybe it's because I first started working on clean energy while serving in the Peace Corps he founded, or maybe it's my years of working on these issues from his home state. But I can't help thinking about the 100th anniversary of John F. Kennedy's birth, and connecting his stirring rhetoric to the energy challenges of our times.
Here's what our 35th president might have said about the challenges of energy transition and the opportunities in clean energy:
"Change is the law of life. And those who look only to the past or present are certain to miss the future."
Keep reading...
Show less
May. 24, 2017 01:47PM EST
Keep reading...
Show less


Get EcoWatch in your inbox