This website uses cookies to ensure you get the best experience while browsing it. By clicking 'Got It' you're accepting these terms.


The best of EcoWatch, right in your inbox. Sign up for our email newsletter!
Incompetent Decontamination Effort Risking Health of Fukushima Residents
Dec. 07, 2011 10:00AM EST
Energy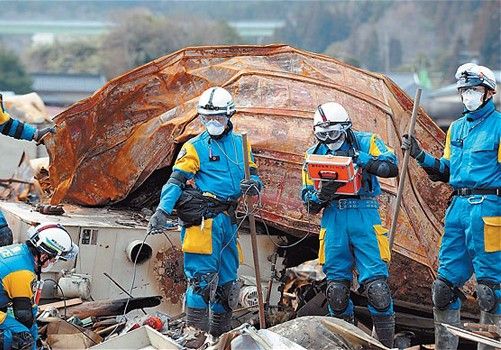 Nine months after the triple meltdown at the Fukushima Daiichi nuclear plant, Greenpeace renewed its demand Dec. 7 for urgent relocation of pregnant women and children living in contaminated areas of Fukushima City, Japan, after finding radioactive hot spots and signs that the official decontamination program is both uncoordinated and thoroughly inadequate.
In early December, the environmental organization conducted radiation monitoring in the Watari and Onami neighbourhoods of Fukushima City, roughly 60km from the stricken nuclear plant, finding hot spots of up to 37 microSieverts per hour in a garden in suburban Watari, and 10.1 microSieverts per hour in bags of dirt, seemingly abandoned, on a road in Onami1.
Greenpeace's mapping of dose rates in Watari shows that people are at risk of being exposed to more than 10 times the 1 milliSievert per year international maximum for radiation doses. The Greenpeace radiation experts found that contamination levels in the Fukushima neighborhoods were comparable to areas designated as evacuation zones, such as Minamisoma. Despite this, authorities have decided only to decontaminate the Fukushima City communities, without giving the residents the right to relocate—including pregnant women and small children, who are at the most risk
"The people of Onami and Watari are facing clear risks to their health and must be given the right to relocate with full support," said Kazue Suzuki, Greenpeace Japan nuclear campaigner. "The government must not discriminate between residents in similar situations2. At very least pregnant women and children must be evacuated from risky areas until sufficient decontamination is completed."
Although official decontamination work has been underway in Onami for two months, only 35 houses out of 370 have reportedly been completed to date, with residents continually exposed to radiation as they wait. In the Watari area, no decontamination work has yet started, and official radiation monitoring is limited to just 1,038 houses out of 6,700. Worried residents wanting rapid decontamination are being left to do the work themselves without clear information about the risks or safety training—further threatening public health.
In August 2011, Greenpeace called on the authorities to urgently organize and deploy thousands of workers to decontaminate areas such as Fukushima City and Koriama, and presented new Prime Minister Yoshihiro Noda with a detailed list of technical demands3. However, these demands have not been met, and the situation for many Fukushima residents has clearly worsened since then.
"Radioactive waste is being buried on the same properties it is removed from, as there are still no proper waste storage sites, and decontamination work is spreading contamination rather than removing it4," said Ike Teuling, Greenpeace International radiation expert. "The situation is rapidly spinning out of control, and the Japanese government seems to have abandoned its responsibility to protect its population as it has left local authorities, who lack the necessary knowledge and equipment, to clean up this mess."
For more information, click here.
—————
1. Hotspots measured at 10cm. The latest raw data and Google maps from this round of radiation monitoring are available by clicking here.

2. Fukushima City levels for decontamination: 2 microSievert per hour at 1m for households with children or pregnant women, 2.5 microSievert per hour at 1m for other households. Minamisoma levels for evacuation: 2 microSievert per hour at 50cm for households with children or pregnant women.
3. A Greenpeace letter to the Japanese national Government calling for stronger protective and decontamination measures is available by clicking here. For a detailed list of demands, click here.

4. Examples of bad decontamination practices:
Decontamination waste (top soil) of one house in Onami buried in an opposite field, risking further contamination spread.
Decontamination run-off water with levels up to 9.8 microSv per hour at 10 cm on the street in Onami. The contamination is not removed but spreads in the environment with this method. * Bags with decontamination waste left on a street in Onami with levels up to 10.1 microSievert/h at 10 cm. 
Sub-contractors decontaminating a house in Onami with high-pressure hoses without wearing face-masks.
Decontamination of houses in Onami is done in two phases: first washing the house, second removing the top soil. In between phases the residents are allowed to return to their houses, increasing the risk of further spreading contamination. 
Inhabitants of Watari are asked to decontaminate their own houses. One resident buried waste in a corner of his garden only one meter away from the house. Radiation levels at that spot were 1.1 microSiever/h at 1 meter.
Greenpeace is an independent global campaigning organization that acts to change attitudes and behavior, to protect and conserve the environment, and to promote peace.
EcoWatch Daily Newsletter
Matt Cardy / Stringer / Getty Images
The Guardian is changing the way it writes about environmental issues.
Blueberry yogurt bark. SEE D JAN / iStock / Getty Images Plus
Having nutritious snacks to eat during the workday can help you stay energized and productive.

A 2017 flood in Elk Grove, California. Florence Low / California Department of Water Resources
By Tara Lohan
It's been the wettest 12 months on record in the continental United States. Parts of the High Plains and Midwest are still reeling from deadly, destructive and expensive spring floods — some of which have lasted for three months.
Mounting bills from natural disasters like these have prompted renewed calls to reform the National Flood Insurance Program, which is managed by Federal Emergency Management Agency and is now $20 billion in debt.
Jennifer A. Smith / Moment / Getty Images
By Brenda Ekwurzel
When temperatures hit the 80s Fahrenheit in May above latitude 40, sun-seekers hit the parks, lakes, and beaches, and thoughts turn to summer. By contrast, when temperatures lurk in the drizzly 40s and 50s well into flower season, northerners get impatient for summer. But when those 80-degree temperatures visit latitude 64 in Russia, as they just did, and when sleet disrupts Mother's Day weekend in May in Massachusetts, as it just did, thoughts turn to: what is going on here?
By Paula Ezcurra and Octavio Aburto
Thousands of hydroelectric dams are under construction around the world, mainly in developing countries. These enormous structures are one of the world's largest sources of renewable energy, but they also cause environmental problems.
Activists in North Dakota confront pipeline construction activities. A Texas bill would impose steep penalties for such protests. Speak Freely / ACLU
By Eoin Higgins
A bill making its way through the Texas legislature would make protesting pipelines a third-degree felony, the same as attempted murder.
An Australian flag flutters in the wind in a dry drought-ridden landscape. Virginia Star / Moment / Getty Images
Australia re-elected its conservative governing Liberal-National coalition Saturday, despite the fact that it has refused to cut down significantly on greenhouse gas emissions or coal during its time in power, The New York Times reported.
Tree lined street, UK. Richard Newstead / Moment / Getty Images