This website uses cookies to ensure you get the best experience while browsing it. By clicking 'Got It' you're accepting these terms.
In 17 Days Vermont's Historic GMO Labeling Law Goes Into Effect: Is Big Food Ready?
Jun. 13, 2016 11:22AM EST
Food
In less than three weeks, Vermont will enact a historic mandate that requires labels on products containing genetically modified (GMOs) ingredients. The no-strings-attached bill, which the country's second smallest state passed on May 2014 and goes into effect July 1, has rippled across the food industry and has sparked a bitter and expensive food fight from opponents of the law.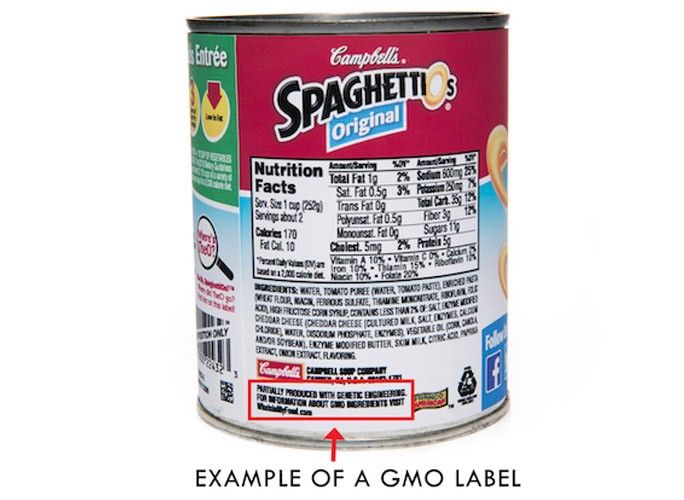 But with only 17 days to go, it looks like Big Food has unenthusiastically surrendered despite spending millions upon millions to fight state-by-state labeling mandates in court and to lobby Congress.
In March, Congress ultimately failed to pass an industry-approved bill introduced by Sen. Pat Roberts (R-Kan.) that would have prevented states from requiring labeling of GMO foods and stopped pending state laws that require labeling to go into effect.
Sen. Charles Grassley, a Senate Agriculture committee member, indicated it may be too late to enact a standard, nationwide labeling approach.
"I see it as very difficult to get a compromise," the Iowa Republican told the Des Moines Register earlier this month. "I hope something would develop this week that we could get something passed, but frankly, I doubt it."
According to Politico's latest Morning Agriculture blog, "Senate Agriculture committee chairman Pat Roberts and ranking member Debbie Stabenow are still trying to find common ground on GMO labeling legislation amid warnings from the food manufacturing, agriculture and biotechnology industries that time is running out before Vermont's mandatory labeling law takes effect July 1."
Congress, which returned from recess on June 6, now has only 14 working days to resolve the issue before the July 1 deadline.
Big Food believes that labeling GMO products for one state without labeling them for the 49 others would be costly, warning that labels would force the buck onto the consumer, or even scare them away completely. Although the food industry has consistently maintained the health and safety of GMOs, the overwhelming majority of Americans support labels on foods with such ingredients.
In recent months, titans such as Campbell's Soup Co., General Mills, Kellogg's and more have decided on their own to label such products sold nationwide.
As Minnesota's Star Tribune reported, these food companies appear resigned to GMO labeling despite having plenty of reservations:
In March, shortly after the Senate declined to vote on a national ban on mandatory on-package GMO labeling, General Mills said it would label products to comply with the Vermont law and distribute those products nationwide while awaiting a national standard.
In an e-mail exchange with the Star Tribune, a company spokeswoman called the packaging change "costly." Asked whether General Mills would now accept a national law that requires mandatory on-package GMO labels, the spokeswoman said, "The most important thing at this point is that we set a national standard so that we have certainty moving forward."
The editorial board of the Packer, a publication covering the fresh produce industry, came to terms with Vermont's label law in an op-ed, How to deal with Vermont.
The board reported on the United Fresh Produce Association's new white paper outlining steps that produce growers and retail members should take to prepare for Vermont's GMO law, and also bitterly huffed that shippers could simply choose not to work with the tiny state:
Shippers of GM-free product also don't need to do anything, and it seems unwise to us to begin labeling product as GM-free, thus unnecessarily spooking the consumer.
Of course, shippers could also decline to do business with receivers in the 49th-most populous state, home to about 600,000 consumers.
The United Fresh Produce Association's white paper is similar to the road map issued by the the Grocery Manufacturers Association (GMA), a trade group which represents more than 300 food and beverage titans such as ConAgra, Nestlé, Coca-Cola, Pepsi, Kellogg and Hershey.
As EcoWatch exclusively reported, back in October the GMA posted on its website a six page, 29-point FAQ in order "to respond to questions that companies have about compliance with the Vermont law," Roger Lowe, the executive vice president of GMA's Strategic Communications, told us via email.
It's clear that food companies are quietly preparing for Vermont's seemingly inevitable label law. Starting in 2017, companies that fail to comply with the state's GMO labeling law will be punished with a $1,000 fine each day if a product is not properly labeled.
Many other states are also working on their own labeling initiatives, with Connecticut and Maine enacting their own mandate when similar bills are passed by at least four other states.
YOU MIGHT ALSO LIKE
Brazil Won't Buy U.S. GMO Corn, Highlights Worldwide Divide Over GMOs
First Commercial Crop of GMO Arctic Apples About to Hit Market
EU Fails to Approve 'Technical Extension' for Weed-Killer Glyphosate
EcoWatch Daily Newsletter
An aerial view of the Kudala Sangama submerged in floodwaters about 460 kms of the South Indian city of Bangalore on Aug. 10. Floods have displaced hundreds of thousands across much of India with the southern state of Kerala worst hit, authorities said on Aug. 10. STR / AFP / Getty Images
The southern India state of Kerala, having lost almost a million homes in two disastrous floods in 2018 and 2019, is trying to adapt to climate change by building homes for the poor that are flood-resistant.

The Paradise Fossil Plant in Kentucky. Coal-fired power plants are a major source of air pollution.
TVA / GPA Photo Archive / Flickr /
CC BY 2.0
Tweeting that the U.S. has the cleanest air in the world does not make it so. Not only do we rank 10th, but a new study says that after steady improvement during the Obama-era, air pollution has gotten worse while Donald Trump has been president.
In this Oct. 7 handout photo from the Aracaju Municipal Press Office, workers are removing oil from Viral Beach, in Aracaju, Brazil. The spill has been polluting Brazil's beaches since early September. Aracaju Municipal Press Office / AP
More than 1,000 miles of shoreline in Brazil are now contaminated by a mysterious oil spill. that has lasted for weeks as the country struggles to clean what may be its largest oil spill in history.
Nitrogen dioxide and nitrogen oxides, the pollutants released by diesel vehicles are a major source of air pollution in London. Jack Taylor / Stringer / Getty Images
On days where air pollution is higher, hundreds of people across nine major cities in England are suffering from more potentially fatal cardiac arrests or heading to the hospital for strokes or severe asthma attacks, according to new research from King's College in London.
A diet high in fish and vegetables can help keep your gut healthy. Linda Raymond / E+ / Getty Images
By Heather Cruickshank
Trillions of bacteria and other microbes live in the human digestive system. Together, they form a community that's known as the gut microbiota.
Many bacteria in the microbiota play important roles in human health, helping to metabolize food, strengthen intestinal integrity and protect against disease.
The message of the global movement to ban fracking and get off fossil fuels envisions a different future, one that starts with cutting off pollution at the source. cta88 / iStock / Getty Images Plus