This website uses cookies to ensure you get the best experience while browsing it. By clicking 'Got It' you're accepting these terms.
Improve Your World: No Fracking, Yes Renewable Energy
May. 12, 2013 08:39AM EST
Fracking
[Editor's note: Students from the State University of New York (SUNY) School of Environmental Science and Forestry in Syracuse, NY held their 2013 graduation ceremony yesterday. SUNY ESF's motto is "Improve Your World." Dr. Sandra Steingraber was given an honorary doctoral degree for her life's work on environmental health and science, including her work to fight fracking in New York. She was given a standing ovation for her inspirational speech (see below) and called on our future environmental scientists to take action.]

What an amazing moment. Thank you. And what makes this a special honor for me is not just that SUNY-ESF is the nation's oldest and most venerable college of environmental science, which is my field of study, too, but also that its official motto consists of the three words that I happen to live by.
Those words—for the guests here who may not know them—are not a Latin phrase about the nature of truth and wisdom. They are a set of simple directions in English.
Improve your world.
Isn't that great?
But embracing improve your world as your personal motto for life requires at least two things. One is to possess really good data on what's wrong with the world. And that means staying awake and paying attention and being willing to look at hard truths without flinching.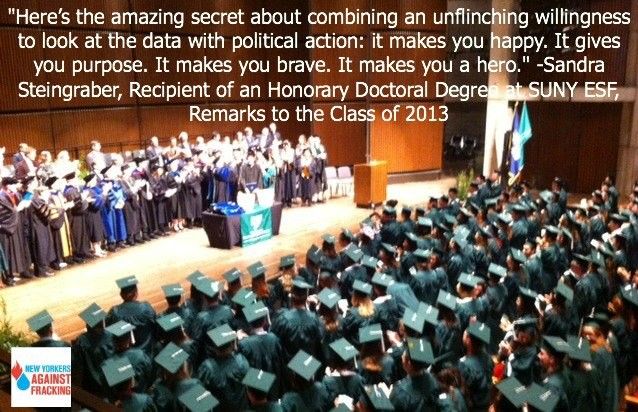 This week, climate scientists reported that carbon dioxide levels in the atmosphere have overshot 400 parts per million. That's a problem. Carbon dioxide traps heat, destabilizes our climate, and warms and acidifies our oceans in ways that are harmful to the world's plankton stocks. We need plankton. They provide us half the oxygen we breathe.
Last month, ecologists reported that the world's bees are in trouble. That's a problem. Insect pollination is an ecosystem service—aka unpaid labor donated by another species—that provides us one third of the food that we eat.
Last year, a financial analyst reported, in the science journal called Nature, soaring commodity prices and declining grain harvests due, in no small part to our increasingly unreliable climate. In order to stabilize the climate, we would need to leave at least 80 percent of the world's proven fossil fuel reserves in the ground.
"As a former oil analyst," says the author, Jeremy Grantham, "I can easily calculate oil companies' enthusiasm to leave 80 percent of their value in the ground—absolutely nil."
That's a big problem. How do we improve our world if there exists a fundamental conflict between the business plans of the fossil fuel industry and the conditions for life itself? We can't.
Are you flinching yet?
Well, what if we blew up the nation's bedrock and fracked out the bubbles of natural gas they contain and burned those instead of coal? Would that keep us from hurdling off the cliff of climate catastrophe?
The data say no.
Well, then, what if we divorced the fossil fuel industry, and, over the next two decades, transitioned entirely to wind, water and solar energy while, at the same time, reducing our per capita energy consumption by half. Would that work? In fact, that's the only course that gives us a fighting chance.
Is it doable? The best data we have, from Stanford University, say yes.
What if we turned New York State into a model for that national plan by closing the door to fracking and convincing our governor to embrace a plan of economic development based on renewable energy? What if farmers could supplement their income not by allowing the gas industry to turn their land into an industrial proving grounds, blasting apart the bedrock under their fields and pastures with a club of toxic chemicals as though it were a piñata, but, instead, by paying them to erect solar arrays that fed into smart grids, into which we could then plug our electric cars?
Is that doable? Is it realistic? Is it more or less realistic than imagining we can carry on without pollinators, plankton stocks, uncontaminated drinking water and reliable grain harvests?
Does that plan—fossil fuel abolition—allow us to improve the world? In my mind and heart, in the way I read the data, the answer is yes.
And that brings us to the second thing that improve your world requires: the willingness to do something based on the data.
My date today is my friend and colleague Renee Vogelsang, who is an organizer for the anti-fracking movement. Do you know what's on Renee's email signature line? A quote from the Quaker civil rights leader and gay rights activist Bayard Rustin: "The proof that one truly believes is in action."
Now I am a contemplative person. I research a lot and write a lot. Renee contemplates too, but she almost never has a thought without acting on it. Renee and I met in 2011 when, thanks to all the research and writing I do, I became the lucky winner of the Heinz Award, which comes with a $100,000 cash prize. I decided to donate that check to the anti-fracking movement, and it became the seed money for the coalition, New Yorkers Against Fracking.
It began with a handful of organizations but—thanks to Renee and her activist colleagues—New Yorkers Against Fracking has now blossomed into a mighty alliance of more than 200 groups, 1,000 businesses, 500 faith leaders, student chapters on every campus, and dozens of scientists and medical professionals. Just like the abolitionists of old, we are a powerful social movement for change.
Here's the amazing secret about combining an unflinching willingness to look at the data with political action: it makes you happy. It gives you purpose. It makes brave. It makes you a hero.
The people who are truly depressed and scared about our environmental situation are the people who aren't doing anything about it. They suffer from what psychologists called well-informed futility system. They suffer from what I call being a good German in the face of an ecological holocaust. But that's a choice. Instead of closing your eyes to hard environmental truths and pretending everything is fine, you could choose to be a member of the French resistance. You could choose to be an abolitionist. You could choose to fight.
And here's another secret: taking action makes you a better environmental scientist. There is a difference between being able to analyze environmental data objectively, which I believe in, and being neutral about the environmental crisis, which I don't believe in.
It turns out that it's nobody's job to take the hard truths of environmental data into the political arena and make sure they inform our laws and policies and our economic structures. We have to do that work ourselves.
And doing it is what makes science moral.
Doing the work of political action has taken me to all kinds of places—to the White House, to the European Parliament, to town halls and church basements. And last month, it took me to the Chemung County Jail. As an inmate. I was sentenced to 15 days of incarceration for an act of civil disobedience that involved blockading a compressor station on the banks of Seneca Lake. This lake is a source of drinking water for 100,000 people and under it, in abandoned salt caverns, the gas industry seeks to store billions of gallons of fracked, pressurized explosive petroleum gases trucked in from out of state.
Inside cell #1 in cell block 5D, I wrote my annual Earth Day lecture with a stubby pencil on scraps of paper and then managed to smuggle it out. I consider it to be the most important scientific statement I've ever made.
And, while incarcerated, I learned some new skills—like how to walk up and down a set of stairs while wearing ankle manacles, handcuffs and an orange jumpsuit.
It's a good skill to have. And it's easier than walking down a hospital corridor while pushing an IV drip and wearing a backless, blue cotton gown, which is the uniform of a cancer patient—an identity of mine for 30 years.
The actions that caused me to wear an orange jumpsuit were not neutral.
But neither were the actions taken by the industries in my hometown that contaminated the air and water of my childhood with chemical carcinogens and caused me to grow up as one data point in a cluster of cancers.
I was diagnosed with bladder cancer at age 20 and it was that experience that led me to environmental science in the first place.
Today I wear an academic robe. But I would rather wear an orange jumpsuit so that my children do not have to wear a blue hospital gown. Wouldn't you?
I'll close with an invitation, which you are the first to receive. To all you newly minted environmental scientists and those who love you, to all those who take up the motto improve your world as your life's work, join me in Albany on June 17—which is the 128th anniversary of the Statue of Liberty's arrival in New York. On June 17, we will rally and march to declare New York's independence from the fossil fuel empire: no to fracking; yes to renewable energy.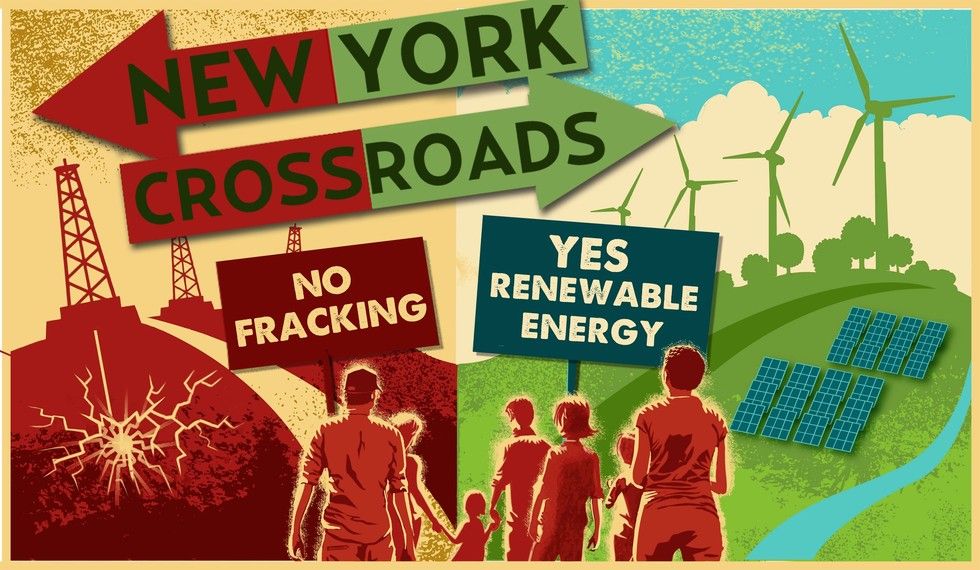 I believe this will be the lunch-counter moment of our age, and I warmly invite you to march with me. My invitation is especially extended to SUNY ESF's illustrious graduate, Commissioner Joseph Martens of New York's Department of Environmental Conservation. Join us, Joe!
What we love we must protect. That's what love means.
And to all of ESF's graduates today: Congratulations, stumpies! In the days ahead, I look forward to blending your institution's motto, improve your world, with that of my own organization: NOT ONE WELL.
Visit EcoWatch's FRACKING page for more related news on this topic.
——–
Sign the petition today, telling President Obama to enact an immediate fracking moratorium:

EcoWatch Daily Newsletter
EPA Administrator Andrew Wheeler signs the so-called Affordable Clean Energy rule on June 19, replacing the Obama-era Clean Power Plan that would have reduced coal-fired plant carbon emissions. U.S. Environmental Protection Agency / Twitter
By Elliott Negin
On July 8, President Trump hosted a White House event to unabashedly tout his truly abysmal environmental record. The following day, coincidentally, marked the one-year anniversary of Andrew Wheeler at the helm of the U.S. Environmental Protection Agency (EPA), first as acting administrator and then as administrator after the Senate confirmed him in late February.
A timber sale in the Kaibab National Forest. Dyan Bone / Forest Service / Southwestern Region / Kaibab National Forest
By Tara Lohan
If you're a lover of wilderness, wildlife, the American West and the public lands on which they all depend, then journalist Christopher Ketcham's new book is required — if depressing — reading.
Golde Wallingford submitted this photo of "Pure Joy" to EcoWatch's first photo contest. Golde Wallingford
EcoWatch is pleased to announce our third photo contest!

Somalians fight against hunger and lack of water due to drought as Turkish Ambassador to Somalia, Olgan Bekar (not seen) visits the a camp near the Mogadishu's rural side in Somalia on March 25, 2017. Sadak Mohamed / Anadolu Agency / Getty Images
World hunger is on the rise for the third consecutive year after decades of decline, a new United Nations (UN) report says. The climate crisis ranks alongside conflict as the top cause of food shortages that force more than 821 million people worldwide to experience chronic hunger. That number includes more than 150 million children whose growth is stunted due to a lack of food.
Eduardo Velev cools off in the spray of a fire hydrant during a heatwave on July 1, 2018 in Philadelphia. Jessica Kourkounis / Getty Images
By Adrienne L. Hollis
Because extreme heat is one of the deadliest weather hazards we currently face, Union of Concerned Scientist's Killer Heat Report for the U.S. is the most important document I have read. It is a veritable wake up call for all of us. It is timely, eye-opening, transparent and factual and it deals with the stark reality of our future if we do not make changes quickly (think yesterday). It is important to ensure that we all understand it. Here are 10 terms that really help drive home the messages in the heat report and help us understand the ramifications of inaction.
Senator Graham returns after playing a round of golf with Trump on Oct. 14, 2017 in Washington, DC. Ron Sachs – Pool / Getty Images
Lindsey Graham, the South Carolina Senate Republican who has been a close ally of Donald Trump, did not mince words last week on the climate crisis and what he thinks the president needs to do about it.
A small Bermuda cedar tree sits atop a rock overlooking the Atlantic Ocean. todaycouldbe / iStock / Getty Images Plus
By Marlene Cimons
Kyle Rosenblad was hiking a steep mountain on the island of Maui in the summer of 2015 when he noticed a ruggedly beautiful tree species scattered around the landscape. Curious, and wondering what they were, he took some photographs and showed them to a friend. They were Bermuda cedars, a species native to the island of Bermuda, first planted on Maui in the early 1900s.
krisanapong detraphiphat / Moment / Getty Images
By Grace Francese
You may know that many conventional oat cereals contain troubling amounts of the carcinogenic pesticide glyphosate. But another toxic pesticide may be contaminating your kids' breakfast. A new study by the Organic Center shows that almost 60 percent of the non-organic milk sampled contains residues of chlorpyrifos, a pesticide scientists say is unsafe at any concentration.