Imports of Genetically Engineered Salmon Blocked Until Labeling Requirements Are Established
The Food and Drug Administration (FDA) announced earlier this month it would block all imports of AquaBounty's recently approved genetically engineered (GE) salmon until the agency had determined how to label the novel product. The agency approved the salmon in October without any mandatory labeling indicating that the product is engineered with DNA from another species.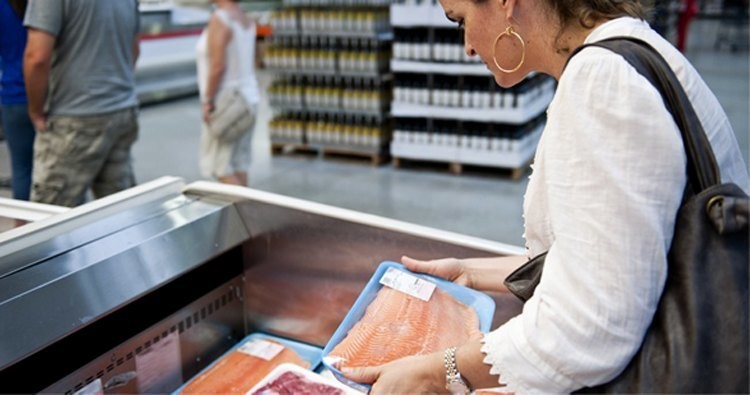 In December's congressional spending bill, Alaska Sen. Lisa Murkowski succeeded in including a provision directing the agency to develop a label for the GE salmon. Now the agency must act on that directive in order to better inform consumers about the product they are buying.
"This GE salmon should not have been approved in the first place. But thanks to the efforts of Senator Murkowski, along with millions of Americans who have voiced their opposition, the FDA is finally addressing at least one of the primary concerns with this product," Jaydee Hanson, senior policy analyst at Center for Food Safety, said.
"In addition to fixing the labeling issue, FDA should use this time to re-evaluate its entire approval, which failed to fully assess the potential for environmental and economic damage to native salmon stocks and the communities who rely on them."
AquaBounty plans to produce the GE salmon eggs on Prince Edward Island, Canada and then grow them to market-size in a facility in Panama, where they would be processed into fillets, and then shipped to the U.S. for sale. Consumers concerned about their personal health or environmental impacts may not be able to avoid the fish. While 9,000 grocery stores and numerous restaurants have vowed not to sell the GE fish, lack of labeling laws mean that average consumers will not have a choice.
"In addition to imports in the U.S., FDA should also be sure to block shipments of eggs from the Prince Edward Island facility to Panama," Hanson added.
In approving the AquaBounty transgenic salmon, the FDA ignored millions of Americans and more than 40 members of Congress who have expressed vocal opposition. FDA also neglects the concerns of more than 300 environmental, consumer, health and animal welfare organizations, salmon and fishing groups and associations, food companies, chefs and restaurants.
YOU MIGHT ALSO LIKE
FDA Approves Genetically Engineered Salmon Despite Widespread Opposition
Michael Pollan: Return to the Kitchen to Forge a Deeper Connection to the Ingredients We Use to Nourish Ourselves
California Farmers Irrigate Crops With Chevron's Oil Wastewater in Drought-Stricken Central Valley
Nation's First Regenerative Farm Certification Bill Introduced in Vermont
A coalition of conservation groups and others announced Thursday that a historic number of comments and petitions of support have been submitted to the U.S. Department of the Interior in support of Bears Ears National Monument. Despite the entirely inadequate 15-day comment period ending on May 26, more than 685,000 comments in support of Bears Ears National Monument have been collected.
Keep reading...
Show less
Rink Glacier in western Greenland, with a meltwater lake visible center. NASA/OIB
Scientists have had their eyes on Greenland as its iconic glaciers have begun disappearing due to a warming climate. But, what they didn't expect to see was a whole new type of melting.
Keep reading...
Show less
Mountain View Fire
By Lena Moffitt
An oil tanker in Mead, Colorado exploded, killing one and injuring three on Thursday. Authorities are continuing to investigate the cause of the explosion.
Keep reading...
Show less
Banner created by Alliance for Climate Education
Keep reading...
Show less
Twenty-two GOP senators sent a letter Thursday urging Donald Trump to pull out of the Paris agreement. They argued remaining in the deal could "upend" the administration's ability "to fulfill its goal of rescinding the Clean Power Plan."
Keep reading...
Show less
By Cheryl Johncox
The Federal Energy Regulatory Commission (FERC) rejected on Thursday Energy Transfer Partners' request to resume horizontal directional drilling at two sites for its Rover fracked gas pipeline. This rejection comes after numerous leaks into Ohio's wetlands, and Clean Air and Clean Water act violations. FERC has halted the process at only eight locations of the 32 where drilling is taking place under Ohio's wetlands and streams.
Keep reading...
Show less
By Nadia Prupis
A majority of people in eight countries say they are ready to change their lifestyles if it would prevent climate catastrophe, a survey on global threats released Wednesday found.
Keep reading...
Show less
May. 25, 2017 01:55PM EST
Bill Maher is sick of billionaires' obsession with Mars, more like "Mars-a-Lago," he said.
In a new animation produced by ATTN:, the popular talk show host of Real Time, discusses the perils of our planet, including how "climate change is killing us."
Keep reading...
Show less