This website uses cookies to ensure you get the best experience while browsing it. By clicking 'Got It' you're accepting these terms.
Impacted Landowners Demand EPA Revise Flawed Fracking Study
Oct. 30, 2015 08:08AM EST

The U.S. Environmental Protection Agency's Scientific Advisory Board met this week to review the agency's draft assessment of the impact of fracking on drinking water resources, but the largely academic exercise got a dose of reality from residents of Dimock, Pennsylvania; Pavillion, Wyoming; and Parker County, Texas who have fought for years to get U.S. EPA to act.
Inexplicably, their cases of contamination were excluded in the thousands of pages that make up the EPA's assessment. Given only five minutes each, the residents demanded that the EPA stop ignoring their cases.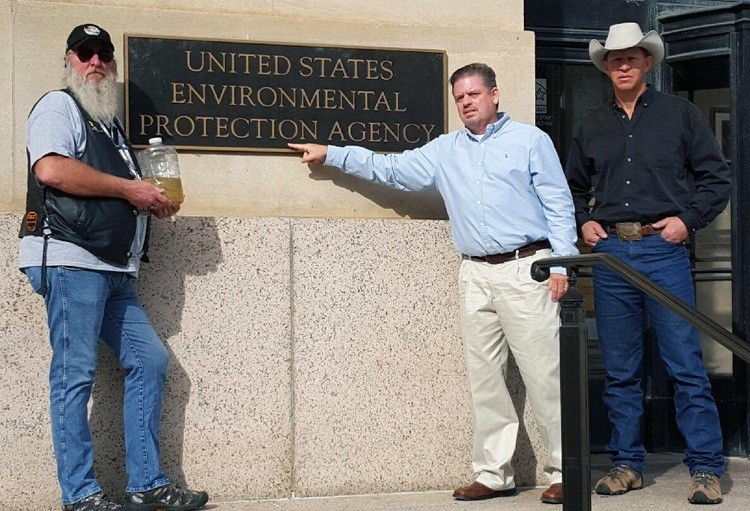 Ray Kemble, an affected landowner and former gas industry worker, testified, "In 2008, gas drilling caused my water to become poisoned. The Pennsylvania DEP and the EPA confirmed this contamination, but abandoned us in 2012 and did not even include us in their long-term study. I am here today to demand that EPA recognize us, include our case in this study, and reopen the investigation."
John Fenton, a rancher and affected landowner in Pavillion also spoke out. "When EPA launched its national study of fracking's drinking water impacts, we thought they'd look first here in Pavillion where they'd already found pollution. But instead they ignored us without explanation. Science means taking the facts as they are. But EPA seems to be intent on finding the facts to support the conclusion they've already reached—'fracking is safe.'"
Steve Lipsky, an affected homeowner in Weatherford, Texas added that "EPA omitted my case from their national drinking water study," and then asked, "Is that science? Whose side is EPA on?"
"We have tried for years now to get the EPA Administrator Gina McCarthy to meet with impacted residents across the country to hear their stories and to come up with ways that the agency can help those being harmed," said Craig Stevens, 6th generation landowner and member of Pennsylvania Patriots from the Marcellus Shale. "This has still not happened and we deserve better."
"While the EPA spent years conducting this study only to claim in their press releases that water contamination from fracking 'is not widespread or systemic,' I have been receiving calls on a regular basis from people across the state of Pennsylvania whose water and air has been polluted by this industry and who are paying the price with their health," said Ron Gulla, an impacted resident from Hickory, Pennsylvania. "I have been trying to help people who are being poisoned by this industry for years, while our federal agencies who are tasked with protecting these people has failed them."
It was vital that the EPA's Scientific Advisory Board hear these voices from the front lines, from people who have to deal with their water being poisoned. Not only has the agency been unresponsive, and failed to uphold its own basic mission to protect human health and the environment, the EPA—or perhaps more accurately the Obama Administration—misrepresented its own study when it claimed that "hydraulic fracturing activities have not led to widespread, systemic impacts to drinking water resources and identifies important vulnerabilities to drinking water resources."
Some of the Scientific Advisory Board members are listening, with one member describing the EPA's topline finding as "out of left field" and a "non sequitur relative to the body of the report." But at the same time, the oil and gas industry is well represented on the board—several repeatedly used "we" and "industry" interchangeably as they chimed in in defense of fracking.
The EPA has been unresponsive and is failing to uphold its own basic mission to protect human health and the environment. It's time for the agency to finally step up and serve the people, not the oil and gas industry. They could start by having a face-to-face with Administrator Gina McCarthy and affected individuals, rather than pretending they don't exist. And the Obama administration must stop greenwashing fracking and acknowledge that it's a dirty, polluting source of energy that harms our water, our climate, and our communities.
Here's a video of the testimony:
YOU MIGHT ALSO LIKE
Hillary Clinton Calls for Federal Investigation of Exxon
Imagine If Exxon Had Told the Truth on Climate Change
Alarming Uptick of Earthquakes in Kansas Linked to Fracking With 52 in Just Last Two Weeks
EcoWatch Daily Newsletter
Bernie Sanders holds his first presidential campaign rally at Brooklyn College on March 02 in Brooklyn, New York. Kena Betancur / VIEWpress / Corbis. Getty Images
Bernie Sanders has become the first contender in the crowded 2020 Democratic presidential primary field to pledge to offset all of the greenhouse gas emissions released by campaign travel, The Huffington Post reported Thursday.
An aerial view of the flooding at the Camp Ashland, Nebraska on March 17. Nebraska National Guard / Staff Sgt. Herschel Talley / Flickr / CC BY 2.0
The record flooding in the Midwest that has now been blamed for four deaths could also have lasting consequences for the region's many farmers.
In tea, food, or just on your windowsill, embrace the fragrance and fantastic healing potential of herbs.
By Ana Santos Rutschman
The world of food and drug regulation was rocked earlier this month by the news of a change in leadership at the Food and Drug Administration. Commissioner Scott Gottlieb resigned and will step down in early April. His temporary replacement is Dr. Ned Sharpless, director of the National Cancer Institute.
MartinPrescott / iStock / Getty Images
On Wednesday the U.S. Environmental Protection Agency (EPA) announced the first 20 chemicals it plans to prioritize as "high priority" for assessment under the Toxic Substances Control Act. Given the EPA's record of malfeasance on chemicals policy over the past two years, it is clear that these are chemicals that EPA is prioritizing to ensure that they are not properly evaluated or regulated.
Strawberries top the Environmental Working Group's "Dirty Dozen" list of U.S. produce most contaminated with pesticides. DANIEL LEAL-OLIVAS / AFP / Getty Images
Which conventionally-grown fruits and vegetables in the U.S. are most contaminated with pesticides? That's the question that the Environmental Working Group answers every year with its "Dirty Dozen" list of produce with the highest concentration of pesticides after being washed or peeled.
A drilling rig in a Wyoming natural gas field. William Campbell / Corbis via Getty Images
A U.S. federal judge temporarily blocked oil and gas drilling on 300,000 acres of federal leases in Wyoming Tuesday, arguing that the Bureau of Land Management (BLM) "did not sufficiently consider climate change" when auctioning off the land, The Washington Post reported.
Mizina / iStock / Getty Images
Oats are widely regarded as one of the healthiest grains you can eat, as they're packed with many important vitamins, minerals, and fiber.