This website uses cookies to ensure you get the best experience while browsing it. By clicking 'Got It' you're accepting these terms.
Imagine NY Without Fracking
Jan. 11, 2013 11:19AM EST
Energy
Yoko Ono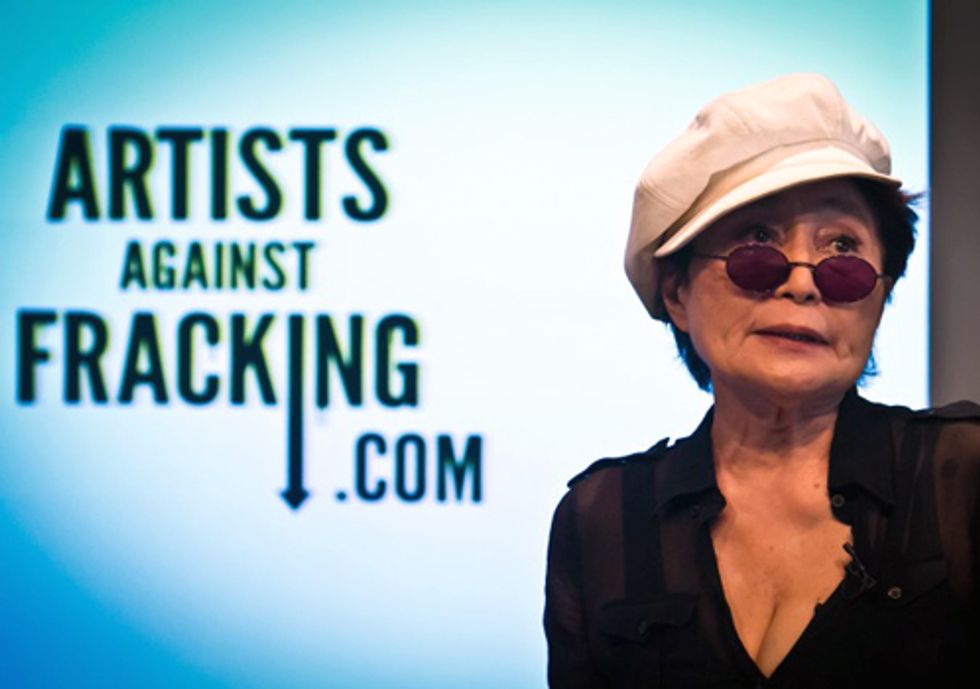 My husband, John Lennon, and I bought a beautiful farm in rural New York more than 30 years ago. We loved the tranquility and beauty of the area. Our son, Sean, spent many precious days there growing up. Our family still enjoys it now.
Like the rest of our state, this peaceful farming community is threatened by fracking for gas. Giant pipelines, thousands of tractor-trailer trucks ripping up roads, loud air compressors, air pollution—and most of all, the certainty of poisoned drinking water.
Certainty is the right word, according to the engineers, as the wells drilled for fracking will leak. According to industry documents from the gas drilling giant Schlumberger and other studies, six percent of the wells leak immediately, and more than 60 percent of them leak over time. And no wonder they leak—the pressures of the earth thousands of feet under the ground cracks the cement well casings. The big variations in temperature along the well at various depths expand and contract the cement until it cracks and leaks.
And what leaks from the wells?
Toxic hydrocarbons like benzene and methane that are under the ground. And the toxic chemicals injected with millions of gallons of water at high pressure to fracture the bedrock to get at the gas.
This is why you can see families literally light their tap water on fire in the movie Gasland from the leaking methane. And why homeowners across the country have had their drinking water ruined with the chemicals used in fracking.
Meanwhile, there is no place to put the toxic wastewater that comes back up from under the ground. About half of it stays underground forever. In Pennsylvania, it is often dumped into open pits where the toxic chemicals volatilize into the air. Sewage systems cannot handle it safely.
Gov. Andrew Cuomo has made some very important and strong statements about combating climate change, especially in the wake of Hurricane Sandy, which I applaud. But he must not believe the hype that fracking for gas is good for the climate. It isn't.
The methane that leaks from the wells, and even from the pipelines and compressors, is a very powerful greenhouse gas—100 times more than carbon dioxide. When the bedrock is shattered, the methane also migrates away from the wells. More than a tiny bit of this leakage makes fracked gas as great a problem for our climate as coal. And the leaks are not tiny.
I understand the pressure on the governor to create jobs and help the economies of rural areas. But fracking creates very few jobs, and most of them will not go to New Yorkers. We could create far more jobs by insulating every building in the state to save energy and changing all the windows to more insulating models. Doing this would save far more energy than fracking will ever produce, plus lower consumer heating and electric bills forever. In contrast, fracking and climate change will cause economic damage and decline.
Former Vice President Dick Cheney succeeded in removing fracking from all federal regulations. It is no longer covered by the Safe Drinking Water Act, or the Clean Air Act, or even the National Environmental Policy Act.
If fracking isn't safe enough for the Clean Air and Water Acts, it isn't safe enough for New York. And the energy won't even go to New York. There is a glut of gas on the market, and the companies plan to export what they produce here to other countries.
Governor Cuomo, please don't frack New York. Don't allow our beautiful landscapes to be ruined, or our precious and famous clean water to be dirtied.
Your draft plan won't allow fracking near New York City's water supplies. But if it isn't safe enough to be near New York City's water, how can it be safe enough for rural communities, or the New York side of the Delaware Basin that feeds drinking water to Philadelphia?
No amount of regulation can keep these wells from leaking. Please stand up to the fossil fuel industry and save our water, our climate and our state. Let's make New York the Clean Energy Empire State, not the state of dirty fracking.
Yoko Ono is the co-founder with her son, Sean Lennon, of Artists Against Fracking.
Visit EcoWatch's FRACKING page for more related news on this topic.
--------
Sign the petition today, telling President Obama to enact an immediate fracking moratorium:

EcoWatch Daily Newsletter
The Visible Infrared Imaging Radiometer Suite on the Suomi NPP satellite acquired this image of forest fire smoke hovering over North America on Aug. 15, 2018. NASA Earth Observatory
New York City isn't known for having the cleanest air, but researchers traced recent air pollution spikes there to two surprising sources — fires hundreds of miles away in Canada and the southeastern U.S.
If temperatures continue to rise, the world is at risk from global
sea-level rise
, which will flood many coastal cities as seen above in Bangladesh. NurPhoto / Contributor / Getty Images
The mounting climate emergency may spur the next global financial crisis and the world's central banks are woefully ill equipped to handle the consequences, according to a new book-length report by the Bank for International Settlements (BIS), as S&P Global reported. Located in Basel, Switzerland, the BIS is an umbrella organization for the world's central banks.
Two ice fishers with a truck cut a hole in the ice near an ice fishing hut on frozen Lake Winnebago.
Richard Hamilton Smith / Corbis NX / Getty Images
By Susan Cosier
Come February in Wisconsin, almost everything will be covered in ice and snow. In little shanties on frozen Lake Winnebago, a 30-by-13-mile lake in the eastern part of the state, fishers will keep watch over rectangular holes cut into the ice with a chainsaw. When they spot a fin passing below, they'll jab their spears down deep. The lucky ones will earn themselves a lake sturgeon, a species that has prowled the earth's waters for more than 150 million years.
Fresno, California, seen above, is receiving $66 million for walking trails, sidewalks, bike lanes, and more. DenisTangneyJr / iStock / Getty Images
Grecia Elenes grew up in Fresno, California. She says some parts of the city have been neglected for decades. When she moved back after college she realized nothing has changed.
People are seen embracing at Numeralla Rural Fire Brigade near the scene of a water tanker plane crash on Jan. 23 in Cooma, Australia. Three American firefighters have have died after their C-130 water tanker plane crashed while battling a bushfire near Cooma in southern NSW this afternoon. Jenny Evans / Getty Images
Three U.S. firefighters gave their lives battling Australia's historic wildfires Thursday when their airborne water tanker crashed.