This website uses cookies to ensure you get the best experience while browsing it. By clicking 'Got It' you're accepting these terms.
Imagine NY Without Fracking
Jan. 11, 2013 11:19AM EST
Energy
Yoko Ono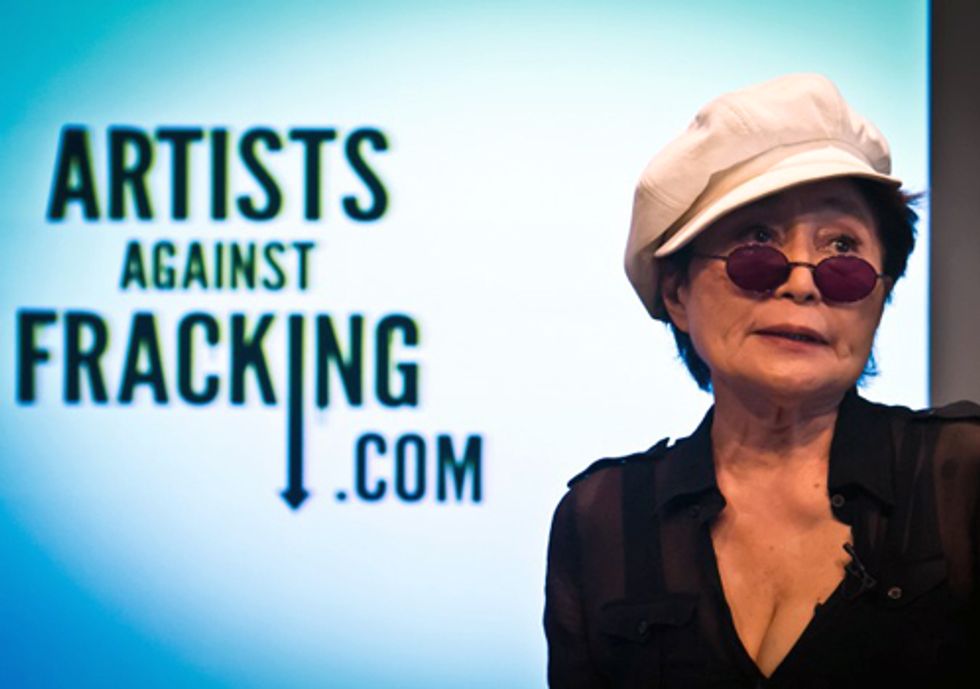 My husband, John Lennon, and I bought a beautiful farm in rural New York more than 30 years ago. We loved the tranquility and beauty of the area. Our son, Sean, spent many precious days there growing up. Our family still enjoys it now.
Like the rest of our state, this peaceful farming community is threatened by fracking for gas. Giant pipelines, thousands of tractor-trailer trucks ripping up roads, loud air compressors, air pollution—and most of all, the certainty of poisoned drinking water.
Certainty is the right word, according to the engineers, as the wells drilled for fracking will leak. According to industry documents from the gas drilling giant Schlumberger and other studies, six percent of the wells leak immediately, and more than 60 percent of them leak over time. And no wonder they leak—the pressures of the earth thousands of feet under the ground cracks the cement well casings. The big variations in temperature along the well at various depths expand and contract the cement until it cracks and leaks.
And what leaks from the wells?
Toxic hydrocarbons like benzene and methane that are under the ground. And the toxic chemicals injected with millions of gallons of water at high pressure to fracture the bedrock to get at the gas.
This is why you can see families literally light their tap water on fire in the movie Gasland from the leaking methane. And why homeowners across the country have had their drinking water ruined with the chemicals used in fracking.
Meanwhile, there is no place to put the toxic wastewater that comes back up from under the ground. About half of it stays underground forever. In Pennsylvania, it is often dumped into open pits where the toxic chemicals volatilize into the air. Sewage systems cannot handle it safely.
Gov. Andrew Cuomo has made some very important and strong statements about combating climate change, especially in the wake of Hurricane Sandy, which I applaud. But he must not believe the hype that fracking for gas is good for the climate. It isn't.
The methane that leaks from the wells, and even from the pipelines and compressors, is a very powerful greenhouse gas—100 times more than carbon dioxide. When the bedrock is shattered, the methane also migrates away from the wells. More than a tiny bit of this leakage makes fracked gas as great a problem for our climate as coal. And the leaks are not tiny.
I understand the pressure on the governor to create jobs and help the economies of rural areas. But fracking creates very few jobs, and most of them will not go to New Yorkers. We could create far more jobs by insulating every building in the state to save energy and changing all the windows to more insulating models. Doing this would save far more energy than fracking will ever produce, plus lower consumer heating and electric bills forever. In contrast, fracking and climate change will cause economic damage and decline.
Former Vice President Dick Cheney succeeded in removing fracking from all federal regulations. It is no longer covered by the Safe Drinking Water Act, or the Clean Air Act, or even the National Environmental Policy Act.
If fracking isn't safe enough for the Clean Air and Water Acts, it isn't safe enough for New York. And the energy won't even go to New York. There is a glut of gas on the market, and the companies plan to export what they produce here to other countries.
Governor Cuomo, please don't frack New York. Don't allow our beautiful landscapes to be ruined, or our precious and famous clean water to be dirtied.
Your draft plan won't allow fracking near New York City's water supplies. But if it isn't safe enough to be near New York City's water, how can it be safe enough for rural communities, or the New York side of the Delaware Basin that feeds drinking water to Philadelphia?
No amount of regulation can keep these wells from leaking. Please stand up to the fossil fuel industry and save our water, our climate and our state. Let's make New York the Clean Energy Empire State, not the state of dirty fracking.
Yoko Ono is the co-founder with her son, Sean Lennon, of Artists Against Fracking.
Visit EcoWatch's FRACKING page for more related news on this topic.
--------
Sign the petition today, telling President Obama to enact an immediate fracking moratorium:

EcoWatch Daily Newsletter
One of the 25 new Long Beach Transit hybrid gasoline-electric buses on April 23, 2009. Jeff Gritchen / Digital First Media / Orange County Register / Getty Images
In Long Beach, California, some electric buses can charge along their route without cords or wires.
When a bus reaches the Pine Avenue station, it parks over a special charging pad. While passengers get on and off, the charger transfers energy to a receiver on the bottom of the bus.
Semi trucks travel along I94 on June 21 near Lake forest, Illinois. Scott Olson / Getty Images
The Trump administration pushed through an exemption to clean air rules, effectively freeing heavy polluting, super-cargo trucks from following clean air rules. It rushed the rule without conducting a federally mandated study on how it would impact public health, especially children, said the Environmental Protection Agency (EPA) Inspector General Charles J. Sheehan in a report released yesterday, as the AP reported.

A time-restricted eating plan provides a new way to fight obesity and metabolic diseases that affect millions of people worldwide. RossHelen / iStock / Getty Images Plus
By Satchin Panda and Pam Taub
People with obesity, high blood sugar, high blood pressure or high cholesterol are often advised to eat less and move more, but our new research suggests there is now another simple tool to fight off these diseases: restricting your eating time to a daily 10-hour window.
Kunhui Chih / iStock / Getty Images Plus
A man and his dog walk past an H&M store in Stockholm, Sweden on March 11, 2014. Melanie Stetson Freeman / The Christian Science Monitor via Getty Images
By Ashutosh Pandey
H&M's flagship store at the Sergels Torg square in Stockholm is back in business after a months-long refurbishment. But it's not exactly business as usual here.