Illinois Votes to Keep Big Coal in Schools

While coal mining families in West Virginia and across the country mourned the fourth anniversary of the tragic Upper Big Branch coal mine disaster last week, hailed by U.S. Attorney R. Booth Goodwin II as "a conspiracy to violate mine safety and health laws," the Illinois state legislature rolled out the red carpet for Big Coal and voted to keep a notorious "coal education program" for schools that has been widely denounced by former coal miners and educators as inaccurate industry propaganda.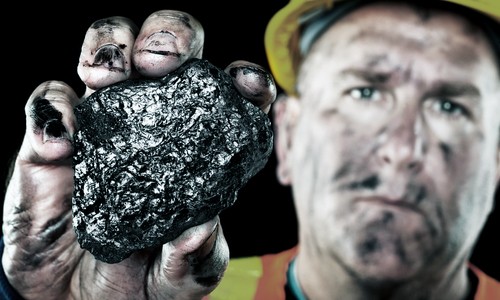 Photo credit: Shutterstock
It's really hard not to get jaded about the state of corrupt coal politics in Illinois.
Sadly enough, last fall former coal miners and citizens groups from southern Illinois, working with national education organizations, waged a successful campaign to take down the state's cringe-worthy "kids coal" website—but environmental groups in Chicago caught up in the twisted state Democratic politics didn't even bother to contact them.
Last week's episode in the "coal education" fiasco, called out five years ago for unleashing dime-bag coal pushers into our classrooms, places Illinois into the shameless ranks of last decade's Kansas board of education decision to teach creationism.
Here are some Orwellian coal nuggets for the Prairie State's youngest minds:
While the uncritical media reported that Illinois House members "bemoan the decline of the Illinois coal industry," it's a fact that Illinois is in the throes of an unprecedented and unmatched coal mining rush in the nation. Do the frickin' math: In 2010, Illinois coal mined 33 million tons; in 2013, Illinois coal mined 52 million tons. Last summer, Gov. Quinn celebrated a 5-fold increase in coal exports.
While uninformed House members beat their chests and claimed, "the Elkhart mine is clean -- sulfur is not emitted in any measurable amount," whatever that odd comment means, the truth is:
Check your facts: Coal is dirty, deadly and costly.
While Democrats continue to pander to Big Coal contributors and hail the chimera of "clean coal," even Peabody Energy admitted last fall that carbon capture and storage "clean coal" is "simply not commercially available."
While House members waxed nostalgia about the coal industry, they never teach our kids the historical fact of African-American slavery in the mines, the century of mine disasters and death, or the reality that some of our most historic communities have been stripmined and destroyed.
And here's the best lesson of all, kids: According to a state audit, Illinois has defiantly remained in violation of the law for failing to hire the required number of mine inspectors.
Oh well, at least the summer break is not too far away.
Perhaps instead of the state bankrolling a taxpayer slush fund for a Big Coal education conference in June, teachers might want to contact citizens groups in southern Illinois—or even visit the extraordinary movement by Rocky Branch farmers and residents to stop a devastating strip mine expansion in Saline County.
——–
YOU ALSO MIGHT LIKE
Two Arrested Protesting Strip Mine as Community Battles World's Largest Coal Company
The Netherlands Joins Fossil Fuel Divestment Movement, Ends Public Financing for Coal
Willie Nelson Joins Fight to Stop Mountaintop Removal Coal Mining
——–
A coalition of conservation groups and others announced Thursday that a historic number of comments and petitions of support have been submitted to the U.S. Department of the Interior in support of Bears Ears National Monument. Despite the entirely inadequate 15-day comment period ending on May 26, more than 685,000 comments in support of Bears Ears National Monument have been collected.
Keep reading...
Show less
Rink Glacier in western Greenland, with a meltwater lake visible center. NASA/OIB
Scientists have had their eyes on Greenland as its iconic glaciers have begun disappearing due to a warming climate. But, what they didn't expect to see was a whole new type of melting.
Keep reading...
Show less
Mountain View Fire
By Lena Moffitt
An oil tanker in Mead, Colorado exploded, killing one and injuring three on Thursday. Authorities are continuing to investigate the cause of the explosion.
Keep reading...
Show less
Banner created by Alliance for Climate Education
Keep reading...
Show less
Twenty-two GOP senators sent a letter Thursday urging Donald Trump to pull out of the Paris agreement. They argued remaining in the deal could "upend" the administration's ability "to fulfill its goal of rescinding the Clean Power Plan."
Keep reading...
Show less
By Cheryl Johncox
The Federal Energy Regulatory Commission (FERC) rejected on Thursday Energy Transfer Partners' request to resume horizontal directional drilling at two sites for its Rover fracked gas pipeline. This rejection comes after numerous leaks into Ohio's wetlands, and Clean Air and Clean Water act violations. FERC has halted the process at only eight locations of the 32 where drilling is taking place under Ohio's wetlands and streams.
Keep reading...
Show less
By Nadia Prupis
A majority of people in eight countries say they are ready to change their lifestyles if it would prevent climate catastrophe, a survey on global threats released Wednesday found.
Keep reading...
Show less
May. 25, 2017 01:55PM EST
Bill Maher is sick of billionaires' obsession with Mars, more like "Mars-a-Lago," he said.
In a new animation produced by ATTN:, the popular talk show host of Real Time, discusses the perils of our planet, including how "climate change is killing us."
Keep reading...
Show less